News
AEC Daily Newsletter - Current & Archives
Press Releases - Current & Archives
April 21, 2014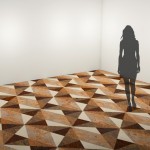 NEW YORK, April 18, 2014 /PRNewswire/ -- Globus Cork Inc. has announced the winner of its 1st Annual Globus Cork Floor Design Competition. Ms. Carlotta Valsecchi, a student at the NY School of Interior Design (NYSID) is this year's winner. Ms. Valsecchi is in her final year of the BFA Interior Design program at NYSID.

Globus Cork Vice President Jennifer Biscoe said, "We're happy to congratulate Ms. Valsecchi on winning the competition. We are thrilled with Ms. Valsecchi's design as an excellent display of the style possibilities with 100% cork tile flooring. The Globus Cork Floor Design Competition is a new annual competition and the goal is to inspire designers and architects to think creatively about cork tiles which are one of the most sustainable flooring in the world."

Details about the contest are available online at CorkFloorDesign.com.

View the winning entry at http://www.corkfloordesign.com/winner/
April 21, 2014
Leading manufacturer of decorative surfaces introduces user-friendly website

TEMPLE, Texas--(BUSINESS WIRE)--Homeowners, design professionals, building contractors and fabricators now have a one-stop site to explore Wilsonart's full range of high-quality, decorative surface products. Wilsonart.com offers easy-to-navigate product information and inspirational ideas for anyone looking for today's most appealing, cost-effective and durable surface options.

Guided by the needs of primary website visitors, the new site enriches the user experience with enhanced visuals of Wilsonart's innovative products and, through an advanced search mechanism, makes it easy for DIYers and professionals alike to quickly and efficiently search the latest Wilsonart designs, and access samples and specs from any page on the site. Wilsonart.com's fully interactive format can be accessed from a variety of Internet-enabled devices, including smartphones and tablets.

The new website requires users to re-register in order to save design selections and order samples. For a limited time, registrants to the new website will be entered for a chance to win a signed copy of Upcycling Celebrations by eco-lifestyle expert and author Danny Seo or tickets to see Danny speak at the Dwell on Design conference in Los Angeles on Saturday, June 21, 2014.

Contact Wilsonart Customer Service at 1-800-433-3222 or smartline@wilsonart.com with any questions about the new website.
April 19, 2014
ROSWELL, Ga., April 17, 2014 /PRNewswire/ -- SCOTT®, a leading Kimberly-Clark Professional brand, offers home improvement contractors and professionals the opportunity to win a 2015 Ford® Transit and VIP Race Experience with Team Penske and driver Joey Logano. The tried-and-true brand has launched a promotional sweepstakes, "Get Geared Up," that will run through Aug. 31, 2014.

There is no purchase necessary to enter the "Get Geared Up" sweepstakes. To enter and for full details, including eligibility and prize descriptions, contractors and professionals should visit www.scottproprojects.com. Be sure to follow SCOTT® Home Improvement on Twitter @SCOTTPaintPro and on Facebook for updates and future promotions.
April 18, 2014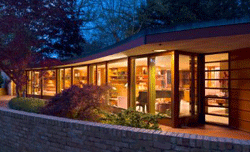 ROCKFORD, Ill., April 14, 2014 /PRNewswire/ -- The newest Frank Lloyd Wright museum, The Kenneth & Phyllis Laurent House, will open to the public on Friday, June 6 in Rockford, Illinois. A series of events beginning Wednesday, June 4 will celebrate the opening. The opening coincides with what would have been Wright's 147th birthday on June 8.

The home, considered by Wright as one of the 35 best works of his career, is the only building designed by the famed architect for a person with a disability. Kenneth Laurent was a disabled, wheel-chair-bound World War II veteran who, at the prompting of his wife, contacted Wright asking him to design a home to meet his unique needs. Wright responded, "Dear Laurent: We are interested but don't guarantee costs. Who knows what they are today - ?"

The Laurents commissioned the home in 1948 and lived there from 1952 until early 2012, when the home and all of its original Frank Lloyd Wright-designed furniture was acquired by the Laurent House Foundation and added to the National Register of Historic Places.

This single-story Usonian home is both functional and beautiful, meeting the needs of its owner decades ahead of Americans with Disabilities Act accessibility requirements. The home features a solar hemicycle footprint, patio, fishpond, carport, and outdoor connectivity to the natural landscape. The modest home is built of Chicago Common Brick and Red Tidewater Cypress. Much of the labor and materials used to build the home were sourced locally in Rockford.
April 18, 2014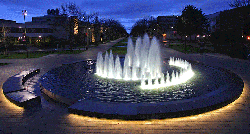 Consistently ranked as one of the top 40 universities worldwide, The University Of British Columbia offers a unique blend of knowledge and nature. The main campus combines picturesque scenery with state of the art facilities and beautifully landscaped grounds. As part of its "Place and Promise" initiatives, the university has recently invested in an infrastructure upgrade that includes 2 new fountains that employ sustainable design techniques.

The central feature at the intersection of University Boulevard contains 3 curved manifolds with 39 of Crystal's cascade jets with corresponding LED020 lights. The water feature mimics the ebb and flow of university life by activating its jets only for the 10 minute breaks between classes. Energy is also conserved at night when the fountain converts to a mist effect.

The smaller step cascade feature ties into the stormwater management system used by UBC. Stormwater is collected by the fountain and then biofiltered before being stored in an underground cistern. The water is then slowly released into the environment, reducing water volume and erosion. The fountain also includes Crystal misting jets and energy efficient LED technology.
April 17, 2014
Framing Manufacturer is Helping Reduce the Massive Carbon Footprint Left By Buildings Built "The Old Fashioned Way"

Phoenix, AZ, April 13th, 2014 – Is the building or house you are sitting in right now contributing to global warming? Chances are it is. Due to inefficient construction methods, commercial buildings and residential homes are responsible for 39% of all human CO2 Greenhouse Gas emissions worldwide - this according to the Intergovernmental Panel on Climate Change (IPCC). These harmful CO2 gases are created through the total amount of fossil fuel energy that is consumed to heat and cool buildings and homes throughout the world.

There is a solution to this problem - Eko SIPs (Structural Insulated Panels). These innovative building panels are factory-built utilizing two 1/2" thick Magnesium Oxide Cement (MgO) skins that are "sandwiched" over an insulating core of expanded polystyrene (EPS) foam. The two MgO skins and the EPS foam core are average in strength by themselves, but when these three pieces are pressure-laminated to one another, they form a composite panel that is exponentially stronger than the sum of its parts. When assembled with its connection hardware, the resulting frame system is strong and energy-efficient. It also saves our Earth's trees by using no lumber in the entire system.

For more product information contact Rob Johnson, VP of Sales at 480-265-6987 or sales@eko-sip.com. Visit Eko's website at www.eko-sip.com.
April 17, 2014
Companies View IFC as a Strong Interoperability Option for Users

Columbia, Md. (April 15, 2014) – Nemetschek Vectorworks, Inc. and Synchro Software Ltd. have joined forces to provide truly open and flexible collaboration between architectural modeling and construction planning BIM tools. Both companies are committed leaders to the proliferation of open BIM workflows in design and construction and work to improve the efficiency of the industry through the successful implementation of open standards-based data exchange. In addition, both companies support the Industry Foundation Classes (IFC) file format as an interoperability solution for their customers.

One recent example of a large BIM project using Synchro and Vectorworks software is the construction of two metro subway stations in Sao Paulo, Brazil. The Consortium Heleno & Fonseca and the TIISA made use of BIM technology as a support for studies and planning of the stations Eucaliptos and Moema, both part of the expansion of line five of the Sao Paulo metro. Vectorworks Architect software was used for the generation of the BIM models of the stations and for accurate estimations of volumes and areas of different building elements of the 3D models. Synchro was used to associate the elements of the model to the schedule activities, as well as to generate the 4D analysis.

Some of the resulting benefits of the 4D analysis included more speed and accuracy in the generation of the studies of the construction schedule alternatives, greater versatility and speed in decision-making, the creation of informative presentations of the work for external stakeholders through short videos, and visualization of the structures and equipment in different phases of the project.

More information about this project can be found here: http://www.cadtec.com.br/news/bim4d_metrosp_en.html
April 15, 2014
PHILADELPHIA, April 14, 2014 /PRNewswire/ -- A new web article by Best Masters Degrees puts 50 of the world's most sustainable university buildings in the spotlight. "The 50 Most Impressive Environmentally Friendly University Buildings" in the article were hand-picked for their eco-friendly features including engineering, architecture, design and qualities of sustainability. Environmentally sound university buildings typically consume far less energy and afford better sanitary conditions than older buildings.

These facilities have earned considerable industry honors for excellence in architectural and green design. Awarding agencies include the AIA (American Institute of Architects), BPN Sustainability, and the United States Green Building Council (USGBC LEED).

All of the buildings exhibit characteristics of aesthetic appeal as well as sustainability. They range from a university science lab in Pittsburgh made of 94% recycled materials to a park-like, six-story, underground university building in Seoul, South Korea.

The top five are listed below:

1. EWHA Woman's University, Seoul, South Korea: Dominique Perrault Architecture

2. King Abdullah University of Science and Technology, Thuwal, Saudi Arabia: HOK

3. Nanyang Technical University - School of Art, Design and Media, Singapore: CPG Consultants

4. La Trobe University – Institute for Molecular Science, Bundoora, Australia: Lyons Architects

5. American University of Beirut - Charles Hostler Student Center, Beirut, Lebanon: VJAA; Samir Khairallah & Partners (associate)

To see the complete list click on the More button below or go to: http://www.bestmastersdegrees.com/50-most-impressive-sustainable-university-buildings
April 15, 2014
Optical devices could bring natural light into dark, highly populated areas

WASHINGTON--(BUSINESS WIRE)--In dense, urban centers around the world, many people live and work in dim and narrow streets surrounded by tall buildings that block sunlight. And as the global population continues to rise and buildings are jammed closer together, the darkness will only spread.

To alleviate the problem, Egyptian researchers have developed a corrugated, translucent panel that redirects sunlight onto narrow streets and alleyways. The panel is mounted on rooftops and hung over the edge at an angle, where it spreads sunlight onto the street below. The researchers describe their design in a paper published today in Energy Express, a supplement of The Optical Society's (OSA) open-access journal Optics Express.
April 11, 2014
Vectorworks Academic Research Grants Will Fund Activities Related to Design Innovation, Community Impact & Civil or Social Concerns

Columbia, Md. (April 10, 2014) — Nemetschek Vectorworks, Inc. is accepting submissions to the Vectorworks Academic Research Grant program, which funds individuals and teams that develop solutions to global concerns worldwide.

The Vectorworks Academic Research Grant aims to support projects that have the following goals:

• Designing or improving a public space that incorporates humane design concepts and principles
• Increasing awareness of a design idea or solution (for example, an individual developing a curriculum, arranging a symposium, establishing a program or department, or writing a textbook/resource guide on the subject)
• Disseminating information for greater public/professional awareness

The application period opened on April 1, 2014 at www.vectorworks.net/grant. Both individuals and teams are urged to submit projects for consideration that represent any design discipline.

Learn more about the Vectorworks Academic Research Grant program by contacting
academicteam@vectorworks.net or following @Vectorworks.
April 11, 2014
(Chicago) -- ROCKFON®'s extensive North American portfolio of stone wool acoustic ceiling solutions has earned UL® Environment's GREENGUARD Gold Certification for low-emitting products. GREENGUARD is an internationally recognized product emissions certification and labeling program for manufacturers of low-emitting indoor products, furnishings and materials. Receiving certification confirms these products meet the stringent GREENGUARD Gold emission standards, contributing to healthier and safer interiors.

To achieve certification, ROCKFON voluntarily submitted its North American stone wool product line of suspended and monolithic ceilings, clouds and baffles to a series of rigorous tests as determined by UL Environment. During the strict manufacturing review, product samples from ROCKFON's ceilings were selected for profile study testing as well as comprehensive certification testing.

GREENGUARD Gold Certification is only given to products that are compliant with the certification requirements, which among others, include stringent limits on emissions of more than 360 volatile organic compounds (VOCs). GREENGUARD Certification emission criteria incorporate health-based emissions requirements as denoted among others by the U.S. Environmental Protection Agency (EPA) and the State of California Department of Public Health's Section 01350. More than 400 green building codes, standards, guidelines, procurements policies, and rating systems give credit for GREENGUARD Certified products.

Earning GREENGUARD Gold Certification for its complete North American stone wool portfolio marks another achievement for ROCKFON with regard to its sustainability efforts. ROCKFON products are made from stone wool, which is produced from an abundant resource, volcanic rock, and recycled material. Stone wool features unique, inherent properties to provide a number of superior performance characteristics including high sound absorption, dimensional stability, fire protection and humidity resistance.

ROCKFON North America stone wool products are audited regularly by UL Environment in order to maintain GREENGUARD Gold Certification. GREENGUARD Certified products are recognized, referenced and preferred by more than 450 federal purchasers, retailers, green building rating tools and building codes.
April 10, 2014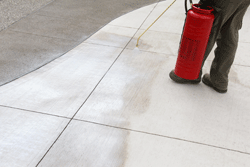 Hampshire, IL – W. R. MEADOWS would like to Introduce INTRAGUARD, a water-based, penetrating concrete sealing compound for exterior concrete surfaces specifically designed to limit the intrusion of moisture and chlorides into concrete surfaces. Its proprietary blend of silane and siloxane penetrates deep into the pores of the concrete to help protect it from scaling caused by deicing salts.

INTRAGUARD's clear sealing properties weatherproofs and protects virtually all exterior concrete surfaces including concrete driveways, walkways, and parking lots. The product is designed to provide lasting protection from de-icing chemicals and moisture intrusion. Surfaces treated with INTRAGUARD will also be resistant to staining from oils, fuels, and common chemicals.

One of INTRAGUARD's major benefits includes its non-film forming material that penetrates deep into the surface to form an integral barrier to moisture penetration. It also reduces the entrapment of dirt particles and other contaminants that cause discoloration and inhibits soiling, protects against efflorescence, rust staining, and is water-based and VOC-compliant.
April 02, 2014
New Features and Capabilities Will Be Introduced at Events in Shanghai, Beijing and Guangzhou

Columbia, Md. (April 1, 2014) – Nemetschek Vectorworks, Inc. is pleased to announce the availability of the Chinese-language version of the Vectorworks® 2014 line of design software, including: Vectorworks Designer, Architect, Landmark, Spotlight, Fundamentals and Renderworks®.

Mad Macs, the Vectorworks distributor in China, will host launch events in Shanghai on April 9, Beijing on April 16 and Guangzhou on April 23 to demonstrate the software's new features and capabilities and how the program supports BIM workflows. Attendees will have the opportunity to win a free license of Vectorworks software and other prizes. In addition to these live events, Mad Macs will offer an online webinar on April 29, 2014.

Visit http://www.vectorworks.cn/2014 for more information or to register for the Vectorworks 2014 Chinese launch events.

The Vectorworks 2014 software contains more than 130 improvements, including new BIM tools for architects, increased site design capabilities for landscape architects and designers, and enhancements to lighting devices, documentation and graphic controls for entertainment designers. Visit http://www.vectorworks.net/2014 to learn more about all the new features in Vectorworks 2014 software.

The release of the Chinese-language version of Vectorworks 2014 continues the global rollout of the software. The English version was launched on Sept. 17, 2013; several localized versions were released across Europe in October and November of 2013; the Portuguese version was released in Brazil on Oct. 31, 2013; the Spanish version was released on Nov. 26, 2013; and the Japanese version was released on Jan. 14, 2014.
March 27, 2014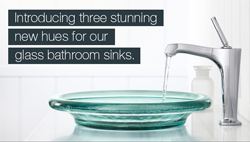 Bring stunning beauty and timeless artistry to the forefront of any bathroom design with a KOHLER glass bathroom sink.

Discover design trends and inspiring home ideas when you visit our blog at bold.kohler.com. Do you have a project that features Kohler product, or a great idea for the blog? We'd love to hear from you. Share your ideas at HomeIdeasBlog@Kohler.com
March 26, 2014
GODERICH, Ontario, March 24, 2014 /PRNewswire/ -- Workers are beginning to build the K2 Wind Power Project (K2 Wind), which broke ground today following the successful completion of an $850 million financing, which was secured with 15 financial institutions in the form of a construction loan that will convert to long-term operational debt. Located in Goderich, the 270 megawatt (MW) wind power project is hiring local workers and using Ontario-made products, including 140 wind turbine towers made in Windsor and blades manufactured in Tillsonburg.

As the project gears up, workers have already rented more than two dozen apartments and homes in Goderich, and employees are helping to boost the local economy as they shop in the area. In total, more than 1,000 workers from across southwestern Ontario will be involved in the manufacturing and assembly of the wind turbines, as well as site construction and operations.

Once operational in the second half of 2015, K2 Wind will generate clean power for approximately 100,000 Ontario homes each year. The Project will create approximately 18 to 24 permanent full-time positions, generating about $1.5 million of employment income annually. K2 Wind is being developed jointly by Samsung Renewable Energy, Inc. (Samsung), Pattern Energy Group LP (Pattern Development) and Capital Power LP (Capital Power).
March 25, 2014
FAIRFIELD, N.J., March 19, 2014 /PRNewswire/ -- Amerlux CEO/President Chuck Campagna announced that Amerlux's Hornet HP Downlights have won Architectural SSL Magazine's Product Innovation Award in the category of Downlights, with a Special Citation Award for the Hornet Retrofit. Amerlux, a global leader in lighting, product innovation, manufacturing and creative lighting solutions, has engineered these downlights for ambient and task lighting in retail, hospitality and commercial environments.

Energy Star rated, Hornet HP is small in size but big on performance. The 3.5-inch Hornet HP Downlights deliver 986 lumens and an 8,569 CBCP (center beam candle power), equal to the output of the 20w ceramic metal halide, but with the control and crisp color of the MR16 halogen. The fixtures provide excellent control, color and performance.

Hornet HP Downlights are available in round/square apertures, as well as open/lensed and trim/trimless styles for both new construction and remodeling projects. Styles include Downlight, Adjustable, Pinhole Adjustable, Pinhole Slot, Pinhole Shower, Lensed Downlight, and Lensed Wall Wash. Available in a variety of color temperatures, CRI options and beam spreads—Narrow Spot, Spot, Narrow Flood, Medium Flood, Flood, and Wide Flood. Hornet HP uses an electronic constant current LED driver and ELV or Triac dimming, which ensures compatibility with existing dimming systems. Trim finishes are offered in Matte Black, Matte White and Matte Silver.
March 25, 2014
INDIANAPOLIS, March 20, 2014 /PRNewswire/ -- Delta Faucet is pleased to introduce its latest lineup of products for the bathroom. Delta® products slated to hit the shelves this year include an affordable digital shower technology and complete product suite featuring an easy-to-install widespread faucet, as well as attractive Universal Design solutions.

For the tub and shower, Delta Faucet presents its award-winning Temp2O™ Technology, a digital temperature display featuring LED color indicators to signal different water temperature ranges for easy, visual indication. This offering gives consumers convenience and peace of mind, having an indication of the temperature of their water before getting in, and will be available on a variety of handshowers, showerheads and tub faucets beginning this summer.

Also available later this year, the Ashlyn™ product suite blends sleek, angular lines with soft edges for maximum versatility and modern flair. This collection marks the first Delta lavatory collection to incorporate the brand's revolutionary EZ Anchor® top-down mounting assembly on its widespread faucet to promote easy installation.

Finally, the Delta brand infuses style into a new collection of hidden-in-plain-sight bathroom safety accessories. Available now, the Decor Assist accessory suite includes a range of stylish towel bars, corner shelves and tissue holders, each supporting up to 300 lbs of weight when properly installed. These accessories coordinate with contemporary, transitional and traditional design styles and are offered in Chrome, Stainless, Champagne Bronze™, and Venetian Bronze® finishes. The traditional suite of Decor Assist accessories is also available in Polished Nickel.
March 21, 2014
The Museum of Fine Arts Budapest and the Városliget Zrt. (Liget Park) announce the launch of four open, international, two-stage architectural competitions to design five museum buildings in Budapest's city park. The Liget Budapest Project will consist of the construction of these new buildings, the complete renewal of the park's green area, and the renovation of the existing institutions. It will make Budapest City Park one of the best-known touristic and cultural destinations in Budapest as well as a unique family park recognized throughout Europe.

Ken Yeang will represent the UIA on the prestigious international jury. A total of
870 000 euro in prize money will be awarded during these competitions.
March 21, 2014
The UIA global network for young architects and students of architecture is being launched. All the UIA member sections were invited to designate two delegates, and a great many of our member organisations responded with candidatures of talented young architects and students to represent their country.

The UIA Bureau members reviewed the candidatures, and chose from among them a committee of young architects and a sub-committee of students in architecture, made up of five members each (one delegate for each UIA region).

A reporter, Marine de la Guerrande (France), and a coordinator, Joseph P. Lai (USA), were also selected. They will be invited to the next UIA Council session in Durban, in August 2014, and charged with developing a structure to stimulate and enrich exchange among the various delegates. Following Durban, the committees will have one year to define the network's working structure and methods and create a programme of activities. A Facebook page has already been created. https://www.facebook.com/pages/Young-Architects-Students/405974536206887
March 20, 2014

INDIANAPOLIS, March 17, 2014 /PRNewswire/ -- Minor water leaks account for more than 1 trillion gallons of water wasted each year in the U.S., which is equal to the annual water use of more than 11 million homes, according to the U.S. Environmental Protection Agency (EPA).1 In conjunction with the EPA WaterSense® program's "Fix a Leak Week", Delta Faucet, the EPA's 2013 WaterSense Manufacturer Partner of the Year, informs consumers about leak detection and prevention in the bath.

A showerhead leaking at 10 drips per minute wastes more than 500 gallons of water per year, the same amount of water it takes to wash 60 loads of dishes in the dishwasher.

Replacing older, inefficient toilets with new WaterSense labeled ones could save up to 13,000 gallons of water per year and nearly $2,400 in water and wastewater bills over the lifetime of the toilets.

Leaky faucets are another source of extreme water waste in the home. Most leaks can be fixed by checking faucet washers and gaskets for wear and replacing them if necessary.

With simple upgrades, saving water and lowering monthly bills can be easy. For additional information about these products and other water-efficient solutions from Delta Faucet, visit: deltafaucet.com. Or, check out epa.gov/watersense to learn more about Fix a Leak Week and ways to promote water efficiency.
March 20, 2014
IRVING, Texas (March 18, 2014) - Sixty seconds of an RCI Trade Show attendee's time equals a donation to the RCI Foundation. IB Roof Systems™ announced today it will donate a minimum of $1,000 to the Lewis W. Newlan Educational Fund on Sunday, March 23, during the annual RCI Foundation Auction at the 19th Annual RCI Conference and Trade Show in Anaheim, Calif.

As a means to educate RCI roofing consultants about IB's PVC Single Ply Roofing Membrane Systems, the company has agreed to donate $20 per trade show attendee who visits the IB booth and answers a few simple questions that comprise the 60-second, "IB-IQ" questionnaire. The IB-IQ questionnaire is an iPAD-based set of questions about IB Roof, their products and the roofing systems they offer.

In an effort to support the educational initiatives of the RCI Foundation, IB has pledged a donation of at least $1,000 and possibly more based on how many attendees answer the IB-IQ questionnaire. At $20 per attendee, the more attendees who complete the IB-IQ questionnaire the more money IB will give to the RCI Foundation up to $5,000.

The RCI Foundation is a non-profit 501c3 organization that financially supports activities that advance the knowledge of the building envelope, including publications, educational programs and research. The Foundation is separate and independent from RCI, Inc., which is the organizer of the RCI Conference and Trade Show, to be held at the Anaheim Hilton and Anaheim Convention Center March 20-25.
March 20, 2014
Representatives from across the building industry, including code officials, building owners, manufacturers, designers and energy efficiency advocates, have come together under the leadership of the National Institute of Building Sciences to develop a new approach to meeting energy efficiency requirements. This "Outcome-based Pathway," which the group submitted as a proposed code change to the International Green Construction Code (IgCC), appears in the monograph of IgCC proposed changes that the International Code Council released this past Friday, March 15, for public review.

The industry group specifically focused on an outcome-based approach to address a number of challenges facing the building industry:

Code departments have limited resources available to enforce building codes (particularly energy codes, which are not usually seen as a life safety issue).

Energy use is highly measurable, yet current code pathways anticipate results from designs; they do not assess actual building performance.

Designers do not have the flexibility to use some of the latest technologies or practices to achieve energy efficiency requirements.

Not all energy-saving strategies, such as building orientation, are effectively captured in codes.

Energy efficiency goals increasingly rely on reductions in energy use at the systems level, but the IECC has primarily focused on a component approach.

A growing percentage of energy uses associated with buildings are not currently covered within the existing code framework (i.e., plug loads).
March 18, 2014
Hampshire, IL – W. R. MEADOWS' HYDRALASTIC 836 is a cold-applied, solvent-free, single-component waterproofing compound that will not shrink, has a low volatile organic compound (VOC) content, has very low odor, and will not crack in extreme cold or slump due to softening at high temperatures.

This new product technology can be used on interior or exterior concrete surfaces, where protection from water intrusion is desired and can be used for both above-grade, and below-grade applications. HYDRALASTIC 836 is also excellent for horizontal and vertical applications such as waterproofing plaza decks, planter boxes, and sealing parapets. It's even ideal for positive-side waterproofing for foundations and in between-slab applications.

For more information about HYDRALASTIC 836 including Data Sheet, CAD Details, and Guide Specs visit www.wrmeadows.com or call (847) 214-2100.
March 18, 2014
KOHLER, Wis. – Feb. 4, 2014 – After an overwhelmingly positive reception of the Kohler Moxie showerhead + wireless speaker, Kohler Co. introduces a rainhead configuration for the showerhead and speaker combo. An increased consumer demand for differentiated and personalized showering experiences brought the Kohler Moxie Rainhead to life. The original design's ability to stream audio through Bluetooth*-enabled devices introduced the opportunity to make showering a more personalized experience. Now, the new Kohler Moxie Rainhead design allows for even more options.

Moxie Rainhead features ninety angled nozzles and utilizes air-induction technology to maximize the combination of air and water to deliver a full, rich spray. The rainhead design pairs well with the Kohler HydroRail shower column to provide an elevated showering experience. Configuring the rainhead on a shower column allows users to easily reach, remove, and reconnect the wireless magnetic speaker inside the showerhead.
March 18, 2014
KOHLER, Wis. – Feb. 4, 2014 – Continuing to innovate in unexpected ways, Kohler introduces Preserve, an ingenious series of kitchen sinks engineered to create a scratch barrier, protecting stainless steel and maintaining its pristine look.

Preserve is a factory-applied surface treatment that has the added benefit of scratch resistance while still wiping clean just as easily as any stainless steel sink. It keeps Kohler stainless steel sinks looking newer longer.

Homeowners have long been drawn to stainless steel sinks because of the sophisticated, flawless look of the material. Stainless steel gives a kitchen an upscale, professional appearance and is easy to match with other appliances, but buyers are often concerned about how stainless steel will hold up and worry that over time denting or scratching will mar the surface. Preserve allows homeowners to invest in and enjoy their kitchen sink with full confidence in its lasting beauty.
March 17, 2014
Theme of the Competition
The Unexpected City is a city of wonder, a city where imagination, creativity, and the new have boldly surpassed what has been. The Unexpected City is a city which will find a new relationship between ancient tradition, modernity, and technology. It will offer a new perspective in space of living, nature, and respect for everyone with concrete architectural and urban projects. After all, home is not "where the heart is" but where the house and neighborhood reside. I expect high level intellectual ambition, artistic originality, and freedom of thought to bear on those who build the world and on those who take this course.

Purpose of the Competition
We know the digital city, the sustainable city, and the smart city. But city in transition is also about the unexpected city, like the unexpected creative city, the unexpected social city, the unexpected public space that a city can have, the unexpected city of art, the unexpected social and cultural encounters that a city can give us. So I think the "Unexpected City" is also the city in transition and the city of future. It's about everything which is not what I expected. It's about everything which is not on the agenda but will become our agenda because of the creative process.
March 17, 2014
Insulated metal panels from Metl-Span proved to be a perfect component for the renovation and conversion of a 1940s masonry warehouse to an energy-efficient office facility.

Metl-Span has released a comprehensive technical digest titled Fire Resistant Wall and Ceiling Construction to help builders understand the use of its ThermalSafe panels in fire resistant wall and ceiling applications. It offers considerations for a variety of materials and there suitability for different types of construction and general assembly details.

Metl-Span offers UL and Intertek certified ThermalSafe fire resistant insulated panels for most fire resistant 1-, 2, and 3- hour rated non-load bearing wall applications, 1½- hour fire resistant rated ceilings, and fire resistance rated door and window assemblies.

To download the Fire Resistant Wall and Ceiling Construction, visit www.metl-span.com.
March 13, 2014
2014 marks the 50th anniversary of Unicel Architectural. A big milestone for us!

Over these past 50 years, we've chalked up thousands of daylight and vision control projects in dozens of countries for all sorts of uses - hospitals, schools, museums, shopping centers, office buildings, and more. We've worked with thousands of talented architects who have inspired us with their vision and their designs.

We've learned a lot in 50 years. From architects, from builders, from building occupants and from our own ongoing research and development.

We've compiled a few highlights of these 'learnings' to share with you. Click on the MORE link for information.
March 13, 2014
ATLANTA, March 12, 2014 /PRNewswire/ -- Georgia-Pacific Wood Products has launched an app for their structural panel products to deliver content in a convenient, on-demand, and easy-to-read format. The GP Panel Guide app is a free download, available in the App Store for iPad and iPhone, and the Google Play Store for Android devices.

Applications include roof sheathing; wall sheathing; sub-floor; interior panels; exterior siding; and projects. Correlating products featured in the app are Plytanium® sheathing; BlueRibbon® sheathing; Thermostat® radiant barrier; Plytanium® Sturd-I-Floor® panels; DryPly® Plywood; Blue Ribbon® Sturd-I-Floor® panels; DryGuard® Enhanced OSB; DryMax™ High-Performance OSB; Plytanium® siding; Ply-Bead® panels; and Plytanium® sanded panels.

Within each product information area, users will find a short product summary followed by links to product specifications, installation tips, warranty information, product sustainability facts, and third-party certification information. Finally, there is a section on how to read an APA grade stamp, which is the stamp put on nearly all Georgia-Pacific structural panel products and is the manufacturer's assurance that the product is manufactured to industry standards.
March 13, 2014
CLEVELAND, March 12, 2014 /PRNewswire/ -- Sherwin-Williams today announced the launch of its online Spanish platform focusing on Hispanic homeowners, contractors and designers.

Sherwin-Williams will feature tips, how-to articles and color information from leading Hispanic bloggers and Sherwin-Williams color experts. The new site, integrated with Sherwin-Williams Facebook and Twitter accounts, will connect Latino paint and color professionals, homeowners and designers with inspiring content in their own voice.

For more information on Sherwin-Williams Latino, visit them online at www.facebook.com/SherwinWilliamsLatino
March 11, 2014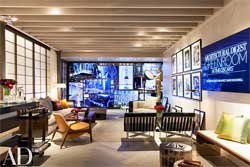 Once again Caesarstone worked closely with our partners at Architectural Digest to create stunning bars and tabletop applications for the 2014 Architectural Digest Greenroom at the Oscars. This year's Greenroom was designed by renowned AD100 architect David Rockwell and included a digital art installation co-curated by Rockwell and Academy Award-winning actress Susan Sarandon.


As an official sponsor, Caesarstone quartz surfaces ran fluidly throughout the exclusive backstage lounge, whose design Rockwell describes as "casual luxe." Caesarstone was proud to partner with Hudson furniture to furnish the Greenroom with a custom-made main bar Jet Black 3100. Other pieces included a tabletop in Shitake 4230, and a buffet tabletop and mini-bar in Belgian Moon 4100.
March 11, 2014
West Caldwell, New Jersey –MaxLite® has received the 2014 Top Products Award for its Direct Lit LED Flat Panel Performance Series, from Building Operating Management (BOM) magazine. The BOM Top Products is an award program that recognizes the year's most popular, useful and innovative products as deemed by building owners and facilities management professionals in a nationwide survey. Readers selected from 465 products, and the top 15 percent of products was selected as top products and featured in the February 2014 issue and on www.facilitiesnet.com.

View the data sheets at http://www.maxlite.com/datasheet/1x4-direct-lit-flat-panel---ps, http://www.maxlite.com/datasheet/2x2-direct-lit-flat-panel---ps and http://www.maxlite.com/datasheet/2x4-direct-lit-flat-panel---ps. View the product photo at http://www.maxlite.com/PDFs/PR/PRkit/MaxLite_PerformanceFlatPanels_Award.zip.
March 10, 2014
KENNESAW, Ga., March 10, 2014 /PRNewswire/ -- Automated Logic Corporation (ALC), a leading provider of innovative building automation systems that maximize energy efficiency while ensuring occupant comfort, announced the release of Eco-Screen, an interactive software application that showcases energy and conservation measures within a building. This application seamlessly integrates with the WebCTRL® building automation system and metering devices to monitor energy data, and then displays the information on a large touch-screen monitor in a lobby or shared area of a building. Automated Logic is part of UTC Building & Industrial Systems, a unit of United Technologies Corp. (NYSE: UTX).

For more information about the Eco-Screen application and Automated Logic, visit www.automatedlogic.com or follow the company on Twitter: @AutomatedLogic.
March 10, 2014
CINCINNATI, March 7, 2014 /PRNewswire/ -- Cornerstone Specialty Wood Products continues to transform the mezzanine flooring industry with added value in products and services.

In the product category Cornerstone Specialty Wood Products has introduced a new finish by the name of Diamond Seal® 2. Diamond Seal® 2 provides the following benefits for the material handling industry:

• Tough scratch and wear resistance
• Taber abrasion protection
• Tighter color tolerances
• Exceptional resistance to common stains (NEMA LD 3.4 tested with 29 reagents)
• More skid resistance than other floor finishes (coefficient of friction test data available)
• Optional ESD Certified Static Control

Additionally Cornerstone Specialty Wood Products now offers ResinDek® Floor Graphics, which allow customers to design their own message and graphics for ResinDek® mezzanine flooring panels.

Cornerstone Specialty Wood Products has recently received a CE Mark for all ResinDek® panels that ship into Europe. In addition, ResinDek® panels have passed the European Reaction to Fire Test, and received a Class "O" Fire Rating from the United Kingdom. This will allow more warehouses in Europe to install ResinDek® mezzanine flooring panels.

Cornerstone Specialty Wood Products is also proud to announce the ISO 9001 certification of their manufacturing facility and parent company Universal Woods, Inc.

For more information regarding these new products please see Cornerstone Specialty Wood Products at the upcoming MODEX Show in Booth No. 7934 or contact them at 888-755-3048 or www.resindek.com.
March 10, 2014
Ideal Picture Hanging Hook Earns Patent
Published March 6, 2014 by Merit

AS Hanging Systems received notice from the US Patent and Trademark Office that the recently redesigned Mini Hook has achieved a patent on its design. This is the third major version of the diminutive cable hanging hook.

Mini Hook, Swivel

The earlier version of this hook introduced the popular swivel feature that allows the body to rotate within the formed wire hook portion of the assembly. This is a great convenience feature that allows for left and right-handed use, which is particularly handy when adjusting frame height in tight or difficult locations.

Mini Hook, Security

Another attribute of this frame hook is that it may be used in a way that provides picture hanging security or anti-theft capability.
March 10, 2014
WINCHESTER, Va., March 10, 2014 /PRNewswire/ -- Awards season is here – and Trex is on top once again. Trex Company, the world's largest manufacturer of wood-alternative decking and railing, recently received top honors from two of the industry's most respected reader surveys – Green Builder Media's 2014 Reader's Choice Awards and Peninsula Publishing's 2013 Building Products Brand Survey – underscoring the brand's leadership and preference among architects, builders and contractors and other trade professionals.

In the decking products category, Green Builder Media 2014 Reader's Choice Awards, voters selected Trex® decking as the "greenest" in the industry. This accolade comes on the heels of recognition by the readers of Builder & Developer, Green Home Builder and BuilderBytes.com, who collectively ranked Trex the number one preferred decking brand in the industry in Peninsula Publishing's 2013 Building Products Brand Survey.

The results of Peninsula Publishing's 2013 Building Products Brand Survey appeared in the February issues of both Builder & Developer and Green Home Builder, and may also be viewed online at www.bdmag.com.
March 10, 2014
SCRANTON, Pa., March 10, 2014 /PRNewswire/ -- When is a pavilion not just a pavilion? That would be one that's been built by Nathan Denson, owner of By the Book Builders of Voluntown, CT. Denson has the passion and vision to take an ordinary pavilion project and make it extraordinary. For one recent project, Denson created the ultimate in craftsmanship with an AZEK-trimmed pavilion for a homeowner seeking to take home entertainment to a whole new level. Located in Ledyard, CT, the pavilion used AZEK Trim material throughout to capture the old world New England charm—but comes with many high tech amenities that are anything but quaint.

Some of the pavilion's special features include dramatic lighting that sets the stage for nighttime entertainment, while ceiling fans keep things cool during the long summer evenings. Denson also used AZEK crown moulding to fabricate custom copper-lined Yankee Gutters into both eaves, which are subtle, functional and a beautiful feature of this pavilion. As a finishing touch, he used AZEK Trim to wrap columns and trim the soffits, as well as AZEK Beadboard to finish off the ceiling.

For more information about By the Book Builders, visit www.btbbuilder.com or email freeconsult@btbbuilder.com. To learn more about AZEK Trim, visit www.azek.com.
March 07, 2014
VERONAFIERE BELIEVES IN THE EARTHMOVING INDUSTRY
MEETING WITH ASSOCIATIONS AND COMPANIES ON 17 MARCH
TO DEFINE THE 2014 EDITION OF SAMOTER AND ASPHALTICA

Giovanni Mantovani, CEO & Director General of VeronaFiere: "We can overcome the crisis together. Our role is to organize exhibitions at the service of the company system, from large groups to small-medium enterprises. For this reason, we have made a major investment on the domestic market and for incoming foreign trade delegations." In this context, Samoter will also be the occasion for comparisons between the sector and the Government, especially with the Ministry of Economic Development, Infrastructures and Transport and the Ministry of Agriculture in order to identify effective measures to promote the development of the sector.

Verona, 7 March 2014. A not to be missed appointment 8-11 May at Veronafiere for the 29th edition of Samoter, the triennial international exhibition dedicated to earth-moving and building machinery (www.samoter.com). The exhibition, first held in 1964 in Verona, will be flanked by Asphaltica, the Exhibition of Road, Safety and Infrastructure Solutions and Technologies (www.asphaltica.it).

With a view to the event next May, the Veronafiere will host a meeting on 17 March with trade associations and represented companies to define together, given the continuing and heavy crisis still affecting this sector, the overall proposal and distinctive profile of the 29th edition of Samoter and Asphaltica, in order to ensure the best possible outcomes for those taking part who still firmly believe in the need for the country to have its own organic representation of sector needed to ensure modernization and the implementation of major infrastructures.

In this context, Samoter will also be the occasion for comparisons between the sector and the Government, especially with the Ministry of Economic Development, Infrastructures and Transport and the Ministry of Agriculture in order to identify effective measures to promote the development of the sector.

"If we have to talk about crisis we must also illuminate and illustrate at the same time the responsiveness companies are providing for the creation of an infrastructure network to make road, connection and environmental maintenance systems credible and especially genuinely competitive. We organize exhibitions serving the country, events that are vital for the system of large, medium and small companies that so often ensure excellent solutions and innovations. Exhibitions are not organised merely to ride on the back of mature markets but also to provide tools for recovery and revival," said the CEO & Director General of Veronafiere, Giovanni Mantovani, in clarifying the objective of the meeting.

In fact, the meeting with trade associations and companies will also define the last detailed steps as regards investments to promote incoming delegations of operators, expected today not only from Italy but also from Iran, Qatar, Saudi Arabia, Turkey, Kurdistan, Russia, the Balkan countries, Switzerland, Austria, Germany, Belgium, Spain, Portugal, Great Britain, France, Sweden, Norway, Romania, Poland, the United States of America, Brazil, South Africa, former Soviet republics and the Mediterranean area.
March 04, 2014
Terry Anderson, owner of TRA Snow and Sun, has been awarded a US Patent for a clamp-on bracket used in retaining snow or attaching solar panels on metal roofs

Terry Anderson, owner of TRA Snow and Sun, Inc. of American Fork, Utah, received a US Patent for one of his latest inventions, a clamp-on bracket for use in retaining snow and solar panels on metal roofs. Anderson also has two other patents. He invented the original Snow Bracket for retaining snow on tile roofs as well as the Ridge Riser® which is used to attach and elevate the ridge board to increase ventilation and provide more strength for high wind resistance.

The new clamp-on bracket can be used for securing roof snow fences, attaching solar panels, mounting conduits on a roof and creating roof platforms without penetrating the roof system.

Retaining snow on roofs is important due to the obvious danger created when heavy snow and/or ice avalanches. Such avalanches can cause injury or death to people and damage to property. Since metal roofs naturally have a slippery surface, it is especially critical to install a snow retention system.
March 04, 2014
Courses taken on AEC Daily's website grew by 48% in 2013 and registered users grew by 121%. While architects are still AEC Daily's largest group of learners (accounting for about half) other design professionals are quickly discovering the educational opportunities as well. Engineers are the second largest group. Interior designers experienced the most growth and now account for 11% of registered learners.

While AEC Daily has experienced growth every year for the last decade, the 2013 increase was particularly significant. As the North American leader in A/E/C (architecture / engineering / construction) online education, their trend is an indicator of a bolstering construction industry. Geographically, 77% of learners came from the United States and 11% from Canada.

"Our page views are measured in the millions but nobody should care about that" said Jeff Rice, president of AEC Daily. "What matters is measuring engagement. Our learners aren't just visits or hits; they are real people who keep coming back to spend a significant amount of time upgrading their knowledge."

AEC Daily is committed to providing high quality education. That is one of the reasons why they are the only company to have won the American Institute of Architects (AIA) AIA/CES Award for Excellence for Internet Platform Providers.
February 27, 2014
Builder's most environmentally ambitious home yet features net-zero energy usage and zero freshwater usage for irrigation

February 26, 2014 01:00 PM Eastern Standard Time

LANCASTER, Calif.--(BUSINESS WIRE)--KB Home (NYSE: KBH), one of the nation's largest and most recognized homebuilders, unveiled its first ZeroHouse 2.0 in Los Angeles County today during a special event at the builder's Dawn Creek community in Lancaster. The newest ZeroHouse 2.0 is the first KB home designed to achieve both net-zero energy status, and zero freshwater irrigation use by a family of four or more. Dubbed the "Double ZeroHouse" for its dual emphasis on energy and water efficiency, the home is equipped to recycle drainwater on-site and reuse it for landscaping, minimizing the home's overall demand for new water and eliminating the household's need to use freshwater for the home's established low-water landscaping.

KB Home estimates that the Double ZeroHouse 2.0 at Dawn Creek can conserve 150,000 gallons of water each year when compared to a typical resale home and landscaping, a reduction of approximately 70%. In addition, the ZeroHouse is designed to produce as much energy as it consumes, potentially yielding an electric bill of $0
February 25, 2014
The Houzz Annual Survey and Analysis of 16 Million Monthly Users Reveals Top-Rated Building, Remodeling and Design Products and Professionals. Based on this survey Glass Apps has been awarded one of the Best of Houzz awards in Customer Satisfaction.

Culver City, CA February 25, 2014

Glass Apps has been awarded "Best Of Houzz" by Houzz, the leading platform for home remodeling and design. They were chosen by the more than 16 million monthly users that comprise the Houzz community as one of the best in Customer Satisfaction.

The Best Of Houzz award is given in two categories: Customer Satisfaction and Design. Customer Satisfaction honors are determined by a variety of factors, including the number and quality of client reviews a professional received in 2013. Design award winners' work was the most popular among the more than 16 million monthly users on Houzz, known as "Houzzers," who saved more than 230 million professional images of home interiors and exteriors to their personal ideabooks via the Houzz site, iPad/iPhone app and Android app.

Glass Apps received a "Best Of Houzz 2014" badge on their profile, showing the Houzz community their commitment to excellence. These badges help homeowners identify popular and top-rated home professionals in every metro area on Houzz.


With Houzz, homeowners can identify not only the top-rated manufacturers like Glass Apps, but also those whose work matches their own aspirations for their home. Homeowners can also evaluate manufacturers by contacting them directly on the Houzz platform, asking questions about their products and reviewing their responses to questions from others in the Houzz community.
Follow Glass Apps on Houzz and save their beautiful smart glass projects to your ideabooks http://www.houzz.com/pro/glass-apps/glass-apps-switchable-glass.


Glass Apps is the leading provider of switchable glass and liquid crystal based films. Our smart glass and film products provide privacy on demand in a switch of a button and energy savings through solar control. Glass Apps products are used in residential, commercial, retail, government and transportation exterior and interior glass worldwide. Glass Apps is headquartered in Culver City, CA.
February 21, 2014
THE MOST IMPORTANT TRADE FAIR DEDICATED TO THE NATURAL STONE SECTOR IN LATIN AMERICA UNDERWAY IN BRAZIL

Brazil confirms its status as the first country for Italian natural stone processing machinery and equipment exports: +36.4% in the first 9 months of 2013.
Verona, 20 February 2014 - The 2014 edition of the Vitória Stone Fair/Marmomacc Latin America – scheduled from 18 until 21 February at the Carapina Exhibition Centre in Vitória – marks the start of full operations by Veronafiere to export the highly successful formula of Marmomacc to Brazil. The Brazilian exhibition in the Espírito Santo State, in fact, is no longer merely an exhibition space dedicated to marble and granite but also ensures considerable attention to product design and culture thanks to the new training courses for architects and professionals.

The goal is to ensure even more effective support for the development of trade relationships between Italian operators in the industry and a country with the highest growth rates in the world and a gateway to South and North America alike.
The Brazil, in fact, constitutes one of the markets more promising for the field of building: is the fifth largest country in the world, the ninth world economic power and in coming years will see significant infrastructural investments as the host country of the 2014 World Cup and the 2016 Olympics.

With an area of 32 thousand square meters and 420 exhibitors (including 120 international from 17 countries, especially China, Turkey and Italy), the Vitória Stone Fair/Marmomacc Latin America 2014 ranks as the most important Latin American event in the natural stone field and is welcoming visitors from all over the world.
February 19, 2014
How to Hang Art in Earthquake Zones
Published February 14, 2014 by Merit

by Dave Veilleux, VP Business Development -

As someone who grew up in an earthquake zone in southern California, I have personal first hand experience with shake, rattle, and roll of Mother Nature's occasional convulsing. Besides a multitude of less memorable shakers, I have experienced the following significant quakes:

1971 6.6 (Richter Scale) San Fernando/Sylmar quake
1987 5.9 Whittier Narrows quake
1991 5.6 Sierra Madre quake
1994 6.7 Northridge quake

The challenge has been presented to our Call Center many times, "What is the best way to hang art so that it doesn't become a hazard during an earthquake?" Another way to think of this is, "Can modern hanging display system hardware benefit those living or working in earthquake areas?" That short answer is, yes. For more information about how to hang art in earthquake zones, please visit our blog at http://blog.ashanging.com/2014/02/how-to-hang-art-in-earthquake-zones.
February 12, 2014
SKYLINE (February 13 – 22, 2014) is a free, ten-day, annual architecture and art event that showcases 10 site specific, experimental, interactive installations that embrace Los Angeles' ever-evolving cultural landscape. During SKYLINE, architects, designers and artists transform unique, hidden spaces within downtown Los Angeles into destination places for visitors and locals alike. More information, including participants, special events, guided tours, and musical performances, can be found on the LERATA website.

We have four free musical performances that have been paired to installation sites – and one After Party that is a fundraiser for our event – this information is all on the calendar here: http://lerata.org/upcoming-projects/skyline-2014-calendar-music-special-events/

Our VIP party also launches this Wednesday, February 12, 7pm – 10pm. The invite is attached. This is a great way to support this event, and help LERATA produce more free, public architecture events. Tickets can be purchased here: https://www.eventbrite.com/e/skyline-2014-vippreview-party-tickets-10442252057

We hope you can join us and others in the industry for a fun night of networking, contemporary architecture, theatre performance, and more!
February 05, 2014
February 3rd, 2014
Lillington, North Carolina – Following the launch of a new brand and websites across the globe on January 24th, Boon Edam Inc. announced today it has updated the product names of its full height and tripod turnstiles. The turnstiles have been renamed to serve customers across many industries and countries and also fall in line with other product names offered by Boon Edam internationally.

Upon the 2005 acquisition of Tomsed Corporation, the largest turnstile manufacturer in the USA, Boon Edam Inc. continued to build Tomsed turnstiles at its North Carolina plant. The turnstile names were left unchanged to serve existing Tomsed customers as well as new Boon Edam customers.

Now in 2014, to align with the new brand, the names of the turnstiles have been changed as follows:

1. All tripod (3-arm) turnstile models are now called Trilocks."
a. TUT-50 is now "Trilock 50"
b. TUT-60 is now "Trilock 60"
c. TST-75 is now "Trilock 75"

2. All full height turnstiles were completely re-engineered in phases during 2012 and 2013 and are now called "Turnlocks."
a. THT-100 is now "Turnlock 100"
b. THT-100ASTG is now "Turnlock 150 ASTG"
c. THT-100EL is now "Turnlock 200 EL"
d. THT-100CSTG is now "Turnlock 250 CSTG"

Boon Edam Inc. ships turnstiles and parts to other Boon Edam subsidiaries worldwide and the Trilock and Turnlock names are now consistently used in all locations. For questions regarding our turnstiles please contact us at 800-334-5552 or www.boonedam.us.
February 04, 2014
International Builders' Show 2014

VANCOUVER, B.C.--(BUSINESS WIRE)--In its 88th year of business, Moulding & Millwork – the largest manufacturer of interior finishings in North America – is changing its name to Metrie™. The new name is part of a strategic decision to heighten the company's focus on providing inspiration and support to homeowners and professional designers who use interior trim (such as crown, wall and baseboard mouldings, doors and other decorative elements) to add style and beauty to a room.

In addition to coordinated moulding elements of crown, baseboard, casing and more, each Collection offers solid core and glass interior doors especially designed to complement the mouldings for a cohesive, harmonized look in the home.

At this year's International Builders' Show (IBS) in Las Vegas, the company will unveil the five new design Collections called Metrie Then & Now Finishing Collections™. Each inspired by a different architectural style, the Collections blend elements of modern and classic, so it's easy to find something that will work with virtually any decorating style. They are:

Metrie™ French Curves™ Collection
Metrie™ True Craft™ Collection
Metrie™ Very Square™ Collection
Metrie™ Fashion Forward™ Collection
Metrie™ Pretty Simple™ Collection

Each Collection offers the consumer a pre-selection of all the moulding elements needed in a home, including crowns, casings, baseboards and rosettes, as well as a range of solid, premium interior doors. All mouldings within a single Collection are sized to fit together in the right proportions. Interior doors in the Collection coordinate with their mouldings making it easy for homeowners to achieve an aesthetic flow throughout the home and a result worthy of professional design standards.

Metrie's new online presence at www.metrie.com features inspiration for consumers, as well as tools to support pros and the designer community, including CEU courses, a Room Styler™ design tool and how-to videos. A comprehensive social and digital program is also in place, including a new design trends blog The Finished Space™ for the latest styles in interior finishings and weekend project ideas. Offline, new merchandising displays will showcase the Collections' doors, mouldings and trim elements together, making coordination and selection easy.
January 31, 2014
We have witnessed, and previously reported on, customers using our Pocket Display System to create any number of interesting solutions, such as for display real estate listings and museums display walls. We have a new application success story to share with you. It comprises 175 pockets creating a display spanning more than 35 feet wide and over 8 feet tall.

The client is Strata Decision Technology, a pioneer and industry leader of software solutions for financial and business support in the healthcare industry. They support over 1,000 healthcare organizations, hospitals, medical centers, and the like.

At their headquarters they've created a branding wall, if you will, of some of the healthcare institutions whom they count as clients. You can see their client list is quite impressive and so is the brag wall, which all those logos create. Designing a hanging system using our Pocket Display System, they were able to highlight each client in a professional and suitable manner.

The Pocket Display System they've chosen is designed with Articulated Piers, Cable Clamps, and Acrylic Pockets. The perfectly hung display is not only beautiful, but extremely functional as well. The acrylic pockets, used here are in the tabloid size, protect each client logo insert with little extra care. Each logo is simply printed on 11×17 paper and then inserted into an acrylic pocket via a convenient top opening. This design also allows contents of any pocket, or even all the pockets, to be changed easily – simply by sliding out the banner held within, then replacing it with a new banner. No un-mounting or re-mounting of the pockets or display components to update the brag wall, and certainly no tools required.

With our Articulated Piers, you can see that mounting a display of this size and calibre is of no issue even on a curved wall. The statement of this display, in such a grand hallway, makes a bold and confident declaration to all who see it. We are sure it is a place of pride for Strata Decision Technology, while allowing them to acknowledge the companies with which they can claim as client/partners.
January 30, 2014
Surrey, BC , January 30, 2014 - Duradek™, the original vinyl deck waterproofing membrane reaches its 40th spring and we are proud to have spent the last 4 decades providing waterproof protection for your home. We know you love your deck and this is a low-maintenance relationship you can enjoy year after year with Duradek.

A Roofing Approved, Walkable Waterproof Membrane and so much more...
Duradek is a Complete Waterproofing System.
With all components for successful installation researched and proven to be compatible with Duradek vinyl membranes.Adhesives - PVC Coated Drain Accessories - Perimeter Treatments Plus—the performance you can count on!

Duradek's NEW Ultra Cork Color– Graphite
Duradek Ultra Cork emulates a natural looking cork pattern for a look that suggests subtle, comfortable luxury and was selected as one of the Best 101 New Products in 2013. Available in 4 Attractive Shades:
• Ultra Cork Natural
• Ultra Cork Macchiato
• Ultra Cork Espresso
• Ultra Cork Graphite *New*

Panorama Post Topless Glass Railing System
Durarail's powder-coated Panorama Post topless glass railing system provides a spectacular look on your deck that allows you to enjoy a completely unobstructed view AND allows maximum versatility with its ability to 'bend' around corners with a 60° angle variance in each post.

HGTVs Income Property Called on Duradek
When a damaging deck leak over living space almost spelled certain disaster for the renovation plans in season 8 - episode 8, Duradek was able to save the day and exceed their expectations by providing Tiledek...the perfect solution for waterproofing roof decks surfaced with tiles or pavers.
January 30, 2014
MONTREAL--(BUSINESS WIRE)--AS Hanging Systems, the North American leader of hanging systems and display fittings for all manner of interior spaces, will be exhibiting at the Montreal HomeExpo. They will bring to HomeExpo, a portion of their exhibit that has traveled to Washington, DC, Boston, New Orleans, Miami and Denver as part of the exhibit the company has taken to the annual AIA (American Institute of Architects) Expo the last several years. It is a rare opportunity for lay persons of Montreal to see what their local company presents to the professional architects and designers who attend the largest architectural specific tradeshow in North America each year. The show, which will be located at the Montreal Olympic Stadium is open to the public from February 6 – 9, 2014. AS Hanging Systems will be located in booth #338.
January 24, 2014
Each year, the National Institute of Building Sciences recognizes individuals and organizations that have provided outstanding service to the Institute, the building community and the nation. The Institute honored its 2013 award winners at an Annual Reception and Awards Banquet held Wednesday, January 8, during Building Innovation 2014—The National Institute of Building Sciences Annual Conference & Expo. The 2013 recipients included Wagdy A.Y. Anis, FAIA; Martin Weiland, PE; and Jimmy W. Sealy, FAIA.

Wagdy A.Y. Anis, FAIA receives 2013 Institute Honor Award - The Institute Honor Award goes to an individual or organization that has made an exceptional contribution to the nation and the building community.

Martin Weiland, PE receives 2013 Institute Member Award - The Institute Member Award goes to a member of the Institute or affiliate council who has made a substantial contribution in support of the mission, goals and objectives of the Institute.

IAPMO receives 2013 Institute President's Award - The Institute President's Award is given to an individual or organization in recognition of extraordinary efforts to assist in advancing the mission of the Institute.

Jimmy Sealy, FAIA receives 2013 Mortimer M. Marshall Lifetime Achievement Award - The Mortimer M. Marshall Lifetime Achievement Award, the Institute's highest honor, goes to someone who has demonstrated a lifetime of dedication to the mission and goals of the Institute.
January 23, 2014
Stoneyard.com Upcoming Events and Trade Shows
Join thousands of attendees and experience some of the best equipment, tools, and materials in the construction industry. We have a full schedule of events and shows where you can experience all of our amazing natural thin stone products. Below are the upcoming shows at locations such as Las Vegas, Boston, and Connecticut.

World of Concrete
January 21 - 25, 2014
Las Vegas Convention Center | Las Vegas, NV
Booth #: N1559

StonExpo | Surfaces | Tile Expo
January 28 - 30, 2014
Mandalay Bay Convention Center | Las Vegas, NV
Booth #: B629

New England Grows
February 5 - 7, 2014
Boston Convention Center | Boston, MA
Booth #: 8715

The Home Show @ Foxwoods Resort Casino
February 22 - 23, 2014
Foxwoods Resort Casino | Ledyard, CT
Booth #: 119

Visit www.stoneyard.com/events for locations, show descriptions, and how to get tickets
January 20, 2014
Casso Display Rail is a cleverly designed rail that allows for paper and mat board up to 2mm (1/16th inch) in thickness to be displayed simply by slipping them into the slot at the bottom of the rail. With its unique design of no internal rollers, stapled documents will not become jammed. There will never be torn edges or fraying of documents either.

Whether you're using Casso Display Rail in a professional or school environment, or you're installing it as a functional addition to an artistic piece, the track is clean and purposeful, and completely eliminates the use of cork boards and map rails.

Above, a series of Casso rails are used to present art photography in a school. This allows staff to effortlessly change out the prints on display at any one moment. And, because the design of Casso track is "fastener-less", the prints are not damaged, nor is there the concern of stray thumbtacks or staples being unfortunately misplaced on the floor, or mischieviously misused. This clearly demonstrates Casso Display Rail as a replacement for bulletin bars, maps rails and cork rails found in most North America schools.
January 20, 2014
Virginia Beach, VA - KOSTER American Corp. announced the official launch of the KOSTER Chip Floor and KOSTER Quartz Floor Systems. The World of Concrete marks the flooring products debut on the market.

KOSTER has developed epoxy based broadcast floor systems that incorporate different kinds of broadcast media such as chip and quartz. The image to the right, illustrates the recommended KOSTER Double Broadcast System.

January 16, 2014
BOSTON, January 16, 2014 – GRAPHISOFT North America today announces the release ArchiCAD STAR(T) Edition 2014 BIM software in the North American market. Shipping of ArchiCAD STAR(T) Edition 2014 is anticipated to begin in early February.

ArchiCAD STAR(T) Edition 2014 is a full-fledged BIM solution with critical features most smaller practices need. Architects can take advantage of a full BIM toolset and create any type of Virtual BuildingTM model and architectural documentation (floor plans, sections/elevations, 3D views, details).

The feature set in STAR(T) 2014 includes all the necessary tools to create a BIM that is data-rich and able to produce all floor plans, sections/elevations, 3D views and details for a project. Advanced modeling tools such as the Shell tool, MORPH and priority-based connections are also included within STAR(T) 2014. Serving as a base for the latest ArchiCAD STAR(T) Edition 2014, ArchiCAD 17's robust, well-tested engine satisfies the needs of a smaller practice. Therefore, ArchiCAD STAR(T) Edition has most of the feature set, content and benefits of ArchiCAD 17, including:

•All the tools necessary to create the Building Information Model from which the architectural documentation (floor plans, sections/elevations, 3D views, details) as well as the bill of materials can be derived;
•Full access to ArchiCAD's 3D modeling capabilities including the Shell tool, the MORPH™ tool, the priority-based Junctions and GDL objects (up to version 17);
•Latest IFC, DWG and DXF file exchange capabilities to enable full, model-based and hybrid coordination workflow with consultants.
January 16, 2014
WWF Climate Solver award winner GIBSS, a market leader in innovative building systems and clean technologies, has launched its LED lamp series for residential consumers. The residential LED lighting product line is set to replace traditional technologies such as CFLs, incandescent bulbs and will offer energy savings of up to 80%.

GIBSS has unveiled several innovations in the building systems space that help building owners reduce their operating costs by 50-80%. In 2012, GIBSS launched geothermal air conditioning in India. The technology has realized enthusiastic reviews from building owners and industry experts in India since it offers 60% reduction in air conditioning expenses and eliminates the requirement of water and chemical consumption for air conditioning in commercial buildings. The other innovation that has seen good adoption is the hot water co-generation system that replaces energy guzzling geysers and boilers. The technology slashes the electricity/diesel bills for heating water by about 80%. GIBSS is one of the largest and oldest players in LED lighting space in India and has offered its solutions to more than 85 commercial buildings across India
January 14, 2014
Vectorworks 2014 Product Line Delivers on a Series of Customer-Driven Improvements

Columbia, Md. (January 14, 2014) – Nemetschek Vectorworks, Inc. is pleased to announce the availability of the Japanese-language version of the Vectorworks® 2014 line of design software, including: Vectorworks Designer, Architect, Landmark, Spotlight, Fundamentals and Renderworks®.

A&A Co., Ltd., the distributor of Vectorworks software in Japan, held a series of pre-launch events last month to introduce the new version of Vectorworks software to designers across the country and, beginning today through February 24, the company will hold several online product launch events, as well. More information about the online events can be found here: http://www.aanda.co.jp/seminar/web/Vw2014.html

The Vectorworks 2014 software contains more than 130 improvements, including new BIM tools for architects, increased site design capabilities for landscape architects and designers, as well as enhancements to lighting devices, documentation and graphic controls for entertainment designers. Visit http://www.vectorworks.net/2014 to learn more about all the new features in Vectorworks 2014 software.

The release of the Japanese localized version of Vectorworks 2014 continues the global rollout of the software. The English-language version was launched on Sept. 17, 2013; several localized versions were released across Europe in October and November of 2013; the Portuguese localized version was released in Brazil on Oct. 31, 2013; and the Spanish-language version was released on Nov. 26, 2013.

Please visit www.vectorworks.net/international to find a local distributor.
January 14, 2014
The 2014 SPEC MIX BRICKLAYER® National competition for the "World Series of Bricklaying" will be held at the World of Concrete/World of Masonry trade show in Las Vegas, on January 22, 2014. Twenty qualified top bricklayers from North America will compete at the Las Vegas Convention Center, Gold Lot for the title "World's Best Bricklayer."

The event details:

SPEC MIX BRICKLAYER 500® National

Date: January 22, 2014
Location: Las Vegas Convention Center, Masonry Madness Arena, Gold Lot
Cash and Prizes: $100,000, top prize a 2014 Ford F250 4x4 XLT truck.
Time: 12:15 PM – 3:30 PM Pacific

As part of the Masonry Madness day, there are 3 masonry under card events held in the same location preceding the 2014 SPEC MIX BRICKLAYER National. They start as follows:

MCAA's Masonry Skills Challenge – 9:00 AM – 12:00 Noon, top apprentices compete for National title.
SPEC MIX TOUGHEST TENDER – 10:45 AM, Mason tenders compete to set up a work area in the fastest time.
MCAA's Fastest Trowel on the Block – 11:30 AM, Blocklaying masons compete for top blocklaying honors.

All the masonry events will webcast LIVE starting at 9:00 AM Pacific on www.specmixbricklayer500.com
January 14, 2014
PDH Accredited and FREE

Reserve your Webinar seat now at: https://www2.gotomeeting.com/register/931816314

Waterstops for Environmental Compliance of Liquid Tight Concrete Structures is a targeted course of instruction and professional development for engineering firms engaged in the design of chemical, industrial, and environmental projects such as secondary containment of hazardous waste, industrial wastewater, ozone contactors, and others. The course is technical in nature and describes waterstops role in fluid-proofing concrete joints, chemical resistant polymers and steels, and state and federal regulations of compliance. The course is presented in one (1) hour time frame.

Additionally, course attendees are eligible for Continuing Professional Development credit, as David is an instructor with both the Louisiana Engineering Society and the Louisiana Professional Engineers and Land Surveying Board. Course is certified for one (1) Professional Development Hour credit.

Title: Waterstops for Environmental Compliance of Liquid Tight Concrete Structures
Date: Wednesday, January 22, 2014
Time: 8:00 AM - 9:00 AM PST
January 10, 2014
Wausau, Wis. -- Kolbe's VistaLuxe™ Collection now offers complementary multi-span doors exemplifying the product lines' contemporary aesthetic. Intended for large openings -- up to 24 feet wide and 10 feet tall -- these doors help homeowners erase the boundaries between inside and outside living spaces. On exhibit at the International Builders Show, the VistaLuxe Collection multi-slide door model is comprised of four panels spanning more than 14-feet wide and 9-feet tall and pocket into the wall.

Kolbe's multi-slide doors either stack open or pocket into the wall. Upon request, these doors also can be manufactured as custom corner units. Square sticking matches the crisp, clean lines of the VistaLuxe Collection's inswing and outswing doors, casements, awnings, transoms and direct set windows.

The VistaLuxe Collection products showcase a warm, wood interior with a selection that includes sustainably harvested species and bamboo. Minimal, narrow door stiles optimize daylight openings and maximize viewing areas, while maintaining energy efficiency. A range of glass choices assist in addressing different climate zones and performance needs.

The extruded aluminum clad exteriors may be painted in standard, custom and new mica colors, and all are backed with a 30-year finish warranty. Durable anodize finishes also are available in metallic tones. Matching finishes also may be specified for performance divided lites and grilles-in-the-airspace. On exhibit at the International Builders Show, the VistaLuxe Collection multi-slide door model is comprised of four panels spanning more than 14-feet wide and 9-feet tall and pocket into the wall.
January 10, 2014
INTRODUCING INTRAGUARD™, A SUPERIOR WATER-BASED, PENETRATING CONCRETE SEALING COMPOUND

Hampshire, IL – W. R. MEADOWS would like to Introduce INTRAGUARD, a water-based, penetrating concrete sealing compound for exterior concrete surfaces specifically designed to limit the intrusion of moisture and chlorides into concrete surfaces. Its proprietary blend of silane and siloxane penetrates deep into the pores of the concrete to help protect it from scaling caused by deicing salts.

INTRAGUARD's clear sealing properties weatherproofs and protects virtually all exterior concrete surfaces including concrete driveways, walkways, and parking lots. The product is designed to provide lasting protection from de-icing chemicals and moisture intrusion. Surfaces treated with INTRAGUARD will also be resistant to staining from oils, fuels, and common chemicals.

One of INTRAGUARD's major benefits includes its non-film forming material that penetrates deep into the surface to form an integral barrier to moisture penetration. It also reduces the entrapment of dirt particles and other contaminants that cause discoloration and inhibits soiling, protects against efflorescence, rust staining, and is water-based and VOC-compliant.

For more information on INTRAGUARD, including data sheet, installation procedures, guide specs, and MSDS, visit www.wrmeadows.com. For samples call 1-800-342-5976.

January 08, 2014
Duradek™, the original vinyl deck waterproofing membrane reaches the notable benchmark of 40 years in business. Having grown from pioneering product to leading brand in the competitive niche market of deck waterproofing, our job is to protect where you live and allow you to enjoy it as much as possible.

Originally conceived by two contractors in British Columbia's Okanagan region in 1974, Duradek was inspired by a marine vinyl used to cover the interior floor of small boats. These two boating enthusiasts recognized that the attractive, slip resistant vinyl surface, tough enough for wear, waterproof and easy to clean could be a perfect solution for the lake view decks so popular in the region...and an industry was born!

The company initially offered franchise opportunities and Duradek's current owners, John and Robert Ogilvie started off with a few franchises. The two sold the franchises in 1978 to purchase a third of the Duradek parent company. They eventually purchased Duradek outright in the mid 80's and have maintained ownership ever since.

During that time, the single biggest evolution within the company was to develop a product and installation techniques that would allow Duradek vinyl to meet building code approval in roofing applications. Ensuring these critical techniques were followed in practice was an important factor in the ability to guarantee roof-grade waterproofing and thus a business model developed that restricted the availability of Duradek to authorized contractors that were trained in Duradek's unique application techniques.

Four decades after inception, Duradek has significantly contributed to the development of the specialty trade of deck waterproofing and so far there has been over 125 million square feet of Duradek installed on balconies, decks, patios and roof decks in all North American climates.

Family owned and operated, Duradek retains the culture of a small family business with the reach and influence of a multi-national organization. This strength is gratefully attributed to the partnerships we have with our distributors and contractors (many of whom are second generation) that really want to "do it right". This is what makes Duradek truly unique. The understanding that it is not product alone that solves waterproofing problems, nor is it a contractor alone, but rather a partnership between the two with the shared goal of doing it right the first time. The combination of a strong product, refined details and professional installation make Duradek the superior choice for waterproofing balconies and roof decks in residential and light commercial applications.

Now at our 40th year in in business we are in a marketplace with a variety of competitive vinyl suppliers and it is a very different climate than in the early days of being the only option for vinyl deck membranes. We have endured, analysed, prospered, rethought, expanded, designed, developed, re-examined, expanded again and, most importantly, continually test ourselves and our products to adapt to the needs of the architectural and building communities.

And we're not done yet!

Rather than publish a huge retrospective on years gone by and chuckle at all those 1974 pictures of long hair and bell bottoms, we simply want to thank the building community for their support over these 40 years. We take quiet satisfaction in having found a way to remain the most reliable source of deck waterproofing in North America.
January 03, 2014
January 7, 10am–1pm: NASA Astronaut Michael Lopez-Alegria On Hand to Discuss His Experience with Lighting Science Products on the International Space Station

Rhythm Downlight is controlled by Bluetooth, Automatically Adapts to Individual's Circadian Rhythm and Daily Activities to Optimize Sleep and Alertness

LAS VEGAS--(BUSINESS WIRE)--Lighting Science®, the provider of biologically-corrected lighting, is debuting new lighting products that can be controlled via Bluetooth-powered mobile apps to optimize healthy living and efficient illumination. The Rhythm Downlight fits in any standard recessed lighting housing and provides dynamic circadian lighting capabilities that automatically adjust the light's properties to optimize sleep or wakefulness, depending on the users' needs and schedule. Lighting Science is introducing the Rhythm Downlight and two other new products – an adaptable spot light and an intelligent commercial troffer – along with its Good Night™ sleep enhancing bulb and Awake & Alert™ energy enhancing light at the LVCC South Hall - Booth #26428, part of the Digital Health Summit Pavilion.

NASA astronaut Michael Lopez-Alegria, commander of the International Space Station Expedition 14, will be available at the booth to discuss the science behind biologically corrected light bulbs from Lighting Science on Tuesday, January 7 from 10 am – 1 pm.
December 22, 2013
Research Tower Serves as Beacon of Innovation; Anticipates First Ever Public Tours in Spring 2014

RACINE, Wis., Dec. 21, 2013 /PRNewswire/ -- Marking winter solstice, the longest night of the year, SC Johnson relit its Frank Lloyd Wright-designed Research Tower, which will soon open for public tours for the first time in its history. The historic tower, open from 1950 to 1982, served as the creative inspiration and birthplace for the company's leading brands.

Research Tower Opens to the Public for the First Time

Beginning in spring of 2014, the Research Tower will be open to the public for the first time ever, at no charge.

"While SC Johnson has offered free public tours of the Wright-designed buildings on campus, the Research Tower, which is currently on the National Register of Historic Places, will open its doors to the public for the first time," said Semrau. "We're delighted to share this important piece of our legacy publicly, for the first time this spring."

Starting in May, tours of the Research Tower will be available on Fridays and Saturdays in both the morning and afternoon. In addition, visitors can also:

Tour the Wright-designed SC Johnson Administration Building, celebrated as one of the top 25 buildings of the 20th century
Tour the award-winning, Foster + Partners-designed Fortaleza Hall
Tour The SC Johnson Gallery: At Home with Frank Lloyd Wright , which showcases Wright's designs and artifacts and explores the legendary architect's influence on families and the American home
Enjoy our films: the Academy Award-winning documentary To Be Alive! and the acclaimed Carnauba: A Son's Memoir, shown at the historic Golden Rondelle Theater

All tours also include a visit to The Lily Pad, a gift shop featuring exclusive SC Johnson memorabilia and brand gift merchandise, as well as Wright-inspired items.

All SC Johnson tours are free.
December 19, 2013
PISCATAWAY, N.J.--(BUSINESS WIRE)--In the first of a two-part white paper series, Solidia Technologies® details the chemical properties, manufacture and performance qualities of a sustainable cement that, combined with its concrete counterpart, can reduce the carbon footprint of cement and concrete products up to 70%. Made from the same raw materials and equipment as traditional Portland cement, Solidia Cement™ is adaptable to a wide variety of cement formulations and production methods, offering Portland cement manufacturers the world over a sustainable and performance-enhancing alternative.
December 19, 2013
Focusing on minimizing false readings and improving accuracy will quicken widespread adoption

MOUNTAIN VIEW, Calif., Dec. 17, 2013 /PRNewswire/ -- Growing interest in energy conservation and reducing carbon dioxide emissions has encouraged research in energy-efficient buildings and stepped up the use of sensors in building applications. In fact, the construction of green buildings has become easier with the advent of smart sensors and actuators, as information on local environment and occupancy enables building automation systems to utilize energy in an efficient manner.

New analysis from Frost & Sullivan (http://www.technicalinsights.frost.com), Sensors for Energy Efficient Buildings and Building Management, finds that sensors are gradually becoming an integral part of buildings, allowing the demand-based control of systems such as lighting, heating, ventilation, and air conditioning. Equipping buildings with motion and air quality sensors too has become a popular trend in the construction sector in recent times.

If you are interested in more information on this study, please send an email to Liz Clark, Corporate Communications, at liz.clark@frost.com, with your full name, company name, job title, telephone number, company email address, company website, city, state and country.
December 19, 2013
The Industrial Designers Society of America recognizes the Moxie, the first showerhead of its kind to combine the delivery of water and music, with a 2013 Silver IDEA Award

KOHLER, Wis. – November 19, 2012 – Smartphones are everywhere. More than 38 percent of adults —
120 million—in the U.S. own one, and the number continues to climb. Users even admit to taking them everywhere; a recent survey found 75 percent use their phones in the bathroom. To embrace the demand for constant connectivity, Kohler Co. introduces a new sensory experience to showerheads with the KOHLER Moxie showerhead.

The Moxie showerhead syncs with any Bluetooth-enabled device—smartphones and mp3 players—and streams music directly into the shower. But the fun doesn't stop there; the speaker pod can be removed for enjoyment on the go, throughout the rest of the bathroom and beyond
December 19, 2013
BuildSense, a provider of architectural and construction services in Durham, N.C., specified Metl-Span insulated metal panels for its roof renovation in an effort to reflect the ideals of the company. The goals included converting a one-story former farm equipment and auto repair building into a much more energy efficient two-story building, achieving a LEED Platinum rating as well as maintaining an appearance that still fit the neighborhood.

Standing seam insulated metal panels helped BuildSense meet its goals. Most buildings in the warehouse district employ metal roofing, so aesthetically, the panels met the specifications. To help meet the energy efficiency requirements, the IMPs contain a six-inch urethane core. The outer 24-gauge panel is Polar White, to reflect sunlight, greatly reducing cooling loads in the summer. The 26-gauge Snow White inside panels serve as a reflective ceiling above the open web steel joists, making electrical lighting inside more efficient. They also provide an "industrial-chic" look, according to Mehlman.

The standing seams serve as a place to attach photovoltaic panels to supply electricity within the building. Mehlman says BuildSense likes to use "off-the-shelf" products in unconventional methods to achieve its goals. Metl-Span's CF42R insulated standing seam panels are more commonly used on refrigerated buildings.
December 18, 2013
American Hydrotech, Inc., a recognized leader in the development and distribution of premium waterproofing and roofing products, today released the third edition of the company's Garden Roof® Planning Guide. This new, complimentary resource empowers both new and veteran architects, landscape architects, building owners, contractors and installers to learn more about vegetated roofs and the various assemblies that are currently available and being used on today's structures around the world.

The Planning Guide addresses vegetative assemblies in an easy-to-ready format across categories such as: technology and materials, proper planning and design, installation and maintenance. It provides readers with an in-depth look at today's environmental challenges and urban landscape, as well as an overview of green roof components and best practices on achieving the highest effectiveness on various on architectural projects and structural situations.
December 18, 2013
First impressions are critical, especially in the business world. How you represent yourself says volumes about how you do business with others, right? Putting your best foot forward, so to speak, is the name of the game. So when we received these images of the marketing offices at the Irvine Company, a major property owner of Class A office buildings in Southern California, we were impressed.

Class A office buildings are the highest quality office space in their markets and are in the best locations. These buildings generally command the highest rents and the best and most sophisticated tenants. Marketing properties of this caliber requires a presentation that is equally on point. We feel the Irvine Company accomplished that result – superbly.

Their approach consists of a solution comprised of Tensioned Cables based on our Click Rail System. This has the Click Rail Track mounted at the ceiling edge, and again, reversed, right above toe kick level. Twist-End Cables are held in tension between both tracks through the use of Twist-End Cable Tensioners. Lastly, the communication panels are held in place by our Panel Hooks with Clips. These are an exclusive design to AS Hanging Systems. They support all types of panel substrate and front load the panels in a neat, orderly manner so various thicknesses of panels can be presented in the same display with very professional results. These hooks are compatible with panels from 3/16" to ½" thick. They do all this without creating damaging thru-holes in the panels.

But not only was it imperative for the Irvine Company to display professionalism, with the kinds of products they market and the audience to which they must communicate, but their presentation must also be flexible.As a vacancy may motivate management to feature a specific property, the display can easily be adjusted to highlight it. It makes no difference if panel sizes are different. Since there are no holes in the panels, or walls, visual merchandising is adaptable. This is a significant benefit of AS Hanging Systems Panel Hook product line as opposed to the more frequently seen standoff approach to visual displays. During a morning presentation these two buildings can be featured and during the afternoon other properties can assume the leadership role. We have all heard of "just-in-time" manufacturing. Think of this as just-in-time marketing or "micromarketing".

There is something else that was very well thought out by the designer of these Irvine Company displays. Upon close examination of the above two sister displays, you will observe that cable sets were installed even when they were not immediately needed. The above photo shows there are eight sets of cable hardware. However, only the left three and right most three sets are in use. The middle two sets are performing no function. Or, are they? Imagine if the two center cables were left off. The repeating pattern would be disrupted. The design would be visually weakened. Clearly, this designer knows a thing or two. It is a rare day when we see a designer so keen on these smaller points. Great job! Similarly, in the fist photo above, cables 6 and 7 support no panels at this point. But likewise, the symmetry of the display would be lessened and the strength of those repeating columns would be lost.

The design also anticipates whatever display changes may be required in the future, while keeping their display looking clean, neat, and orderly.
December 18, 2013
Architectural Products Magazine's 2013 Product Innovation Awards Champion Product Ingenuity in the Built Environment

Columbia, Md. (December 12, 2013) – Nemetschek Vectorworks, Inc., a provider of intuitive, powerful and practical CAD and Building Information Modeling (BIM) software solutions, is pleased to announce that its BIM Camp events received a 2013 Product Innovation Award (PIA) in the Industry Leadership category from Architectural Products magazine. BIM Camps are educational events that help architects and designers learn the skills they need to adopt BIM workflows in their practices. Many of the sessions also offered attendees the opportunity to earn hours for continuing education.

The Architectural Products PIAs honor innovation in the development and refinement of building-related products that range from cladding systems to interior finishes. Judged by a group of 50 architects, interior designers, lighting designers and veteran A/E/C writers, the program impartially reviews products and presents readers with items their peers found innovative and worth investigating. Awards are also given in product application and industry leadership categories.

Each BIM Camp offered a full day of education sessions for architects and landscape architects considering a transition to a BIM workflow. Attendees discovered how IFC-based standards benefit design teams and learned about the legal considerations related to BIM, as well as how to create sustainable and high-performing designs and collaborate through Open BIM. Attendees in the US also earned four AIA/CES/HSW or LA CES PDH and received additional BIM resources as takeaways.

December 18, 2013
Hampshire, IL – W. R. MEADOWS has a new addition to its air-barrier line of products: AIR-SHIELD LIQUID FLASHING. AIR-SHIELD LIQUID FLASHING is a high-quality, gun grade, low-odor, elastomeric, polyether liquid-applied flashing and detailing membrane. It bonds to most construction materials, such as aluminum, brick, concrete, wood, vinyl, and exterior gypsum board.

This general-purpose, wet flashing membrane is used to seal rough openings and detail joints between exterior gypsum board. AIR-SHIELD LIQUID FLASHING is designed for window and door flashing applications and is to be used as a liquid-applied flashing, compatible with the entire line of W. R. MEADOWS AIR-SHIELD air, vapor, and liquid moisture barriers, including joint detailing in exterior sheathing panels.

"Because it is a gun grade material, it is easy to apply and spread, which offers a more efficient approach to detailing methods than traditional self-adhesive materials. It bonds to most construction materials and is compatible with most sealants on the marketplace," says Russ Snow, Building Science Specialist at W. R. MEADOWS. "Air-Shield Liquid Flashing is also great because it is 100% solvent-free, is non-sag, non-shrinking, guns and tools easily, does not harm foam insulation, and is paintable within 24 hours."

For detailed application instructions, please view our AIR-SHIELD exterior sheathing panels installation guidelines document on our website. To find out more information on AIR-SHIELD LIQUID FLASHING, including data sheet, installation procedures, and MSDS, visit www.wrmeadows.com or call (847) 214-2100.
December 16, 2013
OTTAWA, Dec. 12, 2013 /CNW/ - Today in Ottawa, the Cement Association of Canada (CAC) held a press conference to demand that the changes proposed for the next edition of the National Building Code of Canada (NBCC) be significantly improved to provide better safety for all Canadians.

Over the past two months and until December 23, the Canadian Commission on Building and Fire Codes (CCBFC) has been conducting its public review of proposed changes to the 2010 NBCC, the model building code of Canada. During this period, Canadians have the opportunity to voice their opinions on the proposed code changes. One such change would increase the maximum wood building height to six storeys, from the current limit of four storeys.

The CAC contends that the construction of five and six storey wood frame buildings could present many safety concerns for Canadians. "If these taller wood frame buildings are included in the Code, Canada could see an increase in fires and put vulnerable Canadians at risk," said Michael McSweeney, President and CEO of the CAC. "Each year we are seeing numerous fires in wood frame buildings and we have seen the devastating effects of recent massive fires in B.C. and Alberta."

The current proposal has many deficiencies, and the CAC strongly recommends that a number of additional provisions be implemented. These include noncombustible stairwells and elevator shafts to provide firefighters with a safe refuge area from which to stage their firefighting and rescue operations and residents with a safe place to go so they can be rescued; noncombustible cladding and noncombustible roofing - this is fundamental to preventing a fire from spreading to adjacent buildings. Additionally, noncombustible two-hour firewalls should be mandated on these buildings along with the installation of sprinkler protection during the construction phase. Finally, the CAC believes that the protection of the lives of firefighters should be included in the NBCC.
December 09, 2013
TORONTO, Dec. 6, 2013 /CNW Telbec/ - Lafarge Canada Inc., Canada's largest provider of solutions to the construction and development industry, today launched its new, fully bilingual website buildingbettercities.ca. The website was launched in conjunction with Construct Canada, the largest building design and construction tradeshow in Canada.

The new website includes extensive information to help our customers and stakeholders understand Lafarge Canada's complete range of building solutions. Whether building a road, bridge, high-rise residential complex, remediating a brownfield site, or developing a mine or hydro project, our technical data, videos and application case studies work together to provide a detailed overview of Lafarge's capabilities across a wide range of segments.

The new portal means that customers and stakeholders such as architects and engineers can now benefit from richer content that is easier to navigate, and assist in the specification and design process for their construction needs. This is a result of talking with our customers and stakeholders, who gave us valuable feedback to incorporate in our design.

On the portal, visitors can also stay informed with the latest from Lafarge, and our blog section features the latest announcements, product inventions and opinion pieces from industry experts. Furthermore, the new website allows users to share products and pages that interest them with others across Facebook and Twitter. The website can be viewed at: www.buildingbettercities.ca
December 06, 2013
Dennis Yanez of American Hydrotech highlights the company's newest products and announcements at Greenbuild 2013.
December 05, 2013
HARRISBURG, Pa., Dec. 5, 2013 /PRNewswire-USNewswire/ -- The Pennsylvania Historical and Museum Commission (PHMC) is now accepting applications for Keystone Historic Preservation Project and Construction Grants.

The grants support projects that identify, preserve, promote and protect historic and archaeological resources in Pennsylvania for both the benefit of the public and community revitalization. The grants receive funding from the Keystone Recreation, Park and Conservation Fund.

Two types of grants – project and construction – are available for historic resources in Pennsylvania listed, or eligible for listing, in the National Register of Historic Places. Applicants may apply for only one type of grant.

Project grants are available to nonprofit organizations and local governments for planning and development initiatives that enhance historic preservation in communities. Project grant applications may include municipal planning initiatives focusing on historic resources or may be used to meet building- or project-specific planning goals. Keystone Historic Preservation Project Grants are available in amounts between $5,000 and $25,000 and require a 50/50 cash match.

Construction grants are available for rehabilitation, preservation and restoration activities for historic resources that are publicly accessible. Keystone Historic Preservation Construction Grants are available in amounts between $5,000 and $50,000 and require a 50/50 cash match.

Grants will be awarded through a competitive selection process and are contingent on availability of funds. Applicants are required to use the web-based electronic grant application process (eGrant).

For grant program guidelines and eGrant application instructions, visit PHMC online at www.phmc.state.pa.us and click on "Grants and Funding" on the top Navigation Bar. The application deadline is March 3, 2014.
December 04, 2013
New System offers cost-effective and energy-saving solutions for residential and commercial buildings

CORPUS CHRISTI, Texas--(BUSINESS WIRE)--Composite Panel Building Systems (CPBS) has developed a cost-effective exterior stucco system that delivers an energy efficient building envelope for new construction, renovations or retrofitted buildings. The new C-SIS Stucco System consists of Composite Structural Insulated Sheathing (C-SIS), integrated joint sealing accessories and Stuc-O-Flex's elastomeric acrylic stucco.

The eco-friendly C-SIS offers 5-in-1 components with no layers as an alternative to conventional oriented strand board (OSB) or plywood sheathing for traditionally framed wood or metal structures.

Stuc-O-Flex is a highly resilient 100% Acrylic Polymer compound that looks and feels like traditional stucco. Its thermo-plastic and elastomeric nature allows building movement while enhancing resistance against cracks.

Additionally, CPBS offers property owners, who want to upgrade an existing building's energy efficiency and long-term performance, the Exterior Energy Retrofit which consists of new R-15 batt insulation in wall cavity, the C-SIS Sheathing System, new, high performance composite framed windows and doors, an optimized HVAC system design and exterior finish with stucco or siding.
December 04, 2013
WASHINGTON, Dec. 4, 2013 /PRNewswire-USNewswire/ -- The National Trust for Historic Preservation is accepting nominations for its annual list of America's 11 Most Endangered Historic Places® . For over a quarter century, this list has highlighted important examples of the nation's architectural, cultural and natural heritage that are at risk for destruction or irreparable damage. Nominations are due on March 3, 2014.

More than 240 threatened one-of-a-kind historic treasures have been identified on the list of America's 11 Most Endangered Historic Places since 1988. Whether these sites are urban districts or rural landscapes, Native American landmarks or 20th-century sports arenas, entire communities or single buildings, the list spotlights historic places across America that are facing a range of threats including insufficient funds, inappropriate development or insensitive public policy. The designation has been a powerful tool for raising awareness and rallying resources to save endangered sites from every region of the country.

The places on the list need not be famous, but they must be significant within their own cultural context, illustrate important issues in preservation and have a need for immediate action to stop or reverse serious threats. All nominations are subject to an extensive, rigorous vetting process.

Follow the National Trust @PresNation and 11 Most list #11Most

For additional information, e-mail 11Most@savingplaces.org or call 202.588.6141. To learn more about the program and to submit a nomination, visit: www.preservationnation.org/11most
December 03, 2013
OnPoint EcoSystems introduces ability to create irrigation schedules for each season; store and retrieve them from the Cloud.

PALO ALTO, Calif.--(BUSINESS WIRE)--OnPoint EcoSystems; conserving money, water and time by taking the complexity out of landscape irrigation; announced today that its WaterPoint 1000TM WiFi irrigation controller now has the ability to create, store and retrieve up to six (6) fully independent irrigation schedules from the myOnPointTM Cloud service.

The new "Season" feature improves water efficiency and lowers water bills by enabling the creation of easily accessible custom irrigation schedules for different seasons of the year or growing cycles. It also makes it easy to try out alternate schedules without fear of losing your favorite schedule. Each season is independent and can have a different number of programs, water days, start times, and zone run times. Simply make the desired seasonal adjustments, assign a unique name (i.e. "Summer", "Winter", or "Plant Tomatoes") then click "save" to store the new season / schedule in your myOnPointTM Cloud account. When desired, load the stored season onto the WaterPoint 1000TM by simply clicking the season name.

To further simplify seasonal changes, the WaterPoint 1000TM now supports global run time adjust. With the click of a single button on your smartphone, tablet or browser, increase or decrease the run time of all zones (valves) in a schedule or season by the same percentage.

The multiple Season and global adjust features are now available on all WaterPoint 1000TM systems. For existing WaterPoint 1000TM customers, simply respond to the feature update e-mail and these new capabilities will be automatically downloaded to the controller.
December 03, 2013
CHICAGO, Dec. 3, 2013 /PRNewswire/ -- On Friday, November 15, the Home Builder's Association of Greater Chicago (HBAGC) honored Orren Pickell Building Group with three prestigious Gold Key Awards at the 41st annual HBAGC Key and SAMMY Awards ceremony. The HBAGC Key and SAMMY Awards ceremony were created in 1972 to recognize excellence in housing design, architecture, interior merchandising, remodeling and landscaping. Today, it is one of the premier housing programs in the country, drawing hundreds of entries each year. Orren Pickell Building Group once again received honors for all of its entries; demonstrating the firm's position as an industry leader in design and construction.

A complete list of Orren Pickell Building Group's 2013 KEY Awards follows:

Olympia Fields Residence: Gold Key in Recognition of Architectural Design - Custom Home

Lake Forest Residence: Gold Key in Recognition of Excellence in Remodeling – Basement Remodel

Wilmette Residence: Gold Key in Recognition of Excellence in Remodeling – Whole House
November 28, 2013
(Spiceland, Ind.)– Draper's Bottom-Up FlexShades allow you to enjoy the benefits of natural daylighting by letting in natural light at the top of the window. Occupants near windows are protected from uncomfortable glare and heat by shading the lower part of the window, while daylight is allowed to penetrate deeply into the room.

The new Bottom-Up FlexShades are available with both manual and motorized operation. The manual, bead chain version features Draper's exclusive, patent-pending spring assist mechanism to make it smooth and easy to operate.

Draper's FlexWave light shelf strengthens your daylighting strategy.

Draper's FlexWave protects occupants near the windows from heat and glare, while admitting natural light deeply into the room. The FlexWave light shelf is lightweight, easy to rotate down for cleaning, and easily installs even where there are no horizontal mullions. The curved shape bounces sunlight further into the building than traditional flat shelves. The FlexWave is an interior light shelf that installs as close as 16" to the ceiling, in either a continuous run or in single sections, and can be used above shades or other window coverings.

Draper's extensive new line includes venetian blinds for exterior, interior, and double façade use; rack arm louvers; tensioned fabric systems; stainless steel roller shades and shutters; and custom solutions designed to help make the best use of natural daylight while controlling heat and glare.
November 27, 2013
LOS ANGELES, Nov. 25, 2013 /PRNewswire/ --For the second year in a row, Caesarstone will join with Architectural Digest for its 3rd annual AD Oasis at the James Royal Palm Hotel in South Beach. During the week's festivities, Caesarstone will host an exclusive cocktail party at the AD Oasis that will be attended by industry executives and socialites alike, including Mick de Giulio and Ty Pennington.

The AD Oasis, created by renowned AD100 designer Mark Cunningham, will serve as a luxurious retreat during Art Basel. Cunningham will transform an area of the hotel to reflect the beachy, bright, and glamorous Miami vibe. As an official sponsor, Caesarstone has worked with Cunningham to provide the surfaces that will be used throughout the space, including the featured bars, which promise to be stunning.

In addition to AD Oasis, famed architect Juergen Mayer H. will unveil his new artwork made from Caesarstone. His sculptural bench will be on display at the Galerie Eigen + Art booth. His latest piece of art, Pipapo, is made of Caesarstone quartz with a natural stone pattern delicately milled to create a three dimensional, lattice-like, irregular formation.
November 27, 2013
LONDON, November 26, 2013 /PRNewswire/ --The Co-operative Group's new head office in Manchester has been declared the most environmentally-friendly building in the world. One Angel Square has Camfil M7 HiFlo 12 pocket Micro-fibre glass medium low energy air filters installed, contributing to the energy efficiency of the HVAC System. These air filters were selected using Camfil Life Cycle Costing software to ensure minimum running costs with consistent high lifetime particle removal efficiency.

The building was given the accolade on the day (14 November) that Her Majesty The Queen, accompanied by His Royal Highness The Duke of Edinburgh, toured One Angel Square and then unveiled a plaque to mark the formal opening of the 14 storey building in the city centre.

The Building Research Establishment Environmental Assessment Method (BREEAM), an internationally acclaimed system of assessing buildings, gave One Angel Square a score of 95.16% - the highest ever awarded.

The unprecedented award comes as a result of the building's many environmentally friendly features, which include power generated from crops grown on the Group's farms; heating and cooling the premises by drawing air below the basement and redistributing it at the earth's core temperature; and a double skin façade that acts as a 'duvet' to insulate the offices in the winter and ventilate it in the summer.
November 25, 2013
New Product Line Delivers on a Series of Customer-Driven Improvements

Columbia, Md. (Nov. 26, 2013) – Nemetschek Vectorworks, Inc., is pleased to announce the Spanish-language release of the 2014 version of its award-winning Vectorworks® line of design software, including: Vectorworks Designer, Architect, Landmark, Spotlight, Fundamentals and Renderworks®. The Spanish-language version will be available throughout the Americas, the Caribbean and Spain.

The Vectorworks 2014 software includes more than 130 improvements that were developed for better modeling, BIM management, interoperability, usability, performance, and quality. The 2014 product line also features new BIM tools for architects, increased site design capabilities for landscape architects and designers, as well as enhancements to lighting devices, documentation and graphic controls for entertainment designers.

Please visit www.vectorworks.net/espanol for Spanish-language resources. Additional information about the 2014 release is available online; visit www.vectorworks.net/2014 to learn more. To find your local distributor, visit www.vectorworks.net/international.

Also, the Portuguese localized version of Vectorworks 2014 software was released in Brazil on October 31. A recording of the Vectorworks 2014 Brazil launch virtual event is currently available online: www.vectorworks.com.br/2014/login.
November 25, 2013
TOKYO--(BUSINESS WIRE)--The LIXIL JS Foundation (located in Koto-ku, Tokyo; president: Yoichiro Ushioda), which facilitates surveys and researches related to the housing and building materials industry as well as supporting the development of human resources, announced that the "HORIZON HOUSE" designed by students of Harvard University has been completed at the "Memu Meadows" (Taiki-cho, Hiroo-gun, Hokkaido), environmental technology research facility owned by the foundation.

"HORIZON HOUSE" was designed around the theme of "RETREAT IN NATURE". The design has highly praised not only for the sustainable design elements such as the system to lower the energy consumption of building materials and the raised floor in consideration of heavy snowfall, but also the 360 degrees panorama which provides a "RETREAT". It was unanimously chosen by the judges in recognition of the fact that the people living in the house can choose the scenery to match their mood at the time.
November 21, 2013
Greenbuild International Conference & Expo

AEC Daily and Globus Cork announced the launch of the first modular learning course delivered via Twitter. The ten sections are conveyed to a learner's Twitter account on a daily basis. Each one is optimized for viewing on mobile browsers.

Technology, social media, and modular learning were hot topics at the 2013 AIA CES Provider Conference. In her keynote address, Rena M. Klein, Executive Editor of The Architect's Handbook of Professional Practice, pointed out that millennials have short attention spans, are adverse to hard-copy reading, and are dismissive of those not as tech-savvy. Discussions with AIA representatives and other providers at the conference were inspiring and led to the development of this new AEC Daily modular learning system.

"We recognize that in today's busy world, learning habits are changing," said Jeff Rice, president of AEC Daily. "By breaking courses into multiple, shorter modules and delivering them through social media and mobile devices, we are doing our best to provide education that fits into the professional's busy life."

The course was created to fit within the existing framework of the Green Building Certification Institute's (GBCI) Credential Maintenance Program (CMP) of 1 General CE hour and the American Institute of Architects' (AIA) Continuing Education System's (CES) 1.0 LU format. Through AEC Daily, the course is also approved or recognized by over 70 organizations.

"We want to deliver our message of sustainability to as many people as possible" said Jennifer Biscoe, vice President of Globus Cork. "This modular learning course is our way of reaching the designers who are too busy to take an entire course at one time. They can now get updates via Twitter and learn the many benefits of cork flooring on their mobile device."

This is AEC Daily's first step in developing new methods of delivering continuing education that recognize the changing internet habits of the population. In the future the course will also be delivered through other social media such as Facebook, Linkedin, SMS, etc.

This course on natural cork flooring seemed particularly well suited for both this technological innovation and for the Greenbuild International Conference and Expo. While the material has existed for a long time, it has now been rediscovered as a modern flooring solution for sustainability. Similarly, continuous professional learning is a well-established concept that has been reinvented by AEC Daily for our busy, networked world.

The course can be found at: http://aecdai.ly/twitter1
While registration is required, there is no cost for taking the course.

AEC Daily is the largest provider of FREE online continuing education to construction professionals. Courses are available online 24 hours a day, 7 days a week and credits are automatically tracked and reported. Architects, engineers, interior designers and other construction professionals rely on AEC Daily to maintain their accreditation with ease. www.AECdaily.com
Contact: Stephane Deschenes, 1-877-566-1199 x385, or sdeschenes@AECdaily.com

Globus Cork manufactures colored cork products for flooring, walls and ceilings. Specializing in vibrant colors and extensive tile sizes, Globus Cork makes all products to order in the US. Globus Cork products are made from post-industrial waste cork from wine stoppers and use only water-based materials for a very green building material. www.CorkFloor.com
Contact: Jennifer Biscoe, (718) 742-7264, or info@corkfloor.com
November 21, 2013
BEIJING, Nov. 21, 2013 /PRNewswire/ -- Skidmore, Owings & Merrill (SOM) and Jiaxing Alliance Development Corp. are pleased to announce that Nanhu Country Village was awarded the inaugural Prize for Cities of the Future by the Paulson Institute and the China Center for International Economic Exchanges. SOM completed the Nanhu Country Village Master Plan in 2011 in collaboration with SWA Group, Sherwood Design Engineers, and AECOM Economics.

The Prize for Cities of the Future recognizes Nanhu Country Village as a leading sustainability project in China that offers a creative and effective solution for ecological development. SOM's Plan integrates modern agricultural techniques with sustainable infrastructure for a 21st-century livable community. The Plan reorganizes farms so that the new village can increase in density without putting stress on farmland.

More than 700 hectares of the 1,100 hectare site will be maintained as working farms with produce to help feed the nearly 80 million residents of the region's mega cities: Shanghai, Hangzhou and Suzhou. In addition to improving agricultural productivity, the Master Plan improves water quality by removing dead-end canals and developing a system of terraced bio-swales and wetlands that filter and cleanse wastewater.

Phase 1 of the organic farm has been in operation for two years. Built with sustainable farming methods and new technologies, the farm is also running training programs for a new generation of farmers. Phase 1 housing development broke ground in September 2013.
November 21, 2013
Omaha, NE (November 20, 2013) – Fox Blocks ICF announced today that it will acquire select key assets from Reward Wall Systems, Inc. on February 15, 2014, integrating those assets into its own operations and augmenting the Fox Blocks Insulated Concrete Form (ICF) product line. The companies have started working together now to develop and implement a plan that ensures a seamless transition for customers and employees.

A key objective over the next three months will be to introduce Reward customers to the Fox Blocks products and personnel. This will insure a smooth transition once the asset acquisition is closed. Prior to the February 15th close Reward Wall Systems will continue to exclusively handle sales and service of Reward products.
November 20, 2013
LOS ANGELES--(BUSINESS WIRE)- A new Internet Company founded by Los Angeles based entrepreneurs, .BUILD, has secured the rights to administer one of the most sought after, newly issued generic top level domains (gTLDs), ".BUILD" for global usage on the Internet. .BUILD is creating an entirely new ecosystem moving beyond the traditional domains of .com, .net, .org, etc. and serving as the new Internet destination for anyone who builds anything – with a specific focus on the building and construction industries. Founded by construction industry veteran and internet entrepreneur George Minardos and highly regarded intellectual property attorney Thomas Brackey, this new domain company will administer pre-registration of ".BUILD" domain names, through its partnership with GoDaddy.com, where they are now available.
November 19, 2013
FREMONT, Calif., Nov. 18, 2013 /PRNewswire/ -- Soraa, the world leader in GaN on GaN™ LED technology, announced today that it received a Product Innovation Award (PIA) from Architectural Products Magazine for its SORAA SNAP System™. Coupling its high output SORAA LED MR16 10-degree lamp with a breakthrough prismatic lens and an innovative array of magnetic filter and lens attachments, the system allows users to customize light directly on lamps, rather than on fixtures, opening up a new and exciting world of design possibilities for lighting.

Due to its bright, single LED light source made possible by Soraa's GaN on GaN™ LED technology, and breakthrough prismatic optic, the Soraa lamp can accept a magnet in the center of the lens without any major effect on light output. This in turn enables a simple attachment mechanism that can accept a wide range of accessories. Also, the relatively low operating temperature of the Soraa lamp, compared to a halogen lamp, allows the use of new accessory materials such as advanced polymer films.
November 19, 2013
CHAGRIN FALLS, Ohio, Nov. 18, 2013 /PRNewswire/ --Everything Tarkett does is about creating balance and driving to develop the world's most integrated commercial flooring system, which includes rubber, linoleum, homogeneous and heterogeneous vinyl, stairwell solutions, finishing borders and transitions. In creating balance, Tarkett establishes choice and flexibility. I.D. Freedom is the epitome of flexibility. With more than 90 SKUs, the designs live happily together – whether wood, stone or abstract – coordinating within I.D. Freedom, and also coordinating with designs from any of our company's other flooring solutions.

I.D. Freedom has extraordinary designs that feel natural, but like nothing nature could ever create. From the traditional woods and stones to visuals like rusted sandstone, bamboo stalks made of steel and tiger-striped wood grain, I.D. Freedom takes inspiration from unexpected elements and combines them to make naturally unnatural designs, delivering inspiration in a completely different way.
November 18, 2013

NEW YORK--(BUSINESS WIRE)--ABM (NYSE:ABM), a leading provider of facility solutions, will showcase its ABM GreenCare program's expanded service offerings and new look at the United States Green Building Council's (USGBC) Greenbuild International Conference and Expo November 20-22 in Philadelphia, PA.

ABM's GreenCare program, which launched in 2006, helps ABM's clients make improvements in four key areas: environmental and social responsibility, employee productivity and retention, property protection and fiscal responsibility. ABM GreenCare offerings span the entire ABM enterprise, including its Janitorial, Energy, Parking, Security and Landscaping businesses.

Furthering its commitment to sustainability each year, ABM measures its sustainability efforts internally and externally as part of its Corporate Sustainability Report (CSR) based on disclosure guidelines provided by the Global Reporting Initiative (GRI), the world's most widely used framework for sustainability reporting. The CSR also serves as the Company's Communication on Progress (COP) and continued support of the UN Global Compact.
November 18, 2013
NORFOLK, Va.--(BUSINESS WIRE)--As patient fears of hospital infections and superbugs continue to rise, one hospital in Norfolk, Va. is taking a unique approach to battling these issues – copper.

The use of the copper-infused surfaces and textiles will be part of an evaluation to determine whether they decrease the development of infections, and thus the need for antibiotics prescribed as a result of hospital-acquired infections.

Sentara has received national recognition in recent years for its efforts to improve patient care and reduce infections. National quality leaders such as VHA have blueprinted Sentara practices at reducing, and in some cases, eliminating ventilator-associated pneumonia.
November 15, 2013
EDMONTON, Nov. 14, 2013 /CNW/ - CenturyVallen, a national supplier of safety and industrial MRO products and services is excited to announce that it is now selling the world's first "green" protective hard hat manufactured from sugarcane.

Through the natural process of photosynthesis, sugarcane cultivation captures CO2 from the atmosphere, thereby reducing greenhouse gas emissions. For every ton of GHDPE produced, 2.5 tons of carbon dioxide are captured from the atmosphere. The V-Gard® GREEN hard hat is now available at CenturyVallen.
November 15, 2013
Columbia, Md. (November 15, 2013) – Nemetschek Vectorworks, Inc. is pleased to announce that Vectorworks® Architect software has successfully passed IFC Coordination View 2.0 Import certification. With this announcement, Nemetschek Vectorworks is one of a small group of architectural software developers to achieve both IFC Coordination View 2.0 Import and Export certification.

The IFC Certification 2.0 procedure, developed and managed by buildingSMART International, requires BIM software vendors to pass new, more comprehensive and rigorous tests with the intent of promoting consistent and reliable interoperability across all the participating certified BIM programs.

Industry Foundation Classes (IFC) is a neutral exchange format, not controlled by any single software vendor. As such, it provides a robust way to exchange BIM models between various software programs.

November 14, 2013
Atlanta, Georgia--- WAC Lighting will deliver an accredited CEU Presentation on LED Lighting and Organic LED Lighting at The Lighting Loft on Thursday, November 14th. The event will begin with a cocktail reception at 6 PM, with the "The SSL Revolution" CEU Presentation to follow at 7 PM. The Lighting Loft is located at 777 Miami Circle in Atlanta.

The presentation is titled "The SSL Revolution" and offers educational credits by the AIA (American Institute of Architects), ALA (American Lighting Association), ASID (American Society of Designers) and other design organizations. Presenting the CEU course will be Gennady Gallardo, Territory Sales Manager for WAC Lighting, a leading designer and manufacturer of track, recessed, under cabinet and decorative lighting.

For more information, call contact Steven Buchwald at sbuchwald@lightingloft.com or call 1.404.254.3286.
November 13, 2013
SAN FRANCISCO, Nov. 12, 2013 /PRNewswire/ -- Blu® Homes, Inc. ("Blu"), the leading builder of premium prefab homes, today announced its newest model, the 2014 Balance Metro. The Metro expands Blu's popular "Balance" product line, loved by customers across the country.

Available immediately, the 2014 Balance Metro's features include a spacious and livable great room, with clerestory windows that wash its 16' ceilings with natural light and generous sliding glass doors to maximize views. Motion sensor water-saving faucets, triple-paned energy efficient windows, WiFi enabled thermostats, zoned heating and cooling, and sophisticated air filtration systems are standard and create an extraordinary living experience. Optional features include electric car plug-in hubs and wireless multi-room Sonos® sound systems.

Like all Blu homes, the Balance Metro also comes with a complete suite of homebuilding services, including personalized design by world-class architects, and dedicated project management. Blu Homes offers customers a "one-stop" building experience that is far simpler, faster and more enjoyable than custom traditional building.
November 13, 2013
CHAGRIN FALLS, Ohio, Nov. 12, 2013 /PRNewswire/ -- Tarkett, provider of the world's most integrated high-performance flooring systems, announces the winners of its annual ReStart™ Award. This year's award will be presented to the participants of the Nationwide Children's Hospital project in Columbus, Ohio, who returned a total of 53,170 pounds of flooring for recycling throughout the duration of the project.

Tarkett supports eco-innovation from processes to products and is dedicated to eliminating landfill. The Tarkett ReStart Reclamation and Recycling Program reclaims samples, products and installation waste. Each year, the ReStart Award is presented to the architect, designer, building owner, contractor/installer, and/or distributor whose project has successfully diverted the largest quantity of flooring from landfills using the ReStart Program. This year's winner, Nationwide Children's Hospital, is one of the largest and most comprehensive pediatric hospitals and research institutes in the United States.
November 12, 2013
System helps organizations measure and assess actual space utilization to drive better business decisions
AUSTIN, Texas--(BUSINESS WIRE)--Asure Software (Nasdaq: ASUR), a leading provider of workplace management software solutions, today announced the introduction of its new AsureSpace™ SmartView workspace utilization measurement system, which uses infrared sensors to capture occupancy data from workstations, meeting rooms, collaboration spaces, and common gathering spaces to help organizations understand how their space is actually used so they can make better business decisions about their workspace needs.

SmartView is powered by Abintra and operates on an autonomous wireless mesh network consisting of discreet infrared workspace activity sensors that receive wireless signals from routers and transmit activity data to a data logger, which then routes the data to a portal, providing live utilization reporting. The data logger, which can be located up to 100 yards away from the sensors and typically can cover an entire floor, compiles all the sensor data in real time so clients can monitor activity levels in micro or macro areas at any time. Over time, this data provides clients with a highly accurate record of how their space is being used. The mesh network configuration makes the system easily scalable to all organization sizes.
November 12, 2013
Zehnder America announces that it has completed the Exova laboratory third-party testing of the Zehnder ComfoAir 550 Heat Recovery Ventilator (HRV) with ComfoFond-L ground source heat exchanger. With 99% Apparent Sensible Effectiveness and 91% Sensibly Recovery Efficiency at -25 degrees Celsius/-13 degrees Fahrenheit, heating loads are drastically reduced in a cold climate. The combined power consumption of the HRV and geothermal heat exchanger is approximately 90 watts/hour. This is an extremely low power consumption considering beneficial heating load savings and comfort for its inhabitants. By capturing the free stored energy in the ground to pre-heat air entering the HRV, the fresh filtered air coming out of the HRV is within 2-3 degrees of the comfortable inside temperature. This is the case even when the outside temperature is well below freezing. This mitigates uncomfortable cold drafts during winter months

Today's buildings have become increasingly tighter and more insulated due to building codes and energy-efficiency awareness. Zehnder's breakthrough Heat Recovery Ventilator with ground source pre-heater solution allows increasingly energy-efficient homes in cold climates to have a continuous supply of fresh filtered air, a comfortable indoor environment and a reduction of heating loads.
November 11, 2013
Informative Thin Stone Veneer Video and Installation Page
This video discusses how 90° natural stone thin veneer corners are made as well as some of the more unique applications: keystones, archways, header details, recessed windows, rounded windows, wall caps, and more. It also discusses how to install 45°/135° corners. It discusses the weaving vs. miter cutting methods and shows examples of both installations.
November 11, 2013
The NSG Group is proud to announce the release of its new video on the Pilkington Float Glass Process. This seven minute video provides an in depth look at how float glass is manufactured and its multitude of uses. The video takes you step-by-step through each stage in the process, providing impressive images of a float glass line and manufacturing facility. The video describes a myriad of types of architectural, automotive and specialty glass, including their features, benefits and applications.

Using the Pilkington float glass process, glass is produced 24 hours a day, 365 days a year for over 15 years. The approximate 450 float glass lines worldwide produce more than 1 million tons of glass per year. The NSG Group's global operations produce float glass for the Automotive, Architectural and Technical Glass Markets.
November 11, 2013
Vectorworks 2014 Product Line Delivers on a Series of Customer-Driven Improvements
Columbia, Md. (November 11, 2013) – Nemetschek Vectorworks, Inc. is pleased to announce the availability in Europe of several localized versions of the Vectorworks® 2014 line of design software, including: Vectorworks Designer, Architect, Landmark, Spotlight, Fundamentals and Renderworks®. Versions in each country's native language are now available in Portugal, Norway, France, Germany, Austria, Switzerland, Italy and the Benelux region.

The Vectorworks 2014 software contains more than 130 improvements, including new BIM tools for architects, increased site design capabilities for landscape architects and designers, as well as enhancements to lighting devices, documentation and graphic controls for entertainment designers.
November 11, 2013
LONDON, November 8, 2013 /PRNewswire/ --Registration is now open to find new design ideas for London's Royal Docks. The Landscape Institute and Ecobuild, with support from the Mayor of London and London Borough of Newham, have launched 'The Royal Docks Ideas Competition' to find innovative design proposals that would transform the Royal Docks into a multi-functional, 'liveable' space. Comprised of three docks in East London - Royal Albert Dock, Royal Victoria Dock and King George V Dock - the Royal Docks is the largest enclosed docks in the world with a water area of nearly 90 hectares. The judging panel want entrants to incorporate green infrastructure and water sensitive design ideas into their proposals in an effort to make the area more resilient against environmental, social and economic challenges and to transform it into a world class location.

The Mayor of London is preparing to seek a development partner to deliver a floating village at the western end of Royal Victoria Dock. At 4km, the Royal Docks are the length of Central Park, and offer almost 90 hectares of water space with enormous potential to be brought to life.
November 08, 2013
WASHINGTON, Nov. 7, 2013 /PRNewswire-USNewswire/ -- Today, the U.S. Green Building Council (USGBC) released its second installment of the LEED in Motion report series: Places and Policies. The report states that there are nearly 60,000 LEED green building projects across the globe, spanning 10.6 billion square feet. Notably, Canada, India, China, the United Arab Emirates and Brazil lead the way for countries with the highest number of projects outside the U.S.

Available exclusively to USGBC's 13,000 member organizations, the LEED in Motion report series is aimed at equipping green building professionals, advocates and proponents with the insight needed to make a strong case for sustainable building activity. The second report in the series, LEED in Motion: Places and Policies, details the global, regional and local growth of LEED and outlines the policies and mechanisms supporting it.
November 08, 2013
OTTAWA, Nov. 7, 2013 /CNW/ - A new report by the Winnipeg-based International Institute for Sustainable Development (IISD) released today on the implications of climate change on Canada's infrastructure represents an important step forward in the national conversation about infrastructure resilience. Published with support from the Cement Association of Canada, "Climate Change Adaptation and Canadian Infrastructure" summarizes current literature dealing with the challenge of adapting to climate change in Canada, with a particular focus on the country's infrastructure.

Intended to serve as stimulus for further discussion around planned adaptation to climate change in Canada, particularly with respect to ensuring the viability of critical built infrastructure, the report explores climate impacts and risks to key infrastructure by region and by type. The report also introduces a number of key policy, regulatory, and financial tools for consideration.
November 07, 2013
TOKYO--(BUSINESS WIRE)--SEKISUI CHEMICAL CO., LTD. (TOKYO:4204) subsidiary, the High Performance Plastics Company, will begin in March 2014 sales of "Cielora™" the new interlayer film with milky-white gradation for laminated glass for constructions with combined designability and safety.

"Cielora™" is the world's first (according to Sekisui Chemical research) interlayer film with excellent designability and milky-white gradation for a naturally beautiful flow in addition to glass spatter prevention and UV filtering, which are the basic functions of an interlayer film. There were major reactions when we exhibited reference samples at Glasstec 2012, which is the world's largest EU glass exhibition. The world's first milky-white gradation interlayer film "Cielora™" creates a new interlayer film market in the construction field by adding the fresh viewpoint of designability.
November 06, 2013
DENVER, Nov. 5, 2013 /PRNewswire/ -- Online Masters in Public Health has released a ranked list of the 30 Most Architecturally Impressive Hospitals in the World.

Online Masters in Public Health's ranking of hospitals from around the world is based on several factors ranging from aesthetics and originality, to patient comfort and engineering sophistication. Of the 30 hospitals listed, 18 are located within the United States and are certain to be the cornerstones of hospital renovations in cities nationwide.
November 06, 2013
LONDON, November 5, 2013 /PRNewswire/ --On 26th November NBS Live will bring experts from across the construction industry together in London to share their knowledge on a broad range of issues impacting the industry today, and to discuss what the future holds.

The one-day conference will offer something for architects, construction professionals and manufacturers alike and provide a wealth of networking opportunities.

Book your place now to take advantage of this unique conference programme, tailored to address everything you and your business needs to know in the construction industry today.
November 05, 2013
Atlanta, Ga. –Roofing contractors got an in-depth and hands-on introduction to new Atlas products, incentive promotions, and technology tools at eight Atlas Innovations Roadtrip events held in Chicago, Dallas, Charlotte, Birmingham, Philadelphia, Baton Rouge, Atlanta, and Orlando. Several Atlas executives spoke at the Roadtrip 2013, describing how Atlas designs with the contractor in mind.

Contractors at the Atlas Roadtrip 2013 were able to actually walk on steep sloped displays of underlayment to see how strong the traction is for safer walking. Atlas then took the wraps off its newest underlayment for steep slope roof applications, Gorilla Guard® EVERFELT™ debuted the slogan, It's Like Nothing You've Ever Felt. Glass fiber technology gives this high performance underlayment extreme strength and durability not available in ordinary organic felt underlayment.
November 05, 2013
(Toronto – October 9, 2013) For 25 years Construct Canada, the country's largest building and construction show, has led the way in providing market opportunities, valuable industry contacts, and introductions to new & green products and innovations for architects, builders, contractors, engineers and renovators.

New this year, Informa Canada is proud to announce the launch of Construct International, a new international construction trade show and conference program. Construct International will be held in conjunction with the other shows and will address the globalization of construction and provide the platform to explore business opportunities and possibilities for 2014. It will showcase international products and services; bring together business professionals in a matchmaking program; and address the strategies and solutions for successful bi-lateral trade in the design, construction, real estate operations, and infrastructure sectors.
November 01, 2013
SINGAPORE, Oct. 31, 2013 /PRNewswire/ --International Design Studio (IDS) wins the prestigious WAN Awards 2013 for Residential Category as announced at this year's World Architecture Day in New York City on 7 October 2013. Winner of the 'Future Schemes' category was the Icon Residence, Mont' Kiara in Kuala Lumpur by IDS which was conceived to emulate the romance and fantasies of renowned waterfront resorts and towns in the Mediterranean.

A three dimensionally changing unit profiles, bridges linking the internal and outdoor space creating an exciting play of vertical and horizontal interface of terraces, gardens, deck and sky gardens connecting at high levels, which provides both physical and visual link to the natural green, thereby introducing a soft relief against the backdrop of high-level/high-density living. The sky gardens at the lift lobbies also provide green relief at intermediate levels along the vertical journey.
November 01, 2013
SWFcontract is excited to announce that Phifer SheerWeave Style 4000, 4100 and 4400 series fabrics made with sustainable DOW ECOLIBRIUM™ Bio-Based Plasticizers are now available. Phifer is the first and only window coverings manufacturer with exclusive DOW ECOLIBRIUM™ in its fabrics.

SheerWeave® interior sun control fabrics were the first to be certified by the GREENGUARD Environmental Institute (GEI) for superior indoor air quality performance.

Style 4000, 4100 and 4400 series fabrics with DOW ECOLIBRIUM™ Bio-Based Plasticizers are made from 98% renewable feedstock and offer a phthalate-free alternative to shades constructed with traditional plasticizers.

Redefining vinyl sustainability, these new compounds meet tough regulatory requirements, providing a reduced carbon footprint and compound that can be recycled in a standard vinyl stream. DOW ECOLIBRIUM™ Bio-Based Plasticizers also reduce greenhouse gases by 40 percent versus traditional plasticizers.
October 31, 2013
ZEELAND, Mich., Oct. 31, 2013 /PRNewswire/ --Long established workplace norms are giving way to disruption and uncertainty. This shifting landscape of work leaves many people and organizations out of sync, with unmet needs. Many existing methods of equipping and managing the workplace fail to serve the enterprise, as they fail to empower or motivate people. Individual and group spaces aren't optimized for modern work styles. Many offices are, literally and figuratively, from another era.

Working with an international cast of experts, researchers and designers, Herman Miller is applying new insights into people, place, and work - how we think, how we are motivated, and how we create and collaborate.
October 31, 2013
LAKELAND, Fla., Oct. 30, 2013 /PRNewswire/ -- Architectural history will, once again, be made on the campus of Florida Southern College this Friday, Nov. 1, at 7:30 p.m. with the grand opening of the Sharp Family Tourism and Education Center and its cultural centerpiece, a newly constructed building by legendary architect Frank Lloyd Wright (1867-1959). Known as a "Usonian" house, the home was designed by Wright in 1939, and it is the first time this particular Wright design has ever been built.

Dr. Anne Kerr will also unveil a life-size Frank Lloyd Wright bronze statue sculpted by nationally renowned artists Don Haugen and Teena Stern, as well as a rare Yousuf Karsh portrait of Wright that has been generously donated to be on display in the Usonian house.

Construction of the house demanded that virtually every aspect, including the unique "textile" blocks, be hand crafted by experienced artisans. The building uses approximately 2000 interlocking blocks and is adorned with nearly 6000 hand-inserting colored glass blocks. The home illustrates all of Wright's Usonian ideals: a distinctly American style embodying respect for the natural landscape, economy of size, and the use of locally obtained, native materials for construction.
October 30, 2013
HAMBURG, Germany, Oct. 30, 2013 /PRNewswire/ -- From November 5 through 8, Chicago will welcome a shared exhibition by the two major symbols of Hamburg's ambitious urban design and re-development: The HafenCity Hamburg, Europe's largest urban development project, is expanding the city center of Hamburg by forty percent on former brown fields on the Elbe River. The IBA (International Building Exhibition) builds on a tradition of experimental design and urban planning with a seven-year project that is transforming an inner city island into vibrant and sustainable community living.

At the heart of the exhibition is an outsized compass symbolically pointing the way to the city of the future. The directional points of the compass have been replaced with four major themes: Growing City, Open City, Smart City and Civic City. These form the conceptual framework to explain the strategies and projects which HafenCity and IBA Hamburg are harnessing to meet the challenges of the future.
October 30, 2013
MAASTRICHT and WAALWIJK, October 29, 2013 /PRNewswire/ --With the opening of the new campus, United World College (UWC) in Maastricht has become one of the most sustainable new schools in the Netherlands. With regard to building materials, energy supply and air quality, many sustainable solutions have been chosen. Due to the positive effects on the indoor air quality, the school chose DESSO AirMaster® for its offices, corridors and staff rooms.

Due to the proven reduction in the concentration of fine particles, the use of DESSO AirMaster® at UWC Maastricht contributes to a better living and working environment wherever it is installed. Since its introduction in 2010, a significant number of schools in Europe have chosen DESSO AirMaster® for its positive effects on indoor air quality.
October 29, 2013
Dramatic Front Door to Pittsburgh Re-opens with Point State Park Fountain

On June 7, 2013, close to 3,000 people celebrated the re-opening of an iconic piece of Pittsburgh — Point State fountain. Originally opened in 1974, the 36-acre park, located at the head of the Ohio River, has become downtown's primary outdoor event
space visited by millions each year.

THE FOUNTAIN REJUVENATION INCLUDED:
• New water feature effects with over 300 of Crystal's LED color-changing lights
• Updated plumbing and electrical systems
• A spectacular, wind-controlled central burst jet that can shoot up to 200'

October 29, 2013
A Super Storm Sandy storm rebuild

LAS VEGAS, (October 17, 2013) – Fox Blocks donated Insulated Concrete Forms (ICF) to the Habitat For Humanity's 30th Annual Jimmy & Rosalynn Carter Work Project which took place in Union Beach, N.J., on October 10-12. The volunteers and materials donated by Fox Blocks will help rebuild the home of Elmer Lamberson's whose home was lost in Superstorm Sandy.

Eco-Village will provide 18 new families an innovative community that blends the energy efficiency of a home, with the sustainable environmental and social awareness of a lifestyle geared to the future. Fox Blocks (ICF) is assisting Eco-Village attain Leadership in Energy and Environmental Design (LEED) Green Building status and is a clear choice for building designers to maximize points in the LEED rating system.

Fox Blocks' 6-inch and 8-inch blocks are superb choices for foundations and walls to provide an extremely energy efficient building envelope that offers superior strength, sound, air quality, and wellinsulated walls. Fox Blocks ICF is a solid monolithic concrete wall and withstands the worst of rainstorms, fires, high winds and flooding.
October 28, 2013
Leading manufacturer of roofing products introduces the Cambridge HD "Nature's Accents" Collection

KANKAKEE, IL, Oct. 25, 2013 /PRNewswire/ - IKO, a North American pioneer and global leader in the roofing materials business, has announced significant enhancements to the company's best-selling line of architectural laminated shingles.

Cambridge HD shingles come in a palette of colors designed to evoke the national parks and landscapes for which they're named: Glacier, Sedona, Appalachian, Biscayne and Pacific Rim. While the current Cambridge shingles are based on subtle gradations of similar colors, Cambridge HD explores a much fuller spectrum of color.
October 25, 2013
Washington, DC.—Potential new pathways to architectural licensure are being explored through the work of a new Licensure Task Force launched by the National Council of Architectural Registration Boards (NCARB). The group is analyzing each component of the licensure process as a basis for exploring potential additional pathways that lead to licensure, including determining where there may be overlap and opportunities for efficiencies to be realized.

Because emerging professionals have flexibility in mapping out their paths to licensure, variables such as the degree program selected, where and how internship requirements are fulfilled, when the examination is taken, and where initial licensure is sought can all have an impact on the current length of time to achieve licensure.

October 24, 2013
MINNEAPOLIS--(BUSINESS WIRE)--Graco Inc. (NYSE:GGG), a leading manufacturer of fluid handling equipment, recently introduced the new Graco M680™ Mortar Pump. The M680 is designed to significantly reduce the labor hours required for projects such as resurfacing cement so that protective coatings or linings can be applied. The Graco M680 speeds surface prep work by allowing contractors to spray heavy materials onto the surface, rather than trowel them on by hand. The Graco M680 is engineered to work with abrasive materials such as cementitious coatings, epoxy-based mortars, non-skid coatings, and polymers with fillers such as glass flake, silica, or sand.

Contractors are taking notice of the significant savings the Graco M680 Mortar Pump delivers. It is also CE-approved and approved for use in environments with explosive atmospheres.
October 22, 2013
INDIANAPOLIS, Oct. 21, 2013 /PRNewswire/ -- From its Touch2O® Technology, which turns faucets on and off with just a touch, to H2Okinetic® shower technology that gives users the feeling of a more drenching shower while using less water, Delta Faucet is at the forefront of smart design in the kitchen and bath. Now, the company has broadened its commitment to innovation through its ongoing participation in activities aimed at supporting the science, technology, engineering and math (STEM) communities and beyond.

Encouraging education in areas related to science and engineering, Delta Faucet Company works with several universities to provide training and mentorship to students pursuing careers in STEM and design related fields. Additionally, the Delta® brand was the primary sponsor of Popular Science magazine's virtual science fair in 2013, soliciting inspiring ideas from kids of all ages by asking them to explain, through essays and photos, how their idea could one day help improve the world.
October 22, 2013
CHICAGO--(BUSINESS WIRE)--NRG Energy, Inc. (NYSE:NRG), through its wholly owned subsidiary NRG Solar – one of the nation's largest solar developers – today announced the offering of the fully customizable, freestanding NRG Solar Canopy. The introduction marks a major step forward in expanding the viability of solar installations beyond large rooftop structures. The canopy can provide supplemental power on and/or off the grid (dependent on configuration) to help manage energy costs along with usable shade and shelter.

The NRG Solar Canopy can be incorporated into large-scale commercial use as part of a comprehensive rooftop, ground mount, or solar parking solution that could also be included in a power purchase agreement (PPA) from NRG Solar. The canopy is optimal for universities, hospitals, gas stations, banks, stadiums, bus stops and remote locations such as islands, parks and farms, and dependent on installation size, can power a variety of appliances – from laptops to ATMs.

October 21, 2013
CINCINNATI--(BUSINESS WIRE)--According to research from the National Institute for Occupational Safety and Health (NIOSH), electrical shock results in approximately 4,000 non-disabling injuries annually, 3,600 disabling injuries annually and one death daily in the U.S. To help facility managers and safety and risk prevention professionals improve employee safety programs. Hosted by Cintas and featuring guest speakers from The Hilgeman Group, Inc. and Westex, the complimentary workshops will discuss NFPA 70E, 2112 and 2113, as well as OSHA's 1910.132 clarification on flame-resistant clothing.

Upcoming workshop dates and locations include:

•Nov. 7, Penske Racing, Charlotte, N.C.
•Nov. 14, Courtyard Newark Downtown, Newark, N.J.
•Nov. 21, Grace College and Theological Seminary, Winona Lake, Ind.
•Dec. 4, University of Louisville, Louisville, Ky.
•Dec. 5, Bluegrass Community College, Lexington, Ky.
•Dec. 11, University of Tennessee, Nashville, Tenn.
•Dec. 12, Bridgestone Arena, Knoxville, Tenn.


October 21, 2013
Gain insight into the latest technologies for improving performance of the building envelope at the Building Enclosure Technology and Environment Council (BETEC) Symposium: Design, Efficiency and Recycling for the Building Enclosure Life Cycle. The BETEC Symposium will be held Thursday, January 9, 8:30 am – 5:00 pm, as part of Building Innovation 2014: the National Institute of Building Sciences Conference and Expo.

At the BETEC Symposium, experts in the building envelope design arena will present best practices in insulation, daylighting, waste management, energy and other building systems, and describe how a high-performance enclosure can impact a building's overall performance. Speakers will explore a broad range of topics, including: continuous insulation; retrofitting condominiums; recycling and waste management; passive and active systems and their impact on the return on investment (ROI); thermal bridging; daylighting and reflectivity issues; glass energy and comfort; and benefits to the future building owner.

October 17, 2013
New Functionality Includes Integration with Dropbox and Snapping for Top Plan Viewports

Columbia, Maryland (October 17, 2013)—Nemetschek Vectorworks, Inc. has released a new version of the Vectorworks® Cloud Services mobile application, Vectorworks Nomad 2.5.

The 2.5 version of Vectorworks Nomad has been updated to include integration with Dropbox, so users can connect their Dropbox accounts to Vectorworks Cloud Services and access Dropbox files from the mobile application. Also, Vectorworks Cloud Services can now process VWX files that are stored within a Dropbox account and generate PDFs. In addition, Vectorworks Nomad 2.5 includes snapping functionality for floor plans, which allows for precise measurement of distances, angles, perimeters and areas.

Vectorworks Nomad is available for iOS, Android and Kindle Fire devices and can be downloaded from the Apple App Store (http://tinyurl.com/d6g9sdz), the Google Play Store (http://tinyurl.com/cy3vxnh) and the Amazon app store (http://tinyurl.com/l6txpzl).

Vectorworks Cloud Services is available to members of the Vectorworks Service Select subscription program. To learn more, please visit www.vectorworks.net/cloudservices
October 16, 2013
--(BUSINESS WIRE)--American Society of Landscape Architects (ASLA):
WHAT: Join the world's largest gathering of landscape architecture professionals at the American Society of Landscape Architects (ASLA) 2013 Annual Meeting and EXPO. With the biggest exposition in the show's history, the event will feature the latest products and leading experts in the world of outdoor design and sustainability. The show takes place at the Boston Convention & Exhibition Center, November 15 to November 18.

Highlighted speakers include:
• Esri co-founder and president Jack Dangermond, on Geodesign and the Emerging GIS Platform
• Dr. Stephen R. Kellert, on Biophilic Design: People and Nature in the Modern World

Visual opportunities:
• Boston Mayor Thomas Menino accepting honorary membership from ASLA (Thursday, November 14)
• The hottest products representing the top outdoor living trends like outdoor kitchens, fire pits and furniture
• Cutting edge green infrastructure like vertical gardens and parklets, as well as coastal flooding strategies
• Open forum to discuss how landscape architects are working to design resilient communities to mitigate the effects of climate change
• ASLA Sketch Boston, featuring drawings of Boston's landmarks, ASLA meeting activities, the EXPO, and other meeting events by landscape architects
October 16, 2013
HAMBURG, Germany, October 15, 2013 /PRNewswire/ --
Yesterday the German city of Hamburg officially launched its "Energy Bunker". Located in the district of Wilhelmsburg, the former air raid bunker has been transformed into an Energy Bunker as part of the 2013 International Building Exhibition Hamburg (IBA). This massive building, which had been derelict for several decades, now hosts a regenerative power plant supplying the surrounding area with green energy. The project is part of the "Renewable Wilhelmsburg" climate protection scheme, which aims to provide the 50,000 Wilhelmsburg residents with CO2-neutral electricity by 2025 and with climate-neutral heating by 2050.

The surrounding neighbourhood's household energy is generated by an efficient combination of energy sources: besides solar energy and biogas, the bunker also uses wood chips and waste heat from a nearby industrial plant, supplying heating energy to local households. The project's most innovative feature is its large-scale buffer storage facility with its 2 million litre capacity that integrates different eco-friendly heat and power units. The Energy Bunker also feeds the renewable power generated by its solar panels into Hamburg's electricity grid, thereby supplying 3,000 households with heat and 1,000 households with electricity.

The Energy Bunker is an integral part of the "Renewable Wilhelmsburg" climate protection scheme for Europe's largest river island with almost 50,000 residents. By the year 2050, Wilhelmsburg will be transformed into a climate-neutral district. The basis for this is provided within the framework of the International Building Exhibition (IBA), currently taking place in Hamburg. With its dedicated energy projects, the IBA is setting the groundwork for meeting Wilhelmsburg's total energy and heating requirements in a climate-neutral way by 2025 and 2050, respectively.
October 16, 2013
NHPC releases report on integrating smart grid technologies into home performance

WASHINGTON, Oct. 15, 2013 /PRNewswire-USNewswire/ -- At the National Summit on Integrating Energy Efficiency and Smart Grid , the National Home Performance Council (NHPC) today released "Making Sense of the Smart Home: Applications of Smart Grid and Smart Home Technologies for the Home Performance Industry," discussing the evolution and future prospects of smart technology to enhance energy efficiency and home performance.

The paper was released today at the National Summit on Integrating Energy Efficiency & Smart Grid , being held at the W Hotel in Washington, DC. The NHPC has partnered with the Association for Demand Response & Smart Grid (ADS) and the National Association of State Energy Officials (NASEO) to host this first-of-its-kind event, bringing together the energy efficiency and smart grid communities for two days of presentations, dialogue and learning.
October 16, 2013
Nemetschek Vectorworks in collaboration with MAXON Computer, DOSCH DESIGN, Arroway Textures® and AMD FireProTM professional graphics is pleased to announce the winners of "Your World, Reimagined: A Global Design Competition."

The "Best Overall Submission" award goes to Maryn Hekker, a freelance interior architect from Amsterdam, Netherlands, for her redesign of "The Pier of Scheveningen."

Summary of judges' comments: Very interesting concept: A modern back-to-basics facility. This should be the basis for future architecture. Great design board, ingenious and creative concept, and a clear presentation. You feel there is a fire in the person who made it.

For a full list of winners and prizes go to http://www.vectorworks.net/design-competition/
October 15, 2013
Team Austria won the 2013 Solar Decathlon with the LISI House that combines sustainable living with technology solutions for low energy consumption.

The University of Las Vegas Nevada took second place in the overall competition, and Czech Technical University received third place.

The Living Inspired by Sustainable Innovation or LISI house is designed to generate more power than it uses over the course of a year. The house adapts to a range of climate zones and flexes to meet a variety of lifestyles.

The winner of the Solar Decathlon is the team that best blends affordability, consumer appeal, and design excellence with optimal energy production and maximum efficiency.
October 15, 2013
Earth Shield® by J P Specialties, Inc. prevents the passage of fuels and oils through concrete joints — Proven resistance and certified EPA compliance

• EPA Compliant — CFR 112, CFR 265, (SPCC, RCRA)
• Design assistance with full specifications and CAD
• Accredited webinars available for design firms by request (PDH, CEU)

Even the pipe supports and pipe penetrations are sealed effectively with the Earth Shield® waterstop system.

Change of directions are easily achieved, as Earth Shield® is a thermoplastic, and can easily be heat-welded to accommodate directional changes.
October 14, 2013
NORTH BRUNSWICK, N.J.--(BUSINESS WIRE)--Silver Line today introduced a new and improved a line of windows and patio doors designed to withstand unique coastal weather conditions and help protect homes built at or near the shoreline from the destructive forces of a hurricane or other severe weather.*

Understanding that the damaging effects of severe weather are often felt beyond the point of landfall, Silver Line now offers a combination of window solutions designed for building, remodeling, or replacement projects at homes located both at the coast (one mile or less from the shoreline) and near the coast (more than one mile from the shoreline).*

High Performance Grade Ratings for Enhanced Protection
For homes located near the coast*– typically more than one mile from the shoreline – Silver Line® new construction windows and doors with a Performance Grade (PG) upgrade offer enhanced protection from high winds and rains, making them ideal for any rebuilding or remodeling project. Window features include accessories for an easy, weather-tight installation, and sturdy, vinyl construction for, low-maintenance convenience. When specified with the appropriate energy efficient options, these Silver Line windows and patio doors also meet ENERGY STAR® version 5.0 (2010) performance requirements. Homeowners can choose from double-hung, single-hung, casement, awning, and patio door styles for their building or remodeling project.

For homeowners looking to replace older windows without disturbing the window frame, Silver Line also offers a selection of replacement window styles that provide the same sturdy construction and energy efficient features. Style choices include double-hung, sliding, casement, awning or patio doors, and come in a full range of custom sizes.

Impact Resistant Glass helps protect the building envelope
Studies have shown that a breach in the building envelope leads to the most devastating storm damage in homes, and suggest taking measures to protect the building envelope. Silver Line impact resistant windows and doors feature laminate glass that helps protect homes from damaging wind and rain even when struck by wind-borne debris. All exposed hardware is color coordinated and made from corrosion-resistant stainless steel. Homeowners can choose from a variety of window styles, including double-hung, single-hung, casement, awning, and patio doors for their rebuild or remodel.

*See your local code official for building code requirements in your area.
October 11, 2013
SAN FRANCISCO, WALTHAM, Mass., and LAFAYETTE, Colo., Oct. 10, 2013 /PRNewswire/ -- As part of its expanding developer initiative, Blu® Homes, Inc. ("Blu"), a builder of beautiful, precision-engineered, green homes, announced today that it is working with McStain Neighborhoods® ("McStain"), a Colorado-based green builder of sustainable communities, to build a Discovery Home at Indian Peaks South in Lafayette, Colorado. Blu Homes and McStain will also collaborate at the Triple Crown Meadows community in Niwot, Colorado later this year.

The Discovery Home, which is inspired by Blu's Lofthouse, has the look and feel of a renovated farmhouse. It features a dramatic two-story living room with an overlooking loft space as well as two, three and four-bedroom floorplan options. The home has open or separate dining areas, and a multitude of interior and exterior finish options selected by the homeowner. This home will also feature a solar system as well as high ceilings to create a sun-drenched indoor environment that connects seamlessly with the outdoors.
October 11, 2013
NASHVILLE, Tenn.--(BUSINESS WIRE)--LP Building Products, a leading manufacturer of engineered building materials, will exhibit at the BATIMAT 2013 international trade show Nov. 4–8. A leading international innovation event for the construction industry, BATIMAT will be held at Paris Nord Villepinte Exhibition center in France. LP is committed to providing solutions to the European construction industry and will be showcasing LP® CanExel® Prefinished Siding, LP® SmartSide® product lines, LP® SolidStart® EWP product lines, LP® OSB products as well as new value-added OSB products from both LP Chile and LP Brazil.

BATIMAT focuses on the latest trends in building design and architecture. An international event, 177 countries will be represented, with an estimated 3,500 exhibitors and more than 400,000 attendees.
October 09, 2013
BARTLETT, Tenn.--(BUSINESS WIRE)--American Access, a premier modular wheelchair ramp manufacturer headquartered in Bartlett, Tenn., today launched three new ramp designs in response to evolving consumer demands. The company introduced the Classic, an updated version of its solid-surface ramp; the XM, an open-weave model; and the Hybrid, an economical, retail-friendly wood-surface ramp.

The Hybrid, which features wood planks interlocking in an aluminum frame, is expected to be a popular choice among consumers, especially seniors looking to "age in place." Aesthetic options for the ramp allow customers to choose from a range of composite decking materials, from Trex to natural cedar wood. Ease and speed of installation and a low price point were top priorities for the design of the Hybrid system.

October 09, 2013
KOHLER, Wis. – Oct. 4, 2013 – A well known leader in the kitchen and bath industry, Kohler Co. is dedicated to product innovation, technology advancements and water efficiency. This year Kohler has once again been recognized by the Environmental Protection Agency's WaterSense program with the first-ever 2013 WaterSense Sustained Excellence award for the company's long-standing efforts to increase consumer awareness of water issues and provide products that help save water in homes and businesses.

Kohler's other efforts in 2012 to promote water conservation included providing WaterSense-labeled plumbing products for notable projects such as Yellowstone National Park's retrofit of restrooms in the Lake Hotel, Wyland National Mayor's Water Conservation Challenge, New American show home, and Show Village exhibit home at International Builders' Show.

Additionally, Kohler Co. dedicated its third green building project in May, 2012. The Beacon, Kohler's global communications office located in Kohler, Wisconsin, achieved LEED Gold certification. Among its features are WaterSense-labeled toilets, urinals, and bathroom faucets.
October 04, 2013
SCOTTSDALE, Ariz.--(BUSINESS WIRE)--Ballistic Furniture Systems has developed an industry-first ballistic barrier system for furniture used by the general public.
The uniquely designed bullet-absorbing technology is integrated into high-quality furniture during the manufacturing process with the sole intent of shielding the user in the event of gunfire in the public space.
The founders of the company have been providing some of the highest-quality furniture located in public areas throughout the world, such as in hospitals, corporate settings, places of worship and government buildings. Given the brazen gun violence now commonly seen in the public space, there is a growing need to equip the furniture to shield the public from harm while helping to increase the odds of survival.
October 04, 2013
Cultural projects at Inside Marmomacc especially include Marmomacc & Design, a project arising from the desire to help exhibiting companies and young designers collaborate on research in the stone design field.
The company/designer path already undertaken with top quality results in the past welcomes an important innovation as of the 2013 edition: the participation of talented under 30 designers with the aim of creating an ideal link between the past, present and future of new generations of creatives.
The talented young people chosen include architects, designers, graphic designers, illustrators, film makers and sound design experts - because it is precisely the combination of these skills that makes the project all the more fascinating and interesting in its potential to interpret stone material: each one will work with the aim of transforming the widespread image that everyone has in this area by introducing the idea of fluidity.
October 04, 2013
WILMINGTON, Del., Oct. 3, 2013 /PRNewswire/ -- Energetic and animated designer and TV personality David Bromstad is dropping his paint brush for a moment to infuse color in interior design through the use of beautiful and dynamic DuPont™ Corian® solid surfaces and DuPont™ Zodiaq® quartz surfaces.

After answering a few simple questions through a visual quiz, users are introduced to one of seven design personalities that best resonates with their style. Design personalities include:

The Collector: Every piece in her home tells a story. The Collector mixes textures from found objects with more classic styles for a palette based on rich browns and dark lichen. Light is brought in by sunshine yellow and soft greens.
The Socialite: The Socialite knows confidence is her best accessory. She's self-assured at home and at work – always leading by example. Lighter grays and warm tones of sand are balanced by rich, jet black to create a feeling of luxury and longevity.
The Multi-tasker: The Multi-Tasker approaches life at full force – balancing and adjusting to the moment to meet it with exuberance. A family-friendly palette that is fresh, realistic, modern and classic – and infused with a much-needed jolt of coffee.
The Entertainer: With an eye for modern sophistication, the Entertainer is comfortable no matter where he is – which is usually at the center of any situation. Graphic red and black contrast for a high-end feel, but are softened with warm taupe and golden yellow for a truly sophisticated theme.
The Creator: The Creator loves anything quirky; what most people shy away from, he embraces. Mixed media, textures and inspirations make the color palette. From pairing water blues with coffee browns, this is experimentation at its bravest.
The Naturalist: The Naturalist feels most at home in the great outdoors and strives to bring a sense of well-being into her home. Soft buttery browns complement light beige and cream tones while speckle textures commonly found in stone and granite inspire solid surfaces.
The Traveler: The world is his inspiration. The Traveler mixes the best objects found in his travels – things that have an international significance to his life – to create a multi-cultural lifestyle. Anything exotic and unique is his normal; pottery clay, cobalt and indigo his color palette.
October 03, 2013
It is likely that many contractors do not understand the liability they undertake when "G40e" or "G40EQ" coated products are substituted for G40 without their knowledge. G40e is not hot-dipped galvanized (99% Zinc). G40e is a misnomer, because equivalent metallic coatings are listed in Table 1 of ASTM A1003.

Despite the research of the SSMA, the Steel Framing Industry Association (SFIA) has adopted a 75-hour salt spray test as its "standard" for G40 equivalency. It is important to note that CSSA, SSMA, and SSFSA all refuse to accept this definition, so any references to G40e as an "industry standard" coating is misleading.

The real pitfall for G40e is the liability one might endure by stocking this material. The problem arises when a spec book reads "hot-dipped galvanized" (most do), and a manufacturer provides G40e without alerting the distributor, contractor, and architect that a substitution has been made.
October 03, 2013
Marmomacc was chosen for the first mission abroad by the Egyptian Minister for Industry and Trade, Mounir Fakhry Abdel Nour. Veronafiere, starting in 2014, will become the first international organisation present in Cairo with MS Africa & Middle East (11-14 December).

Verona, 3 October 2013. The Egyptian Minister for Industry and Trade, Mounir Fakhry Abdel Nour, chose Marmomacc in Verona for his first mission abroad after the appointment of the new Government. Italy and Egypt thereby consolidate an important commercial axis, especially for the Egyptian marble and granite industry worth over 2.5 billion dollars, where exports of Italian machinery and technology grew by 40% in the first four months of 2013.
October 02, 2013
FORT LAUDERDALE, Fla.--(BUSINESS WIRE)--Britto Charette Designs (www.brittocharette.com), a well-known South Florida and New York-based interior design firm, has announced the successful launch of BC HOME (www.bchomeusa.com), its new home accessories line. The new line was created by principals Jay Britto and David Charette, with the creative assistance of their BC HOME team. This exciting collection brilliantly marries Peruvian textiles, Inca Cubism, Pre-Colombian pottery, and modern architecture.

The line is comprised of four collections: WASI, a group of handcrafted porcelain and gold sculptures, perfectly sized to adorn any table top; KIPU, a set of pillow covers made from hand embroidered silk; FACETA, a geometric pattern collaboration with Kyle Bunting, that includes handcrafted rugs, stools and mirrors, as well as acrylic serving trays for hospitality and residential indoor entertaining; and a European architectural series of Black and White Photography available for purchase from Michael Dawkins Home, Miami Design District.
October 02, 2013
CINCINNATI--(BUSINESS WIRE)--The Greater Cincinnati Green Business Council (Green Business Council) today released its Energy Benchmarking Toolkit, a guide to help small and medium-sized businesses reduce energy expenses at their facilities and improve environmental performance.

The Energy Benchmarking Toolkit explains benchmarking and its benefits and introduces the U.S. Environmental Protection Agency's (EPA's) ENERGY STAR® Portfolio Manager, a free web-based energy management tool that helps track and assess energy and water consumption for facilities. By identifying the relative energy performance of its buildings, organizations can develop strategies and allocate resources to under-performing buildings. The Toolkit also provides information about local, state and federal incentives and rebates that help organizations implement energy efficiency projects, such as lighting retrofits or HVAC upgrades.
October 02, 2013
Lost Pines, Texas--- MODERN FORMS, a WAC Lighting Company, has received the "Lighting for Tomorrow 2013" Award for its Vela Organic LED Chandelier. Winners of the much-anticipated annual "Lighting for Tomorrow" competition were announced at the American Lighting Association (ALA) Conference.

This year is the first time that Organic Light Emitting Diode (OLED) luminaires were eligible to enter the competition. OLED luminaires are gaining a greater presence in the residential lighting market, and by allowing these products to be submitted, "Lighting for Tomorrow" has recognized OLED technology as a viable competitor for their innovative, energy saving competition.

MODERN FORMS' Vela Chandelier came out on top, as the only winner in the OLED category, acknowledging the chandelier as the best use of current OLED technology with a winning design. The judging panel, which included a diverse group of lighting experts, described Vela as the "First OLED that is really well designed and lights the space well; the only one like it on the market!"

The Vela Chandelier leverages nanotechnology through organic solid-state compounds in a unique futuristic statement. The OLED panels are mounted back-to-back to provide 360° illumination from a ¾" thin chandelier with exaggerated proportions, designed to emphasize an invention only made possible with this novel technology. The chandelier provides 2040 lumens, and the 6-light sconce that completes this collection, provides 520 lumens.

In addition to MODERN FORMS' win in the OLED category, WAC Lighting's LED Picture Lights were recognized as an Honorable Mention for the product's favorable attributes. The judging panel cited the picture lights as having nice flexibility and being a good piece of art for a home. For more information on WAC's picture lights, visit their website at http://www.waclighting.com/product/2660
October 01, 2013
INDIANAPOLIS, Sept. 30, 2013 /PRNewswire/ -- Americans are spending more time checking emails, posting updates or surfing the Web – all while on their home toilet – according to a recent survey commissioned by Delta Faucet1. With nearly half of respondents admitting to dedicating at least five minutes at a time to their bathroom business and ninety percent to multitasking while they "go", it's fortunate that today's newer toilets are designed to offer a more comfortable experience for bottoms and a homeowner's bottom line.

According to the survey, other reasons to consider installing a more comfort-friendly toilet include:

•Master Multi-taskers. Nearly half of respondents admitted to setting aside five minutes or more to catch up on reading, answering emails or playing their favorite video game while sitting on their toilets.
•Posting on the Go. Furthermore, nearly one third of Americans say they update or check their social status while using the pot.
•Sticking to Stereotypes. Men admit to spending more time on the toilet; of survey respondents who reported they spent – on average – more than 10 minutes "going" while at home, 75 percent were male.
•Age Matters. People ages 25-34 are nearly twice as likely to spend upwards of 10 minutes on the throne compared to respondents 45 and older.

For easy installation, Delta Corrente™, Prelude™ and Riosa™ toilets come with the Delta SmartFit™ system, which includes pre-installed tank-to-bowl connections. Additionally, both Corrente and Riosa models feature an integrated water supply line to reduce potential leak points, and for added convenience, an EZ Out™ toilet removal kit included in the box, which provides many of the items needed for uninstalling an existing toilet to help make the process easier.
October 01, 2013
SANTA MONICA, Calif., Sept. 30, 2013 /PRNewswire/ -- Oldcastle BuildingEnvelope® has partnered with Columbia University's Graduate School of Architecture, Planning and Preservation (GSAPP) on "The Future of Energy," bringing together world-renowned experts to exchange ideas on how best to address energy production and consumption issues for the future. This full-day conference is open to the public and will be held on Wednesday, October 2, 2013 at The Museum of Modern Art in New York City from 9 a.m. to 5 p.m.

"The Future of Energy" is an interdisciplinary research program devoted to exploring key questions facing designers, developers and other professionals who are concerned with energy, efficiency and sustainability in the building industry. This collaborative effort between Oldcastle BuildingEnvelope® and GSAPP resists focusing on specific technologies or prospective energy sources. Instead, it examines energy both discursively and thematically, addressing such issues as how problems of the future of energy are framed and how these problems are conceived and discussed.
October 01, 2013
PITTSBURGH, Sept. 30, 2013 /PRNewswire/ -- United States Steel Corporation (NYSE: X) is pleased to announce the addition of a new high-quality, value-added product to our lineup of construction steels that supports green building design and practices, positively impacting these projects' environmental sustainability. ACRYLUME E PLUS™ Coated Steel Sheet, a new coated flat-rolled steel that has a chromium-free clear emissive polymer coating, provides all of the quality and performance attributes inherent of ACRYLUME® with improved thermal emittance.

U. S. Steel's new ACRYLUME E PLUS™ offers the environmentally conscious metal building construction industry a chromium-free emissive acrylic coating on GALVALUME® Coated Steel Sheet, which is designed to meet challenging solar reflectance and thermal emittance regulations. Prior to the introduction of this product, the emissivity requirements could only be met through pre-painted GALVALUME® products. ACRYLUME E PLUS™ also meets numerous European Union environmental directives including Restriction of Hazardous Substances Directive (RoHS) and Registration, Evaluation, Authorization and Restriction of Chemical Substances (REACH).
September 30, 2013
BUDAPEST, September 27, 2013 – GRAPHISOFT announced today another important milestone in its support for Open BIM with ArchiCAD having successfully passed IFC Coordination View 2.0 Import certification. This most recent announcement makes ArchiCAD the only architectural software developer to earn both IFC Coordination View 2.0 Import and Export certification.

The Coordination View was the first Model View Definition developed by buildingSMART International and is currently the most widely implemented view of the IFC scheme. The main purpose of the Coordination View is to allow sharing of building information models among the disciplines of architecture, structural engineering, and building services (mechanical). It contains definitions of spatial structure, building, and building service elements that are needed for coordinating design information among these disciplines. The IFC2x3 Coordination View is the built-in and default standard supported by ArchiCAD.
September 30, 2013
Verona, 28 September 2013. A new record of operators from 143 nations marked the closure today of the 48th edition of Marmomacc. These figures confirm the role of the Verona Exhibition Centre as a global centre for business focusing on the natural stone, design and technology value chain. In addition to coverage of geographic areas, the overall share of foreign operators visiting the halls grew by 6% to 55% of the 56,000 visitors in total. The top ten specialised operators came first of all from Germany, followed by India, Spain, Turkey, France, the United States, the United Kingdom, China, Russia and Brazil. The four days of the event welcomed well over 1,400 exhibitors from nearly 60 countries with new entries from Singapore, Slovenia and Ireland; there were 16 international group attendances, with the return of Palestine and the debut of Tunisia, and 44 official trade missions from 44 countries.

Inside Marmomacc and Stone Academy: architecture, design, culture and education - all Awards at the 2013 Edition.

The four days of the exhibition saw Hall 7B transformed into "Inside Marmomacc" - a venue for exhibitions, installations and international conferences dedicated to the use of stone. Inside Marmomacc was also the stage for numerous awards and honours: the XIII edition of the International Stone Architecture Award - that celebrates the best architectural projects involving the use of stone - acclaimed Arup Associates, Alberto Campo Baeza, Max Dudler, Josep Mias Architects, Carl Fredrik Svenstedt (as well as the special mention for the Ufficio Sassi di Matera, the Ad Memoriam Award to architect Alessandro Anselmi and the Vernacular Architecture Award to dry stone works: Taulas, Navetas, Barracas, Muragghi, Pagliari); the Best Communicator Award for exhibitors distinguished by the quality and originality of their stands (winners: Fibra, Scandola Marmi, Testi Group; special mention: Comes, Cava Romana, Tyrolit, Favorita, Solancis (Portugal), Finstone, Premium Stone (India); exceptional special mention: Piba Marmi and Prometec); the Master of Stone Award was made to Daniel Avital of Fervital and Nassar Ali Nassar of Nassar Store Group; the Women in Marble Award went to Patrizia Dottori.
Cultural projects were particularly distinguished by the installations in the Marmomacc&Design "Fluid Stone" event involving young under-30 designers capable of interpreting stone materials using modern media tools; as well as the exhibitions of prototypes by students of the Faculty of Architecture, Ferrara, and students at the Brenzoni Art School; the Bathing in Light exhibition of works from Turkey; the rotating disks with marble tiles in Opus Motus; the two different Stone & Luxury SPA installations representing the relationship between man, water and stone; the Structural Stone event for the design of prototypes and design themes for stone architecture, and many others.
There was also impressive participation by architects, engineers and designers at the course and educational activities promoted by the Stone Academy involving 20 Italian and international universities, this year joined by Schools of architecture in Florida and Ljubljana.
Even after closing its doors, Marmomacc will continue to live in the city until the end of October with Marmomacc & The City, an exhibition of stone sculptures and installations in the streets and squares of the historic centre of Verona.
September 27, 2013
WHO: Greenbuild attendees and anyone interested in innovation in green building can register for a guided tour of the Philadelphia area's sustainable buildings and neighborhoods while earning GBCI/AIA credits.

WHAT: SageGlass® dynamic glass is both a green and uniquely capable solar control problem solver. During this year's Greenbuild, two half-day tours will provide the opportunity for attendees to venture outside the convention hall and learn about an impressive installation of SageGlass at Philadelphia's iconic Kimmel Center for the Performing Arts. SageGlass helped BLT Architects preserve a city skyline view while keeping solar heat gain in check, making the space a desirable rental venue for events year-round.

WHERE: Greenbuild 2013, Pennsylvania Convention Center, 1101 Arch Street, Philadelphia, PA.

WHEN: Urban Placemaking: A Golden Mile of Walkways, Gardens and Public Art Tour - Monday, November 18th (TM07), and Friday, November 22nd (TF07), 2:00 p.m. – 6:00 p.m. ET. Tour spaces are limited.
September 27, 2013
For natural smoke and heat exhaust ventilation, SHEV for short, smoke exhaust openings in the facade or roof are opened using electromotive drives if there is a fire. These openings expel rising heat, smoke and combustion gases to the outside. They are trig-gered by automatic and manual detectors as well as external alarm transmitters. One deciding factor for electromotive smoke and heat exhaust ventilation systems, such as those offered by D+H, is that they can also be used for everyday natural ventilation when supplemented by cost-saving ventilation components. They are controlled by manual vent switches and remote controls, temperature sensors and weather detectors. Of course, the SHEV functions are placed over the ventilation functions. The double-benefit of safety and comfort in turn presents a cost-efficient overall solution.
September 26, 2013
Plus Better Scoring, Snapping and Ease of Handling Boost Efficiency on Job Site

ATLANTA, Sept. 25, 2013 /PRNewswire/ -- Georgia-Pacific Gypsum's recently enhanced DensDeck® Prime Roof Board has demonstrated – in third-party tests–significant attributes that boost job site efficiency.

DensDeck Prime ¼" fiberglass mat gypsum cover boards demonstrated 2.5 times greater flexural strength, per ASTM C473 test methodology, compared to competitive ¼" gypsum fiber boards. The tests were conducted by PRI, Construction Materials Technologies, earlier this year.

For more information about the family of DensDeck roof boards, please visit www.DensDeck.com.
September 26, 2013
When Nancy Wells of Pura Vida Energy Systems of Monroeville, Pennsylvania, was referred to TRA Snow and Sun, Inc. by Big D Electric of Cumberland, Maryland, her goal was to solve a couple of problems. She needed a solar mounting system that would span across a 20 foot valley on a metal roof as well as a system for the 16 story tower condominium complex in Jaco, Costa Rica.

The government exclusively controlled Costa Rica's electrical system until 2010 and it took a year for Pura Vida to establish their solar business there. They now have three locations in Costa Rica, and a license from the government to import renewable energy products duty-free and sales tax exoneration. Pura Vida is an expert in dealing with the import/export issues, environmental factors, and government regulations. Installing solar panels on the existing Vista las Palmas, VLP, condominium complex included systems on a tower, gym and several carports. The tower and carport designs provided special challenges.

Travis Washburn, CAD/CAM Engineer at TRA Snow and Sun, routinely sees various Flush Mount, Elevated, and Ballasted Solar Mounting Systems cross his desk, but he had never designed a mounting system spanning valleys quite like the VLP project in Jaco. Solar mounting rail spans are generally six feet or shorter to be able to withstand wind loads without being blown over. Washburn said, "The challenge on the elevated carport was the fact that the there was a twenty foot span across the valley that required engineered bracing at specific intervals. The twenty foot span is three times longer than the longest allowable rails span, requiring engineering and calculations." TRA engineers and Pura Vida were in constant contact with each other using information such as wind load and elevation to design a system that would hold up under their specific conditions. Recently completed in September, there are more than 200 solar panels mounted using TRA's engineered Elevated System on several carports and entrances to the complex.

The condominium tower was another challenge for Pura Vida due to its height – 236 feet or 16 stories. Nancy Wells, Design Engineer for Pura Vida, stated, "For some of our first projects we cut the racking using locally obtained rails. For this one, we felt we needed some engineering so we contacted a number of different companies and their responses were usually, 'A tower that is 236 feet off the ground? You can't put racking up there. We can't warrant that it will withstand the wind.'" TRA was able to design a Flush Mounted Solar Mounting System that is warranted against wind uplift, sheer and wind download. There are now 80 panels and micro-inverters securely mounted on the tall ocean view condominium tower providing energy for the common property, which includes lighting, elevators, two redundant air condition chiller units, along with water and pool pumps for the 51 residential units in the building.solar racking, solar mounting systems.
September 24, 2013
BIRMINGHAM, England, September 24, 2013 /PRNewswire/ --

A brand new category of patio doors, designed for a life without compromise

A brand new category of patio doors with beautiful built-in screens and shades that enable homeowners to maximise indoor/outdoor living will debut to the UK public at the Grand Designs Live show in Birmingham from 4-6 October. Centor Integrated Doors enable homeowners to enjoy unprecedented control of their living environment and uninterrupted views of the world outside.

The new integrated doors will be unveiled at the forthcoming Grand Designs Live event in Birmingham, where they can be seen and tested at stand number B658 between Friday 4 and Sunday 6 October. They are also available in showrooms nationwide from October. For more details visit http://www.centor.com

• Ultimate versatility - enjoy indoor/outdoor living, all day and all year round with screens and shades that appear/disappear on demand
• Sleek aesthetics - clean, contemporary design minimises visual interference
• Flawless operation - effortlessly smooth fingertip-touch operation
September 24, 2013
MIAMI, Fla., Sept. 23, 2013 /PRNewswire/ -- A new home project in Miami Beach, Fla., 2020 Alton, has been awarded LEED Platinum status and is, to the best of public knowledge, the highest-scoring LEED home at 120/89.5 in the nation. All doors and windows in this record-setting project were manufactured by CGI Windows & Doors.

The 2020 Alton project is a joint effort of developer Matthew Lahn of the Florida Green Home Design Group and architect Ari Sklar of Sklarchitecture.

Additional achievements for 2020 Alton:

• HERS (Home Energy Rating System) Index: -8 (100 is normal for new construction);
• Home Innovation Research Labs Green Certified: National Green Building Standard EMERALD (highest level), indicating that the home saves 60% or more of its energy use; and
• Named an Energy Star ® Qualified Home:
• Indoor airPLUS certified; and
• Florida Green Building Coalition (FGBC) Platinum certified.

All of these recognitions include the energy efficiency of windows and doors in their variables.
September 24, 2013
When planning a removable bike bollard installation, proper consideration should be paid to all the options available

Removable Bike Bollards are multi-functional, traffic guidance and bike storage solutions. They divert traffic, prevent access, define access routes for vehicles AND their secure bike-locking arms provide top-notch security for bicycles. Best of all, removable bike bollards can even be temporarily removed to allow temporary access to emergency and delivery vehicles or to change access routes on a seasonal basis.

When it comes to removable bike bollards, a lot of options are available and Reliance Foundry categorizes its options into two distinct categories. The first type, found in the removable bike bollard section of the site, is installed with permanently installed receivers that are installed below grade during installation. To remove this style of removable bike bollard, a lock is removed from either a chain or a lid and the bollard is simply lifted out of the receiver. All standard bike bollards can also be installed with specialized hardware to make them temporarily removable and this makes up the second category of removable bike bollards. Reliance Foundry offers both premium and economy mountings that allow bike bollards to become temporally removable and each of these operates in a unique manner. To find the correct removable bike bollard for every application, proper consideration should be paid to the different options that are available.
September 24, 2013
CHARLOTTE, N.C., Sept. 23, 2013 /PRNewswire/ -- Huber Engineered Woods LLC, leading manufacturer of innovative building solutions, today announced its ZIP System® R-Sheathing is the first insulated structural panel to achieve code approval under the International Code Council Evaluation Service's (ICC-ES) updated acceptance criteria for proprietary sheathing panels.

The ICC-ES revised its acceptance and testing criteria for proprietary sheathings earlier this year to provide a path for 2009 and 2012 code recognition. The more strenuous acceptance criteria ensures products comply with the 2009 and 2012 editions of the IRC and IBC. ZIP System R-Sheathing is currently the only insulated structural panel to have achieved recognition under the new guidelines and to have 2009 and 2012 code-recognized shear wall design values.

ZIP System R-Sheathing is a five-in-one insulated panel designed to provide bulk water, thermal, air, and moisture resistance while delivering unmatched strength and durability. Installed with ZIP System™ tape to create a seamless airtight seal, ZIP System R-Sheathing is a superior insulated panel for greater energy efficiency and reduced heating and cooling costs.

The performance standards of ZIP System R-Sheathing can be reviewed through the ICC-ES Evaluation Report (ESR-3373). This independent, third party report provides confirmation to builders and code officials that ZIP System R-sheathing meets current code requirements.
September 21, 2013
KALAMAZOO, Michigan—The Chipman collection marks the most recent addition to Landscape Forms' Terrace Life group of products. "Design professionals know Landscape Forms as a manufacturer of site furniture for streetscapes, parks and campuses," explains company president Richard Heriford. "Now we are going to places we haven't been before with furniture by award-winning architects and landscape architects designed specifically for terraces, rooftop gardens and other private and protected spaces. With Terrace Life we're creating new modern classics." Designed by landscape architect Robert Chipman, the new collection features a cast aluminum table and chair of stunning sculptural form conceived for more intimate social spaces.
September 21, 2013
Signature bollard model helps integrate perimeter security with site's historic architecture. When designers at the Beta Inc. were tasked with overseeing the layout and installation of security bollards outside Boston's Famous Fenway Park, they knew that maintaining the site's historic feel would be paramount. Fenway Park is the oldest park in use in Major League Baseball and it still boasts much of the original architecture from 1912. It was necessary to provide anti-ram protection in several areas where large numbers of pedestrians converge but the designers also recognized that unadorned steel pipe bollards would clash with the time-honored design of the historic ballpark.

The designers found the solution in the authentic-looking, old-world design of Reliance Foundry's model R-7539 decorative bollards. Composed of ductile iron and featuring a spherical cap and fluted shaft, the model R-7539 perfectly coincides with early 20th century architectural motifs. It stands 3 feet tall and features a hollow shaft that allows it to be installed alone or over security pipe bollards. With the assortment of standard mounting options offered by Reliance Foundry, this versatile architectural highlight can be used in a wide variety of applications, including the security pipe bollard ornamentation for which it was used at Fenway Park.
September 17, 2013
A Conference on Buildings and Ideas, Featuring Recent Built Work and Roundtable Discussions
Saturday, September 21 from 10AM-5PM at The Museum of Modern Art

SANTA MONICA, Calif., Sept. 16, 2013 /PRNewswire/ -- Oldcastle BuildingEnvelope ® will sponsor "In Pursuit of Architecture," a conference on buildings and ideas presented by the journal, ­Log­ , to mark its 10th anniversary and 29th issue. The conference will be held at The Museum of Modern Art in New York City on Saturday, September 21, 2013 from 10 am to 5 pm.

Co-organized by the Department of Architecture and Design at The Museum of Modern Art and Log, an independent journal on architecture and the contemporary city founded in 2003 by Cynthia Davidson, the conference presents a series of roundtable discussions about the physical and conceptual challenges of creating architecture. To learn more about the conference, visit www.anycorp.com/inpursuit.

The conference features the recently built work of 10 ground-breaking architects, selected from an open, international call for submissions: 51N4E (Brussels), Barkow Leibinger (Berlin), C+S architects (Treviso), LAN (Paris), MOS (New York City), Neil M. Denari Architects (Los Angeles), OFFICE Kersten Geers, David Van Severen (Brussels), Preston Scott Cohen (Cambridge), Reiser + Umemoto (New York City) and UNStudio (Amsterdam). These architects will be joined by four architecture critics—Sam Jacob (London), Sylvia Lavin (Los Angeles), Emmanuel Petit (New Haven) and Sarah Whiting (Houston)—to discuss architectural ideas, what it takes to build them, and how to measure the cultural value of architecture.
September 17, 2013
September 2013 - As of today, all operators will have yet another tool for staying informed and up-to-date about Marmomacc - the next edition is scheduled 25-28 September.

The new official APP with all information about the Show and scheduled events in the impressive Marmomacc programme is available through Apple Store and Google Play.
The Marmomacc APP is organised around two functional macro areas with dedicated services for exhibitors and visitors provided through simple and intuitive interactions.

For example, users can search for exhibitors in the electronic catalogue and locate them graphically on the Exhibition Centre map that can be navigated in touch screen mode. For visitors, the various functions integrated into the app include a digital agenda which can be used to make appointments with exhibitors. The QRCode reader, lastly, can be used to store (and retrieve later) all contacts established during the visit to the exhibition.
September 16, 2013
WASHINGTON--(BUSINESS WIRE)--From the Emerald Necklace to the Freedom Trail Sites, Boston's green spaces are revered by tourists and locals alike. The Landscape Architect's Guide to Boston, launched today by the American Society of Landscape Architects (ASLA), offers insider information about these designed landscapes and others you may not have heard of. It is located at www.asla.org/boston.

Boston has long been a trendsetter when it comes to urban design and sustainability. Its landscape architects have played a crucial role in making the city a better place to live, starting in the late 19th century, when Frederick Law Olmsted designed the Emerald Necklace, to today's generation of landscape architects who are creating waterfront parks and beloved green spaces. Boston ranks in the top 10 nationally for sustainability, park space and quality of life, in large part because its designed landscapes are integral to its urban fabric.

The guide is divided into 26 distinct tours in diverse neighborhoods in Boston, Cambridge and Brookline. Each tour covers multiple neighborhoods, and includes a printable walking or biking map for easy exploration.

The guide was created by ASLA in partnership with 28 nationally recognized landscape architects, all of whom are designers of the public realm and leaders in sustainable design. The guides were asked to explain the sites from a landscape architect's point of view and show how the design of these sites influences how people interact with or even feel about these places.

Media wishing to interview the guides or learn more about the website should contact Karen Grajales, public relations manager, at ktgrajales@asla.org or (202) 216-2371.
September 12, 2013
BRUSSELS--(BUSINESS WIRE)--Global spray foam insulation manufacturer Icynene announced today the launch of its regionally-specific European product line, H2Foam™ to address specific needs of architects and builders within the region.

The H2Foam™ product line includes an open-cell, light-density spray foam - H2Foam Lite™ - and a closed-cell rigid spray foam - H2Foam Forte™ - with additional products in the pipeline. All H2Foam™ products are 100% water-blown making them an environmentally sound alternative to other spray foam products available on the market.

H2Foam Forte™ is the world's first 100% water-blown rigid closed-cell spray foam insulation product merging the standard key benefits of closed-cell spray foam together with the opportunity to improve building performance and minimise environmental impact.
September 10, 2013
TORONTO, Sept. 9, 2013 /CNW/ - Today, Caesarstone Canada introduced six new designs to its dynamic Classico collection. New to the line are striking patterns, rich in colour and texture, designed to complement any space. As quartz and surface industry market leaders, Caesarstone Canada developed the new line of designs in response to global colour trends.

These latest cutting-edge designs are inspired by some of the world's most beautiful natural stone. Among the new decadent hues are four additions to the already successful Supernatural series including 5100 Vanilla Noir , 5110 Alpine Mist, 6003 Coastal Grey and 6131 Bianco Drift . Both 5100 Vanilla Noir and 5110 Alpine Mist are characterized by beautiful striking veins while 6003 Coastal Grey and 6131 Bianco Drift were designed with an opulent granite texture, refined by a clean and glossy feel that evoke the look of innate stone.

Also joining the Classico collection are the 4000 series additions 4130 Clamshell and 4460 Summer Rye . Both of these patterns add rich colour and texture to the series and bring an element of nature with their warmth and depth. These designs fuse together a sophisticated blend of soft-tones with intricate details, offering the versatility to suit a variety of interiors and colour palettes.

Caesarstone surfaces consist of up to 93 per cent quartz, one of nature's strongest minerals. They retain the cool tactile qualities of natural stone, while offering design freedom with almost unlimited application possibilities. Caesarstone quartz surfaces are virtually maintenance-free, making them the ideal choice for kitchen countertops, backsplashes and bathroom vanities.
September 10, 2013
MONROE, Ohio, Sept. 9, 2013 /PRNewswire/ -- Deceuninck North America, a leading designer and manufacturer of high-quality systems for windows, doors, and outdoor living, is introducing an advanced fiber glass technology based on materials from Bayer MaterialScience. Rovex is a polyurethane composite technology that includes bio-based materials and offers superior structural, thermal, and environmental performance.

Attendees at GlassBuild (September 10 to 12 at the Atlanta World Congress in Atlanta, Ga.) will have the opportunity to see Rovex integrated into the sash of ICON 8000 Series Doors at Deceuninck's exhibition booth (#1301).

In addition to integrating Rovex into the ICON 8000 Series Doors, Deceuninck is offering the technology as a complete, in-house manufacturing solution. The company provides engineering support, design and optimization; tooling and production; and custom pultrusion to meet specific production needs.

For more information about Deceuninck North America, please visit www.deceuninck-americas.com.
September 10, 2013
KUALA LUMPUR, Malaysia, Sept. 9, 2013 /PRNewswire/ -- Realising the importance of green environment, Ecobuild, the world's biggest event for sustainable design, construction and built environment is here to provide solutions that help increase efficiency and quality while reducing the operation costs to the Architectural, Building and Construction industry. Held together with Green Build Asia, Eco Light Asia and Solar Asia, the geo-adaption Ecobuild Southeast Asia will commence at Putra World Trade Centre, Kuala Lumpur, Malaysia from 17 – 19 September 2013.

Show highlights include:

• 250 exhibitors from 22 countries
• International Sustainable Infrastructure and Built Environment Conference 2013– high- powered presentations that helps provide multiple environmental solutions. www.ecobuildsea.com/Conference
• Technical Seminars - showcase of latest environmental products and technology to trade buyers. www.ecobuildsea.com/seminars
• Debate Sessions – listen and engage with top global industry leaders i.e. BRE, Fosters and Partners, Carbon Trust and many more. www.ecobuildsea.com/debate

Ecobuild Southeast Asia has received extraordinary support from key industry players including Ministry of Work, Ministry of Energy, Green Technology and Water (KeTTHA), Ministry of International Trade and Industry (MITI) and many more. Also, the all-electric, zero emission Nissan LEAF will serve as the official transport mode during event.
September 09, 2013
Awarded for Best Industry Website, Most Innovative Marketing Program for Genius™ Window

MONROE, Ohio, Sept. 6, 2013 /PRNewswire/ -- Deceuninck North America, a leading designer and manufacturer of high-quality systems for windows, doors, and outdoor living, is pleased to announce that the company received two 2013 Crystal Achievement Awards for Best Industry Website and Most Innovative Marketing Program for the introduction of Genius™ Window System. Both awards are in the industry supplier category.
September 06, 2013
Studies estimate that manufacturers will use more than 1.7 billion pounds of recycled glass in 2013

ALEXANDRIA, Va., Sept. 5, 2013 /PRNewswire/ -- The North American Insulation Manufacturers Association (NAIMA http://www.naima.org) announced the results of a recent survey of its members' use of pre- and post-consumer recycled materials in insulation products in 2012. The survey includes data from both U.S. and Canadian manufacturing facilities. According to the survey, U.S. manufacturers used almost 1.6 billion pounds of recycled glass in the production of residential, commercial, industrial, and air handling thermal and acoustical insulation. Manufacturers estimate they will use more than 1.7 billion pounds in 2013. NAIMA Canada members together used nearly 300 million pounds of recycled glass in the production of residential, commercial, industrial, and air handling thermal and acoustical insulation.

U.S. and Canadian facilities used more than 474 million pounds of recycled blast furnace slag in the production of thermal and acoustical insulation. Since the Industry's recycling program began in 1992, NAIMA members' plants have diverted over 43.8 billion pounds of recycled materials from the waste stream. "NAIMA members are committed to promoting sustainability by using recycled materials to produce energy-saving insulation products that improve a building's energy efficiency and reduce environmental impact," said Kate Offringa, President and CEO of NAIMA. "Fiber glass, rock wool and slag wool insulation are some of the best choices available for residential and commercial building."

While recycled content is just one indicator of a product's environmental impact, the survey results illustrate the significant impact that an industry can affect through the conscientious use of materials.

For more information about the environmental benefits of fiberglass, rock wool and slag wool, visit www.naima.org or www.insulationinstitute.org today.
September 06, 2013
Join us for a Webinar on September 12

Space is limited. Reserve your Webinar seat now at: https://www2.gotomeeting.com/register/704687722

Waterstops for Environmental Compliance of Liquid Tight Concrete Structures is a targeted course of instruction and professional development for engineering firms engaged in the design of chemical, industrial, and environmental projects such as secondary containment of hazardous waste, industrial wastewater, ozone contactors, and others. The course is technical in nature and describes waterstops role in fluid-proofing concrete joints, chemical resistant polymers and steels, and state and federal regulations of compliance. The course is presented in one (1) hour time frame.

Additionally, course attendees are eligible for Continuing Professional Development credit, as David is an instructor with both the Louisiana Engineering Society and the Louisiana Professional Engineers and Land Surveying Board. Course is certified for one (1) Professional Development Hour credit.

Title: Waterstops for Environmental Compliance of Liquid Tight Concrete Structures
Date: Thursday, September 12, 2013
Time: 12:00 PM - 1:00 PM PDT

After registering you will receive a confirmation email containing information about joining the Webinar.

System Requirements
PC-based attendees
Required: Windows® 8, 7, Vista, XP or 2003 Server

Mac®-based attendees
Required: Mac OS® X 10.6 or newer

Mobile attendees
Required: iPhone®, iPad®, Android™ phone or Android tablet
September 05, 2013
After 40 years, Duradek, the original Walkable Roofing Membrane gains recognition for the best new products in 2013 with two new stylish additions to their successful line of vinyl membranes.

Professional Builder Readers Chose Duradek Ultra Cork Macchiato as one of the 101 Best New Products for 2013. This best product recognition is given to the products that receive the most interest from Professional Builder readers, and with and with an audience reach of more than 112,000 home building professionals each month, all of whom have the authority to buy or specify building products. We are proud to stand out amongst the thousands of quality building products available.

Professional Remodeler Readers Chose Duradek Ultra Forest Floor Ash as one of the 101 Best New Products for 2013. This best product recognition is given to the products that receive the most interest from Professional Remodeler readers, and with an audience reach of 63,000 remodelers each month, we are proud to stand out amongst the thousands of quality building products available.
September 05, 2013
ATLANTA, Sept. 4, 2013 /PRNewswire/ -- Georgia-Pacific Design Studio, an online resource portal for the design and construction industry from Georgia-Pacific Gypsum, has expanded its offering to include downloadable files that make 3D design easier, faster and more accurate for architects, specifiers and contractors using Division 9 products.

Now, more than 125 files built in the AutoDesk® Revit® software and 23 files built in SketchUp, a 3D modeling offering from Trimble Navigation Limited, are available in the Georgia-Pacific Design Studio. The files, which include wall, floor/ceiling combinations; area separation wall; and shaftwall assemblies designed with Georgia-Pacific Gypsum products, can be easily downloaded or imported into Revit or SketchUp for Building Information Modeling (BIM) models. The Revit and SketchUp files – and related resources – are available at www.GPDesignStudio.com.

Other tools available at www.GPDesignStudio.com are:

• Assemblies Library – searchable database of detailed information, illustrations and performance characteristics for numerous wall systems and assemblies using Georgia-Pacific Gypsum products
• CAD Drawings –2D CAD details of various assemblies, available in multiple formats
• LEED® Calculation Tools -- concise information about a product's potential LEED credit contribution in the U.S. and Canada, including specific data regarding recycled content and regional materials
• Online Architectural and Roofing Binders – Division 9 and Division 7 compilations of specifications, working documents and case histories
• Residential Wall Systems Comparison Tool – for examining and comparing recommended pre-configured wall systems in five climate zones based on fundamental performance characteristics using different claddings, insulations and interior membranes.
August 27, 2013
Two net-zero energy developments, built with homes that generate as much energy as they use, are being built with insulated concrete forms to ensure energy efficiency and comfort.

Anthony Aebi, the founder and CEO of Greenhill Contracting, Inc has a single goal for his contracting company: to build the next generation of homes that achieve the highest level of energy performance, so high that the annual outcome is net zero energy usage. Most importantly, he wanted to build the home at a cost-per-square-foot under $100. Aebi is achieving his goal with his two developments: Green Acres, the first Net Zero Energy community under development in Hudson Valley, New York, and The Preserve at Mountain Vista in New Paltz, New York.

Net zero energy is defined as a home that produces more energy that it consumes in a year. In order to achieve a net-zero energy home, Aebi had to utilize products that would enable him to construct homes with a high standard of sustainability.

He selected Fox Blocks Insulated Concrete Forms (ICF) for the foundation and walls in each of the 1,600 – 2,600-square-feet homes, which also include a 1,000-square-feet unfinished space.

Fox Blocks ICF is a solid choice for building contractors looking to maximize energy efficiency. The Fox Blocks series wall system provides an extremely energy efficient building envelope offering superior strength, sound, air quality, and well insulated walls.

Fox Blocks ICF is a solid monolithic concrete wall and withstands the worst of rainstorms, fires, and high winds. In addition, ICFs contribute to sustainable construction in many other ways including the sound dampening of the concrete and foam, which is ideal for protection from urban noise and also is a barrier to insects such as termites.

ICF homes, unlike traditional American homes are built to last hundreds of years.
August 26, 2013
A brand new Audi dealership was recently completed in Natick, MA. This ultra-modern commercial structure features a design that incorporates many different elements. Glass, steel, and stone work together to create a sleek contemporary design. The clean, straight lines in the metal and windows are carried through to the Boston Blend Strips stone which was used on the retaining walls. The sleekness of the glass is contrasted by the rough, organic surface of the natural stone.

Boston Blend Strips is one of our newest, and most contemporary shapes. Each piece of stone is 1.5 inches in height, 1.0 inch thick, random lengths, and sawn 4 sides with a textured face. Strips is the best shape to use on a modern project with clean, straight lines. It is available in all 6 colors: Boston Blend, Greenwich Gray, Colonial Tan, Vineyard Granite, Newport Mist, and Nantucket Brown making it possible to fit perfectly into any design scheme.
August 23, 2013
PEACHTREE CITY, Ga.--(BUSINESS WIRE)--Diversified industrial manufacturer Eaton today announced that its Cooper Lighting division has rolled out its new light-emitting diode (LED) WaveStream™ technology with the introduction of the Metalux Encounter™ ambient luminaires. Making LED products available for a wide range of applications, these cost-effective solutions are designed to increase energy savings while providing superior optical performance and brightness control.

The Lighting division's new proprietary WaveStream technology features AccuAim™ advanced optics that provide precisely directed light output, control and optimal distributions tailored to each fixture and application. The highly efficient WaveStream LED technology delivers a uniform, glare-free, soft light for superior visual comfort.

Currently, the Lighting division's WaveStream technology is available for the Metalux Encounter series of ambient luminaires. Offering a thin and clean contemporary styling, the Metalux Encounter LED series provides an unrivaled freedom of design and creativity, offering specifers and customers a new level of energy efficiency, optical performance and brightness control at an affordable price. These new fixtures are an ideal solution for commercial office spaces, schools, hospitals, retail and other indoor ambient applications.
August 22, 2013
CULVER CITY, California — Glass Apps is pleased to announce the addition of UL Listed Switchable glass to their product lineup, the only UL Listed 110v plug and play switchable glass solution in the industry!

With Glass Apps 110v UL Listed Switchable glass, customers will:
• Save on installation costs by eliminating the need for converter boxes and additional electrician labor time.
• Avoid costly delays with local code authorities.
• Have assurance that you are using the safest possible laminated switchable glass solution.

Already know for having the highest clarity products, the only dimmable solution, the shortest lead-times, and fanatical customer service, UL is just another great advantage of choosing Glass Apps for all your Switchable Glass needs!

Copy the link to view the listing: http://database.ul.com/cgi-bin/XYV/template/LISEXT/1FRAME/showpage.html?name=IYQX.E352737&ccnshorttitle=Furnishings,+Household+and+Commercial&objid=1083102333&cfgid=1073741824&version=versionless&parent_id=1073988562&sequence=1

August 15, 2013
KALAMAZOO, Michigan—Landscape Forms is pleased to introduce Olithas, an outdoor table and bench with a thin fluted MeldStone™ top and seat of striking form and elegance that reimagines what cast concrete can be. The Olithas collection is part of Terrace Life, Landscape Forms' lifestyle furniture designed specifically for terraces, rooftop gardens and other private and protected spaces distinguished by their unique ambience and quality of social life.

The name Olithas combines the Greek word "Lithos" meaning stone, and the Spanish word "Olita" meaning tiny wave to describe the fluted form, based on the classical column, of this graceful outdoor furniture. Table tops and seats are supported by a handsome geometric tubular steel base. "Olithas is an exercise in making cast concrete appear to be light and fluid, like waves," explains Landscape Forms Senior Designer Efrain Velez. "We wanted to pay homage to classical and modern architecture and create furniture that is appropriate for many architectural contexts -- to achieve an elegant integration, through design, of common architectural materials at furniture scale." Olithas has already demonstrated success as winner of a prestigious 2013 Red Dot Award, the European honor bestowed on exceptional international design.

As part of Terrace Life, Olithas is designed with architects and interior designers in mind. In form, detail and elegant informality it sets a new standard for furniture designed for spaces at the intersection of architecture and nature. Olithas benches and tables create a magnetic field for active outdoor living; with a welcoming attitude and free spirit that encourages family gathering, after-hours mingling, eating and drinking, celebrating and relaxing. Olithas brings together the new Landscape Forms focus on lifestyle furniture for more intimate, high-design outdoor spaces with its capability in cast concrete, following acquisition of MeldUSA.

The fluted pattern on the underside of Olithas' concrete tops and seats provide a universal language, structure and reinforcement. These surfaces are made of MeldStone™ Ultra High Performance Concrete, a technology that enables the molding of thin strong slabs. The geometric steel bases of seamless precision-welded and finished tubing provide robust support but sit lightly within the landscape, and the radius of the base tubing fits the wave pattern of surfaces to provide a complete integration of form. Table and bench tops and bases are joined together by jewel-like connectors of cast stainless steel. A gentle upward curve at the back of bench is ergonomic and aesthetically pleasing.

The 64" table and bench easily accommodate up to six adults while taking up minimal visual space. Olithas is strong, durable, comfortable and manufactured in the US. The concrete used in its manufacture is a natural material that provides sustainable longevity and can be ground and reused for industrial applications at the end of product life. The steel contains at least 60% recycled content and is fully recyclable.
August 13, 2013
Company Expands Popular Ultra High-Efficiency 1.0 gpf Toilet Line that Harnesses Patented Double Cyclone Flushing System with Elegant New One-Piece Performance-Design

(Morrow, GA) April 19, 2013 – TOTO, the global leader in high-performance toilets, expands its ultra high-efficiency toilet (UHET) line with the beautiful new one-piece UltraMax II 1G. This elegant performance-design – with its long-view global design aesthetic and clean, simple lines that will grace any bathroom environment for years to come – exemplifies TOTO's People-Centered design philosophy.
People-First Innovation

Innovation designed to meet people's real world needs is serious business at TOTO, and consumers' skyrocketing demand for water-saving toilets highlights the company's position as a global technology leader.

Unfortunately, not all high efficiency toilets effectively remove the full range of waste – solid, liquid, and paper – making them a poor investment for homeowners. However, TOTO has developed high-efficiency flushing technologies that deliver substantial water savings and outstanding, balanced flushing across the entire spectrum of waste. Toilets with TOTO's patented Double Cyclone flushing technology exemplify this, distinguishing them from many other so-called high-efficiency toilets that do not perform across the varied types of waste.
Ultra High-Efficiency 1.0 gpf Double Cyclone Flushing System

Like the Drake II 1G before it, the new UltraMax II 1G – with its proven Double Cyclone technology – represents the continued evolution of TOTO's high-efficiency toilets. Already a market leader in balanced flushing at 1.28 gpf, TOTO now delivers ultra-high-efficiency flushing using only one gallon of water.

TOTO's Double Cyclone technology features two water jets, instead of rim holes. These jets, positioned on each side of the bowl's interior deliver powerful swirls of water. The flushing action is strong and all types of waste are flushed away effectively. The bowl and rim are cleansed thoroughly with one flush.

All this is achieved using TOTO's gravity-based Double Cyclone technology. This means that consumers can now get well-balanced, powerful, and ultra-high-efficiency 1.0 gpf flushing without having to buy a toilet that uses complex pressure-assist technology – thereby avoiding the considerable noise of pressure-assist toilets' flushing as well as their highly pressurized internal tanks. This puts the TOTO ultra high-efficiency toilets in a class by themselves.
August 12, 2013
Earth Shield® Solvent-based Waterstop Primer has been discontinued due to increased regulations concerning the V.O.C. (volatile organic content) of the solvent within.

We replaced the product with a water-based adhesive primer that actually works better, but costs significantly more money (approximately three times the cost). We know this price increase will be difficult for our customers to bear, as it was for us as well as a raw material, but we assure you we have done everything possible to keep the product affordable as possible. We believe the pricing will still be competitive with other manufacturer's formulations of water-based primer.

Functionally, the product is a big improvement over the solvent-based product it replaced, as it is an adhesive as well as a surface prep (the old primer was just a tacky surface prep). This new primer can be used in both vertical and horizontal applications; whereas, the old could only be used horizontally.

Our sincere apologies on this massive price increase, but the Clean Air Act made us discontinue the old, solvent-based (and cheap) primer, and switch to the eco-friendly (and expensive) water-based primer.
August 08, 2013
LONDON, August 8, 2013 /PRNewswire/ --

• The global sustainable construction event will connect industry professionals to help them network, learn and discover new products and innovative solutions

• Ecobuild regularly attracts 1,000 exhibitors and 45,000 visitors from 120 countries

• Ecobuild 2014 takes place at Excel London on Tuesday 4 to Thursday 6 March

As Ecobuild gears up to celebrate its 10th anniversary, the organizer of the event, UBM Live Built Environment, is delighted to announce some of the new plans for 2014.

Each year Ecobuild hosts the most comprehensive showcase of sustainable construction products in the world. It provides a platform for businesses representing the entire spectrum of sustainable construction products for new build, refurbishment, residential, commercial and industrial projects.

Ecobuild brings together the entire supply chain in order to focus on the green agenda and help them realize the vision of delivering a more sustainable built environment.
August 06, 2013
Advanced products help building achieve LEED Platinum certification

PITTSBURGH--(BUSINESS WIRE)--PPG Industries (NYSE:PPG) announced that the George W. Bush Presidential Center in Dallas, which is LEED(R) Platinum certified by the U.S. Green Building Council, was constructed with SOLARBAN(R) 70XL STARPHIRE(R) glass, CORAFLON(R) ADS (Air-Dried System) coatings, PURE PERFORMANCE(R) paint and SEAL GRIP(R) priming products. All four products are part of the ECOLOGICAL SOLUTIONS FROM PPG(TM) portfolio, a global selection of products engineered to reduce energy consumption, protect the environment and provide other "green" benefits.

Solarban 70XL Starphire glass, one the industry's highest-performing solar control, low-emissivity (low-e) glass products, is part of an integrated energy-management system that incorporates high-efficiency heating, ventilation and air-conditioning (HVAC) systems, solar power for electricity and hot water, exterior overhangs, and a green roof system that reduces the center's heating and cooling demands.

Made with a triple-silver coating on a low-iron glass substrate, Solarban 70XL Starphire glass offers an exceptional balance of transparency and solar control. In a standard 1-inch insulating glass unit, it has visible light transmittance (VLT) of 64 percent and a solar heat gain coefficient (SHGC) of 0.27, which produces a light-to-solar-gain (LSG) ratio of 2.37.

Although Solarban 70XL Starphire glass was specified throughout the center, it is featured most prominently in Freedom Hall, the building's central orientation point, which is topped by a 67-foot-high, 50-by-50-foot glass and limestone lantern. Solarban 70XL glass enables daylight from the lantern to flood the core of the building and to appear as a soft-glowing beacon that is visible from Dallas at night.

Seal Grip priming products and Pure Performance paint by the PPG PITTSBURGH PAINTS(R) brand are featured in the center's replica Oval Office, where they cover the walls, millwork and trim. Pure Performance paint is a zero-volatile organic compound (VOC) premium latex interior paint. Seal Grip priming products meet VOC-compliance standards for the South Coast Air Quality Management District (SCAQMD), Lake Michigan Air Directors Consortium (LADCO), California Air Resources Board (CARB), Super-Compliant Architectural/Industrial (AIM) Coatings and the Ozone Transport Commission (OTC).

Coraflon ADS coatings color and protect the center's exterior metal trim and doors. These next-generation low-VOC coatings retain color and gloss longer than conventional coating systems, and they resist chalking and repel surface dirt to reduce cleaning cycles.
August 06, 2013
Expo Build China 2014, China's leading exhibition for premium building materials, is scheduled to take place from 31st March - 3rd April 2014 at the Shanghai New International Expo Centre

SHANGHAI, Aug. 3, 2013 /PRNewswire/ -- As the world's second largest economy, China has huge demand for building materials for its rapid urbanisation process. In January and February 2013, nationwide building material markets achieved total sales revenue of approximately USD$23 billion. Shanghai, the most international city in mainland China, has a very active real estate market. In the first half of 2013, total investment in the Shanghai real estate market exceeded USD$32 billion, leading to a boom in building materials consumption in Shanghai and Eastern China.
August 06, 2013
KALAMAZOO, MI--Landscape Forms is proud to introduce Terrace Life, a new initiative that marks the company's entry into lifestyle furniture for more intimate, social, high-design outdoor spaces. "Design professionals know Landscape Forms as a manufacturer of site furniture for streetscapes, parks and campuses," explains company president Richard Heriford. "Now we are going to places we haven't been before with furniture by award-winning architects and landscape architects designed specifically for terraces, rooftop gardens and other private and protected spaces. With Terrace Life we're creating new modern classics."

Landscape Forms enjoys a reputation among design professionals for contemporary site furniture of exceptional design and quality. Terrace Life takes the design conversation to another realm of scale, proportion and finish with furniture that addresses lifestyle in social spaces on the other side of the glass door. Terrace Life includes collections of beautiful products tailored for spaces distinguished by their unique ambience and quality of social life. In outdoor rooms where old friends gather and new friends meet, where rejuvenation and celebration intersect, Terrace Life focuses on the experience in these spaces. It is designed to engender feelings of connection, camaraderie and the awareness of being in a special place. It is furniture that satisfies the senses and the emotions. Designed with architects and interior designers in mind, its beautiful forms, impeccable details and finishes and elegant informality set a new standard for furniture created for spaces at the transition between architecture and nature.

Kirt Martin, Vice President of Design and Marketing for Landscape Forms, said about Terrace Life, "The body of knowledge, experience, craft and design this company has developed over 44 years culminates in this point of view—this is what we think it should be. Ultra precise. Ultra inspirational. And some of the best work we've ever done."

Terrace Life makes its debut with three new collections. Morrison, designed by Lionel Morrison, features a high table with stools and a broad, low sybaritic bench. It reflects the refined sensibility of the architect renowned for his serene modernist buildings. Olithas is a table and bench collection by architect/industrial designer Efrain Velez that draws on his grounding in classical and international style and his interest in innovative material technology. This 2013 Red Dot Award winner features thin-profile MeldStone™ surfaces of stunning form and elegance. The Chipman Collection from landscape architect Robert Chipman includes chairs and tables in standard and low heights. Slender, tapered forms come together in lyrical pieces that are light in visual appearance and in the aluminum of which they are made.

More information about these collections will be released in the weeks ahead and more Terrace Life collections from inspired designers are in the pipeline. Now Terrace Life gives design professionals a new place to go for high-design furniture for special outdoor spaces. Looking for Landscape Forms? We're out on the terrace.