News
AEC Daily Newsletter - Current & Archives
Press Releases - Current & Archives
July 24, 2014
July 2014--The winners have been announced of the third edition of the"Landscape, Architectureand Stone Design"
Degree Thesis Award conceived and organized by
Verona fiere in collaboration with the Order of Architects of the Province of Verona.

Coordinated by architects Vincenzo Pavan and Laura DeStefano and promoted within the cultural program of the 49th Marmomacc (24-­-27 September 2014), the Award aims to encourage interest and awareness among future professionals-­-architects, engineers and designers-­- of stone materials by stimulating knowledge, research and applications in culturally and technically advanced architecture,
landscape and design projects.

The competition attracted entries from 63 groups of recent graduates attending Faculties o fArchitecture, Engineering, Design or equivalent Professional training Institutes offering three or five year degree courses, was divided into two sections covering the main areas involving stone.

a)
Landscape and architecture. This includes the subject area of research, design and construction of public and private buildings, urban spaces, reconstruction of the landscape and the architectural environmental recovery of quarries, recovery and restoration of historiclegacies.

b)
Design. This includes objects in everyday use, interior and exterior furnishings, product innovations achieved by processing stone materials.

The winners were selected by jury of prominent professionals and institutional figures:

Luisa Bocchietto-­-Biella, Icsid Board/International Council of Societies of Industrial Design

Klaus Theo Brenner-­-Berlin ,Potsdam School of Architecture (FHP)

Victor López Cotelo-­-TU Munich Vincenzo Pavan-­-Representative of Marmomacc, Verona Nicola Brunelli-­-Vice President Verona Order of Architects

Landscape and Architecture category:
1st PRIZE -­-Brunella Popolizio, Rome TreUniversity, Faculty of Architecture, academic year 2012-­-2013 Title
of Thesis: MATERA: THE CAVE PARK Recovery of the ancient route of the Appian Way and promotion of the agricultural vocation of the area.

Design for an olive press and market in the area of a former stone quarry.

Motivation of the Jury: The quality of this project immediately stands out thanks to its attentive insertion into the landscape, the integration of functional and architectural aspects and the structural order organizing construction, light and dimensions with such great success; and, lastly, for the materials where stone is in the forefront, by linking the vertical cut in the quarry with the horizontal plane of the constructions. The proposal for developing a business linked with local traditions for the benefit of the area is praise worthy.

2nd PRIZE
-­-Simone Barbi, University of Florence, Faculty of Architecture, academic year 2012-­-2013 Title of Thesis: STONE SILENCES Proposed project for the Monastery of Sant'Antimo

Motivation of the Jury: This design project stands out thanks to its respectful harmony with the context strongly characterized by the Abbey of Sant'Antimo. The simple shapes, the particular use of natural light and the identification of evocative views help emphasize the contemplative monastic settings. Stone, often in alternation with concrete and wood, helps high light the close relationship between design and history.
July 23, 2014
MINNEAPOLIS, Minn.--(BUSINESS WIRE)--Fairview Ridges Hospital in Burnsville, Minn., is using electronically tintable SageGlass®, a product of Saint-Gobain, to optimize natural light and create a stunning visual impact as part of a major expansion project.

Architects at BWBR designed a two-story atrium with SageGlass to serve as a new sunlit lobby and gathering space at the hospital. But the all-glass enclosure with south, west and east-facing walls presented a serious sun control and energy usage problem in terms of glare and solar heat gain.

BWBR ran numerous heat gain and cost analysis calculations using various glazing, sun shades, blinds, louvers and other controls. They found that they would not only be expensive, but would negate the benefits of glass, such as passive solar heating, natural lighting and preserving the outdoor views. "To have this beautiful all-glass enclosure and have the shades pulled down half the year would negate the aesthetics, warmth and comfort of this marquee facility," Rehkamp said.

Cleanliness and maintenance was another reason for choosing SageGlass, said Brian Knapp, vice president of operations at Fairview Ridges Hospital. "We need to maintain a clean environment in the hospital. It quickly became apparent that cleaning expansive 30-foot-high walls of mechanical shades would simply be impractical, not to mention expensive to maintain," he said. "After running the cost analyses, we determined that electrochromic glass would be a cost-effective solution."

SageGlass is advanced dynamic glass that maximizes daylight and outdoor views in buildings while controlling glare and heat gain. It will create a more comfortable indoor environment for hospital staff and visitors, particularly those working at the reception desk who would otherwise be subject to the sun's glare.

SageGlass changes tint automatically throughout the day based on light sensors and the sun's movement. The three-sided SageGlass curtain wall is divided into six zones – four on the south wall and one on each of the east and west walls. The system also includes a manual tinting control to provide flexibility to the owner.
July 21, 2014
Veronafiere, host and organizer of Marmomacc, has selected Craig P. Williams, a Principal of David M. Schwarz Architects, Inc. of Washington, DC, as the winner of the continuing education contest hosted by AEC Daily. He will receive a free trip to Verona, Italy to attend "Designing with Natural Stone", Marmomacc's week-long continuing education program for architects.

Mr. Williams has been practicing architecture for thirty-five years. He joined the firm directly from the University of Maryland, School of Architecture, and has spent his entire career there with his partners, associates, and collaborators. As the firm's work grew in size and complexity, so did Mr. Williams's projects. In the beginning, there were many townhouse renovations and adaptive reuse of historic structures, followed by both commercial and residential developer work. Ultimately, he has served as project manager on many of the firm's most complex projects, including sports venues, large master plans, mixed use projects and performing arts venues, including the Schermerhorn Symphony Center, one of the Building Stone Institute's 2014 Trucker Design Award winners for the use of natural stone.

"For most of my career I have been fortunate to have clients that desired well-crafted and timeless design, and who understood the benefits of materials that would stand the test of time, such as natural stone." In his designs for and specifications of natural stone, he has been fortunate to visit showrooms, warehouses, fabrication plants, and quarries through the US, as well as others in Europe, but attending Marmomacc and the Stone Academy, will take it to a much higher level. "This unprecedented opportunity to see so much stone material and visit so many facilities is a real treat. I am most appreciative of Marmomacc/Veronafiere and AEC Daily for this outstanding opportunity to further my in-depth knowledge and understanding of stone and its uses. I will treasure this for the remainder of my career."

"Designing with Natural Stone" offers a unique combination of classroom lectures, guided architectural tours, and field trips to local quarries, as well as to natural stone processing facilities. This comprehensive approach enables architects to better understand stone's full life-cycle -- including how marble is quarried, cut, processed, finished, selected for specific jobs and installed, all using the latest technologies and products.

Veronafiere is a trade fair host and organizer based in Verona, Italy.
July 17, 2014
The Design and Technology exhibition organized by Veronafiere aims to highlight the technological excellence, processing capacity of the Italian natural stone industry.

As the heir to ancient marble working tradition, Italy still ranks as a major home to extraordinary potential capable of merging design, technology and processing skills.
New computer-controlled engineering systems and digital design today define a new frontier for this ancient material, thereby opening up new ways for designing and working natural stone. Knowledge and awareness of the material and production processes, informed use and efforts to reduce waste and energy consumption are some of the essential aspects of future stone design projects seen in terms of creative process promoting stone through a modern image.

The event will tackle several specific technical and processing aspects (5-axis bridge saws with tool, diamond disc, lathe, robot, water jet, etc.) through a preview display of 8 macro and 6 micro experimental works specifically developed by designer and curator Raffaello Galiotto for leading Italian companies in the sector.

These works will be developed thanks to cooperation between companies involving various specializations: machinery builders, marble processing and raw material supply; this will consequently embrace the entire production chain in the stone industry.

Processed items typifying the endless creative variations that stone can offer and the sophisticated capabilities of today's machines will be displayed over a route highlighting the execution process and the complexity of each work in Hall 1.
July 16, 2014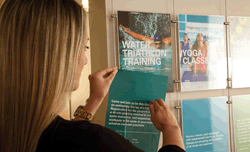 Fitness clubs, libraries, civic centers, and church centers all have one thing in common: the need to address multiple special interest groups. Typically this is accomplished via a notifications center or message board. The most standard approach for posting notifications in these areas is on a bulletin board.

Bulletin Board Snafus

You know what these message boards end up looking like, right? Too many sheets of paper, placed in random arrangement, not much rhyme or reason to the approach – just get the message up there. It doesn't result in a professional presentation, nor are messages capable of drawing the attention they deserve. And let's face it, a missed message (and missed turnout) is a bummer!

Why do you think that a photo of a bulletin board, say in an office products catalog, is never shown as if it were in use? The photos always represent a new, pristine – aka uncluttered – bulletin board, right? You get the visual, I'm sure.

But this doesn't have to be the case. Now anyone can present messages in a clean, orderly manner – and make sure that the target audience always know exactly where to find them.

Bulletin Board Displays Done Right!

AS Hanging Display Systems provides a structured bulletin board … the Boardless® Bulletin Board.

With rows and columns of pockets, messages can be controlled, clearly defined for each interest group, and readily updated or changed without affecting the other groups' notifications.

Simply allocate a pocket, or row or column of pockets, to a group, and they will quickly learn where to find the information most important to them. The rows-and-columns design structures information in a tidy and professional manner. Yet it's easy to use.

Simply insert flyers or photos, up to 8.5″ x 11″ in size, into clear acrylic pockets via top openings. Changes are fast and require no tools. And with no push-pins or staples, this bulletin board is kid-safe.

Your pocket display bulletin board will never look unkept and will actually draw the attention of your intended audience.

Each bulletin board kit includes two silver satin Wall Tracks, 8.5″ x 11″ portrait orientation pockets, 10′ stainless cables, all mounting hardware and a cable cutter. Choose from 13 standard kits with 3 – 24 pockets, or call for custom configurations. Options include number of tracks, track colors, piers, pocket size and orientation.

With customizable bulletin board displays, why would you ever use typical cork board or magnetic bulletin boards again?

Are you tired of your message being missed or not receiving the attention it deserves? Where will the Boardless Bulletin Board deliver your next message?

If you have questions or would like to learn more about how our products can be beneficial in your project, please contact our Customer Support at info@ashanging.com, or give us a call at 866 935-6949 (toll free) or at our local number 450 619-7999.

July 15, 2014
WINNERS JOSEPH RYKWERT, THE SEOUL METROPOLITAN GOVERNMENT, EMERGENCY ARCHITECTS FOUNDATION & ARQUITECTOS SIN FRONTERASThe UIA prizes honour professionals whose merits, talents or actions have made an international impact in specific sectors of architectural practice. The jury for the 2014 UIA prizes was comprised of the UIA Bureau members and met in Melbourne, Australia, on 5 May 2014. The winners will be presented with their awards on 6 August, in Durban (South Africa) during the next UIA congress.

British architect, historian and critic Joseph Rykwert is the recipient of the Jean Tschumi Prize, awarded for education, criticism and the architectural history. An honourable mention was awarded to the Australian couple Haig Beck & Jackie Cooper for their internationally renowned publishing and criticism.

The Seoul Metropolitan Government received the Sir Robert Matthew prize for the Yeongdeungpo Dosshouse Town housing renovation pilot project. This award recognizes quality facilities created for communities and their development.

The Fondation architectes de l'Urgence and Arquitectos sin Fronteras (Spain) share the Vassilis Sgoutas Prize, which recognises architecture that serves the poorest populations and promotes inventive solutions to the problems of poverty and indigence.

Four honourable mentions were awarded to: Nigerian architect Kunlé Adeyemi for a prototype school designed for waterfront cities in Africa; the Norwegian team TYIN
Tegnestue Architects, made up of of Yashar Hanstad and Andreas Grøntvedt Gjertsen, who identify themselves as "architects of necessity"; South African architect Carin Smuts, who designs sustainable equipment for marginal communities in the townships; and Australian architect Anna Rubbo, who founded Global Studio in 2005.
July 15, 2014
July 2014 - Spotlight on the specific character of production for the contract sector: the major supplies sector will be among the protagonists of the exhibition dedicated to interior design and furnishing solutions scheduled at Veronafiere 24-27 September 2014 in conjunction with Marmomacc. The aim is to highlight the features and potential of a globally expanding market.

While the US contract sector is the most important in the world and contractors (as well as American architecture firms) are increasingly involved in international projects, a common denominator in these projects is the use of quality décor - and it is in this context that Italy can become a leader be grasping the chance to export its products into the four corners of the world. Over the past three years, in fact, 58% of American contract companies have worked on projects in the Middle East, 47% in Central America and Latin America and 82% in Asia. Excellence of materials and products is essential not only from an aesthetic point of view but also as regards the overall result of projects. For this reason, Abitare il Tempo has decided to focus on the contract sector by setting up a business exhibition area dedicated to this segment as well as organising shows, meetings and occasions for debate.
July 14, 2014
The ultimate engineering and contracting reference manual concerning waterstops — iPad Edition is FREE

Concrete is everywhere: Buildings, fountains, parking decks, locks and dams, roads and bridges, and myriad other constructions. Because of its long lifespan, high workability, and near-worldwide availability, concrete is the preferred building material for large structures, especially those subject to hydraulic pressure.

Not all concrete structures require protection from the ingress of water or other fluids, but those that do require a properly installed waterstop in and along their concrete joints. The concrete joint is the most likely point of leakage and waterstops are uniquely designed to prevent this.

This book's sole purpose is to educate the reader on all facets of waterstop. Please download your free copy today
July 14, 2014
The theme of 2014 World Architecture Day, October 6, will be "Healthy Cities, Happy Cities." The UIA invites its members to organise special activities linked to the event,
which will celebrate the role architects and architecture play in the vitality of the urban setting and in the well-being of its inhabitants.

How can architects design and construct "healthy" spaces, facilities, housing and urban landscapes which foster happiness, health and quality of life for city-dwellers?
By what means are architects able to bring life to cities, to infuse them with energy, to insure their viability, to anticipate and heal disorders, to forestall disintegration and to accompany their harmonious development?

Responsible architectural design has spotlighted the role of the architect an obligation to design a sustainable environment by means of an ethical professional practice in the areas of energy, implementation and materials.

This year's theme for 2014 World Architecture Day was conceived by the UIA to illustrate the expansion of such practices and their impact on the urban space as well as on the entire city. The theme also is one facet of the UIA's global commitment to international institutions who defend safeguarding the planet, the quality of the air, the water, the soil and all the elements contributing to the health of human settlements.
July 11, 2014
ATLANTA — The AIA Convention 2014 in Chicago was noted as the most informative and enjoyable convention to date and Atlas Wall CI was there to confirm. The wall insulation division of Atlas Roofing Corp. introduced a company website redesign, as well as the launch of two new products: Infinish ES and Infinish ES2.

Show-goers experienced the new Atlas website on an oversized interactive monitor. Thanks to well-developed logic, a smooth, crisp layout, and simple navigation, AtlasRoofing.com is one complete company site, while at the same time a comprehensive web presence for each of its six divisions. The destination of each visit is determined by a single click on the home page.

The new Infinish ES and Infinish ES2 are intended for use as an interior insulating finish on interior walls only, or interior ceilings only, without requiring a code approved thermal barrier (approval per NFPA 286) in certain building types. This interior wall insulation is recommended for use in both commercial and residential applications due to the Class A Fire Rating.

Among other Atlas representatives in presence, Alec Minné, Director of Marketing for the Wall CI Board Division, provided technical information, application examples, and product details to show attendees. The booth also displayed life-size wall structures to showcase the entire line of Wall CI products, which also includes EnergyShield®, Rboard®, EnergyShield® PRO, and EnergyShield® PRO 2.

The Atlas Wall CI booth drove in traffic with prize giveaways as well. A random drawing
of the attendees' business cards was done on Thursday and Friday of the show. Terence Moeller, AIA, LEED AP, Director of Architecture at Wight & Company
and Alan Itzkowitz, CSI, SCIP, AIA, ALA, CCS, LEED AP, Owner of ABI Specifications Consulting, both won a set of Bose® Acoustic Noise Cancelling® headphones.
July 10, 2014
Munich, July 09, 2014 – Nemetschek AG (ISIN 0006452907) announced today that, together with Autodesk, Trimble and HOK, it has joined buildingSMART International's start-up Strategic Advisory Council (SAC) as a founding member to foster better interoperability between stakeholders in the built environment industries.

The aim of the buildingSMART International-initiated Strategic Advisory Council is to gather a group of senior representatives from the world's leading international businesses operating in or serving the built environment. The intent is to merge the commercial experience of major industry stakeholders with buildingSMART's vision of a universal collaboration format for building models; enabling the efficient and quality exchange of information between the various software solutions.

Viktor Varkonyi, Member of the Executive Board of Nemetschek AG, said "The Nemetschek Group welcomes this strategic initiative. Nemetschek and buildingSMART share the goal of ensuring that open standards, such as IFC and BCF, become the undisputable standard for model-based collaboration in the AEC industry. Ultimately, we want to ensure that end-users can build their collaborative workflows based on the highest possible quality neutral data exchange. The guarantee for our success lies in the fact that all the Nemetschek Group Companies as well as Autodesk and Trimble are committed to this very same goal."

In addition to the data format standards, an equally important component of success is to further develop the market engagement for the deployment of such open standards. A closely-related, major role of SAC will be to advise buildingSMART International in its market evangelization activities. Nemetschek welcomes the immediate priority of buildingSMART to extend SAC membership to consultants, contractors, product manufacturers, operators and owners representing all major verticals of the AEC industry.

For further information about Nemetschek, please contact: szimmermann@nemetschek.com
July 10, 2014
Cloud-Based Platform Enables Architects to Securely Review, Store and Share Knowledge with AEC Supply Chain Collaborators

Columbia, Md. (July 10, 2014) – Nemetschek Vectorworks, Inc., a provider of intuitive, powerful and practical 2D/3D and Building Information Modeling (BIM) software solutions, and Asite™, a software developer of cloud-based collaboration tools, have established a partnership that promotes the automation of workflows throughout a building's lifecycle. Users of Vectorworks® Architect software can now connect commercial information with their building information models, enhance coordination processes and maintain a clear audit trail on updates to their design through Asite's Adoddle collaboration platform. In addition, they can selectively and securely share their designs and individual BIM worksheets with various project collaborators using their authoring tool of choice through an IFC or COBie output and a cloud-based model for the project. Asite is a global platform with offices in the United States, the United Kingdom, South Africa, the Middle East, Australia and Hong Kong.

"Nemetschek Vectorworks is committed to promoting open BIM workflows, so we're excited to bring Asite's capabilities to our users, giving them the best way to coordinate the processes associated with design review, construction management and facilities management," said Jeremy Powell, director of product marketing at Nemetschek Vectorworks. "Such coordination through Asite's industry-leading cloud platform takes geography out of the equation for designers who work with various project consultants, facilities managers and building operators. It also reinforces our commitment to improving communication and project coordination among design and BIM collaboration platforms, as well as our support for IFC interoperability."

In addition, Adoddle cBIM™, Asite's collaborative BIM application, is now accessible to Vectorworks software users, thereby connecting model data with commercial management systems through one centralized and federated system, also known as a Common Data Environment. Such interoperability not only reduces errors and the risk of on-site problems with early design review and tracking, but it also brings visibility and control to shared information models.

"If we want to achieve BIM workflows, we need collaborative yet structured input through collaborative BIM," said Nathan Doughty, chief operating officer at Asite. "We are therefore excited to be partnering with Nemetschek Vectorworks to connect their BIM authoring tool to our collaborative BIM platform through Open BIM."

"Using Asite, we are able to share our Vectorworks models [via IFC] and other data with the rest of the project team," said Neil Marshall, director at The Design Büro, a medium-sized architectural practice operating in England. "What I particularly like about the Common Data Environment is the trust you can place in it as a single source of information. The whole team benefits from a reduction in wasted communication." Marshall devotes a lot of time to the rapid adoption of BIM because the UK government's BIM mandate stipulates that all centrally procured projects must be designed using BIM workflows by 2016.

Two projects that also demonstrate an open IFC workflow between Asite and Vectorworks were created during the Build London Live 2012 and Build Qatar Live 2012 Open BIM design competitions. Asite and AEC3 organized these events in conjunction with buildingSMART International. The two projects demonstrated how the use of different BIM-based tools could effectively communicate digital interoperability and support open, collaborative workflows through the application of the IFC file format. The international, Vectorworks-based design team for the events received awards for "Best Use of BIM for Design, Drama and Excitement" and "Best Use of BIM for Technical Assessment."
July 09, 2014
Metl-Span® is participating in the voluntary program, Health Product Declaration Collaborative, to provide accurate information to design professionals about the content of products.

The goal of the HPD Collaborative is to standardize the method in which building product manufacturers report contents, emissions, chemical hazards and the health effects of their products. According to the HPD Collaborative, the program "objectively defines the critical information needed to support accurate supply chain disclosure by manufacturers and suppliers, and informed decisions by building designers, specifiers, owners and users."
"
There is a global move toward complete transparency and openness from the product supply chain," says Doug Pickens, vice president of marketing at Metl-Span. "Design professionals, architects, specifiers, builders as well as end users need and want to know what chemical exposure is associated with material choices. It's a necessary step toward providing the best and healthiest building products."

Completed HPDs provide manufacturer and product information, details of product testing and compliance and products ingredients, such as hazardous chemicals. HPDs can easily be updated as products evolve and improve, providing the most up to date information to consumers.
July 04, 2014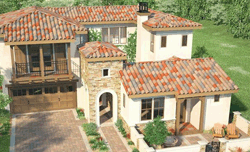 The ABC Green Home 2.0 is smart and sustainable. It demonstrates that a solar-powered, sustainable home can be built using available and recycled materials, such as Emser tile; countertops from Eco by Cosentino; smart technology like WiFi enabled thermostats from Honeywell and remote access door handles and locks from Schlage; energy efficient appliances like Goodman HVAC, hot water heating by AO Smith and hot water on-demand pumps from ACT Inc., at a cost that is competitive with conventional housing.

Implementing numerous green building practices, the ABC Green Home 2.0 will continue its high-performance themes brought to life by the original project and maintain the principles of being affordable, buildable and third-party certifiable.
July 04, 2014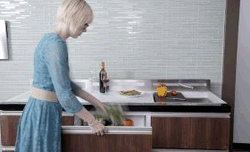 As the trend of smaller living spaces has taken hold, full-size appliances just don't fit in.

GE plans to build a line of micro kitchen appliances, offering a full suite of small gizmos suitable for small homes.

Whether people are simplifying, downsizing or getting on board with the the less-is-more movement, millions of Americans from Millennials to Boomers are seeking smaller living quarters. According to the U.S. Census Bureau, the urban population in the U.S. grew 12 percent from 2000 to 2010, totaling 81 percent of the population.

As cities grapple with housing shortages, the trend toward smaller living spaces is already a reality. Shrinking living spaces necessitate products and services that simplify, optimize and economize. GE Appliances' new micro-kitchen concepts keep consumers living large in a drastically smaller footprint.

Why smaller?

Many factors are playing a role in the trend toward smaller dwellings. As the cost per square foot of real estate in metro markets increases, some people are choosing smaller dwellings out of necessity. In the U.S., there are 32 million one-person households as of 2012 and that number is expected to grow.2 Also contributing are demographic shifts, such as the aging of the U.S. population; downsizing Baby Boomers; the changing employment picture for Gen Y; younger people delaying home purchases preferring to rent; and trends toward simplification and a more environmentally friendly lifestyle.

GE's unique position in the appliance industry—the first manufacturer to have its own microfactory production facility located in Louisville, Ky., called FirstBuild—will enable the company to quickly prototype, make and sell small batches of the micro kitchens in late 2014.

While the FirstBuild co-creation community will be collectively creating the first designs, Lenzi's industrial designers have also been imagining concepts delivering the power of full-sized appliances in a pint-sized package.

One concept, dubbed the monoblock, is an integrated unit with cooking, cleaning and refrigeration in a single standalone enclosure that would become a seamless part of the cabinetry. As designed, the consumer or builder could preconfigure their choices and have the custom-fabricated unit delivered to the home or job site.

The second concept is based on a counter-top-high, 24-inch-wide modular platform. This drawer-based system allows the consumer to choose the modules they want to have in their living space. All traditional kitchen appliances, including a microwave oven, conventional oven, convertible refrigerator and freezer, and dishwasher are drawer-based. An induction or radiant glass cooktop, downdraft ventilation system, and kitchen sink with disposal complete the full kitchen experience. The micro-kitchen drawers feature panelized construction providing a nearly unlimited choice of cabinet materials and finishes, so the décor possibilities are endless.
July 03, 2014
RESTON, Va., July 2, 2014 /PRNewswire/ -- The Brick Industry Association (BIA) has honored the best in brick design across North America. Selected by an independent panel of judges, the 2014 Brick in Architecture Awards spiked this year with more than 150 entries. Established in 1989, the 40 winners in this 25th anniversary year span 22 states and Canada.

The 2014 judges include Beth Greenberg, Dattner Architects; Evan Gunn, The Clark Enersen Partners; Charles Hilton, Charles Hilton Architects; Imran Kifayat, The Preston Partnership; Marlan Laurenzi, Franck + Lohsen Architects; Jeffrey Lee, Clark Nexen / Pearce Brinkley Cease + Lee; Dominic LoGalbo, Harding Partners; Jon Moore, Moore2Design, LLC; Hamid Noughani, Assemblage Architects; Paul Urbanek, SmithGroupJJR; Tim Wise, American Structurepoint and Al York, McKinney York Architects.

All of the winners will be featured in the December issue of Brick in Architecture, which will be an insert in Architect Magazine.
July 02, 2014
ATLANTA — Atlas Roofing has long offered a free account-based marketing program for roofing contractors, known as Atlas Signature Select®. With the recent re-design and functionality upgrades to its corporate website, the Signature Select® contractor user interface's look and feel got a re-vamping of its own. Now renamed Atlas Pro, the features, benefits, selling tools and rewards that contractors love are still just a click away.

A free Atlas Pro account doubles as login credentials for the Atlas ProAPP™ for iPad, a contractor-centric approach to project management, estimating software, unique selling tools, and more for the contractor on the go. Atlas ProAPP™ and the web based Atlas Pro account also allow contractors to register warranties, track storms, and order marketing materials shipped to their doorstep.

Additionally, Atlas Pro membership provides the option to have the innovative Shingle Visualizer installed on the contractor's own website. This allows for a more personal approach with their customers, without third party distractions. Contractors registered with Atlas Pro are also eligible for exclusive rewards, including unlimited cash earnings when using the full Atlas system of products on the roof.

To sign up for a free account and take advantage of the full offerings from Atlas, or just to see the changes that have been made to the new website
July 02, 2014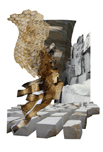 An exhibition of experimentation and creativity organized by Veronafiere to promote and enhance the creative capacity of Italian companies in the natural stone sector, as well as to improve awareness of the use of stone materials among architects and designers.

The event includes a theme-based exhibition of installations or micro-architecture projects designed by architects belonging to the prestigious Iberian "school" for leading Italian companies, which in will arrange displays in Hall 1 - entirely dedicated to the cultural events hosted by Marmomacc.

The installations, developed thanks to collaboration projects between architects and companies, will be inspired by the theme "homes with patios", i.e. a reflection on Mediterranean and Atlantic stone houses as a typology having roots in local cultures in various areas.

The general layout of the project comprises four "batches" of 60 sq.m. flanked by a patio area of about 30 sq.m., arranged around a central garden area.

These homes-patios will be designed to reveal new qualities and potential for stone materials and highlight the processing skills of the companies taking part, as well as serving as a hospitality point welcoming visitors and clients.

The invited architects and companies taking part are:
Manuel Aires Mateus with Grassi Pietre
Josep Miàs with Travertino Sant'Andrea
Eduardo Souto De Moura with Piba Marmi
Benedetta Tagliabue with Decormarmi

The exhibition is the heart of the event's cultural focus and seeks to integrate architecture and design experiences through the work of internationally renowned figures capable of interpreting stone in a creative way as well as to encourage experiments taking this material towards new frontiers.

The involvement of well-known European designers also meets the intention of combining the extraordinary professional skills and know-how of Italian companies with the most important contemporary trends in European architecture and design, wherein the Iberian area is one of the most advanced representatives.
June 27, 2014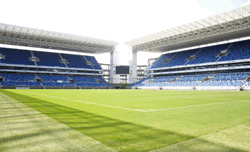 CUIABA, Brazil--(BUSINESS WIRE)--Panasonic do Brasil (PANABRAS) has provided Arena Pantanal Stadium, one of the stadiums to be used in the 2014 FIFA World Cup Brazil, with Panasonic's wide variety of AV and security solutions.

The Arena Pantanal, in Cuiaba - Mato Grosso, is the venue for many of the matches to be played during the football event. The stadium's capacity is about 41,000 people and it has the flexible structure, in order to adapt it to future needs and multiple events, even after the event. Its nickname is 'O Verdão' (The Big Green), after the sustainable approach used for the construction and the maintenance.

Panasonic's solutions include two 77.4 square meter large LED screens, security systems (330 cameras, 6 recorders, server and display monitors), three IP PBX main units and 60 IP phones, IT systems and 250 screens of full IP digital signage systems with the cooperation of its strategic partner Canal Livre. Arena Pantanal Stadium kicked off on 2nd April, with a test match between Santos FC and Misto EC.

In addition, Panasonic has supplied two 77 square meter large LED systems to Arena da Baixada stadium in Curitiba, one of the host stadiums for the 2014 FIFA World Cup Brazil. The company also has signed a sponsorship deal with Clube Atletico Paranaense based on this stadium that will allow Panasonic to display its brand on the large LED systems for 10 years, advertise the company using the systems and digital displays in the stadium for four years.
June 27, 2014
MINNEAPOLIS--(BUSINESS WIRE)--SageGlass®, a product of Saint-Gobain, will be included in expansion plans for the iconic Mall of America®. SAGE announced the news at the annual American Institute of Architects (AIA) national convention in Chicago taking place June 26-28.

The electronically tintable glass will be installed in the large oval rotunda that covers the grand new entrance to the Mall, providing solar control and comfort to millions of guests each year. Groundbreaking for the project started in May 2014 and is expected to be completed in late summer 2015.

Mall of America, the nation's largest retail and entertainment destination, has embarked on a $325 million expansion project with partners Mortenson Construction, Hotel Development LLC, the Mdewakanton Sioux Community, and the City of Bloomington, Minnesota. The expansion will include a 342-room JW Marriott hotel, office tower, high-end retailers, new dining options, a tourist welcome center and a large event space. This is the most significant construction project for Mall of America since its opening more than 20 years ago.

The new entrance to the Mall features a stunning, 3,500-square-foot rotunda skylight comprised of more than 300 panes of SageGlass. It will enable the Mall to control the sun without resorting to shades, blinds or other devices that would have curtailed natural daylight.
June 26, 2014
Session to discuss integrating window, lighting systems to help meet challenging new building codes; SageGlass dynamic glass will be on display at the SAGE booth and an integrated SageGlass-Lutron display is featured at the Lutron booth at the show.

Who: Dr. Helen Sanders, Vice President, Technical Business Development, SAGE Electrochromics, a subsidiary of Saint-Gobain
Dr. Pekka Hakkarainen, Vice President, Lutron Electronics

What:Integrated Window and Lighting Systems Can Help Meet Challenging New Building Codes, a continuing education course presented by Dr. Sanders and Dr. Hakkarainen examines how dynamic fenestration - in concert with proper window size and location, interior furniture layout, and electric lighting - can provide flexibility for changing conditions in a building during the day and help architects overcome challenges created by potential conflicts in high-performance building standards such as ASHRAE 189.1-2009, LEED and other emerging minimum energy codes.

SageGlass® advanced dynamic glass, a product of Saint-Gobain, will be exhibited in large form geometric shapes at the SAGE booth #3663. The demonstrations will feature SageGlass' unique ability to deliver energy savings in form factors that meet architects' design needs. SageGlass is available in many geometric shapes including traditional squares and rectangles as well as trapezoids, parallelograms and triangles.

An integrated demo featuring SageGlass and Lutron will be on display at the Lutron booth #2431 at the AIA show.

SageGlass has also released a new white paper summarizing the many causes of UV fading and illustrates the relative fading protection performance of SageGlass versus standard glazing products.

Where: AIA Convention 2014, McCormick Place, 2301 S. Martin Luther King Dr., Chicago, IL 60616.

TH305 speaking session: Room S402, McCormick Place
SageGlass booth: #3663; Lutron booth: #2431

When:TH305: Thursday, June 26, 2014 from 4:00 PM – 5:30 PM.

SageGlass demos: Expo floor open 10 a.m. – 4 p.m., June 26 & 27; 10 a.m. -2 p.m., June 28th.
June 25, 2014
MINNEAPOLIS--(BUSINESS WIRE)--The high-volume facility that manufactures dynamically tintable SageGlass®, a product of Saint-Gobain, has achieved Gold certification under the United States Green Building Council's (USGBC) Leadership in Energy and Environmental Design (LEED®) rating system. SAGE announced the news at the annual American Institute of Architects (AIA) national convention in Chicago taking place June 26-28.

The 320,000-square-foot facility, located in Faribault, Minnesota, opened in late 2012 and has been producing SageGlass for a number of high-visibility projects including the General Services Administration (GSA) headquarters in Washington, D.C., the U.S. Naval Academy's retrofit of historical McDonough Hall, and Hamilton Garden Terrace in the Philadelphia's iconic Kimmel Center. In addition, the plant has manufactured glass for numerous other projects including commercial office buildings, schools and universities, and healthcare facilities. The plant is the largest electrochromic glazing facility in the world, capable of annually producing several million square feet of dynamic glass.

Sustainable building practices overseen by the project's general contractor, Ryan Companies US, Inc., helped the facility earn points toward its LEED Gold certification. The facility construction process earned points for diverting 50 percent of construction materials from landfills, use of recycled and regionally sourced materials, among other measures.
June 20, 2014
NEW DELHI, June 20, 2014 /PRNewswire/ -- The Green Building Certification Institute (GBCI), the exclusive certification body for administering the Leadership in Energy and Environmental Design (LEED) process worldwide, announces that beginning July 1, 2014, LEED project teams in India can now directly register and certify with GBCI by taking advantage of the state-of-the-art technology platform LEED Online.

Announced earlier this month by USGBC, the news coincides with last week's announcement in India that all state governments must comply with minimum requirements for energy efficient design and construction set by the central government by 2017.

According to a USGBC report, India ranks third globally for countries outside of the U.S. with the most LEED-certified space, with nearly 12 million square meters. There are more than 66 million square meters of building space undergoing the LEED process in India, comprising 1,657 building projects.

USGBC has established a LEED "hub" in India, with the primary goal of accelerating the adoption of LEED. The LEED hub acts as a local technical, market, certification and customer support center for LEED project teams.
June 20, 2014
Session to discuss integrating window, lighting systems to help meet challenging new building codes; SageGlass dynamic glass will be on display at the SAGE booth and an integrated SageGlass-Lutron display is featured at the Lutron booth at the show.

Who: Dr. Helen Sanders, Vice President, Technical Business Development, SAGE Electrochromics, a subsidiary of Saint-Gobain.
Dr. Pekka Hakkarainen, Vice President, Lutron Electronics.

What: Integrated Window and Lighting Systems Can Help Meet Challenging New Building Codes, a continuing education course presented by Dr. Sanders and Dr. Hakkarainen examines how dynamic fenestration - in concert with proper window size and location, interior furniture layout, and electric lighting - can provide flexibility for changing conditions in a building during the day and help architects overcome challenges created by potential conflicts in high-performance building standards such as ASHRAE 189.1-2009, LEED and other emerging minimum energy codes.

SageGlass® advanced dynamic glass, a product of Saint-Gobain, will be exhibited in large form geometric shapes at the SAGE booth #3663. The demonstrations will feature SageGlass' unique ability to deliver energy savings in form factors that meet architects' design needs. SageGlass is available in many geometric shapes including traditional squares and rectangles as well as trapezoids, parallelograms and triangles.

An integrated demo featuring SageGlass and Lutron will be on display at the Lutron booth #2431 at the AIA show.

SageGlass has also released a new white paper summarizing the many causes of UV fading and illustrates the relative fading protection performance of SageGlass versus standard glazing products.

Where: AIA Convention 2014, McCormick Place, 2301 S. Martin Luther King Dr., Chicago, IL 60616. TH305 speaking session: Room S402, McCormick Place, SageGlass booth: #3663; Lutron booth: #2431.

When:TH305: Thursday, June 26, 2014 from 4:00 PM – 5:30 PM .
SageGlass demos: Expo floor open 10 a.m. – 4 p.m., June 26 & 27; 10 a.m. -2 p.m., June 28th.
June 19, 2014
Microban® built-in antimicrobial product protection technology enables architects to differentiate their portfolio, save their clients money, add value to their project as well as provide products that stay cleaner for longer and inhibit deterioration due to bacteria, mold and mildew. There is an increased demand for antimicrobials in the commercial construction space and because of that the antimicrobial market in US construction is growing rapidly with a CAGR of 13.2%. Microban is on the cutting edge of helping architects capitalize on this growth, providing the products they use with antimicrobial technology along with the tools they need to find and learn more about specifying these products into their buildings. Since Microban's antimicrobial technology helps keep product surfaces cleaner for longer, products used can represent potential cost savings to facility managers and building owners.

When it comes to differentiating a portfolio among a vast number of competitors, Microban's state-of-the-art technologies, proven results and brand recognition are all reasons why specifying products that incorporate their antimicrobial product protection would benefit even the most competitive of portfolios. Built in to products during the manufacturing process, Microban product protection inhibits the growth of microbes such as bacteria, mold and mildew that can cause stains, odors and product deterioration, damaging surfaces. Microban antimicrobial product protection ensures continuous, durable and effective efficacy that provides an added level of defense against damaging microbes without ever wearing off or washing away for the lifetime of the product.
June 18, 2014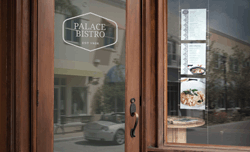 Show off what you offer in a clean and presentable manner – that's what it's really all about, right … especially in the restaurant business? You want to let your customers, potential customers, even the casual undecided passers-by, see the delicious choices you've got. Entice and bring them through that front door. This is usually accomplished by displaying your menu in a window display or menu case of your establishment.

Create an inviting and professional presentation of your menu, daily specials, or even upcoming events in a manner that is approachable, easy to view, and clear to read. Sounds simple, except perhaps when you also need to consider the ease of changing this menu board display every time the menu changes.

Our Menu Display System accomplishes all those tasks for you. Acrylic pockets neatly and cleanly allow for insertion of a menu, or photo, each and every time it is created or updated. Cables and fittings enable the food services owner to design a display using either letter or tabloid size documents, and configure the display in a portrait or landscape layout. When changes are required, simply slip the existing document/menu from the acrylic pocket(s), and insert new ones. Changes are so fast and easy that even daily menu updates are no obstacle. And since acrylic pockets have an opening at the top, in which to slip documents in and out, no tools are required.

Pockets are suspended from 10′ stainless cables and may be mounted from walls, window returns or ceiling/floors. Choose from five standard kits of 1 to 3 pockets, or call for custom configurations.

If you have questions or would like to learn more about how our products can be beneficial in your project, please contact our Customer Support at info@ashanging.com, or give us a call at 866 935-6949 (toll free) or at our local number 450 619-7999.
June 18, 2014
LONG BEACH, Calif.--(BUSINESS WIRE)--MovinCool®, a brand of DENSO Corporation, announced that 10 new application videos featuring the MovinCool commercial spot air-conditioner lineup are now available on YouTube at www.youtube.com/movincool. The videos cover all the latest MovinCool portable and ceiling-mount models. The units are used in a variety of application areas, including server and telecom, industrial, offices and schools, healthcare, outdoor and events, and moisture removal.

MovinCool, which has pioneered the concept of workspace spot cooling since the 1980s, is a brand of DENSO Corporation, the world's largest manufacturer of commercial spot air conditioners. MovinCool offers portable and ceiling-mount air conditioning systems for emergency, backup and supplemental cooling, as well as moisture removal. For more information, visit www.movincool.com.

DENSO Corporation, headquartered in Kariya, Aichi prefecture, Japan, is a leading global automotive supplier of advanced technology, systems and components in the areas of thermal, powertrain control, electronics and information and safety. Its customers include all the world's major carmakers. Worldwide, the company has more than 200 subsidiaries and affiliates in 38 countries and regions (including Japan) and employs nearly 140,000 people. Consolidated global sales for the fiscal year ending March 31, 2014, totaled US$39.8 billion. Last fiscal year, DENSO spent 9 percent of its global consolidated sales on research and development. DENSO common stock is traded on the Tokyo and Nagoya stock exchanges.
June 17, 2014
SAMOTER AND 2014 ASPHALTICA, GREEN LIGHT FROM EXHIBITORS

Initial signs of recovery in the sector also in Italy

Verona 17th June 2014. High quality visitors; those who didn't attend the show missed a vital opportunity; signs of recovery, even in Italy. At just over one month from the end of Samoter and Asphaltica, exhibiting companies have drawn up their initial conclusions for attendance at an edition that was certainly unusual for many different reasons.

"Our impressions after the event are positive," says Vito Minunni of Cifa-Zoomlion; "yet of course it is impossible to make comparisons with pre-crisis editions. Clients and buyers turned up we found them to be very interested. Especially those from the Middle East. In our case, for example, Iraqi buyers were already very well informed about our production and quality. If they had been seeking merely price or convenience, they could have gone to Ankara to find cheaper machines. But they chose to come to Samoter. The same holds true for the Russians who gave considerable attention to our products."

Selena Bolin of Midi Europe which distributes Isuzu and Takeuchi also expressed satisfaction. "It was a rather good show for us and we are pleased with the contacts we made. We met very professional Italian visitors."

MAN was also among the big names taking part; Eleanor Migliorini sums up the results for the German brand as follows: "We had many contacts and even sold a number of vehicles, so we are satisfied with the investment; we also achieved good feedback from the outdoor area and the live demos of our vehicles, which were always very crowded with highly motivated visitors."

Mercedes, the other German giant attending Samoter, also had a rewarding show: "We could not miss the appointment with Samoter 2014," said Enrico Ferraioli, Marketing Manager at Truck Mercedes-Benz Italy. "We attended the event with an inside stand and an outside area - just a few kilometres away in a quarry, as the ideal terrain for test driving our new Arocs in live conditions. Samoter visitors also enthusiastically greeted the initiative that gave them the chance to learn about the characteristics of new vehicles, after having driven them over dedicated routes; in the four days of the event, visitors to Samoter were joined by more than 3,000 clients who crowded the Mercedes quarry site for a total of over 500 test drives. Excellent results in terms of attendance and satisfaction for sector clients and operators, which promises well for the future. We hope they will remember Samoter 2014 as the moment when the recovery in the Italian construction industry began."

Guido Peveri, Terex Dealer Manager, was to the point: "We are delighted. We finalised sales of machinery and created excellent contacts for new distribution points. We'll do it again tomorrow."

VF-Venieri also indicated positive final results: "Our expectations were low, to be honest," explains Filippo
Muccinelli, "but everything turned out to be much better. Attendance was interesting and visitors were well-informed. We did not finalize sales during the show but we did generate interesting contacts that we will now bring to fruition."

Andrea Pavan, Marketing Director at Komatsu, summed up edition of Samoter: "Our expectations were not particularly high for various reasons: yet the event turned out to be impressive with good attendance and very interested and interesting clientele. We made positive contacts and this give us a lot of confidence for our future projects. We think of ourselves as an Italian company: we have a factory in Este and this is also one of the reasons why we decided to attend the event; we must also play our part to support this sector. We took a gamble and won."

Companies attending Asphaltica also highlighted positive results. Michele Turrini of Ammann Italy SpA (and the new President of Siteb) says: "For our company, feedback was positive with good contacts and a high-impact image. I would say that people who did not come along made a mistake. More generally, I feel that the strategy of linking Asphaltica with Samoter paid off, thereby offering a broader overview of the road sector. Of course, in a different situation, the input from Samoter would have been even better. Perhaps the road, for the future, may be to seek greater specialisation in certain key sectors to present a truly broad-ranging offering in the sector. Large machinery is easy enough to find, the Show is the place where you can find all services, workshops and components: in short, everything you need but is sometimes difficult to find."

Lastly, Cristina Baraldini of Atlas Copco Italy says: "The background context was certainly not the best but in the end there was good attendance by well-informed and interested visitors. We met people who knew exactly what they were looking for. Of course, we expected something extra from the co-scheduling with Samoter since its helped broaden the type of visitor interested in our machines positioned astride these two markets."

Samoter and Asphaltica 2017 are scheduled again 22-25 February 2017.
www.samoter.com - www.asphaltica.it
June 17, 2014
LUXURY QUARTZ SURFACE MANUFACTURER UNVEILS LATEST ADDITION TO CLASSICO COLLECTION

TORONTO, June 16, 2014 /CNW/ - Caesarstone announced today, the addition of two new colours from their Classico collection - one classic, and one contemporary, two very unique designs that are opposing yet complementary.

A classic reinvented, new 5131 Calacatta Nuvo is Caesarstone's interpretation of natural Calacatta marble - offering the beauty of natural stone with the ease of Caesarstone care and maintenance. An everyday masterpiece, Calacatta Nuvo features wide, elegant, cascading grey veins on a white opaque base. Calacatta Nuvo makes a bold and unforgettable impression, upgrading the look of any interior space.

Industrial chic meets practicality with Caesarstone's new 4003 Sleek Concrete. Its smooth grey, matte appearance offers the cool, minimalist look of real concrete countertops, coupled with the benefits of a quartz surface. Unlike real concrete, Caesarstone is non-porous, stain resistant, scratch resistant and does not require any waxes or sealants to protect and keep surfaces looking like new. For a more industrial vibe, Sleek Concrete can make a bold design statement in both contemporary and modern spaces.
June 17, 2014
If you are attending Neocon in Chicago next month, be sure to visit the Caesarstone booth #8-1110.

Caesarstone will showcase various furniture applications in which the quartz surfaces can be used, along with the latest color collections. The Neocon booth will remind show attendees that Caesarstone surfaces no longer belong only in the kitchen. The durable surfaces make stunning bars, reception areas, furniture pieces, wall paneling, and much more.

Neocon is North America's largest design expo for commercial interiors and is attended by over 40,000 architects and design professionals each year. The show takes place at The Merchandise Mart in Chicago from June 9-11, 2014.
June 17, 2014
Envolution™by Metl-Span® brings high-end architecture to new heights. Building on the foundation of our insulated metal panels, we bring to you a complete platform of building materials, featuring sunshades, grilles, column cover and beam wraps, by DAMS, Inc. and an extensive offering of custom fabricated products.

Preview these products by downloading our comprehensive 30-page Product Brochure and make plans to stop by Booth 4204 at the 2014 AIA National Convention and Design Exposition in Chicago, IL.
June 13, 2014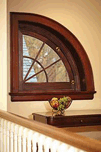 Wausau, Wisconsin (June 2014) – Kolbe's handcrafted windows and doors are built-to-order with nearly limitless customizable options to match the precise specifications of architects, builders and owners. Kolbe features contemporary and traditional designs, and a broad product offering suited for commercial buildings, luxury residences and historically correct renovation.

During the American Institute of Architects (AIA) Expo and Convention 2014, Kolbe will showcase a sampling of creative possibilities including:

Teutonic™ Series' heavy-duty products suited to strict commercial building codes and energy efficiency standards.

Ultra Series' traditional look and high-performance with the low-maintenance of aluminum-clad exteriors in durable finishes.

VistaLuxe™ Collection's contemporary style, clean lines, consistent profiles and industry-leading frame-to-daylight opening ratio.

The versatile functionality of Kolbe's windows and doors heightens creativity with expansive and unusual configurations that combine large sizes and distinctive detailing. Each unit is fashioned to fit an exact space – whether selecting the warmth of all-wood, the durability of vinyl, the longevity of aluminum-clad, or the distinguishing character of copper.

Accentuating the desired aesthetic, Kolbe encourages architects to explore special interior wood species and vibrant exterior colors, as well as custom exterior trim and divided lite patterns. Beveled, ovolo and square glazing beads assist in conveying the architectural style. A breadth of smooth operating hardware enhances the windows and doors' reliability and convenience, from retractable screens to universal design accessories.

Extending a property's architectural heritage, Kolbe can replicate intricate, historic details with brass pulley systems, ogee profiles and beveled glass. Glass choices span from the artistic with patterns and etching to the high-performance with thermal improvements, LoE coatings and multiple panes.
June 13, 2014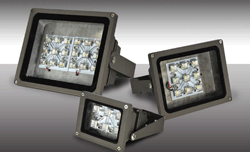 West Caldwell, New Jersey, June 13, 2014 – MaxLite introduces Small LED Flood Lights with the patent-pending MaxFOCUS light collimator and thermal pressure plate that are designed to narrow light distribution and reduce operational temperatures for greater energy cost savings.

The flood lights are DesignLights Consortium-qualified (DLC) and available in 15-, 25- and 45-watt styles that deliver narrow beam optics from 72 degrees and wide beam from 101 degrees. They are eligible for rebates up to $150 available through select utility rebate programs nationwide.

The wet-rated Small LED Flood Lights replace inefficient, 100-watt quartz halogen and 150- and 175-watt metal halide fixtures in landscapes, facades, displays and signage in hospitality, public places, shopping plazas, schools, health care facilities and other commercial and residential properties.
June 12, 2014
MADISON, OH — June 11, 2014 —ChemMasters, Inc. has published a new brochure detailing its Silencure™ Penetrating Silane/Siloxane Fortified Cure and Seal technology. Silencure products are intended to improve the efficiency of concrete contractors. Because they can be applied in a one-step process to fresh concrete within two hours of final finish, Silencure products eliminate the need for water or resin curing, stripping and the traditional 30 day waiting period prior to silane or siloxane treatment. By simultaneously providing both a curing compound and a penetrating silane/siloxane sealer, this technology greatly reduces labor with fewer jobsite visits.

Silencure technology is available via four ChemMasters products: original Silencure, low-VOC Silencure A, SilencureDOT for highway payment, and Silencure SRT, a patented water-based formula that can be applied to new broom finished, precast, hand or machine troweled surfaces. Silencure SRT can also be used on older unsealed concrete, making it universally appropriate for concrete contractor use.

ChemMasters' Solvent Replacement Technology (SRT) provides additional environmental benefits, is VOC compliant and virtually trouble-free. Silencure SRT cures concrete to ASTM C-309 and ASTM C-1315 standards, exceeds NCHRP 244 standards for salt protection and will exceed 100 freeze / thaw cycles without damage.

ChemMasters, Inc. is a 58 year-old manufacturer of specialty concrete chemicals used to improve, repair and protect concrete and masonry. The company is the acknowledged leader in the formulation and manufacturing of low-VOC solvent-based products for use in the states that require them. A state-of-the-art research and development facility is operated by ChemMasters to advance the science of concrete improvement.
June 12, 2014
MINNEAPOLIS--(BUSINESS WIRE)--Electronically-tintable SageGlass®, a product of Saint-Gobain, is being incorporated into a growing number of government buildings to help public workplaces save energy and provide an improved work environment for employees.

A wide variety of federal, state and local government projects ranging from homeland defense facilities to research labs have recently installed SageGlass dynamic glass to solve challenging sun glare and heat-gain problems, resulting in considerable cost and energy savings.

For example, the federal government spends approximately $7 billion per year to power more than three billion square feet of federal building space, while state and local government agencies spend more than $10 billion annually. One SageGlass customer – The Department of Energy's (DOE) Lawrence Berkeley National Laboratory – extensively tested SageGlass performance and determined the technology can reduce heating and air conditioning equipment size by up to 25%, cooling energy loads for buildings by up to 20%, and lighting costs by up to 60% while providing building occupants with more natural daylight and greater comfort. In addition, SageGlass is installed in three separate buildings at the DOE's National Renewable Energy Laboratory in Golden, Colorado.

Another significant government project is the U.S. General Services Administration (GSA) headquarters in Washington, D.C., which transformed a large open courtyard into a seven-story south-facing atrium with SageGlass skylights. It enabled the LEED® Gold certified project to improve occupant comfort and energy efficiency by controlling solar heat gain and glare.
June 12, 2014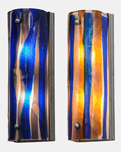 Yorkville, New York—Meyda Custom Lighting has unveiled new Fused Glass Wall Sconces for outdoor lighting applications. Meyda Custom Lighting is a Meyda Tiffany company and a leading manufacturer and designer of custom lighting and décor.

From left to right in the photo are the Metro Fusion Midnight Wall Sconce (154599) and the Metro Fusion Oceano Wall Sconce (154595). Like the dynamic colors of a moonlit night sky and the epitome of darkness at night, the abstract designed Midnight sconce combines hand applied strips of Blue, Purple and Clear fused art glass. The hardware and decorative studs are finished in Nickel. Oceano blends Blue waves with sunlit Sand and features fused glass comprising strips of Beige, Smoke and Ice Blue art glass with a framed finished in Nickel.
Both sconces feature unique abstract motifs in "Bas Relief" that employ carved art glass sculpting for a multi dimensional effect so that the fixtures can be viewed clearly from any angle.

High fired fused glass is transformed in to Metro Fusion wall sconces that are wet location listed and perfect for a variety of exterior and interior applications.

Made in the USA, the sconces are handcrafted by highly skilled Meyda artisans in the Yorkville, New York manufacturing facility.
June 09, 2014
by Dave Veilleux, VP Business Development -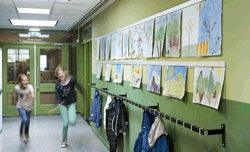 Currently "Cork Rail" is the de facto standard product on which school designers rely for hanging children's art, displaying students' work, mounting wall posters, for use as map rails, and posting staff notifications. But there are multiple reasons to reconsider this type of art rail.

Casso Display Rail is not cork-based, so there is no use of (or concern with) sharp objects to display items. Also, because it requires no "fasteners", it is "always ready" for use. There is never the need to remove a collection of staples from the last showings or to locate a fresh supply of thumb tacks. Simply insert flat documents/art into the bottom of the track. There they hang. Effortless!

It is also very tolerant of flat document thickness. It is compatible with single sheets and even 2-ply and 4-ply mat boards up to 1/16 inch thick (2mm). Versatile!

Because the surface is hard anodized satin aluminum and not porous, there is less chance of graffiti or markings adhering to Casso Display Rail, keeping it looking clean and pleasing. Few shinanigans here. It plays nicely!

Since there are no adhesives and no sharps repeatedly puncturing the holding mechanism, there is less wear-and-tear on Casso Display Rail. By the way, if the insert were to fail, replacement is easy. Facility Engineers love this! This is a good time to state Casso Rail ships with all needed mounting hardware and end caps are included. More love!

And the mounting hardware is hidden from view. The sleek lines are permanent so cleaning and dusting is equally carefree. Who doesn't like that?

As for "map clips", well, we don't offer those. Heck, the entire rail is a map-hanging surface. Map clips aren't needed. Instructors love that!

As you can see from the photo above, objects are mounted into the bottom of Casso Display Rail. The little fingers built into the gripper mechanism flex to grasp inserted display material. These behave much like the flexible grippers on windshield wipers when wiping a wet surface. The fingers "grab" a little bit more the farther they are pressed against a surface. The thicker the material the harder the fingers grasp, up to 1/16 inch. Easy!
June 06, 2014
Atlanta, GA – June 2014 - Sto Corp., the innovative world leader in cladding, air barrier, coatings, and restoration systems, and Oldcastle's Amerimix brand - a nationwide manufacturer of stuccos, mortars, and grouts, are pleased to announce a joint marketing agreement. This program will allow for the ease of combining StoPowerwall® Stucco finishes with Amerimix Pre-Sanded, Concentrate, Scratch and Brown, and Pump Grade Sanded product warranties, giving contractors the advantages to both under one single warranty. The StoPowerwall® Stucco System creates a more durable, impact resistant, colorfast exterior wall cladding. This lightweight cladding offers greater flexibility, with faster installation than traditional stucco.

The joint warranty program will include Amerimix Stucco Products AMX 750 FBC, AMX 755 FBC, AMX 745 FSB, and AMX 740 FSB. The warranty will cover these Amerimix Stucco Products in conjunction with using a StoPowerwall Stucco System. This dual warranty will allow for Sto to further extend its ability to offer a more extensive system solution to the entire North American stucco market. This will enable access to more geographically desirable locations from local demand. All stucco products should be used in accordance with Amerimix's application guidelines and with the correct product compatibility.

Sto's Powerwall finishes come in a wide variety of flexible, silicone enhanced, elastomeric or acrylic-based finishes that are either textured or smooth. Sto's elastomeric finishes can bridge hairline cracks to keep moisture out – all of which add up to a more powerful cladding system. StoPowerwall finishes deliver excellent color uniformity and a wide array of tint choices using highly concentrated pigments that won't dilute material like universal tints can. With a variety of textured finishes and smooth coatings and more than 1 million tint formulas, Sto puts custom design options at your fingertips. Choose from various coatings and finishes, including StoCoat® Lotusan®, which has a pronounced self-cleaning effect, is highly resistant to mold and mildew, and has high water vapor permeability.

The terms of the new Sto and Amerimix warranty are the same as the StoPowerwall system warranties, up to 12 years, depending on the system configuration.
June 06, 2014
Ben Nevis Challenge 2014

At 6 o'clock tomorrow morning four members of the Lightworks' team will begin to climb Ben Nevis, as they take part in the Ben Nevis Charity Challenge. The challenge will see them climb the UK's highest mountain (1,343m) cycle 25 miles through the Highland landscapes and canoe Loch Lochy; all in one go! The challenge is just one of many in Lightworks 25th Anniversary year.

And, it's all for a great cause. They'll be undertaking this epic challenge to support Lightworks' charity for 2014, the Cathedral Archer Project (CAP). The CAP day centre supports the homeless and most vulnerable people in Sheffield, giving them the support, food and the guidance they need to get back on their own two feet.

David Forrester, Chief Executive Officer at Lightworks said; 'We hope to break our fundraising targets in our 25th year, so we've decided to undertake our most physically-challenging charity challenge to-date, the Ben Nevis Challenge 2014. I'm pleased to say that training has been good, but it's definitely going to be tough. Any donations to spur us on will be greatly appreciated by our team and those that benefit from CAP's support.'

The CAP centre costs around £2,100 per day to run, so every donation helps. Please dig deep to support the Lightworks' team efforts; inspire them to push through when the lactic acid kicks in, and visit our JustGiving page to help us beat our £1000 fundraising target for CAP.

About the Cathedral Archer Project: CAP is a day centre that supports the homeless and vulnerable in Sheffield; founded in 1990 as a breakfast project, CAP now resides in a purpose built centre, where the staff and volunteers provide much needed food, shelter, donated clothing, as well as medical support. The CAP team go above and beyond to help those that use their centre, giving them access to a pathway out of homelessness by providing education and qualifications to enable them to seek work. To find out more about the work CAP do visit their website.
June 05, 2014
SHANGHAI, June 5, 2014 /PRNewswire/ -- The 12th China International Expo for China Roofing & Waterproofing Technology (R&W 2014) will be held from July 17 to 19, 2014 at Shanghai World Expo Exhibition & Convention Center. As one of the world's top three roofing and waterproofing events, the 25,000-square-meter R&W 2014 will house 1,500 international standard exhibition booths. A record 300 companies from within China and around the world are expected to take part in the expo, assuring that this will be an event that attracts a lot of attention.

Exhibitors will display approx. 1,000 kinds of products, creating huge opportunities

China National Building Waterproof Association, China National Building Materials Group and the National Roofing Contractors Association will co-host the R&W 2014 on the heels of the past eleven successful sessions since 2003. A record number of name brand companies from China and from abroad, including more than 240 Chinese exhibitors and over 50 foreign rivals, will display approx. 1,000 kinds of roofing and waterproofing products. The event will provide a platform for buyers and exhibitors to exchange ideas and talk business face to face, creating huge opportunities for industry players.

A top destination for more than 10,000 Chinese and foreign buyers; a one-stop procurement platform for roofing and waterproofing building materials

From waterproofing to entire roofing systems, the product range at this expo covers almost every segment. Last year's event attracted 24,860 visitors, making it a true one-stop procurement platform for roofing and waterproofing building materials.
June 05, 2014
NEW DELHI, June 5, 2014 /PRNewswire/ -- The U.S. Green Building Council (USGBC), the creator and administrator of LEED, announced today it was expanding its support of LEED (Leadership in Energy and Environmental Design), the popular global green building program, in India.

India ranks third globally for countries outside of the U.S. with the most LEED-certified space, with nearly 12 million square meters, according to a report released by USGBC last month.

Fedrizzi outlined four key initiatives that have been launched:

1) LEED is evolving to be a truly global rating system by providing local and regional paths for projects to achieve certification. These alternative compliance paths take into account regional climate, geography, land use laws and more. India will now have a seat at the LEED International Roundtable, the USGBC group responsible for driving the international development and applications of LEED.

2) In an effort to strengthen global consistency of the LEED rating system, the Green Building Certification Institute (GBCI) will now manage certification of projects to all LEED rating systems in India, including assuming responsibility for LEED India certification from the Indian Green Building Council (IGBC). IGBC will continue to provide support to LEED India projects already in the system, but all new projects will come under the auspices of GBCI for certification services.

3) With this move, the entire suite of LEED rating systems will now be available in India, including LEED v4, the latest update to the rating system that codifies performance goals through a continuing relationship with LEED throughout the life cycle of the building.

4) To support this increase in the LEED offerings in India, USGBC is establishing a hub in New Delhi to provide in-country support to LEED project teams, including education, technical support and customer service.

LEED is the world's most widely used and recognized rating system guiding the design, construction, operations and maintenance of green buildings. To date, project teams in more than 150 countries and territories have implemented LEED in their building projects, taking advantage of its global, regional and local applicability to create structures that mitigate greenhouse gas emissions; create healthier indoor environments for workers, students and community members; and lower utility bills for building owners through reduced energy and water use.
June 04, 2014
MINNEAPOLIS--(BUSINESS WIRE)--SageGlass®, a product of Saint-Gobain, will be featured in Saint-Gobain's new state-of-the-art North American corporate headquarters located at 20 Moores Road in Malvern, Pa.

Saint-Gobain, the world's largest building materials company, is transforming an existing space into a LEED-certified facility for Saint-Gobain and its North American construction materials subsidiary, CertainTeed Corporation. The $80 million redevelopment project, expected to be completed in the fall of 2015, will take full advantage of Saint-Gobain's extensive portfolio of green building materials and technologies, including SageGlass, to create an energizing, sustainable work environment that will attract and retain top talent for years to come.

LEED certification is being sought for the 320,000 square foot redevelopment project. The goal is to create a next-generation workplace that maximizes comfort and air quality through the use of a wide range of building material innovations from Saint-Gobain's product portfolio. In addition to SageGlass, the headquarters will include materials from CertainTeed Corporation, Saint-Gobain ADFORS, Saint-Gobain Performance Plastics and others from Saint-Gobain's family of companies. Incorporating these products will create a "living laboratory" where the company's research team can measure the impact its products will have on a real workspace environment.
June 03, 2014
Ortal USA in Booth #3912
DATE: June 26-28 2014
LOCATION: McCormick Place, IL
MORE: AIA Convention website (http://convention.aia.org/event/aia-expo.aspx)

Chicago, City of Big Shoulders... and even bigger innovation. Come see the future of American fireplace design at the AIA Expo!Ortal USA will be nestled tight inside the city of the century, looking to the years ahead with eyes burning bright. We're bringing our catalogue of over 80 different size and model combinations to fit most any application. You simply can't miss us!
June 03, 2014
Atlanta, GA -- Atlas Roofing Corporation has unveiled WeatherMaster® Film SE, a new high-temperature underlayment that is especially suited for metal roof applications. Maximum protection is achieved without compromising an architectural look and can be used in new construction or reroofing.

This new underlayment gives continuous protection, year after year, to the entire deck of a properly ventilated roof, and problem areas where water can collect or drainage is slow. It is ideal for critical transition areas where the roofline elevation changes, such as from a main roofline to a patio. Because WeatherMaster Film SE is highly flexible, it is easy to install in transition areas. It also provides a secondary layer of waterproofing to prevent damage from windblown rain and meets the ASTM D1970 standard for ice dam underlayment. This SBS modified, self-adhesive membrane underlayment creates a watertight barrier as it seals to the deck and also around nails.

WeatherMaster Film SE has a silicone-treated, split-back, release film that was created for easier installation and handling. Its textured film surface offers better traction and skid resistance during installation.

This unique self-adhesive underlayment can be applied under normal, dry conditions of 45°F or warmer. No bonding agent, applied heat, or special equipment is needed in the installation process.

Atlas offers homeowners increased coverage of their Premium Protection Period on any Atlas Signature Select® Roofing System. WeatherMaster Film SE is a qualified component for use in the Atlas Signature Select Roofing System when used in combination with other qualifying Atlas products.
June 02, 2014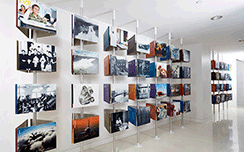 New York City: June 1 2014: SolarWall® inventor John Hollick has been honored in an exciting new exhibit curated by the American Society of Mechanical Engineers (ASME) that features the best inventions, inventors and engineering feats of the past two centuries, including Thomas Edison, Henry Ford, George Westinghouse, Willis Carrier, the steam engine and the Panama Canal.

Entitled "Engineering the Everyday and the Extraordinary", the goal of the exhibit is to "invite people to rediscover the remarkable; the engineers and inventions that have shaped our world as well as the extraordinary breakthroughs that are already setting the stage for the future."

ASME focused on nine categories of engineering: Environment, Food, Safety, Manufacturing, Energy & Power, Transportation, Health, Exploration and Communication. The 80 inventors and inventions whose stories they chose to highlight represent the best of those categories.

The SolarWall® technology and inventor John Hollick are featured in the Energy & Power category. The other inventions recognized in this category are the Steam Engine, the Jet Engine, the Transformer, Incandescent Light Bulbs, the Internal Combustion Engine, Alta Wind Energy Center, the Electric Generator, and the Itaipu Dam.

The SolarWall® technology was a breakthrough invention that created the global solar air heating industry. It was ranked by the U.S. Department of Energy as being in the "top two percent of energy related inventions" because of its unique technical design and efficiency at converting sunlight into usable thermal energy. It remains the only building-integrated clean energy technology - now used in thousands of commercial, industrial and agricultural applications around the world - that effectively addresses the huge amount of energy used for space and process heating. The SolarWall® technology is now poised for significant growth as solar air heating becomes a mainstream solution to reducing GHG emissions and with new applications for this innovative technology.