News
AEC Daily Newsletter - Current & Archives
Press Releases - Current & Archives
November 26, 2015
BARCELONA, Spain, Nov. 25, 2015 /PRNewswire/ -- In the past decade, about 27 million people a year around the world have lost their homes due to natural disasters. In 2015, these numbers peaked, with disasters leaving an estimated 60 million homeless.
There is an urgent need for architects and other built-environment professionals to contribute effectively to disaster rebuilding.
In response to this need, Australia's RMIT University is launching a new postgraduate degree - the Master of Disaster, Design and Development (MoDDD) - which will be taught both from its RMIT Europe centre in Barcelona and its Melbourne campus.
Prior to the MoDDD launch in Barcelona on Monday 30 November, a symposium will be run in collaboration with UN-Habitat and UIC Barcelona titled "Designing for a Fragile Planet".
Developed in partnership with the International Federation of the Red Cross (IFRC) and UN-Habitat, MoDDD will explore how design can be used as a strategic tool to help resolve complex global challenges including poverty, natural disasters and climate change.
Associate Professor Esther Charlesworth, Director of the Humanitarian Architecture Research Bureau (HARB) at RMIT, said demand was growing for architects, engineers and other design professionals to contribute to planning and rebuilding following disasters.
"While there is an immediate need for emergency shelter and infrastructure solutions after a disaster, the longer game is to provide broad strategic support for the rebuilding of devastated cities and landscapes," Charlesworth said.
Dan Lewis, Chief of the Urban Risk Reduction Unit for UN-Habitat, is a senior contributor to the development of the degree and keynote speaker at the official launch in Barcelona on 30 November.
"The Master of Disaster Design and Development starts from the premise that unless you build community and social infrastructure around post-disaster housing, it's nearly always doomed to failure," Lewis said.
Keynote speakers at the "Designing for a Fragile Planet" symposium will include design professionals who have led recent reconstruction programs from Haiti to Nepal including, Eric Cesal (Architecture for Humanity) and Brett Moore (World Vision and Harvard University).
The MoDDD will be launched at RMIT Europe (Carrer de Minerva 2, 08006 Barcelona, Spain), 6pm Monday, 30 November. In addition to Esther Charlesworth and Dan Lewis, speakers will include Graham Saunders, Head, Shelter and Settlements, International Federation of Red Cross and Red Crescent Societies.
November 20, 2015
Visual Presentations for Interior Spaces … Done Right!

Published November 18, 2015 by Merit

Armoire's Cuisine Action, located in Boucherville, QC, Canada, provides custom kitchen cabinet and bath services to the greater Montreal market. Their well-executed implementation of a hanging system installation clearly steps outside the "art hanging" arena, devising a practical and efficient approach to a better customer "hands on" experience. The use of a hanging system provides the opportunity for showroom customers to touch and feel, while creating an inviting and aesthetically pleasing space in what is often mundane and mediocre.This is not mundane and mediocre!

To show or present the various finishes and door/drawer styles that are available, one of each style is on display and hanging from one of several walls. Additional samples are located in the bins below. These can be removed and carried to other areas of the showroom to match up with countertop materials or taken home and reviewed within the actual space or to a flooring showroom, for example.

This hanging system is comprised of tensioned cables. The cables are held in tension with J-End Cable Tensioners, spanning two runs of Wall Track, one above and one at the counter level, from AS Hanging Display Systems' Cable System.


The cabinet face samples are attached to the system by using Mini Hooks, which connect to D-Rings attached to the rear side of the panels.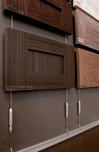 The samples are arranged into groups. Each group is identified by means of a placard that is placed in the lower right-hand area of each group. These placards are also displayed using specialty fittings from AS Hanging Display Systems. These include acrylic pockets and side clamps.

We were so impressed with this set up when we visited the showroom, we queried the owner to gain more insight into how this change has impacted their ability to present product to their customers.

"Our samples of cabinet doors were displayed and screwed on large panels that we had to re-order and re-install each time there was a new collection of doors that came in, or simply when new colors arrived. The holes left behind on these panels prevented us from moving doors as we wanted, even if there was just one to change.

This new system showcases our products and allows us to now quickly reshuffle the arrivals of new collections and colors. We save a lot of time and money since we can now move any or all of the rows and columns quickly and as many times as we wish, without the need of replacing the expensive wood panels.

The look is considerably more aesthetic and professional, and reflects the image that Action Cuisine wants to portray. Considerably more than the nail and screw system we were using before."

The display area at Action Cuisine is a classic representation of how to create a showroom or retail display without nails or recurring damage to display walls. Not only is damage avoided, the expense of replacement costs and labor for repairs is greatly reduced and potentially eliminated.

We thank Armoire's Action Cuisine for sharing their story and for providing us with yet another opportunity to share with our readers just one of the vast applications available when a hanging system is implemented.
November 13, 2015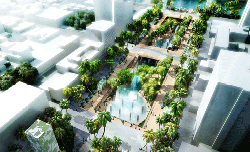 MVRDV, together with The Urbanist Collaborative and LLJ Architects, has won the competition for the transformation of the T-axis in downtown Tainan, Taiwan. The transformation of the T-axis aims to reconnect the city with nature and its waterfront by creating a lagoon on the site of the former China-Town Mall and a green corridor with public interventions along Haian Road. Construction start is envisioned for autumn 2016, and the former underground parking beneath the mall will form the basis for the new public space.
November 12, 2015
WASHINGTON--(BUSINESS WIRE)--The Stevens Institute of Technology's SURE HOUSE has taken home first prize in the 2015 U.S. Department of Energy's Solar Decathlon. The Vinyl Institute, one of the SURE HOUSE sponsors, backed the team of over 60 students which captured the event's top trophy. By building a sustainable and resilient home through their inspired combination of dedication and innovation, the team showcased the balanced performance, versatility, and efficiency of vinyl products.

This is very exciting for us," says Susan Wade, VP of Marketing and Communications for the Vinyl Institute. "The design was about sustainability and resilience. With the house being a coastal home, vinyl really played a key role. It was an opportunity to show how important vinyl is to those design goals."

The beach house design was a direct response to the need for sustainable, resilient homes along the New York and New Jersey shores. The home was engineered to fully utilize a renewable energy source--in this case solar energy-- while being resilient to the evolving coastal effects of climate change. In addition, the home is a fully functional energy hub which can provide power for itself and to adjacent homes in case of large-scale emergencies.

Over a period of two years, the team thought creatively about efficiency and sustainability and better ways to attain them. The engineering and design elements of this project relied heavily on materials to meet the high standards for the home. Strength, durability, and energy efficiency made vinyl a clear choice.

The piping, wiring, and cable insulation, as well as the reflective roof, the indoor and outdoor flooring, and the windows all contain vinyl. The SURE HOUSE became the perfect model for designers, builders, and homeowners to become educated on the material's versatile attributes.

The SURE HOUSE details will be the featured presentation by the Vinyl Institute at Greenbuild 2015, booth 1206, being held at the Washington Convention Center in Washington, D.C., November 18-20, 2015.

"This is a great opportunity," Wade continued. "We hope to see everyone at Greenbuild to showcase this extraordinary home and talk to the students who designed and built it."
November 06, 2015
Visit our booth #1524 @

Stop by and see our award winning Ready-to-Tile™ leak-proof shower pans!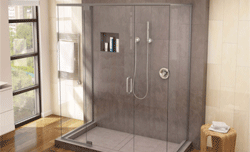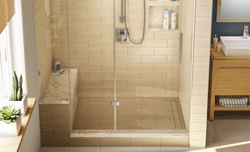 Must stop by and see our innovative Tile Ready® brand shower products for your next project!!
October 30, 2015
October 30, 2015 07:29 AM Eastern Daylight Time

TOLEDO, Ohio--(BUSINESS WIRE)--Owens Corning (NYSE:OC) today announced more ambitious sustainability goals to reduce greenhouse gas and toxic air emissions, along with new renewable power initiatives that will continue to expand the company's impact through sustainability.

"Owens Corning has a history of promoting energy efficiency through our products, our suppliers and our operations," said Chairman and CEO Mike Thaman. "Today's announcements reflect a continuation of our company's history of being a good steward of the environment."

The key elements of the company's announcement include:

•Executing power supply agreements of new installed capacity that represent the largest wind power agreements reported by an industrial company in the world(1);
•Dedicating a 2.4 megawatt solar canopy at the company's headquarters in Toledo that is expected to supply approximately 30 percent of the facility's annual electricity needs, and offset the equivalent greenhouse gases emitted from the commute of its local workforce;
•Establishing new 2020 sustainability goals to reduce greenhouse gas intensity by 50 percent and toxic air emissions intensity by 75 percent from its 2010 baseline.

"Our new sustainability goals are ambitious and impactful. Importantly, they are made more achievable by these large scale renewable energy actions and by partnering with leading providers of solar photovoltaic systems to continue our leadership in this area," said Vice President and Chief Sustainability Officer Frank O'Brien-Bernini.

O'Brien-Bernini noted that the wind energy deal will:

•Generate the equivalent electricity to that needed to power more than 65,000 U.S. homes; and
•Support the wind power industry by enabling the construction of new wind power assets, a market to which the company supplies high performance glass fiber reinforcements for wind turbine blades.

"Our new greenhouse gas reduction goal is informed by science-based methodologies that are designed to reduce carbon emissions enough to limit global warming to less than 2 degrees Celsius compared to pre-industrial temperatures," said O'Brien-Bernini. "We have taken an important step in aligning our goals consistent with the scientific consensus on what's needed."

(1) Based on global publically-available data collected and analyzed by the Rocky Mountain Institute's Business Renewables Center
October 27, 2015
Company demonstrates continued commitment to provide meaningful options to today's eco-savvy customers

INDIANAPOLIS, Oct. 27, 2015 /PRNewswire/ -- Firestone Building Products Company, LLC (Firestone) today released its 2014 Sustainability Report. The annual report provides a comprehensive review of the company's many ongoing sustainable manufacturing and business processes, as well as the environmental implications of its product portfolio, demonstrating year-over-year leadership and progress toward the company's commitment to operate responsibly.

"At Firestone Building Products, we are working continuously to ensure a healthy environment for current and future generations from 'Roots to Rooftops', and this report reflects our progress and efforts against that goal," said Timothy Dunn, President, Firestone Building Products. "We are proud of the progress we have made, and look forward to continuing to ingrain our culture of environmental stewardship in everything we do, from responsible manufacturing to improving the sustainability of the communities where we work and live."

The report details Firestone's progress, activities and achievements through two scopes: social and governance, and environmental. Aligned with parent company Bridgestone Corporation's One Team, One Planet sustainability platform, the 2014 report describes the company's overarching program and focuses on three major environmental objectives: being in harmony with nature, valuing natural resources and reducing CO2 emissions.

Firestone teammates are the foundation of the company's innovation and accomplishments. With a committed focus on diversity, health, safety and emergency preparedness, Firestone guides employees to realize corporate goals. This empowers employees to improve communities, revitalize local environments and support and grow local economies through financial contributions and volunteerism.
October 22, 2015
Schedule an accredited "lunch and learn" seminar or webinar for your firm today...

J P Specialties, Inc. is a leading manufacturer of waterstop and waterstop-related concrete accessories. Our NSF 61 certified Earth Shield® line of chemical resistant waterstop is used throughout the world by major engineering firms and project owners for primary and secondary containment applications, as well as industrial wastewater treatment and ozone contactor structures. We invented and hold the patent on the technology used to mechanically weld thermoplastic waterstops . J P Specialties has been in business since 1954.

David R. Poole has been with J P Specialties for over 20 years and is the president of the company since 2008. David also serves as secretary of American Concrete Institute (ACI) 350 Environmental Engineering Concrete Structures Subcommittee K (Hazardous Materials), and G (Tightness Testing), and also serves as an associate member on Subcommittee A (General and Concrete). David is currently working in committee on the revised "Concrete Structures for Containment of Hazardous Materials" (scheduled for future ACI publishing). An active member of the San Diego Chapter of the Construction Specifications Institute (CSI), and a frequent public speaker, David's engineering seminars are requested nationwide by major engineering firms including Montgomery Watson Harza, CH2M Hill, Carollo Engineers, Jacobs Engineers, Camp Dresser McKee, Fluor Corp., Kellogg Brown & Root, and many others. David has also taught waterstop theory, technology, and installation to project owners, concrete accessories distributors, and contractors in the field. David has consulted on and written national and international CSI-format 3-part specifications for a variety of engineering firms and governmental agencies including the July 1995 U.S. Army Corps of Engineers Master Specification (CEGS 03250).

Waterstops for Chemical Resistance is a targeted course of instruction and professional development for engineering firms engaged in the design of chemical, industrial, and environmental projects such as secondary containment of hazardous waste, industrial wastewater, ozone contactors, and others. The course is technical in nature and describes waterstops role in fluid-proofing concrete joints, chemical resistant polymers and steels, and state and federal regulations of compliance. The course is presented in one (1) hour time frame.

Additionally, course attendees are eligible for Continuing Professional Development credit, as David is a instructor with both the Louisiana Engineering Society and the Louisiana Professional Engineers and Land Surveying Board. Course is certified for one (1) Professional Development Hour credit.
October 16, 2015
Acquisition of Charleston, SC-based regional geotechnical contractor expands the company's Earthquake Drain capabilities.

Hanover, Md., October 16, 2015 - Hayward Baker Inc. (HBI) announces the acquisition of assets of Ellington Cross, LLC, (EC) a regional geotechnical contractor that provides Earthquake Drainâ"¢ design and installation. Headquartered in Charleston, S.C., EC operates primarily in North Carolina, South Carolina and Georgia.

Members of EC and HBI will combine operations into the existing Charleston Area Office and operate under the name "Ellington Cross, a division of Hayward Baker." HBI will take on EC's existing management team and employees, as well as assume key existing contracts.

EC is a regional geotechnical contractor focused on liquefaction mitigation ground improvement using Earthquake Drains (sometimes referred to as "EQ Drains"). HBI owns the patent for mitigating liquefaction using prefabricated vertical drains throughout North America.

Unlike prefabricated vertical wick drains, EQ Drains have a much larger cross-sectional area and flow capacity, intended to limit pore pressure increases in cohesionless soils and subsequent liquefaction during earthquake events.

Among EC's noteworthy projects are U.S. Highway 17 ACE Basin Parkway Widening and Bridge Replacements (Segments 1 & 2), performed for the South Carolina Department of Transportation. Earthquake Drains were used to mitigate liquefaction at all bridge approaches over a 21-mile corridor from State Route 64 to U.S. Highway 21.

October 14, 2015
Model 3634EC is a heavy-duty slide designed for wide drawers and includes an Easy-Close feature to bring drawers to a smooth, gentle close.

Santa Fe Springs, CA - Accuride expands the company's heavy-duty product line with the addition of model 3634 and its Easy-Close counterpart (3634EC), soft-closing slides designed for drawers up to 42" wide and loads up to 150 lbs. The 3634EC fulfills the market need for a reliable soft-closing slide solution for wide-drawers–perfect for a range of commercial applications. The optional Easy-Close feature brings drawers to a smooth and gentle close, helping to prevent the shifting of contents when closing.

Both 3634 models have the same cabinet member hole pattern as Accuride's 3832 slides, simplifying installation and saving valuable time in high production environments.
Additional features for both 3634 + 3634EC include 1" of over-travel to provide full access to drawer contents, and silencing to ensure quieter operation. These products are unhanded and offer a lever disconnect to facilitate drawer removal. Both products are available in clear zinc (C) or electroplate black (CB) finishes, in lengths of 12"–28". The 14" length is full extension only (no over-travel).
Model 3634 (without Easy-Close), supports loads up to 200 lbs. when side-mounted and 75 lbs. when flat-mounted. The 3634 includes a hold-in detent feature to help keep drawers in a closed and secure position.
These slides are the ultimate solution for wide drawer applications supporting kitchen pots and pans, dishware, and small appliances. Commercial applications include file or supply storage in business and medical offices, as well as retail displays and fixtures.
Stay tuned for more information from Accuride.
October 07, 2015
Veronafiere's international exhibition dedicated to the natural stone industry (30 September-3 October) attracted 1,524 936 companies, with 936 from 55 countries. Even more operators from abroad, up to 57% of total (+9% compared to 2014 edition).

Verona, 3 October 2015 – Marmomacc, the largest exhibition in the world dedicated to natural stone business and culture, closes its 50th edition today at Veronafiere hallmarked by growth. In just four days, the event has attracted 67,000 specialist operators - 3% more than visitors at last year's show. The international character of the event expanded even further, with international attendance up to 57% of total (+9%) from 150 countries, 5 more than in 2014 (www.marmomacc.com).

Marmomacc confirmed its status as the global centre for marble, granite, natural stone, machinery and processing technologies, thanks to the presence of 1,524 companies (occupying a show area of more than 77,000 square meters), including 936 from 55 countries - with debuts by Albania, Bosnia and Herzegovina, Cameroon, Venezuela and Georgia.

There was also a positive performance as regards organised delegations, which this year came from 55 States - 11 more than the last edition of Marmomacc.

In keeping with its traditions as a venue promoting trade in natural stone field, Marmomacc set a new record for the number of buyers arriving from Europe (Germany and United Kingdom in particular, followed by Spain and France), with a significant increase in visitors from the United States, Canada, India and Australia, as well as Israel, Poland and Iran; figures for incoming operators from Turkey, Russia, Brazil, China, Morocco and Egypt were consolidated.

Ettore Riello, President of VeronaFiere: "This result is doubly rewarding for us. First and foremost, we have achieved all the goals we set ourselves for the 50th edition in terms of qualified attendance, trade delegations and professional operators, with across the board increases that helped create important and new business development opportunities and partnerships for our customers and for Veronafiere itself alike. Secondly, we demonstrated to the Government the validity of our conviction of the exhibition tool and its high-profile events as a vital asset for business by SMEs, especially in terms of exports, thereby including Marmomacc - on the strength of major results achieved in the course of fifty editions and its high level of internationality - in the Special Made in Italy Promotion Plan through a structured project also involving the ICE-Italian Trade Agency and Confindustria Marmomacchine."

Giovanni Mantovani, CEO & Director General of VeronaFiere: "The show achieved extremely high levels of internationality on all fronts, with significant increases even by geographic areas where we have already been directly and continuously active for many years, through our companies, partnerships, initiatives and events. At the same time, this edition enabled us organise an agenda of meetings at the highest institutional and business levels, which will help us develop new partnerships on strategic markets for the core business of Veronafiere itself."

The Show - for the second consecutive year - was held in conjunction with Abitare il Tempo, Veronafiere's event dedicated to contract, design and interior decor sectors.
The next edition is scheduled 28 September - 1 October 2016.
October 06, 2015
The Association of Collegiate Schools of Architecture (ACSA) is pleased to announce the second Timber in the City Competition for the 2015-2016 academic year. The competition is a partnership between the Binational Softwood Lumber Council (BSLC), the Association of Collegiate Schools of Architecture (ACSA) and the School of Constructed Environments at Parsons The New School for Design (SCE). The purpose of the Competition is to engage students to imagine the repurposing of our existing cities with sustainable buildings from renewable resources, offering expedient affordable construction, innovating with new and old wooden materials, and designing healthy living and working environments.
October 06, 2015
October 7, 2015
New York, NY

Innovative architecture requires expanding the boundaries of the discipline by spurring creativity through design and technology. At this year's conference, Architectural Record brings together key figures who have generated a range of imaginative solutions for the built world today and for the future. From architects practicing outside the discipline to principals of large firms to materials experts and graphic designers, the event's participants represent different approaches to original problem solving in a rapidly changing world.
October 02, 2015

OCEAN ISLE, N.C., Oct. 1, 2015 /PRNewswire/ -- Seldom does a day go by that there isn't a report of apartment mold somewhere in the US resulting in property loss or damage, serious health effects and legal implications. A search of Google News for "apartment mold" returns more than 26,000 results with numerous reports from across the country made within the past week.

Innovative Dehumidifier Systems, the developer of the award-winning IW25-1 dehumidifier, the first moisture control solution in America designed specifically for multifamily housing, has released an ENERGY STAR® certified model. The enhanced performance IW25-2 dehumidifier draws 23% less power consumption than the original model. It also uses 35% less maximum absorbed current, thereby reducing previous energy costs by approximately one-third. In addition to the energy and cost savings, installing the new IW25-2 ENERGY STAR® model allows multifamily developers and builders to receive points for participating LEED and EarthCraft projects.

The IW25 places apartment humidity control directly in the hands of property managers. It has a tamper-proof cover that can only be removed using a special tool. The IW25 can be quickly installed between existing studs or surface mounted to an interior wall. Once installed, it operates independently of the HVAC system to quietly and efficiently remove excess moisture from inside apartments. Installation of the IW25 is far less complex than whole house dehumidifiers and can usually be completed in less than an hour, minimizing disruption to the resident. It's these features and benefits that separate the dehumidifier as the only unit of its kind on the market.

The new model also comes with improved safety features in addition to the increased efficiency that achieved the ENERGY STAR® certification. Epoxy coated coils extend the life of the equipment by preventing corrosion and improving indoor air quality (IAQ). A protective shroud around the main circuit board is designed to add protection for the unit control board. Auxiliary pump safety contacts were added to the unit control allowing the unit to be shut off in the event of condensate pump failure. A revised grille provides for smoother and more efficient airflow. Lastly, a new compressor and the addition of a row to the condenser coil increase efficiency.
September 28, 2015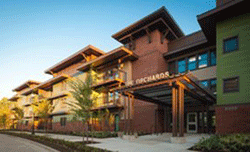 Orchards at Orenco, the largest certified multi-family Passive House building in North America, received two of the highest honors in the 2015 Passive House Institute U S Building Project Competition.

The project won both the Best Overall Project and the Best Affordable Housing Project awards. The first ever North American Passive Building Competition recognized projects and project teams that exemplify best passive practices to accelerate adoption of passive building in the U S marketplace. Developments from across the country competed in the single-family, multi-family, affordable and commercial/institutional categories. Projects were rated on measures of performance, difficulty, cost-effectiveness, design, craftsmanship, and health (i.e. use of non-toxic materials).

Opened in June 2015, Orchards at Orenco is the largest certified multi-family Passive House building in North America. Its outstanding transit-oriented location on the MAX light rail line in Hillsboro, Oregon, provides easy access to multiple community amenities including hospitals, airports, shopping and large area employers. The development contains 57 units of housing including 40 one-bedroom and 17 two-bedroom units. The building will achieve nearly 90% energy reduction in heating and 60-70% for overall energy use compared to a comparable USGBC LEED building.

Orchards at Orenco is bringing affordable, sustainable living to low-income workers. The beneficiaries include households earning incomes of 50% Median Family Income or less, $36,750 for a family of four. Rents range from $611-$733/month. Eight of the units have project-based Department of Housing and Urban Development Section 8 vouchers. The project is fully leased.

The L shaped building features PVC-fiberglass triple-paned windows, 12" of insulation in the roof, walls with 10" stud cavities, a heat recovery system, 4" inch of foam under the ground floor slab, and a building positioned with shading devices that allow winter sun but block it in the summer. REACH assembled an outstanding Portland-based team of design, development and construction firms including Walsh Construction Co. (general contractor); Ankrom Moisan Architects (architects of record); William Wilson Architects (architect of design); Housing Development Center (construction manager); Green Hammer, Inc. (Passive House consultants); Housing Authority of Washington County (limited partner); and PHIUS (Passive House Institute of the United States). The $14.5 million project was financed with funding from Wells Fargo, the Community Housing Fund, Meyer Memorial Trust, Network for Oregon Affordable Housing (NOAH), Oregon Housing and Community Services, NeighborWorks® America, and the Washington County Office of Community Development.
September 28, 2015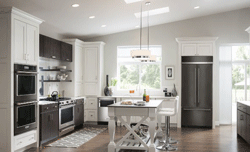 In kitchen appliances, black is the new black with the first-ever black stainless steel finishes from KitchenAid.

Hailed by kitchen designers as a "new neutral" that adds warmth and sophistication to a range of kitchen designs, black stainless is a fourth design alternative in the brand's all-new collection, also available in traditional stainless, white and black.

While sharing a professionally inspired look and feel, the new finish adds warmth to the starker appearance of stainless steel by dressing it up in a lustrous, satiny black. Kitchen designs ranging from clean and classic to rustic and rich instantly become more modern and design-forward with black stainless steel appliances, whether complementing or differentiating the rest of the space.

These new design touches include satin textured stainless steel handles that enhance grip; chrome inlaid frames that accent the transition between glass and other surfaces; and unique KitchenAid brand medallions, available in red and other optional colors that serve as a finishing stamp on the side of every handle.
September 28, 2015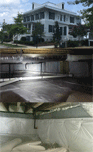 Insulation Solutions features a beautiful home in Daniel Island, South Carolina. Viper CS and Insul-Barrier were some of the Insulation Solutions products used on the project provided by Insulation Materials, LLC.

Viper CS is a great way to clean up your crawl space! Viper CS is a white, cross-woven polyethylene vapor barrier designed specifically for controlling moisture migration in crawl space applications. Its bright white color will give any crawl space a fresh, clean look while also combating the harmful effects of radon, moisture causing wood rot, mold, mildew, odors and poor indoor air quality. Promising performance and longevity, Viper CS is specifically designed for your crawl space and your peace of mind. Viper CS is a 10-mil product and is available in a standard roll size of 12' x 200'. Custom sizes and printing available.

Insul-Barrier is great for crawl space foundation insulation, crawl space vapor barrier as well as new and retrofit construction. The patented reflective technology and configuration creates optimal thermal performance while also preventing any unwanted moisture from migrating into the living or working space. Insul-Barrier's 4' x 25' rolls are easy to handle and maneuver in tight spaces. This patented, reflective technology addresses all three modes of heat transfer and acts as a "Class A" vapor barrier in accordance with ASTM E 1745.
September 25, 2015
HARTFORD, Wis., Sept. 24, 2015 /PRNewswire/ -- As the industry leader in residential ventilation, Broan-NuTone, a Nortek, Inc. company (Nasdaq: NTK), has a long history of developing products that provide superior indoor air quality. It is this reputation and commitment to innovation and quality that led Broan-NuTone to create the new InVent™ Series.

The patent-pending InVent Series revolutionizes mid-range ventilation fans with new installation benefits, superior airtightness, and LED lighting, all designed specifically for building and remodeling professionals. In addition, the InVent Series is manufactured in the USA*, offering service levels and responsiveness that customers demand. ™
The InVent Series' FoldAway™ mounting ears and TrueSeal™ damper technology, both exclusive to the line, as well as the EzDuct™ Connector provide an easier installation process, 100% room-side installation, and improved airtightness performance. Whether managing a new construction project or room-side replacement installation, the InVent Series offers contractors flexibility and performance from one hardworking product line.

"At Broan-NuTone, we're incredibly proud of the new InVent Series. It's a versatile, go-to product line packed with features to help contractors achieve ease of installation and airtightness performance they want for everyday jobs," said Ann Roever, marketing director, household ventilation, for Broan-NuTone. "The product line truly represents Broan-NuTone's continuing tradition of superior indoor air quality products and our commitment to professional contractors."

InVent Series ventilation fans feature FoldAway mounting ears and the EzDuct Connector, which allow for easy installation. The FoldAway mounting ears allow contractors to use just one fan for both new construction or retrofit applications. The EzDuct Connector makes connecting the fan housing to the duct easier than ever before, with no attic access required.

With the new TrueSeal damper technology, InVent fans reduce air leakage by up to 50% compared to competitive models**, resulting in better home energy efficiency as measured via blower door tests.

In addition, new grille designs, LED lighting*** and ENERGY STAR options provide contractors and homeowners with a full range of choices, all at a mid-range price point.

* Made in the USA of domestic and foreign components

**Testing reflects total fan housing air tightness.

***The 11-watt, 800 Lumens integrated LED module lasts up to 25,000 hours, offering greater energy efficiency.
September 25, 2015
Hanover, Md., September 24, 2015 - Hayward Baker Inc. (HBI), North America's leader in geotechnical construction, is pleased to announce that Ryan Johnson has joined the company as Senior Project Manager at HBI's new office location in Suburban Minneapolis-St. Paul, Minnesota.

Johnson, who has over 15 years of experience in the construction industry including on-site project management, will focus his efforts on supporting customers in HBI's Central region, a dynamic and successful geographic area for the company.

After Johnson earned his Bachelor of Science in Construction Management from North Dakota State University, he began his career as a Project Manager and Safety Officer at a general contractor in North Dakota, focusing on heavy/civil projects. More recently, Johnson worked as a Foundation Group Manager for a civil contractor in Minneapolis, Minnesota. His responsibilities included developing and implementing business plans for the deep foundation division as well as managing deep foundation and civil projects.

Johnson is a respected leader with extensive industry knowledge. He is disciplined in tailoring project delivery methods to meet specific client expectations. He specializes in deep foundations, structural concrete, ground improvement and earth retention systems.

Johnson is also active in industry associations across the region and is a LEED Accredited Professional.
September 17, 2015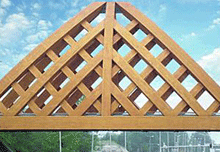 ...building bridges

Accoya wood inspired OAK architects to design two wooden heavy traffic road bridges for the city of Sneek in the Netherlands. Accoya was finger jointed and laminated into large sections measuring 1.08 x 1.4 metres to create these innovative structures, the first of their kind in the world.
September 17, 2015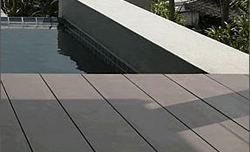 ...on deck

In specifying decking, jetties and pontoons, beauty, strength and all-weather performance are important. A dimensionally stable material that will stay flat and has very minimal bow, cup, warp and split and will not be affected by fungi or rot is desirable. It is also important that the wood is non-toxic and therefore safe for people and animals. Accoya wood meets these requirements.
September 17, 2015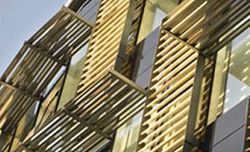 ...in the shade

Accoya wood is an excellent choice for shutters, louvres and solar shading. At Scottish Widows' Exchange Place development, eye-catching bespoke solar shading and ventilation louvres were incorporated to prevent excessive heat gain. The system included 1,060 Accoya wood fins. The solar shading has a life expectancy of 60 years and the finish applied carries a 10 year warranty.
September 15, 2015
September 15, 2015 10:22 PM Eastern Daylight Time

CHICAGO--(BUSINESS WIRE)--Just announced! The RIBA-USA, the American Region of the Royal Institute of British Architects (RIBA), presents programs as part of the inaugural Chicago Architecture Biennial! In the spirit of international cooperation and architectural fellowship, the RIBA-USA hopes to enhance international architectural education and dialogue as it fosters stronger ties between Chicago and the UK.

The Biennial features forward looking programming, officially described neatly: "The Chicago Architecture Biennial provides a platform for groundbreaking architectural projects and spatial experiments that demonstrate how creativity and innovation can radically transform our lived experience. For centuries, Chicago has been at the forefront of architectural innovation…" The RIBA-USA will host three key events during the three month initiative, including a Reception at the Official Residence of the British Consul General in Chicago, A Night of Film and Theater, as well as a unique river cruise experience Liquid Happening: A Living Architecture Ball.

"The Chicago Architectural Biennial offers a great opportunity to transform public thinking about architecture", commented RIBA-USA President James Karl Fischer. "In our programming, we hope to stress how working with natural systems in architecture leads to better understandings of our surroundings and better towards approaches in architectural design. Thoughtful architecture can be a proactive force towards building strong communities, and it is the RIBA-USA intention to draw this out during the Biennial."

The Chicago Architectural Biennial begins on 1 October 2015, and events will continue throughout early 2016.

September 08, 2015
Webberville, MI, September 4, 2015: Applegate Insulation, the world's largest family-owned manufacturer of cellulose insulation products, is excited to announce the acquisition of the cellulose insulation business of Rodney, ON based IECS.

The plant will operate as Applegate Canada, ULC and marks the first time the Webberville, MI based manufacturer of eco-friendly insulation products will have production capabilities inside of Canada.

"We've had customers in Canada for decades," says Applegate CEO, Terry Applegate, "now we can serve a greater market more efficiently and with lower freight." Applegate has customers in more than 20 countries and attributes its success to the exceptional performance of its products and support.

The manufacturer says its products are typically lower in dust, cleaner and plug less frequently than its competitors' products. This helps the insulation contractor work more efficiently and with fewer headaches. "When you're in an attic that could be 120 degrees or hotter, you don't want to stop to clear plugs or wait for dust to clear," says Richard Applegate, Applegate Insulation National Sales Manager.

In addition to its cellulose insulation products, Applegate manufactures a suite of eco-friendly products including: Cotton Armor, a thermal/acoustic insulation blanket, board and wrap product for the construction and OEM markets, Paper Shavings, a cellulose bedding product designed for horses and all other animals, MastaSorb, cotton and cellulose-based industrial absorbents, and a full line of cellulose mulches, wood mulches and tackifiers to the international landscaping, hydroseeding and erosion control community.
September 08, 2015
Washington, D.C. – (Sept. 8, 2015) – The U.S. Green Building Council (USGBC) Board of Directors announced today that USGBC's Chief Operating Officer Mahesh Ramanujam has been named incoming Chief Executive Officer, and will move into the role after Rick Fedrizzi, the visionary co-founder of USGBC and current CEO, steps down at the end of 2016.

"Mahesh has a highly impressive track record of success in both his role as USGBC's COO and as President of Green Business Certification Inc.," said USGBC Board Chair Marge Anderson. "He is a proven leader who has exhaustive knowledge of the organization, respect from its volunteer leadership and strong support from its team. He has extensive global experience and broad business acumen. He is the perfect choice to lead the organization into the future."

"I'm deeply honored that Rick and the Board have placed their trust in me, and I will serve the organization and our movement with a long-term vision – keeping innovation as a top priority," said Ramanujam. "As USGBC's CEO, I pledge to continually modernize and enhance our capabilities and performance to ensure we deliver the future that our founders envisioned."

Ramanujam joined USGBC in 2009 as Senior Vice President, Technology, before being named COO in September 2011. In December 2012, he was also named President of the Green Building Certification Institute (GBCI) where he broadened offerings to better serve a wider client base, leading the organization to change its name to Green Business Certification Inc. earlier this year.

September 02, 2015
Malmö/Columbia, MD (September 1, 2015)—Global CAD/BIM design software developer Nemetschek Vectorworks, Inc., a part of The Nemetschek Group in Germany, and BIMobject AB announced today that they signed a cooperation agreement. The two companies will support each other's BIM technology in order to better accommodate the needs of the AEC (architecture, engineering and construction) industry.
"We joined forces with BIMobject to deliver a streamlined way for Vectorworks designers to access up-to-date, manufacturer-approved BIM content," said Robert Anderson, vice president of integrated practice at Nemetschek Vectorworks. "Our partnership supports our desire to provide increased access to building material and product specifications that live in a building information model – valuable data that decision-makers involved with the design, construction and maintenance of a building need to be successful."
As part of the agreement, BIMobject® will host Vectorworks native file formats in its cloud-based web portal on BIMobject.com. In addition, BIMobject® and Nemetschek Vectorworks will collaboratively assist manufacturers with developing BIM objects for Vectorworks software users worldwide. A BIM object is a detailed piece of information that defines a product's geometry and represents its physical characteristics. More than half a million users around the world are using Vectorworks software, and this user community will be significant contributors to the BIMobject® Cloud platform. BIMobject and Nemetschek Vectorworks will together build up an initial set of manufacturers objects, including preexisting BIMobject content. All of these BIM objects will also be available and distributed by Nemetschek Vectorworks through a multivendor private cloud, offered with the support of BIMobject® Cloud solutions.
There are also future plans for developing tighter integration and enhanced collaboration between Vectorworks software and BIMobject's cloud platform.
"This partnership is meaningful as we've seen a huge demand from Vectorworks users over the last year for content from our BIMobject Cloud portfolio," said Stefan Larsson, CEO and founder of BIMobject AB. "For our building product manufacturers, this completes our offering across BIM platforms and delivers a significant user base dedicated to the Vectorworks platform that will benefit in additional business and customer satisfaction. Now, we'll do our best together to get the solutions done as quickly as possible to meet user demand."
September 02, 2015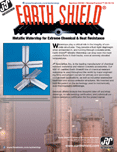 On December 11, 2005 a series of explosions rocked the Hertfordshire Oil Storage Terminal, located near Hemel Hempstead in Hertfordshire, England. The plastic waterstops that were in the fuel terminal joints all failed due to the high heat of the fire. The Health Protection Agency and the Major Incident Investigation Board provided advice to prevent incidents such as these from happening again, including the utilization of stainless steel waterstop in place at all concrete joints to prevent fuel from escaping the bund walls.

In July of 2014, JP Specialties, Inc. was contracted to provide our Earth Shield® Stainless Steel Waterstop (part nos. JP1122 and JP1122R) in the reconstruction and rehabilitation of the Hertfordshire Oil Storage Terminal.

Earth Shield® Stainless Steel Waterstop is used as a fluid-tight diaphragm, embedded in concrete, across and along the joint, for primary and secondary containment structures. Earth Shield® Stainless Steel Waterstop can stop even the most corrosive fluids in their tracks, even at severely elevated temperatures.

A variety of metals, grades, and gauges are available. Earth Shield® utilizes 20 gauge 316 low carbon as our standard alloy, which offers broad spectrum corrosion resistance to most aggressive media, and is virtually untouched by the deleterious effects of ozone, making it an ideal choice for ozone contactor structures used in modern water treatment plants.

Earth Shield® Stainless Steel Waterstop is available in many standard shapes and sizes including profiles for new construction and retrofit. All change of direction fabrications (shop made fittings) can be premanufactured leaving only straight butt welding for the Contractor in the field.
August 31, 2015
Invisible Senseon Secure Access™ system reduces theft risk while maximizing productivity, revenue, and customer experience.

Santa Fe Springs, CA—Accuride International is excited to unveil Senseon Secure Access™, a new brand of commercial-grade access control systems for cabinets, furniture, and fixtures. Simply tapping an RFID card over a proximity reader unlocks the cabinet, enabling quick and easy access without compromising security.

Designed specifically for use in commercial environments, Senseon was designed with three things in mind. 1) Senseon is easy-to-use. 2) Senseon is easy-to-install. 3) Senseon is easy-to-program. Senseon is a commercial grade access control system meant to last for the lifetime of the cabinet, furniture or fixture. Every Senseon proximity reader can control up to 15 doors or drawers. The reader can be completely hidden or surface mounted. Some configurations will allow a user to open the desired door or drawer with just a touch after unlocking the cabinet.

Senseon could soon make cumbersome key rings a thing of the past for a wide range of business and government markets including retail, hospitality, healthcare, finance, and office environments requiring secure storage to protect valuables or meet compliance regulations.

This innovative new concept also opens up limitless possibilities for cabinet designers and makers by eliminating the need for visible locks. The system is flexible enough that openings can be arranged in any configuration, making it easy to incorporate Senseon seamlessly into any design. Doors and drawers can be built with or without visible hardware, enhancing the end user's brand identity.
August 31, 2015
Numerous events have already been scheduled thanks to the agreement with the Ministry of Economic Development (MISE), the Italian Trade Agency and Confindustria Marmomacchine

August 2015 - Marmomacc, the leading event on a global scale for the natural stone industry, will make the most of its 50thedition to become the international stage celebrate Italian excellence in this sector with the support of the Ministry for Economic Development (MISE), the Italian Trade Agency and Confindustria Marmomacchine.
Using special funds set aside by MISE to promote major 'Made in Italy' sectors through reference exhibition platforms, Marmomacc 30 September-3 October will host an impressive and varied programme of activities and projects including training, debate and analysis of Italy's central role within the international national stone business system.

From 28 September to 6 October, Verona will also welcome an important international delegation comprising 100 buyers and 100 architects who will not only take visit the trade fair and meet exhibiting companies during specific b2b events but will also have the chance to visit companies and quarries in the local area. A dedicated area between Halls 2 and 3 - the Stone Design & Stone Technology Conference - these architects will also attend professional training courses focusing on the use of stone, while the other participants will be offered specific courses dealing with various machining technologies.

Within the scope of action to develop and promote culture and business in this sector, in the wake of huge success achieved at the last edition of Marmomacc confirming growing interest in the event on the part of national and international operators, this impressive, informative, cultural and promotional programme of events is a perfect match for 50th anniversary celebrations.
August 28, 2015
OAKLAND, N.J., Aug. 27, 2015 /CNW/ -- The Classix 6" LED downlight by Amerlux® shines new light on high profile projects while featuring high performance optics with exceptional efficiency and beam control. With a unique blend of architectural form and function, Classix offers a variety of wattages and color temperatures to perform perfectly in a wide range of large retail and commercial spaces.

Available in standard, adjustable and lensed wall wash styles for new construction and remodelers, Classix offers four color temperatures, 2700K, 3000K, 3500K and 4000K, at an 83 CRI. Additionally, 97 CRI is available in 2700K and 3000K temperatures. Crisp White LEDs are also available when white needs to be at its whitest. Using wattages that range from 18 to 52 (depending on the model), Classix delivers up to 3729 lumens, an efficacy ranging up to 79 lumens per watt, and a CBCP of up to 19,788.

Mountable in T-grid or sheet rock ceilings, the downlight is constructed of 20-gauge galvanized steel frame with 18-gauge galvanized steel housing and hanger brackets. Passively cooled with an extruded aluminum heat sink, the luminaire uses an electronic constant current LED driver for 120-277v systems and can be dimmed using ELV and Triac standard dimming systems.

Classix is constructed with high-efficient TIR optics, as well as a spun aluminum upper reflector and semi-diffuse aperture cone. Beam spread options include: Spot 15 degrees, Flood 25 degrees and Wide Flood 40 degrees.

Other options include 0-10V dimming, Lutron Hi-lume® dimming, DALI driver, emergency battery packs and Chicago Plenum-rated housings.

Rated for dry and damp indoor locations use.
August 27, 2015
LONDON, August 26, 2015 /PRNewswire/ --

With the global market for smart building technologies forecast to triple to £14billion by 2019, Ecobuild, the largest and longest running sustainable design and construction event, has announced a new show feature that will focus on this growing industry trend.

SMART will be the centrepiece of the Energy section of the exhibition, with live room sets demonstrating how smart technology including controls, metering, intelligent lighting and connected appliances can work together to bring greater efficiency in real world settings. As well as a domestic living room, visitors will be able to explore a retail environment, office, garage and bathroom to see what the latest intelligent building technology can deliver.

The development of the feature is a direct result of demand from show visitors. At the centre of the building industry for over a decade, Ecobuild was attended by over 40,000 industry professionals last year. "In a survey of Ecobuild visitors, 72% want to learn about new services & technologies. Our new SMART feature will bring this to life and fulfill that need," commented Martin Hurn, Ecobuild Event Director.

"This exciting new feature will not only provide a wide variety of ways for visitors to see and interact with intelligent building technology in live settings, it will also see exhibitors collaborating to show their products working together to provide maximum efficiencies. This is how the full benefits of this technology are realised and SMART will be a unique platform to showcase it to the industry."

Located around the central cluster of live room sets will be 12 Hubs of Excellence, showcasing exhibitors who are bringing innovative smart technology to a wide range of end users and commercial clients.

SMART has been designed with architects, housebuilders, specifiers, developers, energy assessors and sustainability specialists in mind. It will allow them to learn how smart building technology can revolutionise how their buildings are controlled. In addition, the feature is being created for installers attending Ecobuild 2016, showing them how integrating smart building technology can provide cost savings and carbon reductions for clients as well as maximum convenience and added value to their businesses.

Ecobuild 2016 takes place from 8th to 10th March 2016 at London's ExCeL, and is the industry's meeting place to debate, discover products and share success. Ecobuild attracts over 40,000 visitors from the entire built environment supply chain. It is designed to cater for architects, consultants, local authorities, developers, contractors, housebuilders, project managers, engineers, sustainability managers, facility managers, energy assessors, BIM professionals and installers. A total of 96% of the top UK architectural practices, and 84% of the top housebuilders and contractors, attended Ecobuild 2015.
August 25, 2015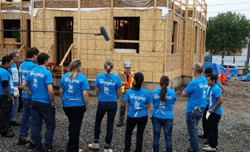 ATLANTA, Aug. 24, 2015 /PRNewswire-USNewswire/ -- Building on a 16-year partnership, Whirlpool Corporation today announced it will continue to provide a new range and refrigerator for every new Habitat for Humanity home in the U.S. in 2015, donating up to $5 million in products throughout the year. Whirlpool will also sponsor eight new home builds in partnership with families in need of affordable housing in the U.S.

Builds fully funded by Whirlpool will take place in Marion, Ohio; Bloomington, Indiana and Benton Harbor, Michigan, covering the entire cost of constructing the home. Partially sponsored builds scheduled for 2015 will take place in Dallas, Texas; Tampa, Florida; Greenville, Ohio; Amana, Iowa; and Cleveland, Tennessee.

For the sixth consecutive year, Whirlpool Corporation will also participate in a blitz build with the Kelley School of Business at Indiana University. Students at Indiana University and Whirlpool employees will work together to build a home in 10 days in partnership with a family in the Bloomington area.

Additionally, Whirlpool will continue its Habitat Ambassador Program, which was developed to create champions for the company's signature charities. Whirlpool Ambassadors are actively engaged in the partnership with Habitat and fulfill leadership positions on local Habitat boards, participate in construction activities and represent Whirlpool at Habitat-related events.
August 24, 2015
USG is introducing several new products into our existing Mars and Eclipse lines and launching a new panel family called Orion. These acoustical tiles will focus on delivering high performance balanced acoustics as well as overall economic value. The new products include:

• USG Mars™ High-NRC/CAC Acoustical Panels
• USG Mars™ Healthcare High-NRC Acoustical Panels
• USG Eclipse™ High-NRC Acoustical Panels
• USG Orion™ Acoustical Panels

Visit our website www.usg.com or contact your local USG Sales Rep for more information.
August 13, 2015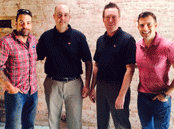 Last year, John Colaneri of Cousins TV, and the new hit show "America's Most Desperate Kitchens" gave us some tremendous feedback on his experience with Warmboard in his own home. Well, we've got a second project going with John and Anthony right now, and here's what they had to say about Warmboard.
August 05, 2015
2015 SPEC MIX BRICKLAYER 500 Regional Schedule Announced!

EAGAN, MN — The official schedule for the 2015 SPEC MIX BRICKLAYER 500® Regional Qualifier Events has been released. It's that time of year again when masons across North America put their skill, speed and stamina to the test at their local regional competition with the hope of earning spot at the World Championship in Vegas. But before they can advance to the final round and compete for the title: "World's Best Bricklayer," they have to take 1st place at one of the 20 regional events listed below.

Read more about Spec Mix here: http://newsmanager.commpartners.com/speo/issues/2015-07-22/email.html
August 05, 2015
KUALA LUMPUR, Malaysia, Aug. 5, 2015 /PRNewswire/ -- A joint venture between S P Setia Berhad Group and Dewan Bandaraya Kuala Lumpur (DBKL), KL Eco City is a colossal mixed-use development conveniently located in Bangsar, right across Mid Valley City.

The project sits on about 25 acres of prime land with a total development value of RM 6 billion. Designed by renowned architects Jerde Partnership International, GDP Architect, GRA Architect and BEP Akitek, KL Eco City is aimed at becoming the country's first integrated green development to earn the Gold certification under the Malaysian Green Building Index, as well as a US-based LEED (Leadership in Energy and Environmental) certification.

Schindler was awarded the mobility contract to install 128 elevators and 50 escalators, including 63 Schindler 5500 and 65 Schindler 7000 elevators, to 3 corporate office towers, 1 hotel serviced apartments tower, 3 boutique office blocks, 1 strata office tower and a high-end retail podium. The project will be constructed in phases and is scheduled to complete by year 2020.

The latest addition to the company's product innovation, the Schindler 5500 combines state-of-the-art engineering, energy efficiency and high performance to set new industry standards, including a machine room-less version that can travel up to 50 stories in 50 seconds.

The Schindler 7000 is Schindler's top-of-the-range elevator for high-rise buildings. Successfully deployed in numerous landmark installations across the world, the Schindler 7000 employs smart, energy efficient technologies. These elevators will transport passengers to their destinations swiftly and smoothly at speeds of up to 7 m/s.

Schindler's award winning PORT Technology, the third and latest generation of the company's series of destination control systems, will power elevators in 4 office towers. The PORT Technology not only delivers higher operating efficiency by optimizing passenger flows, but also provides unprecedented levels of convenience.

The PORT Technology, Schindler's focus on sustainability, as well as the company's vast experience in being the partner of choice for first class, large scale developments, were seen as the key factors behind the contract award.
August 04, 2015
NASHVILLE, Tenn.--(BUSINESS WIRE)--Louisiana-Pacific Corporation (NYSE: LPX) today announced that it will add a FlameBlock® Fire-Rated OSB Sheathing line at its Clarke County, Ala., facility.

LP FlameBlock® Fire-Rated OSB Sheathing will be manufactured under a Technology License Agreement with International Barrier Technology Inc. and features a proprietary, non-combustible Pyrotite® layer that is a code compliant component of fire-rated building assemblies.

Brad Southern, executive vice president, OSB, said, "This substantial investment at our Clarke County mill will increase our ability to meet the growing market demand for fire-rated building products like LP FlameBlock in the single-family, multi-family and light commercial construction markets."

Construction on the new line will begin in the third quarter of 2015, with completion expected by September, 2016. When fully operational, the expansion will add about 20 new jobs to the mill, which currently employs 159 people.

About LP FlameBlock® Fire-Rated OSB Sheathing:

LP FlameBlock is a durable, easy-to-handle sheathing product that combines the strength of LP OSB with a non-combustible, fiberglass-reinforced Pyrotite® layer. LP FlameBlock is ICC certified (ESR-1365) and is code-compliant in a variety of applications including exterior walls, interior walls and roof decking. It is available in a variety Of PS2-Rated thicknesses and lengths. LP FlameBlock carries a Class A, 30 minute flame spread rating.(Per IBC 2303.2).

LP Flamebock installs like conventional sheathing, with no special tools or gear required and comes with a 20-Year Transferable Limited Warranty.


July 27, 2015
MILTON, ON, July 24, 2015 /PRNewswire/ - ROXUL and Scott McGillivray are pleased to announce that homeowner Mark Pratley of Rockwood, Ontario has been declared the grand prize winner of ROXUL's #GetBetweenTheStuds contest, which ran from April 12th to May 24th. Mark's outstanding entry has earned him $10,000 toward his home remodel, $1,200 in ROXUL product, and a design consultation with Income Property host and real estate expert Scott McGillivray.
July 22, 2015
TEMPLE, Texas--(BUSINESS WIRE)--Design is in the details. From the smallest accessories to the biggest style choices, it's the details that add dimension and depth, creating dramatic spaces that impress from wall to wall and everything in between.

Wilsonart, a leading manufacturer of decorative engineered surfaces for more than 50 years, is pleased to announce the launch of Wilsonart® SOLICOR™ Compact Laminate as well as an expanded palette of colors and textured finishes to the Wilsonart® SOLICOR™ Laminate Collection. The continuous color of SOLICOR provides a clean and crisp look all the way to the edge, without the typical brown line associated with traditional laminate fabrication.
July 21, 2015
YANGON, Myanmar, July 20, 2015 /PRNewswire/ -- Schindler, a leading global provider of elevators, escalators and related services, will supply a total of 79 elevators and 24 escalators to the Times City development located in the heart of Yangon, Myanmar.

Scheduled for completion by 2017, Times City is a mixed-use development that comprises office and residential towers, a luxury hotel and retail shop houses. Located in the prime Hanthawaddy roundabout locality, the Times City project will introduce modern living facilities, premium office spaces, comprehensive retail options and a 5-star hotel, all in one development.

Schindler worked closely with the project team of the developer, Crown Advance Construction Co. Ltd. from the early stages of building design since 2013. Schindler provided developers, architects and consultants with highly efficient building transportation solutions, including state-of-the-art Schindler 5500 machine-room-less elevators which run at speeds of 3 m/s, achieving the utmost building traffic efficiency in accordance to the most stringent international standards.

Schindler will deliver 79 elevators and 24 escalators, including 41 Schindler 3300AP elevators and 38 Schindler 5500 elevators. In addition, Schindler's Lobby Vision, a building management tool that allows single-point supervision of multiple active systems will monitor elevators and escalators in the office towers and hotel tower.
June 29, 2015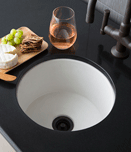 SAN LUIS OBISPO, Calif.– Native Trails has added two new bar & prep sinks to its revolutionary NativeStone™ Collection: Olivos Bar & Prep Sink (http://www.nativetrails.net/kitchen/nativestone-kitchen-bar-sinks/olivos-bar-and-prep-nativestone-sink.html) and Malibu Bar Sink (http://www.nativetrails.net/kitchen/nativestone-kitchen-bar-sinks/malibu-bar-and-prep-nativestone-sink.html). The entire NativeStone collection, which includes sustainable concrete kitchen, bar and bathroom sinks, made its debut in 2014.

Both sinks feature a wonderfully functional, deep, circular shape that is perfect for chilling beverages. These stylish and versatile concrete sinks add panache to any bar or prep area, indoors or out, and can be installed as drop-in or undermount.

Handmade by artisans in Vietnam, NativeStone is an innovative blend of cement and natural jute fiber. Surprisingly lightweight (40 percent lighter than standard concrete), it is resistant to cracking, scratching and staining.
June 24, 2015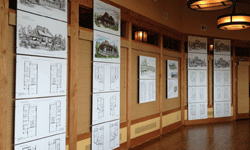 Published June 24, 2015 by Merit
AS Hanging Systems, Hang with the Best® Blog

We are very excited to introduce the newest members of our extensive hardware fittings product line – Pro Side Clamps. Pro Side Clamps are used to suspend rigid panels and display surfaces in a vertical orientation to create a hanging display system. Each of these clamps is compatible with any of our cables and cords. This results in a wall display that avoids direct fastening to the wall while allowing for endless resetting of the display itself. The main benefit then, in comparison to standoffs, is design flexibility, even in the future, without wall damage.

Pro Side Clamps come in six varieties to accommodate all of your panel display needs.
June 22, 2015
You Need Waterstop Today?

We probably have it in-stock and ready to ship. No Excuses.

An industry trend has emerged: Waterstop manufacturers seemingly no longer like to stock large quantities of materials, putting their Contractor customers and Owner's projects in jeopardy. Since the earliest days of our company (way back in 1954) we have shared the simple philosophy of "You can't sell off an empty cart." We stock all of our catalog shapes in large quantities, making same-day shipping a reality.
June 11, 2015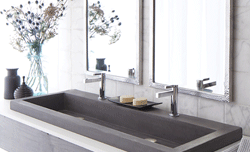 SAN LUIS OBISPO, CALIF. (May 15, 2015) – Native Trails' NativeStone Trough 4819 sink is a winner of the 2015 GREEN GOOD Design Award, honoring the best in modern green design. NativeStone Trough 4819 is part of the company's NativeStone Collection, which debuted in 2014. The collection includes stain-resistant, sustainable concrete sinks for the kitchen, bar, and bathroom. Constructed using an innovative mixture of jute fiber and cement, Native Trails' NativeStone sinks weigh approximately 40 percent less than sinks made using standard concrete.

The GREEN GOOD Design Award is sponsored by the European Centre for Architecture Art Design and Urban Studies and The Chicago Athenaeum: Museum of Architecture and Design. This year hundreds of entries poured in from two-dozen countries around the globe before the GREEN GOOD Design Award jury identified the world's most significant examples of sustainable modern design.
June 10, 2015
Green Business Certification Inc. (GBCI) launched its newly acquired SITES rating system, the most comprehensive program and toolkit for developing sustainable landscapes. SITES addresses global concerns such as climate change, loss of biodiversity and resource depletion through sustainable landscape design and management.

SITES was developed through a collaborative, interdisciplinary effort of the American Society of Landscape Architects, The Lady Bird Johnson Wildflower Center at The University of Texas at Austin, and the United States Botanic Garden. The rating system can be applied to development projects located on sites with or without buildings - ranging from national parks to corporate campuses, streetscapes and homes, and much more.

The SITES rating system uses progressive industry standards for landscape design and incorporates additional recommendations from technical experts in the fields of soil science, botany and horticulture, hydrology, materials, and human health and well-being. Some of the credits for sustainable landscape performance have been developed in alignment with similar credits in the U.S. Green Building Council's LEED (Leadership in Energy and Environmental Design) rating system, the world's most widely used green building program.
June 04, 2015
Columbia, MD (June 4, 2015)—Architosh, the leading online magazine dedicated to CAD and 3D professionals and students worldwide, announced the recipients of its fourth annual "BEST of SHOW" awards from the American Institute of Architects (AIA) Convention 2015 in Atlanta, Georgia, and global design software developer Nemetschek Vectorworks, Inc. received two honors. Vectorworks® Designer 2015 was the sole winner in the Desktop category, while Vectorworks® Nomad 3.0 was one of three winners in the Mobile category.

As a complete BIM modeling tool, Vectorworks Designer 2015 software "packs a big punch in the area of visualization and rendering options. And Vectorworks 2015 gave an official 'thumbs up' for 4K displays, something its peers have not yet done," said Anthony Frausto-Robledo, AIA, LEED AP, editor-in-chief of Architosh.com.

Architosh awards the Desktop category honor to programs that promote cross-platform excellence, which means they are not only compatible on both Mac and Windows operating systems but also take advantage of the underlying operating systems in specific ways. With a perfect score at the product review level, Vectorworks Designer 2015 secured the win due to its industry-leading landscape architecture tools and new site modeling capabilities, as well as its competitive pricing model.
May 21, 2015
Surrey, BC- May 20, 2015
Meet the next generation of Topless Glass Railing Systems, the Panorama Universal Post...

The multi-function insert component provides the ultimate versatility for custom projects allowing you to adjust your glass height and angles (up to a 60 degree variance) for a nearly limitless range of options for your outdoor designs.

Whether you want the topless glass railing system for a view deck, as a wind wall or a privacy screen, the Panorama Universal Post can provide a sophisticated look for a wide range of design options.

You even have the option of adding a top rail to the system (The XLPR Top Rail) but keep the bottomless railing look for your view; and the standard 3" gap from glass to deck allows for easy year-round cleaning including snow removal.
May 20, 2015
MADISON, OH — May 20, 2015 — An easy-to-remove dissipating resin cure for freshly placed concrete has been announced by ChemMasters, Inc. EZ Strip Cure™ DR is a water-based, low- VOC, low odor curing compound that cures concrete to ASTM C309 and AASHTO M 148 standards. Unlike other dissipating cure products, EZ Strip Cure DR does not require UV exposure, making it ideal for either indoor or outdoor use. It is easily removed with light mechanical or hand abrasion after curing is complete. Outdoors, low pressure water spray can be used for removal.

Application is simple, using standard spraying equipment. It will not clog or load diamond polishing tools and, therefore, does not require removal from substrates that are to be diamond polished.

EZ Strip Cure DR dissipates quickly for early removal with a low rpm floor buffer, walk behind or riding floor cleaner with stiff bristle pads, 100 grit sandpaper or 100 grit abrasive screen, or stiff bristle hand-held brushes. The ease of removal makes it an ideal choice for surfaces scheduled to receive subsequent treatments with dustproofers, liquid hardeners and densifiers, penetrating water repellent, polymer coatings or other floor coverings.

ChemMasters, Inc. is a 59 year-old manufacturer of specialty concrete chemicals used to improve, repair and protect concrete and masonry. The company is the acknowledged leader in the formulation and manufacturing of low-VOC solvent-based products for use in the states that require them. A state-of-the-art research and development facility is operated by ChemMasters to advance the science of concrete improvement.

May 20, 2015
COLUMBIA, Md.--(BUSINESS WIRE)--SolarWindow Technologies, Inc. (OTCQB: WNDW) today announced plans to replace traditional electrical wiring connections with a simplified next-generation system for collecting the power produced by its see-through electricity-generating windows. In addition to reducing costs, ease of electrical installation will be important to window fabricators, glass installers (i.e., glaziers), electricians, and maintenance personnel.

The replacement of today's cumbersome methods with the Company's easy power connection system ('module interconnects') is also important for new construction and retrofit applications of SolarWindow™ electricity-generating window modules on skyscrapers and tall towers.

SolarWindow™ products, currently under development, already boast the industry's fastest published financial payback of less than one year. Last month, the Company's Power Production and Financial Model was reviewed and validated by a team of third-party, independent engineers and scientists at the University of North Carolina Charlotte Energy Production and Infrastructure Center (UNCC-EPIC).

"We have always had absolute confidence in the financial case for our SolarWindow™ products, and with the support of independent validations, we're now focused on addressing the very real needs of future customers and end-users.

"Low-cost scale-up and manufacturing, ease-of-installation, and warranties are at the top of our list of ongoing development efforts," explained Mr. John A. Conklin, President and CEO of SolarWindow Technologies, Inc.

Recently, based on encouraging durability test results that show transparent SolarWindow™ electricity-generating coatings have the capability of meeting or exceeding warranty periods for commercial-grade window products, the Company announced plans to accelerate its durability testing. Working see-through SolarWindow™ modules have set records for both size and power production.

A single installation of SolarWindow™ products on all four sides of tall towers could generate 50-times greater power than traditional rooftop systems and 15-times their environmental benefits.
May 14, 2015
New tool combines spackle, primer, putty knife and sanding pad to empower DIYers to tackle small repair projects with ease

3M today introduces 3M Patch Plus Primer 4-in-1 Applicator, a product that applies 3M's proprietary nanotechnology to the everyday task of small wall and surface repairs. The result is quick-drying, strong, even patches combined with the convenience and functionality of an all-in-one wall repair applicator, making the process easy and efficient from start to finish.

Spurred from the insight that many renters and homeowners may not have all of the necessary items at their disposal to repair small holes, gouges, cracks and other surface marks and damage, the 3M Patch Plus Primer 4-in-1 Applicator incorporates spackle, primer, a putty knife and a sanding pad into one tool. DIYers at any skill level get the benefits of a spackle with great hiding power and repairs that can be made three times faster than traditional spackling compound without primer.

"The 3M Patch Plus Primer 4-in-1 Applicator was created to simplify the process of home repair and help DIYers of all experience levels tackle small repairs with ease," said Jeremy Johnson, 3M Abrasives marketing supervisor. "3M's proprietary nanotechnology coupled with the innovative packaging helps makes any project more approachable, while still delivering top-quality results."
May 14, 2015
Children take great pride when their artwork is displayed at school. The art brightens up the walls and adds cheer to the environment. It makes parents feel proud of their little one's abilities to see their artistic creativity being shared with others.

Unfortunately, with bulletin bars typically found in schools, this artwork can be quickly damaged as soon as it goes on display. Staples, thumbtacks, and sharps used to hang the pictures to the cork rail bulletin bars put holes into the pictures. That's not good! Not to mention how unattractive, and potentially hazardous, the use of cork rails can be. We've discussed some of these topics in our Cork Rail Fail post.

We have a solution to how to hang children's art without damage or concern of sharps in schools … Casso® Display Rail.

An elementary school in Quebec has implemented Casso Display Rail in their halls. This creates a beautiful, clean, safe way of hanging the student's art. No sharps. No graffiti, and no damage to the art pieces. Let's take a look.
May 12, 2015
LOS ANGELES, May 11, 2015 /PRNewswire/ -- JM Eagle, the world's largest manufacturer of plastic pipe, urges cities and municipalities to save water with plastic pipe. With conditions worsening regarding the drought crisis in the Western United States, JM Eagle is sharing the benefits of plastic pipe in the states affected by the drought, including: California, Washington, Oregon, Arizona, New Mexico, Nevada, Utah, Colorado, Idaho, Wyoming and Montana.

In California, Governor Brown has called for a 25-percent reduction in water use throughout the state. Cities in California can reach the Governor's goal by using plastic pipe. The underground water infrastructure in the United States is predominantly made up of metal pipe, a material that is prone to leaks and breaks when corroded. These pipes currently attribute to the loss of 2.6 trillion gallons of treated water per year.

JM Eagle is promoting its message to Engineers nationwide with an industry first online course titled, "The Plastic Pipe Solution for Water Infrastructure Failures." The company's goal is to educate and bring awareness to the benefits of using plastic pipe. This course is a first in a series that will offer Engineers and Contractors their annual continuing education credits in order to remain licensed.

The course is another example of JM Eagle's innovative spirit, much like its Ultra Blue C909 product line. Ultra Blue C909 is a high performing, light weight pressure pipe for potable water systems. Its product attributes reduce labor costs and installation time. Municipalities in California can find the full Ultra Blue product line at JM Eagle's Fontana plant. JM Eagle offers its 50 year warranty to customers who purchase Ultra Blue. The 50 year warranty is also an industry first and unique to JM Eagle.

To access JM Eagle's online course visitwww.JMEagle.com/AECDAILY

To learn more about the benefits of plastic pipe visit www.truthaboutpipes.com
May 07, 2015
WASHINGTON, May 6, 2015 /PRNewswire/ -- The Window Covering Manufacturers Association (WCMA) today announced the industry's first third-party certification program designed to help consumers and retailers identify window covering products that are certified as best suited for use in homes with young children. The new Best for Kids program will require products that manufacturers want to be part of the program to meet stringent criteria, and to submit those products to a WCMA-recognized third party testing laboratory. Products that meet these criteria will be eligible to be listed and labeled on packaging and materials as "certified," and companies can use this designation on their marketing materials.

In order to earn the "Certified" designation a window covering product must either have no cords or the inner cords cannot be accessible, as defined by the industry's safety standard (ANSI/WCMA A 100.1-2012). If accessible inner cords are present in products with no operating cords, the accessible inner cords cannot create a hazardous loop in accordance with the test procedures in Appendix D of the safety standard. The Best for Kids program includes criteria to evaluate window covering products primarily intended for use in homes or buildings in which young children are expected to be present. Based on the evaluation of those criteria, the program allows for a window covering product to be certified and recommended for use in such environments.

May 04, 2015
Natural Stones that are able to withstand the harshest hot and cold climates

The exterior of your home, government, or commercial building faces Mother Nature's extreme conditions every day. Depending on your location, this could mean anything from bitter cold and snow to scorching heat and hurricanes, not to mention the numerous freeze-thaw cycles that we face here in New England. Because of this, choosing a siding that is durable and long lasting becomes a major concern in the design process.

Natural stone as a building material is the oldest and one of the most durable products that can be used as exterior siding. STONEYARD® Thin Veneer is comprised of all natural stones. The longevity and minimal up-keep required once installed make it the perfect siding product. But not all stone is created equal.

That is why we have developed the STONEYARD® Harsh Climate Approved (HCA) rating system. Due to the density of minerals such as granite and quartzite, thin veneer that is HCA is perfect for interior and exterior use in any region, including applications below grade. It is also suitable for use in water features, near salt water, and in areas where blowing sand is a concern. Currently, the following thin veneer lines of natural stone are STONEYARD® Harsh Climate Approved: Boston Blend (predominantly Quartzite), Colonial Tan (predominantly Quartzite), Greenwich Gray (predominantly Quartzite), Newport Mist (predominantly Quartzite), and Vineyard Granite (Granite).

So before deciding on the stone for your exterior siding, make sure that it is STONEYARD® Harsh Climate Approved. Proper installation techniques and the highest quality building material will result in a finished project that will stand the test of time.
May 04, 2015
Trimble and Nemetschek Group Partner to Expand Adoption of Building Information Modeling Across Building Design, Construction and Operation


Global design software developer Nemetschek Vectorworks, Inc. has announced that its parent company Nemetschek Group and Trimble,leaders in digital solutions for the Architecture, Engineering and Construction (AEC) markets, announced today that they have formed a strategic alliance to expand the deployment of Building Information Modeling (BIM) across the entire Design-Build-Operate (DBO) lifecycle of buildings. The alliance will emphasize collaborative approaches to design modeling and 5D construction management through data integration between a variety of the companies' products.

The announcement was made today at the Lake Constance 5D-Conference 2015 held this week in Constance, Germany.

Trimble and Nemetschek will share their extensive global market and technology expertise and collaborate on initiatives to drive a paradigm change in the development and adoption of technologies for the AEC industry and building owners.

Open, Connected and Interoperable via Trimble Connect

Trimble and Nemetschek plan to leverage the Trimble® Connect collaboration platform to integrate workflows and create close interoperability between selected Trimble solutions—including SketchUp, Tekla Structures, Vico Office, Trimble Prolog®, Trimble Field Link and MEPdesigner for SketchUp—and solutions in the Nemetschek portfolio, such as Allplan, ArchiCAD, DDS, Scia Engineer, Vectorworks and Nevaris.

Both companies are committed to open standards and workflows—a rapidly emerging approach to the collaborative design, construction and operation of buildings. With Nemetschek solutions supporting the Trimble Connect platform—a cloud-based collaboration environment that features an open environment for BIM-based AEC workflows—Trimble and Nemetschek are coordinating their efforts to offer best-of-breed solutions for customers.

"Across the DBO spectrum, customers want the freedom to choose the best tools for the job and the security of knowing those tools will work together. But too often they find that the data they need is not interoperable across their different software workflows," said Bryn Fosburgh, vice president responsible for Trimble's Construction Technology Divisions. "Our companies' shared vision is to give users a choice, rather than dictate what they use. We're pleased to partner with Nemetschek on these important initiatives."
May 01, 2015
Please register for our free, PDH accredited engineering Webinar on May 20th.

Waterstops for Environmental Compliance of Liquid Tight Concrete Structures is a targeted course of instruction and professional development for engineering firms engaged in the design of chemical, industrial, and environmental projects such as secondary containment of hazardous waste, industrial wastewater, ozone contactors, and others.

The course is technical in nature and describes waterstops role in fluid-proofing concrete joints, chemical resistant polymers and steels, and state and federal regulations of compliance. The course is presented in one (1) hour time frame.

Additionally, course attendees are eligible for Continuing Professional Development credit. The course is certified for one (1) Professional Development Hour credit.


April 30, 2015
TEMPLE, Texas--(BUSINESS WIRE)--Classic cherry wood or natural pine? A ray of sunshine yellow or a neutral cool grey? Large veining or small particulates on a gorgeous quartz countertop? Finding the right look for today's home renovation projects can be exciting and daunting with more than a multitude of choices. To help designers and consumers identify the colors, patterns and materials that make their dream kitchen or bathroom project a reality just became a finger pinch away with Wilsonart's expanded, interactive Visualizer.

A leader in engineered decorative surfaces for more than 50 years, Wilsonart has added its newly debuted quartz patterns to its real-time design tool to build on the company's extensive surface offerings. The Wilsonart® Visualizer, which includes more than 100 surface pattern options and is available for tablet, desktop, or notebook, can be viewed on Wilsonart.com, or via new, free apps on Google Play and the App Store.

Wilsonart Visualizer offers the latest CGI design technology for photorealistic, real time design. The tool features realistic kitchen and bath layouts, and allows users to mix a variety of countertop, decorative edge, cabinet doors, flooring and wall color options to create their ideal design.

Quick and easy to use, the Visualizer saves consumers and designers from the heartache of pattern regret. Users also can easily share their design selections or creations with peers, friends and family through their personal social media networks. Designers using the tool to create design boards also can save their project to a work book (coming soon) or print or email the board to fabricators and contractors to expedite purchasing.
April 30, 2015
PEACHTREE CITY, Ga., April 29, 2015 /PRNewswire/ -- Rinnai, the number-one selling brand of tankless water heaters in the United States and Canada, has launched a television advertising campaign that highlights the benefits of tankless water heaters. The campaign, which is the only television advertising effort for any tankless water heater brand, debuts today and runs through late Fall. The two 30-second spots, titled "Dinner" and "When You Need It," humorously highlight the challenges families and homeowners have with tank water heaters while presenting Rinnai Tankless Water Heaters as the solution, including an endless supply of hot water and energy savings.

The ads are running on major cable networks, including CNN, HLN, Fox Sports, HGTV, DIY Network and Fox News. These networks reach the brand's two key demographics - well-educated consumers with an interest in home improvement, as well as water heater dealers and installers and commercial audiences.

In addition to the television advertising campaign, Rinnai is the only tankless water heater brand to advertise consistently in the consumer space, including high-profile consumer magazines, such as Architectural Digest, Dwell, Southern Living and others, radio, professional sports sponsorships, digital campaigns and television product placements.
April 28, 2015
SCOTTSDALE, Ariz. and DANVERS, Mass., April 27, 2015 /PRNewswire/ -- The Frank Lloyd Wright Foundation is happy to announce that North American lighting leader OSRAM SYLVANIA has made a significant donation of innovative LED lighting products to the Energizing Taliesin West program. Led by energy efficiency consultant Big Green Zero, the program is focused on the goal of continuing Frank Lloyd Wright's legacy of innovation in finding better and less expensive methods for building structures and for utilizing them.

The donation by OSRAM SYLVANIA is made with the goal of creating energy savings and supporting environmental sustainability efforts at both of Frank Lloyd Wright's historic estates, Taliesin West (Scottsdale, AZ) and Taliesin (Spring Green, WI). OSRAM Sylvania has donated a variety of energy-efficient LED lamps to be installed at both campuses, which were the personal homes and architectural laboratories of Frank Lloyd Wright during his life. OSRAM SYLVANIA's commitment of technologies and products that promote resourceful energy use contributes to the Frank Lloyd Wright Foundation's focus on innovation through energy efficiency continuous improvement.

For an inside look at the Energizing Frank Lloyd Wright's Taliesin West with LED lighting project, watch this video: http://bit.ly/FLLW-LED.
April 27, 2015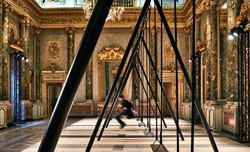 It was an exciting and humbling experience for Caesarstone to attend Salone del Mobile with the best of the best in the industry. Thankfully, designer Philippe Malouin was able to take our product to whole new levels with a swing set and incredible planter installation.
April 27, 2015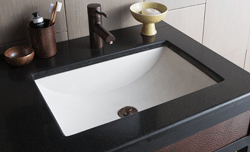 SAN LUIS OBISPO, Calif. (March 2, 2015) – Native Trails has added new pieces to its revolutionary NativeStone™ Collection. The new bathroom products – available in June –include: Palomar Vanity Top with Integral Sink and Cabrillo Bath Sink. The entire NativeStone collection, which includes sustainable concrete kitchen, bar/prep and bathroom sinks, made its debut in 2014.
Handmade by artisans in Vietnam, NativeStone is an innovative blend of cement and natural jute fiber. Surprisingly lightweight (40 percent lighter than standard concrete), it is resistant to cracking, scratching and staining.
April 25, 2015
Columbia, MD (April 24, 2015)—The release of Vectorworks® Architect 2015 software by global design software developer Nemetschek Vectorworks, Inc. has prompted the availability of two updates to the company's Vectorpress series of guidebooks, which are developed to help users make the most of their software. Expert trainer Jonathan Pickup has authored both titles, Vectorworks Architect Tutorial Manual, Seventh Edition and 3D Modeling in Vectorworks, Seventh Edition, providing new and experienced users alike with professional training tools at their fingertips.

Vectorworks Architect Tutorial Manual explains how to incorporate Vectorworks 2015's tools into a design-based BIM workflow and how new ways of drawing can increase efficiency, all while taking readers through the basics of the software interface. Pickup's manual breaks down each topic into three steps: read a section of text, watch a video and then complete an exercise. Sections begin with an introduction to the Vectorworks Architect platform and progress through the completion of a mock project for a residential client, including how to generate contract documents. Readers learn how drawing with objects, rather than lines and arcs, and creating projects using BIM principles can improve their workflows.

The second updated tutorial, 3D Modeling in Vectorworks, is laid out in three parts. Part one educates readers on using the software's tools to create 3D models on an individual basis. Part two reveals how to use the technology to create a freeform architectural project. Part three shows the workflow in action, allowing readers to learn to split up projects. The book also contains exercises that feature the new Deform tool, teaching readers the twisting, tapering, building and bending modes.

The Vectorworks Architect Tutorial Manual and 3D Modeling in Vectorworks are part of Nemetschek Vectorworks' self-paced training options. For more information and to purchase these manuals for $75 each, visit www.vectorworks.net/training/guides.php.


Books will also be available for purchase when Pickup signs copies of his books on Wednesday, April 29, 2015 from 11:30 a.m. to 1:30 p.m. ET in the Paris Foyer at the Sofitel Philadelphia Hotel. All registered attendees of the Vectorworks Design Summit are welcome to attend.
April 23, 2015
RESTON, Va.--(BUSINESS WIRE)--The world's highest-scoring college dorm in Leadership and Energy and Environmental Design (LEED) is the latest among top LEED projects to consistently incorporate brick exteriors.

Serving as a model of sustainability, Berea College's "Deep Green" residence hall in Kentucky earned LEED Platinum Certification with a score of 90 points and appears on Princeton Review's 2015 Guide to 253 Green Colleges.

Brick's proven green performance and sustainability include:

•Natural materials: Fired clay brick is made from clay and shale, and available in many permanent colors and shades that do not fade, unlike competitors.

•Brick does not off-gas volatile organic compounds (VOCs) or other toxic materials.

•Manufacturing: More than 80% of brick kilns are fired with natural gas; numerous plants use fuels of bio-based materials from other industrial applications and waste products.

•Almost no wasted material: Virtually all of the clay and shale to make brick ends up in the brick itself. Brick can also use materials recycled from other industries' manufacturing processes, such as sawdust.

•Thermal mass helps lower energy use: Unlike thin, light building materials, brick's natural thermal mass helps it store heat during the day, then slowly release the energy later.

•Local resources: Reducing fossil fuels, at least two brick plants are located within 500 miles of 49 of the country's top 50 metropolitan areas.

•Long life: Brick's superior durability offers a 100-year life span vs. a 25- to 50-year life span with vinyl siding.
April 22, 2015
Schindler Elevator Corporation has been awarded a multi-million dollar contract by L.F. Driscoll Construction Managers & Builders to supply and install 31 gearless Schindler 7000 high-rise elevators at Comcast Innovation and Technology Center, along with 11 mid-rise machine room-less elevators, two Schindler 330A hydraulic elevators, and 10 Schindler 9300AE escalators.

The $1.2 billion, 59-story structure, in the Center City section of Philadelphia, will be a vertical stacked campus that includes 1.3 million square feet of office space and a 222-room Four Seasons Hotel.

Once complete, the 1,121-foot tower will be the tallest building in the United States outside of New York and Chicago, as well as the largest private development project in the history of Pennsylvania.

"The Comcast Innovation & Technology Center is a prime example of the integrated, sustainable urban environments that Schindler is so proud to support," said Greg Ergenbright, president, Schindler Elevator Corporation. "Schindler's proven commitment to safety, reliability and sustainability, and our innovative technology makes us an ideal choice for this cutting-edge building."

Moving occupants more efficiently throughout the tower and hotel will be the energy-efficient Schindler 7000 custom high-rise passenger elevators equipped with Schindler's PORT Technology destination-dispatch system. The system has a two-way communication interface between occupants and the building's environment and optimizes traffic flow while offering predictive call entry and personalized service. The PORT Technology's patented access control uses RFID technology to play a significant role in managing and controlling access within the building.


April 21, 2015
A Purdue University chemist has developed an adhesive technology that could help bond items in wet, moist conditions such as human tissue or underwater construction - by studying mussels and oysters. Jonathan Wilker, professor of chemistry and materials engineering, developed the adhesive while studying the environmentally friendly adhesive qualities of mussels and other shellfish. Wilker's patented adhesive is comprised of similar components used by mussels in their natural adhesives.

"A lot of the chemistry involved in the animals' adhesive is protein-based, but no one is going to be able to make a complicated protein for large-scale applications. So we are substituting simple polymers for the proteins while maintaining other aspects of the adhesive chemistry," he said. "We have looked at the design and synthesis changes that we can make and compared our adhesive to what the shellfish are making. The system can be easy to generate on large scales and yet still maintain the functions that we are after. This synthetic mimic approach then allows us to tailor the material for specific bonding situations and applications.

Wilker and his team have created a platform technology that industry partners could develop in several ways.

"We can design certain characteristics into the adhesive, but we won't be able to focus on a specific product for a specific application," he said. "It's possible that we could connect with different companies that can develop the materials for several sectors including aeronautical or automotive manufacturing, biomedical joining of tissues, construction, coatings and cosmetics."

Conventional adhesives currently available are made from petroleum feedstocks and can release volatile organic compounds and other toxic materials into the environment. Wilker's technology can be developed from renewable resources.
April 20, 2015
Webberville, MI - April 15, 2015 - Applegate Insulation, Inc. is proud to announce its R-2 through R-30 glass-free, non-woven recycled cotton insulation blankets meet the AC81 Acceptance Criteria for Cotton Fiber Insulation as verified by Intertek-ATI.

Applegate Insulation, Inc., a manufacturer of recycled cellulose and non-woven cotton insulation products for residential and commercial applications has, through third-party testing, successfully met the stringent criteria of AC81.

Intertek-ATI is a global, independent agency ensuring products meet quality, health, environmental, safety and social accountability standards for virtually any market around the world. Testing was conducted in accordance with AC81, Acceptance Criteria for Cotton Fiber Insulation, editorially revised October 2013.

The scope of AC81 testing includes evaluating characteristics for: surface burning, thermal transfer, moisture absorption, fungi resistance, corrosiveness, thickness and density. In addition, the R-13 / 3.5" blanket met a 1-hour rating for interior load bearing and exterior non-load bearing walls in a fire-resistant-rated, UL Design No. U344 listing assembly.

For more information about Applegate's cellulose insulations, please visit
www.applegateinsulation.com and for information on the Cotton Armor non-woven line,
www.applegatecottonarmor.com.
April 20, 2015
Columbia, MD (April 20, 2015)—As part of its commitment to helping students succeed, global design software developer Nemetschek Vectorworks, Inc. has launched the 2015 Vectorworks® Design Scholarship program. Students from across all design disciplines around the world are encouraged to submit their best individual or group work by Monday, August 31, 2015 for the opportunity to win up to $10,000 USD.

The submission process is simple; students submit their best project, which may include work completed for a class assignment, and answer three questions, each in 150 words or less. An esteemed panel of judges will evaluate submissions on the basis of design integrity, effective use of computer technology and originality, as well as the articulation and communication of a design vision.

The Richard Diehl Award is a global award named for the founder and chairman of Nemetschek Vectorworks. Through the scholarship, Diehl strives to inspire young minds and give students the tools needed to develop ideas from concept to completion.

To apply to the Vectorworks Design Scholarship or to learn more, visit www.vectorworks.net/scholarship. Winners will be announced on October 15, 2015.

Contact us at academicteam@vectorworks.net with any questions and follow @Vectorworks and #FundMyVision for updates on the program. Visit our online gallery to view inspiring work from last year's winners, as well as runners-up.
April 08, 2015
MORRISTOWN, N.J.--(BUSINESS WIRE)--Schindler Elevator Corporation announced today the introduction of its Schindler 5500 machine room-less (MRL) traction elevator, delivering a seamless blend of efficiency, flexibility and performance for mid-rise buildings. The Schindler 5500 MRL, currently available in select North American markets, combines advanced features typically available only in high-rise buildings with proven space and energy saving features.

Schindler's innovative PORT Technology destination- dispatching system is available as an option to enhance movement through the building. PORT Technology can combine personalized access with faster travel times by grouping passengers with similar destinations, and has traditionally been applied to buildings with higher rises.
April 01, 2015
NAPA Program Recognizes the Nation's Top Asphalt Pavement Projects, Best Practices

Lanham, Md. — The National Asphalt Pavement Association's Awards program begins accepting nominations today, April 1, for its Quality in Construction and Operational Excellence Awards. Nominations are made online at www.AsphaltPavement.org/Awards.

The Quality in Construction Awards recognize outstanding pavements in the following categories: Asphalt Pavements Using More Than 50,000 Tons, General Paving Projects Using Less Than 50,000 Tons, and Airport Pavements. Additional recognition is awarded for the use of sustainable paving practices and for innovative projects. Nominations can be submitted by any pavement contractor or pavement owner through Oct. 9, and winning projects will be highlighted at the NAPA 2016 Annual Meeting in February.

Annually, the top airport pavement receives the Ray Brown Airport Pavement Award. In addition, the 10 highest ranking general paving projects are recognized with the Larry H. Lemon Award. The top asphalt highway projects using more than 50,000 tons undergo further testing and analysis, and are placed into contention for the coveted Sheldon G. Hayes Award.

The Operational Excellence Awards recognize NAPA member companies for best practices in asphalt operations, safety, community relations, ecological practices, and marketing. The deadline for nominations is Dec. 4, and winners will be honored at the NAPA 2016 Midyear Meeting.
April 01, 2015
We are so proud and honored to announce that Display Reveal, our interior wall reveal which was introduced to market mid-2014, has earned highest strata award in 2015's Awards for Design Excellence (ADEX) with a Platinum award. This was AS Hanging Display Systems' first entry into the ADEX competition.

ADEX is the largest and most prestigious award competition for excellence in product design of furnishings and building materials marketed to the design trade, with over 600 companies participating this year. ADEX Awards has recognized products demonstrating superior innovation, function and aesthetics for over 20 years.
March 20, 2015
April 28 Event a Highlight of the Vectorworks Design Summit

Columbia, MD (March 20, 2015)—The iconic "Rocky Steps" will lead attendees of the Vectorworks Design Summit to a Customer Appreciation Party at the Philadelphia Museum of Art on Tuesday, April 28, 2015. Hosted by global design software developer Nemetschek Vectorworks, Inc., the party will bring together architecture, landscape and entertainment design visionaries, Vectorworks software engineers and global partner product providers for a night of fun, which begins at 7 p.m. and ends at 11 p.m. EST.

In addition to dinner and an open bar, attendees will enjoy Back2Life, a high-energy, eight-piece dance band, as well as access to world-class holdings of European and American paintings, prints, drawings and decorative arts, including the current Japanese exhibit, "Ink and Gold: Art of Kano." Party attendees will also get to see the visual impact of a Vectorworks design first-hand as a local Vectorworks user has signed on to light the museum party.

"Having such an iconic museum as a backdrop to the software training and networking I will experience as an attendee at the Vectorworks Design Summit is such an asset to all members of the design industry," said Luc Lefebvre, OAQ, senior project architect and BIM manager at King + King Architects. "The venue will serve as a perfect complement to the Summit's ground-breaking discussions and networking events, providing additional inspiration through creative artistic and architectural achievements worldwide."

Taking place at the Sofitel Philadelphia hotel on April 27-29, 2015, the Vectorworks Design Summit will provide dynamic keynote presentations, plus engaging thought-leadership breakouts, product development insight, fun evening events and training to help designers make the most of Vectorworks software and transform the world with great design. View agenda and speaker details at http://www.vectorworks.net/design-summit#agenda.

The Customer Appreciation Party is included with the cost of registration to the Summit, or event tickets can be purchased individually. Registration and ticket information is available on the Vectorworks Design Summit webpage.
March 19, 2015
When fluid-proofing a joint it is important to consider what fluids will potentially pass through the joint; the ramifications if they do; the hydrostatic pressure applied; and the life expectancy of the joint sealing system. The answers to the aforementioned questions should ultimately determine the type of joint sealing system used.

For example, if the primary concern is rainwater infiltrating the building envelope, a simple joint sealant or caulk will be adequate to waterproof the joint. A joint sealant functions by adhering to both sides of the joint. When sealant adhesion fails, so does the waterproofing function. Sealant is usually composed of silicone or urethane, and the manufacturer-listed lifecycle is usually 5 to 10 years, but because proper joint preparation procedures are often not followed, a more realistic lifecycle is 3 years.

However, if the joint is designed to prevent the passage of fluids other than water, such as fuel oils, solvent, acids, and other aggressive chemicals, only a chemical resistant waterstop such as Earth Shield® will block the fluids, resist degradation, and provide the necessary federal regulatory compliance. Earth Shield is manufactured from a fully cross-linked thermoplastic vulcanizate (TPV), which provides broad-spectrum resistance to a variety of aggressive chemicals, long life span (entire lifecycle of structure), and excellent physical properties (tensile strength, elongation, etc.).

Unlike sealant, TPV waterstop does not rely on adhesion to function, but instead is installed in the center of the joint, spanning the entire length of the joint, and acts as a dam to prevent the passage of fluids. Therefore, if care is taken during installation, TPV waterstop will provide a leak-proof barrier for the life of the structure.

Additionally, Earth Shield Chemical Resistant Waterstop provides the necessary federal regulatory compliance that sealant does not. U.S. Environmental Protection Agency (EPA) Title 40, CFR 265.193 states:
Secondary containment for tanks must include one or more of the following devices:
1. A liner (external to the tank);
2. A vault (constructed with chemical resistant waterstops in place at all joints);
3. A double-walled tank; or
4. An equivalent device as approved by the Regional Administrator.

Due to aesthetics and functionality, concrete vaulting is usually the preferred method to contain hazardous chemicals. This is usually accomplished by placing the tank or process area on a concrete slab and surrounding it with short containment walls (usually 3 to 4 feet in height). Within the concrete joints (control, construction, and expansion), Earth Shield TPV Waterstop will span the joint preventing the passage of hazardous waste to the environment should a catastrophic spill occur in the primary vessel or process area.

Because sealant is a maintenance item, with separation or failure occurring generally within 3 years of installation, and requiring constant maintenance throughout the life of the structure, it should not be considered as a stand-alone barrier system when the criteria is containment of hazardous substances.

March 19, 2015
What do you use when you have a visual message, or many messages, to post for public consumption? Answer: a bulletin board.

But while you need the flexibility to change these messages frequently you also need to maintain visual order. Now the answer is not so certain.

Add the extra challenge of placing the visual display in a high traffic and very public space, meaning sharps such as thumbtacks and pushpins should be avoided, and now a common bulletin board is clearly not the answer.

Bulletin boards, aka cork boards, are a commonly relied upon tool, and are assumed status quo for relaying notes, message posting, and other visual communication to a varied public. They allow for messages to be posted as needed and changed at will. And we assume the standard always works just fine.

But not so fast. There are a number of gotchas with this approach. Standard bulletin boards, you know the kind made of corkboard, and sometimes other materials as well, and require staples or thumbtacks for attaching papers, quickly become unkempt and disorderly. You've seen, or used, them countless times. Messages quickly become covered with other messages, nothing is structured or easily read, and the entire approach to clearly sharing news quickly becomes disheveled. A visual hodge-podge! With the few exceptions of users who methodically organize and maintain their postings (and are the only ones making changes), these information platforms become a place to completely avoid instead of a magnet to those seeking information. This is why you'll seldom see a bulletin board photographed with messages posted to it in office supply catalogues. They simply don't maintain a tidy appearance.

These tack boards, or memo boards, also pose risks and safety hazards from sharps, especially when children are concerned, due to the very thumbtacks and staples that inevitably stray to the floor or the hands of our curious youth.

A potential place for chaos, clutter and tears.

This was the exact scenario recently encountered by a community library in a Chicago suburb. They needed to share the library's activities, events and services with their visitors. To ensure that the information was readily available to the library's daily traffic, the postings were to be placed in the lobby, through which every visitor would pass.

For the Bensenville Community Public Library, the standard bulletin board approach was not a viable option. They desired a professional-appearing display and one that stayed that way. Further, because the ideal location was immediately above a drinking fountain, they also needed to prevent water splashes on the postings, and avoid using staples and pushpins, etc. Their search for how to create an uncluttered bulletin board uncovered the Boardless Bullentin Board. Was it the perfect solution? Absolutely.
March 19, 2015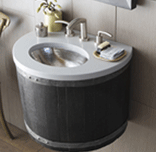 Product available in Anvil beginning June 2015

Native Trails is expanding its popular Vintner's Collection with the addition of the Bordeaux Wall Mount wine-barrel vanity in Anvil finish for 2015. This award-winning vanity reincarnates an authentic piece of California's wine country into a functional furniture piece that is suited as a wall mounted bathroom vanity or as a wet bar. Bordeaux Wall Mount in Anvil is available beginning in June for purchase in showrooms across the U.S. and Canada.

"Bordeaux Wall Mount is always an instant conversation piece," said Naomi Neilson Howard, founder and CEO of Native Trails. "The new Anvil finish was inspired by the popularity of our Americana Vanity in Anvil, where we've shown how reclaimed wood can take on a classic – or distinctly contemporary – look in this soft black finish. It creates a transitional style option for our popular Bordeaux, and we expect it to be a customer favorite for 2015."

Bordeaux is made from California wine country oak barrels and staves that have outlived their original five-year lifespan. To produce the Wall Mount in its final form, artisans carefully disassemble and modify the barrel, then finish the piece with multiple custom-blended waxes that are hand rubbed into the reclaimed wood bath vanity.

Bordeaux Wall Mount has received many professional accolades, including "Innovative Furniture Product of the Year" from the Decorative Plumbing and Hardware Association (DPHA), "Innovative Eco-Design" from U.S. Green Building Council – California Central Coast Chapter (USGBC C4) and the prestigious Green GOOD Design award in 2013.
March 17, 2015
PHILADELPHIA--(BUSINESS WIRE)--For the fourth time, Dow Electronic Materials, a business unit of The Dow Chemical Company (NYSE:DOW), has received a New Product Introduction (NPI) Award from Printed Circuit Design and Fab (PCD&F) Magazine for its MICROFILL™ platform, this time with MICROFILL™ LVF 4 Acid Copper. As the Internet of Things advances, speedy and stable signal transmission across wireless networks is critical. Dow MICROFILL LVF 4 Acid Copper offers excellent microvia filling and panel plating uniformity for circuit boards to enhance signal transmission between smart devices.

Dow MICROFILL solutions have won four NPI Awards from PCD&F, including EVF Solution for microvia fill, THF Solution for through-hole fill, and LVF 3 and LVF 4 Solutions for blind via fill in High-Density-Interconnect circuit boards and IC substrates since 2009. "The developments in plating achieved by Dow Electronic Materials with its MICROFILL line are nothing short of remarkable," said Mike Buetow, editor-in-chief of PCD&F. "We are thrilled to recognize Dow for its continued achievement." The NPI Award, in its eighth year, recognizes the leading new products from the previous year. Awards are selected by an independent panel of industry engineers.

Dow Electronic Materials will showcase MICROFILL LVF 4 Acid Copper and other innovations in CPCA show on March 17-19 and CTEX, JPCA, Productronica, TPCA, and HKPCA shows in 2015.
March 10, 2015
Conference Examines How Architecture, Landscape and Entertainment Design Visionaries Transform the World with Vectorworks Software

Columbia, MD (March 4, 2015)—Designers who dream of transforming the world are invited to join a community of visionaries at the 2015 Vectorworks Design Summit on April 27-29 at the Sofitel Hotel in Philadelphia, PA. The event features breakout sessions by leaders in the architecture, landscape and entertainment industries, as well as opportunities to network with Vectorworks® software engineers, power users, third-party partners and other professionals during educational sessions, meals and evening events. Registration is now open at www.vectorworks.net/design-summit.

"Every day, designers choose Vectorworks because it's a tool that allows great design to materialize from inspiration, exploration and discovery," says Nemetschek Vectorworks' Chief Marketing Officer Stewart Rom. "The Design Summit will provide a gathering point for our community of users to generate new energy for upcoming projects, sharpen their vision and share pioneering designs. I hope attendees leave the event feeling moved to continue creating unexpected and exciting design solutions."

Keynote Speakers

The Vectorworks Design Summit begins Monday, April 27 with optional, pre-conference training in Vectorworks software and a welcome dinner. Tuesday's schedule opens with a presentation by CEO Sean Flaherty, who will discuss how Nemetschek Vectorworks supports the creative process and helps designers in their journey toward working smarter and more efficiently.

Flaherty's presentation will be followed by an inspirational keynote message from design visionary Leo Van Broeck, a founding partner of BOGDAN & VAN BROECK in Belgium. Van Broeck will share his theory that the design of attractive, dense and high-quality urban areas is a catalyst for changing how much space people think they need to lead enjoyable and meaningful lives, and how that belief has led to his active participation in the promotion of spatial quality and awareness, the domain of urban density and optimal land use.

Nemetschek Vectorworks' Chief Technology Officer Dr. Biplab Sarkar will open Wednesday's sessions with a keynote address, providing unprecedented development insight into the Vectorworks line of CAD and BIM design solutions, including features that will be in Vectorworks 2016.

Adrian McGregor, FAILA, RLA, MAIH, MPIA, managing director of Australian landscape architecture and urban design firm McGregor Coxall, is Wednesday's Closing Speaker. McGregor transforms public spaces across the world into living, breathing works. His firm has completed work in six nations, focusing on sustainable design in the public domain and urban settings, going beyond the reduction of environmental damage and using regenerative approaches to actively advance each site's ecology. McGregor has been recognized for his work in sustainable design, as well as in mediation, helping communities, authorities and developers to work together to create better-informed designs.

Breakouts and Expo Hall

Confirmed breakout session speakers at the Design Summit represent firms and industry partners including ROJO Architects, MORRIS, Holcombe Norton Partners, Inc., Exhibit Logic, LEVENBETTS, The Small Group, Bluebeam Software, Architecture Is Fun and more. Sessions will examine a wide range of topics from communicating design ideas, moving from 2D to 3D and using smart CAD tools for sustainable site design to utilizing Vectorworks as a BIM tool and rendering for success. Vectorworks engineers and product experts, as well as third party partners like MAXON Computer, Asite and Synchro Software, will also provide product training and answer attendee questions in the Design Summit's Expo Hall.

For the academic community, a student track offers tips on what design firms look for when hiring and University of Pennsylvania graduate student Diego Bermudez shares how he turned a school project into $10,000 as the winner of the 2014 Richard Diehl Award and Vectorworks Design Scholarship. There will also be speakers representing Columbia University, Parsons The New School for Design, School of the Art Institute of Chicago, and Philadelphia University.

Register by March 31 to Save

The early-bird registration fee is $399 and expires March 31. Beginning April 1, registration is $499. There is an academic rate for students and instructors of $99 and credentialed press can attend for free.

Attendees can also enjoy a discounted room rate at the Sofitel Hotel, the location of all conference activities except the evening events, situated only minutes from Philadelphia's historic attractions.

Visit www.vectorworks.net/design-summit to view the growing list of speakers, sessions and events, and to register online.
March 04, 2015
OAKLAND, N.J., March 3, 2015 /PRNewswire/ -- Following its conversion from traditional to Lean manufacturing methods, Amerlux® establishes the new QuickShip Program to deliver a broad range of task-specific, energy-efficient lighting solutions that meet immediate customer needs and tight construction schedules. The QuickShip program will offer a variety of lighting products, including Hornet, Evoke, Cylindrix, Contour, GRUV, Linea, Varieta and Avista, beginning March 2, 2015. Amerlux is a leading manufacturer of energy-efficient lighting solutions for the retail, hospitality, commercial and outdoor lighting markets.
February 12, 2015
NEW YORK--(BUSINESS WIRE)--Benjamin Moore, North America's favorite paint, color and coatings brand, today announced that its Natura® and INSL-X® GarageGuard® paints have each been named Product of the Year for 2015. Product of the Year is the world's largest consumer-voted award for product innovation where winners are backed by the votes of 40,000 consumers in a national representative survey conducted by research partner, TNS, a global leader in consumer research. Natura and GarageGuard have taken home the top honors for the Paint Category.

Product of the Year accepts entries each year from consumer packaged goods that demonstrate innovation. Entered products are then placed into specific categories such as food, beverages, personal care, household care, etc. Products are then chosen as a winner in each category through the TNS survey of 40,000 consumers.

Natura is a premium zero-VOC product with zero emissions that provides both beautiful and durable hiding. GarageGuard is a water-based, catalyzed epoxy floor coating that gives garage floors an extremely durable and showroom like appearance. It delivers outstanding hardness and superior chemical, abrasion and impact resistance in a long lasting semi-gloss finish.

The complete list of 30 winners selected to receive the 2015 Product of the Year title can be found at www.productoftheyearusa.com. To learn more about Benjamin Moore and to locate a nearby retailer, visit www.benjaminmoore.com.
February 05, 2015
Seventh Edition of Popular Training Guide is Now Available for Vectorworks 2015 Software Users

Columbia, Maryland (February 5, 2015)— Nemetschek Vectorworks, Inc. is releasing expert trainer Jonathan Pickup's Vectorworks Essentials Tutorial Manual, now in its seventh edition. The book supports the new capabilities of Vectorworks® 2015 software and helps users gain a firm understanding of the basic tools, features and commands found in the Vectorworks line of industry-specific CAD and BIM solutions.

Pickup's manual provides a streamlined and efficient approach to training, breaking down the process into three simple steps: read a section, watch a video and try a tutorial. Each step increases the reader's capabilities, and many designers who say they thought the initial tutorials were easy find that the text's evolution truly helps them to learn over time.

"Jonathan's teaching methods, as typified in his Essentials Tutorial Manual, are superb, and his manner of explaining techniques, tasks and tools is wonderfully clear, concise and well illustrated," says Neil Barmen, Intern Architect, AIBC LEED AP. "Following along with the lessons in the manual guided me to build up my Vectorworks skills with ease. This manual is perhaps the single best resource available for developing a solid foundation with the application."

The book covers everything from using the Vectorworks interface and basic tool options to organizing information and creating worksheets, which Pickup says is one of the most powerful features of the software. Pickup also covers the new ways that users can draw with objects in Vectorworks, which saves time for those who were previously drawing with lines and arcs. The tutorial comes in both imperial and metric versions and can operate on either Windows or Mac operating systems.

This book is a part of Nemetschek Vectorworks' self-paced training options. For more information and to purchase this $75 tutorial, please visit www.vectorworks.net/training/guides.php.
February 05, 2015
WASHINGTON, Feb. 4, 2015 /PRNewswire-USNewswire/ -- Today, the U.S. Green Building Council (USGBC) released its annual list of the Top 10 States for LEED, the world's most widely used and recognized green building rating system, ranking states in terms of square feet of LEED space per state resident. The per-capita list highlights states throughout the country that are making significant strides in sustainable building design, construction and transformation. LEED-certified spaces use less energy and water resources, save money for families, businesses and taxpayers, reduce carbon emissions and create a healthier environment for residents, workers and the larger community.

Now in its fifth year, the per-capita list is based on 2010 U.S. Census data and includes commercial and institutional green building projects that were certified throughout 2014. Illinois retained its top national position for the second year in a row, with 174 LEED certifications representing 3.31 square feet of LEED-certified space per resident.
February 04, 2015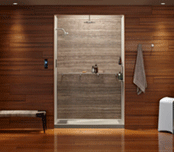 KOHLER, Wis. – Jan. 20, 2015 – Kohler introduces an innovative shower wall system focused on easing the task of creating the perfect showering space. The new Choreograph shower wall and accessory collection offers consumers both a well-organized and beautiful showering space.

As a complete solution for showering environments, the Choreograph collection includes a variety of decorative walls, a joint system, in-wall storage, on-wall storage and seating in a variety of styles, colors and finishes to create traditional, transitional and contemporary spaces that fit both the functionality and aesthetic needs of homeowners.
February 04, 2015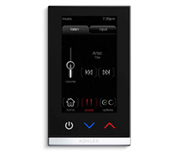 KOHLER, Wis. – January 20, 2015 – Kohler introduces DTV+, its most advanced showering system. DTV+ seamlessly integrates water, sound, steam and lighting elements to create true multi-sensory showering experiences.

DTV+ features a new touch screen interface allowing the user to control and customize every facet of their showering experience. The icon-based interface is intuitive and consistent with today's popular digital devices and up to three interfaces can be connected to the system providing flexibility for multiple users and/or applications.

The new DTV+ modular platform allows users to decide how they want to control their DTV+ system and to choose exactly what elements they want to incorporate. Application flexibility has been increased as users are now able to select from a two-outlet, three-outlet or six-outlet digital valve to control water delivery. A further unique feature of DTV+ is the ability to add and control two valves on the system at the same time – providing the capability of delivering two different water temperatures for different outlets and showering configurations.
February 03, 2015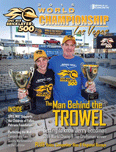 LAS VEGAS, NV — The 2015 SPEC MIX BRICKLAYER 500 Digital Magazine is now available online. This is the same as the print magazine handed out at the 2015 SPEC MIX BRICKLAYER 500 World Championship held on Wednesday, Feb. 4th at the 2015 World of Concrete/World of Masonry during MASONRY MADNESS™ Day in Las Vegas. It's filled with lots of interesting background stories, like featuring last year's double winner — mason Jerry Goodman. There are competitor bios, competition rules, Regional recaps, history information and more for the upcoming stellar bricklaying event in Las Vegas.
January 30, 2015
After four Finalists competed before a panel of NKBA judges and KBIS attendees to share how NKBA University has contributed to their growth and success, Rhonda R. Knoche, CMKBD, of Rhonda Knoche Design in Portland, OR, has been named the first-ever NKBA U Professional of the Year!

In the spirit of continuing education, the following prizes have been awarded:
The Grand Prize Winner, Rhonda R. Knoche, CMKBD, receives three all-expenses-paid trips for two from the contest's sponsors: Platinum sponsor Cosentino will send Rhonda and a guest to Spain to tour its headquarters and manufacturing facilities in Almeria; Gold sponsor Kohler Co. will provide a tour of its headquarters and manufacturing facilities in Kohler, Wis., and Gold Sponsor GE will provide a tour of its Monogram Experience Center in Louisville, Ky


The First Runner-Up Sarah Robinson will receive all-expenses-paid trips for two from Gold sponsors Kohler and GE.


The Remaining Finalists Melissa Helvey, AKBD and Paula Kennedy, CMKBD will also receive all-expenses-paid trips for two from GE.
January 30, 2015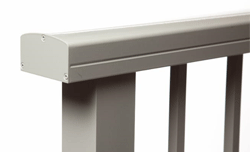 Surrey, BC- January 28, 2015 - Duradek, home of the original Walkable Roofing Membrane is proud to introduce the Park Rail Top Rail profile, a sophisticated top rail for plenty of support.

The Park Rail Top Rail offers a look as strong as its performance. Now you can have a Continuous Top Rail look while using up to a 3 inch square post

Park Rail Top Rail is suitable for both picket and glass systems allowing your project to combine the features and advantages of both systems, yet still providing a consistent look throughout.
January 29, 2015
COLUMBUS, Ohio--(BUSINESS WIRE)--Human beings are not meant to sit all day. More and more people are realizing the health benefits of spending part of their workday standing, even if it means building their own standing desk out of copy paper and cardboard boxes.

Standing inOvation is the easy and affordable alternative to the do-it-yourself standing desk and expensive sit-stand tables. This patented product lifts your entire work surface and everything on it: from your computer, to your phone, to the picture frames on your desk. Standing inOvation works with major commercial furniture manufacturers' workstation systems, the one sit-stand solution that fits within an existing office footprint.

Standing inOvation was also designed for easy installation. It simply hooks into the wall frame of the workstation and uses the existing work surface. A small control box will under mount on the work surface to raise and lower it with just a push of a button.

Standing inOvation is a quality, American-made product: created in Columbus, Ohio and manufactured in Holland, Michigan. For more information on how to get your own Standing inOvation, please visit www.StandinginOvation.com.
January 26, 2015
Tile Redi was awarded the Best product of the 2015 International Surfaces Show last week in Las Vegas!

For any additional information on our products please visit www.tileredi.com.
January 26, 2015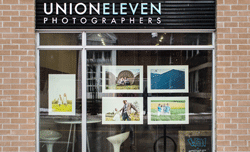 We always look forward to hearing from our customers so we can pass the observations along to you. We love sharing these stories with you not to flaunt our products, but to help our readers, customers, and potential customers learn new ways in which they might find our products advantageous in their own business and/or residential applications.

Recently we received an email from a customer sharing his experience using a wide variety of our products. Andrew, from Union Eleven Photographers, had this to say:

"We've used a variety of AS Hanging Systems to hang prints all over our studio, and to display prints in our front window. We're a professional photography studio with a ground level retail space in Ottawa, Ontario, Canada. The biggest benefit of using your system has been how easily we can change prints, or remove them, when we want to use a wall as a backdrop for a shoot. We regularly switch up the images in our front window, so this saves us a lot of time. We also like how clean and modern the system looks, particularly the metal cable's against our concrete wall."

Thanks, Andrew for your kind comments and, in that you are a photographer, for the photos you shared as well. The photos tell the story quite well, so not many words are needed.
January 23, 2015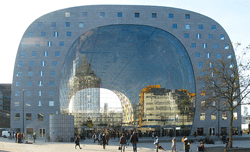 We're back with our second annual "Coolest Buildings of the Year" list. The criteria for making the list is simple, the building must have been topped out, completed or opened in 2014 and be cool. 2014 was a bit of a disappointment, not because there weren't plenty of cool buildings to choose from but because of the buildings we were looking forward to seeing completed last year got derailed.

It was supposed to be the year that we got the world's tallest modular construction with the Atlantic Yards (now Pacific Park) B2 (now B2 BKLYN) project. It was the year that Sky City, another prefabricated project, was going to trump the Burj Khalifa as the world's tallest building and scheduled to be completed in a whopping 90 days, which was later changed to seven months. 2014 was also the year we were going to see the world's first "invisible" skyscraper, Tower Infinity, which will be able to appear and disappear with the use of high definition cameras and LED screens on the building.
January 21, 2015
JAKARTA, Indonesia, Jan. 21, 2015 /PRNewswire/ -- Construction of Indonesia's tallest skyscraper, Thamrin Nine Tower 1, is well underway. Schindler, who was awarded the mobility contract for the project, is now in the process of installing the elevator and escalator systems.Developed by PT Putra Gaya Wahana, the Thamrin Nine project is the largest mixed use development in the Bundaran HI area comprising of four apartment buildings, two office towers, a lifestyle hub, a luxury hotel, a boutique hotel and a service apartment complex.

Thamrin Nine Tower 1 is part of the first phase of the project's development. Upon completion in 2017, it will claim the title of the tallest building inIndonesia, soaring over Jakarta's skyline at 330 meters high with a total of 81 floors (6 basements with 75 floors above ground). The first 68 floors will be allocated to retail and office space while the upper floors will be taken up by a 180-room,Waldorf Astoria by Hilton Hotels and Resorts Group.

Schindler will supply 32 high-rise elevators and 34 escalators to serve over 6,000 people transiting through the building daily. The mobility solution will feature several observatory elevators that will shuttle hotel guests at a speed of 8 meters per second, and a special 4.5 tons elevator that will be able to transport vehicles to a height of 280 meters within less than 2.5 minutes, the first vehicle elevator in the world to be able to transport a Mercedes S class vertically without tilting the vehicle. Schindler 7000 series high-rise elevators will use energy-efficient frequency controlled motors and Power Factor 1 drives, which can regenerate electricity back into the building's power grid.

Schindler's PORT technology, the third and latest generation of the company's destination control systems, will equip all office elevators to provide tenants with a highly efficient, intuitive and personalized building transit experience. The system will assign an elevator car at the same time an occupant or visitor's credentials are verified. This will allow for a fully customized journey as well as enhanced security.

All elevators and escalators will be monitored by Schindler's Lobby Vision, a building management tool that allows single-point supervision of multiple active systems.
January 21, 2015
BENTON HARBOR, Mich., Jan. 20, 2015 /PRNewswire/ -- Whirlpool Corporation, the world's leading manufacturer of major home appliances, will demonstrate its commitment to the homebuilding industry at the International Builders' Show (IBS) Jan. 20-22 in Las Vegas. Attendees will experience the broad portfolio of brands featuring a wide array of appliances within the context of three distinct living spaces in Show Village, located outside the main entrance of the Las Vegas Convention Center.

Whirlpool Corporation, the No. 1 selling major appliance manufacturer in the world, will have its portfolio of brands on display within Show Village as part of three living spaces – the traditional and modern homes as well as the Ultimate Kitchen. Maytag® brand kitchen and laundry appliances, each featuring a 10-year limited parts warranty1, will be featured in the two-story traditional home. The modern home, offering the latest in advanced building products and materials, will showcase Whirlpool® brand kitchen and laundry appliances, including the new ventless Whirlpool® 7.3 Cu. Ft. HybridCare™ Duet® Dryer with Heat Pump Technology (WED99HEDW) and the 5.8 Cu. Ft. Slide-In Gas Stove with TimeSavor™ Convection (WEG730H0DS) with the Flex Install (FIT) System. The Ultimate Kitchen will offer visitors a kitchen display emphasizing luxury with Jenn-Air® appliances at its core.

In addition to the three living spaces, Whirlpool Corporation will showcase Gladiator® GarageWorks, a leader in garage organization products, within a standalone garage in Show Village.
January 19, 2015
ST. PAUL, Minn.--(BUSINESS WIRE)--3M has released in the United States its most advanced, versatile, powered air respiratory solution yet. The new 3M™ Versaflo™ Powered Air Purifying Respirator TR-600 represents an evolution of technology. Designed to endure heavy use and long wear, the respirator can help enhance comfort, endurance and ease of use.

The lightweight respirator is engineered to increase comfort – even for long shifts. The ergonomic design fits close to the body, allowing for greater movement in tight work spaces. It offers multiple airflow rate options for user comfort, and belts designed to be wide and contoured with flexible air channels to minimize heat buildup.

The TR-600 has two powerful lithium-ion battery options, reducing downtime by performing up to eight hours. Audible, visual and vibratory alarms reflect filter and battery status to keep workers informed and to help avoid low-airflow situations and automatic low-power shutdowns.
January 13, 2015
STODDARD, N.H., Jan. 12, 2015 /PRNewswire/ -- Today Carlisle Wide Plank Floors, the iconic wide plank floor company, is introducing Carlisle Collections, twelve new collections that represent the best of the brand's 48 years of innovation, tradition, and leadership in luxury flooring design. Offering an extensive array of design choices, Carlisle Collections give clients the ability to express their personal style in a wide variety of wood types, vibrant hues, and handcrafted textures, with each collection telling a unique story. The collections also offer a broad range of price points starting at $8.99 per square foot, plus a faster lead-time with just 2-4 weeks for delivery on most products. Carlisle Collections are now available to purchase directly online at http://www.wideplankflooring.com/collections, where clients will also find new tools to help in their wood flooring selection like a free design portfolio with 60+ pages of color choices. For clients looking for a one-of-a-kind floor to suit their design needs, Carlisle will continue to offer its custom wide plank flooring.
January 09, 2015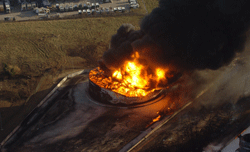 The Buncefield Incident (to the right). On December 11, 2005 a series of explosions rocked the Hertfordshire Oil Storage Terminal, located near Hemel Hempstead in Hertfordshire, England. The plastic waterstops that were in the fuel terminal joints all failed due to the high heat of the fire. The Health Protection Agency and the Major Incident Investigation Board provided advice to prevent incidents such as these from happening again, including the utilization of stainless steel waterstop in place at all concrete joints to prevent fuel from escaping the bund walls.

In July of 2014, JP Specialties, Inc. was contracted to provide our Earth Shield® Stainless Steel Waterstop (part nos. JP1122 and JP1122R) in the reconstruction and rehabilitation of the Hertfordshire Oil Storage Terminal.

Earth Shield® Stainless Steel Waterstop is used as a fluid-tight diaphragm, embedded in concrete, across and along the joint, for primary and secondary containment structures. Earth Shield® Stainless Steel Waterstop can stop even the most corrosive fluids in their tracks, even at severely elevated temperatures.

A variety of metals, grades, and gauges are available. Earth Shield® utilizes 20 gauge 316 low carbon as our standard alloy, which offers broad spectrum corrosion resistance to most aggressive media, and is virtually untouched by the deleterious effects of ozone, making it an ideal choice for ozone contactor structures used in modern water treatment plants.

Earth Shield® Stainless Steel Waterstop is available in many standard shapes and sizes including profiles for new construction and retrofit. All change of direction fabrications (shop made fittings) can be premanufactured leaving only straight butt welding for the Contractor in the field.

January 06, 2015
The 2015 International Consumer Electronics Show in Las Vegas will be an opportunity for Legrand Group to show off its range of solutions for the connected Smart Home based on the Internet of Things (IoT).

At the CES, Legrand, the global specialist in electrical and digital infrastructure for buildings and a world leader in the equipment sector for residential and home automation, will present new connected objects integrated with its own residential lines.

Visitors to the CES will be able to see and try numerous smart commands in the aesthetics of Legrand's most widely distributed global lines. Smart devices are used to manage lighting, curtains and scenario automation, which can be activated via the traditional local mode, such as by pushing a button or turning a knob, or remotely via smartphones and tablets, using simple apps.The public will find Legrand smart objects at its stand in the "Smart Home" area dedicated to the ZigBee® Alliance, in the pavilion dedicated to IoT/Home Automation, the worldwide association of companies that develop and produce wireless solutions for the Smart Home.

The CES is an international showcase where you can discover both Legrand's new connected solutions and Legrand's new smart devices, which, adopting the new ZigBee® 3.0 unified standards, can talk to similar objects in the home, such as lamps and appliances from other manufacturers, making full interoperability a reality.
December 15, 2014
The 2014 edition of the International Velux Award marked the 6th edition of the programme. This year, 2,794 teams representing 86 different countries were registered. The International Union of Architects is a partner of the award since its creation ten years ago. A 10th anniversary celebration was held for IVA in Vienna, Austria, on 30th October, including the awards ceremony for the 2014 edition. UIA Secretary General Thomas Vonier represented the President of the UIA at these events, and Magda Mostafa served as UIA representative on the prize jury.

Three prizes and nine mentions were awarded in the VELUX Award 2014 edition on the theme "Light of tomorrow". A team of four students: Dikang Du, Le Li, Yujing Zhou, and Yao Ma, from Tsinghua University in Beijing, China, received first prize. The 2nd prize was awarded to Jaebong Jeon and Keunyoung Hm from Hanyang University and Hongik University in Seoul, Korea The third-prize-winning project "Light of Hope', was authored by Snezhina Aleksieva, Zhenya Yancheva, Tsvetomira Ivanova, Pavel Tsochev from the University of Architecture, Construction and Geodesy, Sofia, Bulgaria.
December 15, 2014
The Chamber of Architects of Turkey (CAT) organised the ninth edition of its International Forum of Young Architects, offering emerging professionals the chance to express their opinions on various issues regarding architecture an, contribute above all to continuing education after university studies.

This latest edition took place in Antalya, from 24 to 26 October 2014. Under the title 'Imposition' the event focused on the imposed processes in global architecture and urban design, as well as creative approaches and ideas in these fields. Within this context, the sixth international ideas competition for young architects was organised on the theme of expressing individual liberty in public spaces, and the projects submitted were on display during the forum.

Over 200 participants took part in the debates at Port Nature resort hotel. The president of the CAT Antalya branch, Osman Aydin, and his general secretary, Fikret Oguz, along with UIA vice-president Deniz Incedayi, introduced the conference. Two keynote speeches were given: Dr. Ferhat Hacialibeyoglu (Turkey) discussed the theme of 'Imposition' and Egyptian architect Magda Mostafa presented 'Learning from Cairo'.

Finally, the short-listed competitors presented their projects to the public and jury members officially announced the following results: 1st Prize to Fulya Selçuk (Turkey), 2nd Prize to Foivos Kallitsis and Evgenia Tsagkaraki (Greece), 3rd Prize to Tugçe Sahin (Turkey). A special mention was awarded to Flatice Isil Uysal (Turkey).

The international jury for these prizes was chaired by Deniz Incedayi and composed of architects: Ferhat Hacialibeyoglu (Turkey), Jerzy Grochulski, UIA Council member (Poland), Christine Edmaler, president of the Berlin Chamber of Architects (Germany), and Magda Mostafa (Egypt), with Olena Oliynyk (Ukraine), and flyas Ekizoglu (Turkey), serving as alternate members.
December 11, 2014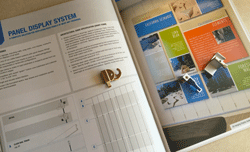 What can you display with AS Hanging Display Systems? Virtually anything. Retail displays, classroom artwork, temporary exhibits. All easily changed without having to repair and repaint the wall. In fact, you don't even necessarily need a wall. From classrooms to boardrooms to living rooms, we offer hanging display systems that can change the way you look at everything.

The challenge is, "how do we communicate this capability" to our various audiences. The answer is in our new catalog, a first ever for AS Hanging Display Systems.
December 04, 2014
Five of the most recognized and trusted companies in the industry have aligned to introduce the industry's best complete masonry cavity wall system.

With the CavityCompleteTM Wall System for Steel Stud with Masonry Veneer, you can now specify and detail an assembly with components that are tested and proven to be completely compatible, code compliant and warrantied* to produce a wall system you can have confidence in.

Each component is great on its own and when combined, they produce a wall that provides thermal efficiency, continuous insulation, air and water management, vapor resistance and brick ties, plus design options that are engineered to maximize performance by climatic region.

The CavityCompleteTM Wall System features components that were tested together to produce systemized codes and standards compliance data.

With thousands of products to choose from when designing a masonry cavity wall system for your upcoming project, the CavityCompleteTM Wall Systems team has designed a complete system that takes the guesswork out of specification.

With the warranty and testing behind this system, you can specify with confidence.
December 04, 2014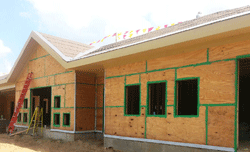 Hampshire, IL – W. R. MEADOWS has a new addition to its air-barrier line of products: AIR-SHIELD LIQUID FLASHING. AIR-SHIELD LIQUID FLASHING is a high-quality, gun grade, low-odor, elastomeric, polyether liquid-applied flashing and detailing membrane. It bonds to most construction materials, such as aluminum, brick, concrete, wood, vinyl, and exterior gypsum board.

This general-purpose, wet flashing membrane is used to seal rough openings and detail joints between exterior gypsum board. AIR-SHIELD LIQUID FLASHING is designed for window and door flashing applications and is to be used as a liquid-applied flashing, compatible with the entire line of W. R. MEADOWS AIR-SHIELD air, vapor, and liquid moisture barriers.

"Because it is a gun grade material, it is easy to apply and spread, which offers a more efficient approach to detailing methods than traditional self-adhesive materials. It bonds to most construction materials and is compatible with most sealants on the marketplace," says Russ Snow, Building Science Specialist at W. R. MEADOWS. "Air-Shield Liquid Flashing is also great because it is 100% solvent-free, is non-sag, non-shrinking, guns and tools easily, does not harm foam insulation, and is paintable within 24 hours."

For detailed application instructions, please view our AIR-SHIELD exterior sheathing panels installation guidelines document on our website.