News
AEC Daily Newsletter - Current & Archives
Press Releases - Current & Archives
November 21, 2014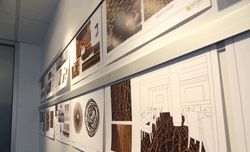 Imagine the process of evaluating an almost unlimited number of fabrics, textures, colors, floor coverings, window treatments, bed furnishings, soft goods, accessories, wall coverings, art and more. Now imagine the challenge of synthesizing these nearly limitless options into a cohesive interior space plan for some of the most sophisticated clients in the Hospitality market. Then keep all this interactively organized throughout a dynamic pitch session during which your plan is presented, reviewed, revised and ultimately agreed upon. This is the high stakes game of FF&E (Furniture, Fixtures & Equipment) Hospitality Planning. It is the "behind the scenes" process that most all hotels, spas, and many restaurant designs go through before you walk in that very first time.

Now imagine the process is your responsibility. Imagine that process is your business. Meet Innvision Design, a leading provider of interior design and hotel FF&E procurement services to some of the world's most recognizable hotel brands.

You might ask why are we writing about Innvision here. Well, it turns out they are not only creative in design for their clients but also are very creative problem solvers in managing their dynamic processes. They recently installed AS Hanging Display System's Casso® Display Rail to aid that process.
November 21, 2014
Cloud and mobile solutions among the more than 100 improvements and updates

Columbia, Md. (November 21, 2014) – Nemetschek Vectorworks, Inc., a provider of intuitive, powerful and practical 2D/3D and Building Information Modeling (BIM) software solutions, announces that the Spanish-language release of its Vectorworks 2015 software version will be available on November 24. This release is part of a worldwide rollout that included other European-language releases earlier this month and continues into 2015 with additional localizations in Japanese and Chinese. The Vectorworks line of award-winning software products includes: Designer, Architect, Landmark, Spotlight, Fundamentals and Renderworks®.

The Vectorworks 2015 software contains more than 100 updates and new features in the areas of architecture, BIM, urban planning and entertainment design. In previous versions, the power of 64-bit was only available in the platform's photorealistic rendering engine, Renderworks, but has now been integrated throughout the entire Vectorworks 2015 product line, providing designers with the ability to handle larger projects, as well as better performance and stability. In addition, designers will observe a revolutionary graphical experience from advances made to the Vectorworks Graphics Module (VGM), which was introduced last year.

A Spanish-language webinar highlighting the new features of Vectorworks 2015 will take place on November 24 at 10:00am ET.

Please visit www.vectorworks.net/espanol for Spanish-language resources and www.vectorworks.net/international to find a local distributor. Additional information about Vectorworks 2015 is available at www.vectorworks2015.net.
November 20, 2014
MINNEAPOLIS--(BUSINESS WIRE)--A new technology center at Central Oregon Community College is using SageGlass® dynamic glass, a product of Saint-Gobain, to conserve energy, improve student performance and provide an eye-catching architectural showpiece for visitors to the area.

In addition to economics, SageGlass' ability to reduce heat gain from the sun was an important environmental benefit, helping the Center achieve the first Earth Advantage "Commercial Platinum" certified building rating in Central Oregon. Earth Advantage is a LEED-alternative building rating system that recognizes sustainable building practices based on energy, health, land, minerals and water standards.

Maximizing daylight and preserving the connection to the outdoors was another reason for using SageGlass. Numerous peer-reviewed studies show that students perform better, feel better and have better attitudes in classrooms with ample sunlight and outdoor views. SageGlass is electronically tintable dynamic glass that darkens or clears automatically in response to the sun's movements throughout the day while preserving the outdoor views of the Cascade Mountain Range.
November 19, 2014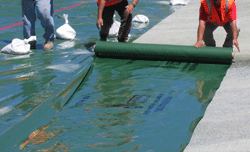 Hampshire, IL – Low permeability, high strength, durability, and impressive puncture resistance make PERMINATOR underslab vapor retarder/barrier from W.R. MEADOWS, INC. a superior choice for protection against damaging water vapor.

PERMINATOR 15 mil vapor barrier, long known for being the toughest product in the market, now has a perm rating 16 times lower than that required under the ASTM E1745 standard and has one of the lowest perm ratings in the industry and has nearly twice the puncture resistance of other vapor barriers.

New proprietary technology enables PERMINATOR to significantly exceed the requirements of ASTM E 1745 (0.1 perms), as well as the recommendation of ACI 302.2R which states that a vapor barrier with a perm rating of 0.01 perms or less should be installed in areas where the ASTM E 1745 is not sufficient to protect the floor.

New PERMINATOR 15 product technology provides the lowest vapor permeance as well as puncture resistance that is 45% tougher than required by the ASTM E 1745, thus providing the entire building team with a vapor barrier that exceeds its function in every way.
November 10, 2014
New version contains more than 100 updates and new features including cloud and mobile solutions

Columbia, Md. (November 6, 2014) – Nemetschek Vectorworks, Inc., a provider of intuitive, powerful and practical 2D/3D and Building Information Modeling (BIM) software solutions, announces the availability of localized versions of Vectorworks 2015 in German, French, Dutch, Italian, Portuguese and Norwegian. The Vectorworks line of award-winning software products includes: Designer, Architect, Landmark, Spotlight, Fundamentals and Renderworks®.

The Vectorworks 2015 software contains more than 100 updates and new features in the areas of architecture, BIM, urban planning and entertainment design. In previous versions, the power of 64-bit was only available in the platform's photorealistic rendering engine, Renderworks, but has now been integrated throughout the entire Vectorworks 2015 product line, providing designers with the ability to handle larger projects, as well as better performance and stability. In addition, designers will observe a revolutionary graphical experience from advances made to the Vectorworks Graphics Module (VGM), which was introduced last year.

November 06, 2014
WEST HARTFORD, Conn.--(BUSINESS WIRE)--Legrand, a global leader in power, light and data solutions, has released its latest high performance building research in a whitepaper entitled, "The New Dynamic of High Performance Buildings: Advanced Electrical Design Principles in Practice." The whitepaper identifies electrical systems as a critical component of the design and operation of HPBs, and explores the five guiding principles of electrical design in buildings striving for optimal performance.

According to Legrand, the following guiding principles should be considered in design processes to ensure planned electrical systems fully contribute to building performance:

• Employment of lifecycle planning: Successful system design requires deep understanding of client needs, the intended mission of the building and its spaces, and an understanding of the building's use for its entire lifespan.

• Focusing on building occupants: Understanding how occupants use the spaces in a building can help design teams make more informed decisions earlier in the process, saving resources throughout the construction and operation phases of the building lifecycle.

• Enabling of device connectivity: HPBs must connect a wide variety of devices across the built environment to capture data reporting on the building performance.

• Embracing IT and open systems: In HPBs, electrical and IT infrastructures are rapidly converging, and the use of open-source protocols ensures that electrical systems can effectively integrate with other building systems, rather than continue to operate independently.

• Harvesting of system data: When electrical and IT infrastructures are in place, various analytical tools can monitor a range of performance indicators, informing managers about many facets of the building's operations.
November 05, 2014
AUSTIN, Texas--(BUSINESS WIRE)--3M today announced the first product in a series of solutions for marking and locating the path of underground plastic pipes. The 3M Electronic Marking System (EMS) Caution Tape 7600 Series and the 3M Dynatel EMS Marker/Tape Locator Model 7420 is ideal for gas, water and telecom utility owners as well as contractors and excavators.

The new plastic pipe location system from 3M helps utility customers identify underground plastic pipes without using tracer wire or installing access points. The 3M EMS Caution Tape 7600 Series does not need an external power source. If part of the caution tape is cut or removed, the locator is still able to identify and locate the tape. In addition, the tape is corrosive resistant and has a long design life.

The caution tape will be available in three different frequencies (gas, waste water, and telecommunications), providing positive identification of the desired target utility.
November 04, 2014
TUALATIN, OR… Cascade Architectural introduces Fabricoil™ architectural coiled wire fabric systems – interlocked strands of coiled wire formed into flexible fabric and engineered attachments for interior and exterior architectural applications.

For more information about Fabricoil systems, visit: www.fabricoil.com.

"Fabricoil systems look and perform like woven metal mesh, but have a far lower installed cost," says Ronald Schoenheit, Founder and CEO of Cascade Coil Drapery, Inc. "As a result, their affordability allows architects and designers to flex their creativity, create signature buildings and turn projects with even very modest budgets into something special."

Fabricoil coiled wire fabric is manufactured in a wide variety of metals, gauges, scales, finishes and colors. Metals include but are not limited to aluminum, steel, stainless steel, brass, copper and titanium. Fabricoil engineered attachment systems are primarily manufactured from steel.

Cascade Architectural provides a wide array of Fabricoil system finish options:
• low-VOC metallic lacquer finishes to meet specific application and design requirements;
• designer metallic powder finishes;
• durable acrylic lacquer coatings available in a wide range of custom colors that can be matched to color chips; and
• anodized finishes for aluminum products.

Fabricoil systems are 100 percent recyclable, part of the Living Building Challenge Declare labeling program and have been scientifically proven to save energy when used for shading applications - both interior as window drapery or exterior as shades.

Fabricoil systems reduce direct sun penetration even in zero percent fullness mode. Testing confirms that, when used as an interior window treatment, Fabricoil systems reduce energy consumption by up to 5.7 percent while preserving views and introducing daylight. Tests also demonstrate that the product delivers reduced energy consumption by as much as 21.3 percent in an exterior application.
October 29, 2014
Extension offers the green building industry additional time to prepare for the newest version of LEED

WASHINGTON, DC (Oct. 29, 2014) – The U.S. Green Building Council (USGBC) announced today that it will allow LEED users to register projects under the LEED 2009 rating system until Oct. 31, 2016. The original date for LEED 2009 registration to close was June 15, 2015. Extending to October 2016 gives LEED users and members of the green building industry additional time to prepare for LEED v4, the latest version of LEED, which features increased rigor and multiple updates.

"When USGBC launched LEED v4 last year, we set out with one goal in mind – to raise the bar in a way that challenges the building industry to reach higher than ever before. This is our nature and USGBC and its members' collective mission," said Rick Fedrizzi, CEO & founding chair, USGBC. "However, the market has requested additional time to prepare for LEED v4, so we are responding."

In a survey conducted at last week's Greenbuild conference, 61 percent of respondents said they are "not ready" or "unsure" if they are ready to pursue LEED v4 and require additional time to prepare. Extending LEED 2009's availability enables USGBC to work with the broader industry within a longer time frame to drive meaningful and comprehensive change.

"Our international LEED users, which account for some 50 percent of new LEED registrations, have also indicated they would like to have more time to move onto the new rating system," Fedrizzi noted. "This extension will be especially helpful to them."

LEED v4 has been in the market for nearly one year and will remain available for those market leaders who are ready.

"LEED v4 wasn't designed to be easy. It is the next generation of green building, and we are confident the market will meet us there as they have in years past," added Fedrizzi. "When USGBC first pilot tested LEED in 1998, there weren't many buildings that could qualify for LEED certification at the Platinum level. Now, more than 1,000 buildings have achieved it. With LEED, we have a responsibility to set a high bar and we know that many leaders are capable of reaching it, presently or in the very near future. We want to support our LEED users as they move the market forward with us, and allowing them to utilize the LEED 2009 rating system for a little longer will help facilitate that."

"USGBC continues to develop new resources that support the market's adoption of LEED," added Fedrizzi. "The LEED Dynamic Plaque provides a vivid, real-time visualization of building performance data spanning water, energy, occupant satisfaction and more, giving building owners critical insight into how their building is performing. Every day, LEED is contributing to scores of new, innovative building technologies in the design, manufacturing and construction process, and has brought new, healthier building materials to market."

LEED has facilitated spectacular advances in building technologies, integrated design and operating practices. LEED is also largely responsible for the explosive growth of the green building sector, which supports or creates 7.9 million jobs across all 50 states and contributes $554 billion to the U.S. economy annually.
October 22, 2014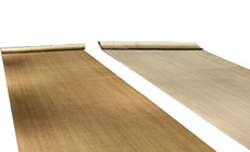 Surrey, BC- October 1, 2014 - Duradek, the original Walkable Roofing Membrane expands its response to market demands for naturally inspired textures and colours for outdoor living space and now, in its 40th year, launches a brand new line in its extensive collection of 60 mil vinyl colours and patterns. Discover Duradek Ultra Legacy...

The Look of Aged Wood...The Performance of Vinyl

Your deck can have a comforting look similar to that of aged wood without sacrificing safety, security or waterproofing peace-of-mind.

Up close, you can recognizes the characteristics of the vinyl membrane with its slip resistant, textured surface; but when laid out on a deck, the colour blends and pattern allow your eyes to pick up the traditional appearance of natural wood grains...but without the disadvantages of authentic aged wood.

Duradek Ultra LEGACY BARNWOOD

In welcoming brown hues, this faux wood finish brings a warm, retro look to your contemporary deck, but without any of the maintenance real wood requires.

Duradek Ultra LEGACY DRIFTWOOD

In cooler grey tones, this vinyl finish emulates the appearance of a natural driftwood, sun-bleached and weathered by the elements...but keeps your deck protected from them.
October 17, 2014
WEST CALDWELL, N.J. (October 7, 2014) – Adding to its extensive lineup of prestigious industry accolades, MaxLite receives the Lighting for Tomorrow 2014 Award for its 17-watt Omnidirectional LED A21 lamp. Launched in 2002, the Lighting for Tomorrow awards are organized by the American Lighting Association (ALA), the Consortium for Energy Efficiency (CEE) and Underwriters Laboratories (UL). Approximately two dozen energy efficiency organizations in the US and Canada participated in supporting this latest competition. The awards were presented at the ALA Annual Conference in Nashville, Tennessee on September 16, 2014.

MaxLite's 17-watt Omnidirectional LED A21 lamp, which is ENERGY STAR-qualified and features second generation LED technology, replaces a 100-watt incandescent bulb and yields more than 80 percent savings in energy throughout its L70-rated lifetime of 25,000 hours. Strictly matched for color quality and consistency, the lamp is available in 2700K, 3000K and 4100K correlated color temperatures (CCTs) and delivers up to 1600 lumens with an efficacy up to 94. It offers a 300-degree beam angle that produces even, consistent light in all directions.

MaxLite's LED Omni A-line lamp is dimmable down to 10 percent on a wide variety of dimming control systems. It is available in a standard medium base, which enables convenient screw-in as well as GU24-base installation into existing chandeliers, pendants, wall sconces and table/floor lamps that are used for both residential and commercial applications.
October 17, 2014
NEW ORLEANS--(BUSINESS WIRE)--Electronically-tintable SageGlass®, a product of Saint-Gobain, was donated to and installed at the Benjamin Franklin High School in New Orleans, helping a high-achieving school in one of the city's more under-resourced school districts become a working model of green building efficiency.

SageGlass dynamic glass is one of a number of advanced building technologies donated by Saint-Gobain and other companies as part of the U.S. Green Building Council (USGBC) Louisiana Chapter's Louisiana Green School Challenge – a program that aims to educate the public about the benefits of green building and environmental stewardship by participation in hands-on, experiential projects.

Benjamin Franklin High School, which was chosen as the Green School Showcase and suffered significant damage during Hurricane Katrina, was one of nine winning schools out of 40 who competed in the challenge. Located in the Gentilly area of New Orleans, roughly 50% of the school was damaged by two feet of water which stood for 30 days after the storm. SageGlass is part of more than $150,000 in green building products donated to the Benjamin Franklin school renovation.

The school will be available for tours as a live featured "case study" this week as part of a "New Orleans Green Schools Event" during Greenbuild 2014, the world's largest green building conference and expo dedicated to sustainable building practices, education and technology.
October 16, 2014
Join us for a Webinar on November 12

Space is limited.
Reserve your Webinar seat now at:
https://www2.gotomeeting.com/register/855711610

Waterstops for Environmental Compliance of Liquid Tight Concrete Structures is a targeted course of instruction and professional development for engineering firms engaged in the design of chemical, industrial, and environmental projects such as secondary containment of hazardous waste, industrial wastewater, ozone contactors, and others. The course is technical in nature and describes waterstops role in fluid-proofing concrete joints, chemical resistant polymers and steels, and state and federal regulations of compliance. The course is presented in one (1) hour time frame.

Additionally, course attendees are eligible for Continuing Professional Development credit, as David is an instructor with both the Louisiana Engineering Society and the Louisiana Professional Engineers and Land Surveying Board. Course is certified for one (1) Professional Development Hour credit.

Title: Waterstops for Liquid Tight Containment
Date: Wednesday, November 12, 2014
Time: 8:00 AM - 9:00 AM PST

After registering you will receive a confirmation email containing information about joining the Webinar.

System Requirements

PC-based attendees
Required: Windows® 8, 7, Vista, XP or 2003 Server

Mac®-based attendees
Required: Mac OS® X 10.6 or newer

Mobile attendees
Required: iPhone®, iPad®, Android™ phone or Android tablet
October 15, 2014
Danville, VA –BLUE RIDGE FIBERBOARD INCORPORATED won the Virginia NASCAR Green/E3 Challenge at Martinsville Speedway on October 1st for demonstrating outstanding commitment to sustainability and world-class business practices.

The Virginia NASCAR Green/E3 Challenge was hosted by the federal initiative, E3: Economy, Energy, Environment; the Environmental Protection Agency (EPA) and NASCAR Green and recognizes participants in manufacturing who are a part for the Virginia E3 program (VA E3) who demonstrate data-driven impacts based on improving their triple bottom line. VA E3 participants engage in a series of assessments that help transform their business through recommendations that reduce environmental impact, improve efficiency and generate significant financial gains.

E3 combines the resources of six federal agencies with the intent of fostering sustainable manufacturing with action-oriented initiatives. Involved agencies include the U.S. Commerce Manufacturing Extension Partnership (MEP), the Environmental Protection Agency, the Department of Agriculture, the Department of Energy, the U.S. Small Business Administration and the Department of Labor.

BLUE RIDGE FIBERBOARD is helping to build a greener future with products not only designed for high performance and quality but with the needs of the environment as a primary focus. BLUE RIDGE FIBERBOARD products consist of pre-consumer content (wood chips). The binding agent used in the making of Blue Ridge fiberboard is also an all-natural product, consisting of vegetable starch containing no added formaldehydes. BLUE RIDGE FIBERBOARD's manufacturing process is specially designed to be environmentally friendly and accommodating, minimizing post-industrial waste by actively recycling waste materials back in to the process.
October 15, 2014
ORLANDO, Fla., Oct. 14, 2014 /PRNewswire/ -- Composites experts from Owens Corning (NYSE: OC), a leading global producer of glass fiber reinforcements for composite systems, will deliver nine technical presentations at CAMX, the Composites and Advanced Materials Expo to be held this week in Orlando. Additionally, the company's booth will feature products and solutions for a range of applications in the automotive, building and construction, and industrial sectors.

The presentations reflect Owens Corning's continuous innovation in processes and composite products supporting a wide range of applications.
October 06, 2014
Native Trails' Amelie and Halcyon bamboo bathroom vanities recently received the esteemed GREEN GOOD DESIGN award, which is recognized worldwide for honoring environmentally sound and innovative product designs.

Native Trails introduced these award-winning pieces along with its Renewal Series, made primarily of FSC-certified Moso bamboo, in 2012. Halcyon, beloved for its bold yet compact design and sleek, wall mount installation, won the Decorative Plumbing & Hardware Association's "Innovative Furniture Product of the Year" award in 2012 and the KBCulture Bath Cabinet award in 2013.

Amelie Vanity features soft, soothing lines and a handcrafted "wraparound" integral top. Its soft-close drawer with dovetail craftsmanship and tempered glass shelf provide both storage and style.

This is not the first time a Native Trails vanity has been recognized with a GREEN GOOD DESIGN Award. In 2013, the company's Bordeaux Wall Mount vanity—part of the Vintner's Collection, which repurposes wine barrels into bath vanities and mirrors—earned a GREEN GOOD DESIGN Award.

The GREEN GOOD DESIGN Award is sponsored by the European Centre for Architecture Art Design and Urban Studies and The Chicago Athenaeum: Museum of Architecture and Design. This year hundreds of entries poured in from two-dozen countries around the globe before the GREEN GOOD DESIGN Award jury identified the world's most significant examples of sustainable modern design.
October 03, 2014
The theme of 2014 World Architecture Day, October 6, will be "Healthy Cities, Happy Cities." The UIA invites its members to organise special activities linked to the event, which will celebrate the role architects and architecture play in the vitality of the urban setting and in the well-being of its inhabitants.

How can architects design and construct "healthy" spaces, facilities, housing and urban landscapes which foster happiness, health and quality of life for city-dwellers?

By what means are architects able to bring life to cities, to infuse them with energy, to insure their viability, to anticipate and heal disorders, to forestall disintegration and to accompany their harmonious development?

Responsible architectural design has spotlighted the role of the architect aobligation to design a sustainable environment by means of an ethical professional practice in the areas of energy, implementation and materials.

This year's theme for 2014 World Architecture Day was conceived by the UIA to illustrate the expansion of such practices and their impact on the urban space as well as on the entire city. The theme also is one facet of the UIA's global commitment to international institutions who defend safeguarding the planet, the quality of the air, the water, the soil and all the elements contributing to the health of human settlements.
October 02, 2014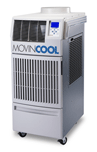 LONG BEACH, Calif.--(BUSINESS WIRE)--MovinCool®, a brand of DENSO Corporation, the world's largest manufacturer of air conditioners, announced a new Climate ProTM 18 portable heat pump, which combines both cooling and heating capabilities in a single, self-contained unit. The compact system is 13 percent smaller and 22 percent lighter than other comparable heat pumps, yet it offers significantly higher performance.

The Climate Pro 18's cooling capacity of 14,600 Btu/h, heating capacity of 13,700 Btu/h and minimum operating temperature with plenum of 24 degrees Fahrenheit make this unit the best-performing system in its class.

A new controller features a larger LCD screen that displays diagnostics and step-by-step instructions to start, set up or restore operation. The system is fully compatible with most standard, off-the-shelf wireless thermostats.

As with other MovinCool portable systems, highest-quality manufacturing details include hermetically sealed refrigeration units and fan motors, to ensure long-term reliability. MovinCool's industry-leading warranty covers parts and labor on the entire unit for three years.
October 02, 2014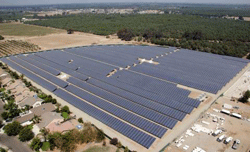 NEWARK, N.J.--(BUSINESS WIRE)--Panasonic Enterprise Solutions Company (Panasonic) and Coronal Group LLC (Coronal) announce the completion of nine solar projects in Tulare and Kings Counties in Central California. The projects provide 16.2 MW of energy to Southern California Edison's grid to power approximately 14,500 homes annually.

Panasonic and Coronal acquired the California Renewable Energy Small Tariff projects from Macquarie Capital in 2013. A $50 million funding commitment by Ullico Inc., a labor-union owned insurance and investment company, also contributed to the acquisition and completion of the projects. The projects were built by Panasonic and ImMODO Energy Services Corporation.

Coronal's exclusive relationship with Panasonic allows it the flexibility to acquire operating solar assets or partner with developers and engineering, procurement and construction providers in North America.
October 02, 2014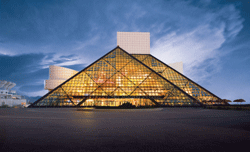 ST. PAUL, Minn.--(BUSINESS WIRE)--The Rock and Roll Hall of Fame and Museum in Cleveland, Ohio, recently teamed with 3M and Sunray Window Films, who installed 3M Sun Control Window Film Prestige Exterior 40 on the exterior glass of this celebrated structure. While the unique architecture of the 150,000 square-foot glass enclosed museum employs natural light to illuminate the exhibits, it risks exposing them to ultraviolet (UV) rays and increases energy use for cooling. With the installation of Prestige Exterior 40, the windows can now reject both heat and UV rays, while reducing the visible reflectivity of the existing glass.

With uncompromised aesthetics, the unmatched and distinct architecture of the museum and the specific angle of the building's custom windows made traditional window covering and energy savings solutions difficult. Blocking excessive heat and UV rays from the outside in was the perfect solution and 3M window film made that possible.

3M Prestige Series window films use nano-technology without metal to create reflectivity that's actually lower than glass. These films selectively refract light from the spectrum and reject up to 97 percent of the sun's heat-producing infrared light and 99.9 percent of UV rays to keep tenants cool. With this technology, museum exhibits shine and views remain true to life, because the only thing patrons see day or night, inside or out, is a beautiful window.
October 01, 2014
Building on the foundation of our insulated metal panels, we bring you a complete platform of building materials, featuring sunshades, grilles, column covers, and beam wraps, by DAMS, Inc. and an extensive offering of custom fabricated products.

View the LEED® value Envolution brings by downloading our Environmentally Connected Brochure and stop by Booth 2255 at the 2014 Greenbuild International Conference and Expo held October 22-24 in New Orleans, LA.
October 01, 2014
Designers examine future industry trends in a live Google+ Hangout on Air event October 9

Columbia, Md. (Oct. 1, 2014) – Nemetschek Vectorworks, Inc., a provider of intuitive, powerful and practical 2D/3D and Building Information Modeling (BIM) software solutions, invites professionals and students from any design discipline to attend The Business of Creativity, an online, interactive panel discussion that will connect the dots between vision and reality. The event will take place on October 9, 2014 at 2:00 p.m. EDT through a Google+ Hangout on Air.

Panelists include Todd McCurdy, FASLA vice president, director of landscape architecture + planning at Morris Architects, Inc., Aurora Meneghello, marketing and social media manager at Novedge, Michael Klaers, lighting designer at The Small Group, Ron Kwaske, principal and architect at Office Ron Kwaske, Architect and Rob Glisson, AIA, principal and architect at Rojo Architecture.
September 30, 2014
This edition of Marmomacc (24-27 September) attracted than 1,500 exhibitors from 58 countries and official trade delegations from 45 countries. More than 80 companies took part in Abitare il Tempo.

Verona, 27 September 2014 – Indicators up and new records for the 49th Marmomacc, held for the first time in conjunction with Abitare il Tempo: more than 65.000 operators toured the halls, up by 15% over 2013, with 54% of attendance (+4,000) from 145 countries (143 last year). At the end of four show days at Veronafiere (24-27 September), the top ten international visitors saw India take first place, followed by Germany, Turkey, Spain and France. Then came China, the USA, Brazil, Russia and Egypt. There was also significant attendance from the United Kingdom, Iran, South Korea, Portugal and Poland.

"This edition marked a critical step for Marmomacc, in terms of both the international development of the sector and the reciprocal promotion agreement with Expo 2015," said Ettore Riello, President of Veronafiere. It is equally proof that trade shows are a strategic asset in Italy's industrial policy and highlights Veronafiere's leading role in Italy and abroad.

"This is a very positive result for the companies producing natural stone products, furniture and furnishing - all examples of excellence Made in Italy," said Giovanni Mantovani, CEO of Veronafiere. Such results are not fortuitous but the result of the major promotion Veronafiere implements through its network of delegates in 60 countries and the initiatives of Marmomacc in the World. Such action this year achieved an increase in exhibitors (1502 from 58 countries), joined by more than 80 companies attending Abitare il Tempo, as well as official trade delegations from 45 countries."

Marmomacc thereby confirms its status as the landmark international event for the entire natural stone value chain, from materials to manufacturing technologies and training opportunities for architects and designers. This year, for the first time, the show was held alongside Abitare il Tempo - the exhibition dedicated to furniture, interior finishes and the contract world.

The next edition of Marmomacc and Abitare il Tempo is scheduled Wednesday 30 September to Saturday 3 October 2015.
September 30, 2014
PEACHTREE CITY, Ga., Sept. 25, 2014 /PRNewswire/ -- Rinnai, the number-one selling brand of tankless water heaters in North America, has introduced the first tankless water heater in the industry that allows for both concentric or twin-pipe PVC venting from the same unit. These new Ultra Series condensing tankless water heater models RUC98i and RUC80i feature a built-in system that allows maximum flexibility for installers and dealers, who can now know that the unit they've specified or have on-hand will be compatible with whichever venting installation is preferred or required when they arrive on the jobsite.

For concentric venting, installers simply remove and discard the exhaust adapter ring. For twin-pipe PVC configurations, the intake cap is removed and discarded. With the twin pipe option, the installer can use three- or four-inch PVC/CPVC pipe for the intake and exhaust.

Rinnai Ultra Series condensing tankless water heaters deliver innovation and technological leadership in condensing tankless water heating design -- providing homeowners with an endless supply of hot water, energy savings, a space saving design and environmental benefits, and now featuring double the venting options on every installation.
September 29, 2014
New version contains more than 100 updates and new features including cloud and mobile solutions

Columbia, Md. (Sept. 16, 2014) – Nemetschek Vectorworks, Inc., a provider of intuitive, powerful and practical 2D/3D and Building Information Modeling (BIM) software solutions, announces the new Vectorworks® 2015 version of its award-winning line of software products, including: Vectorworks Designer, Architect, Landmark, Spotlight, Fundamentals and Renderworks®. This marks the beginning of its worldwide rollout, which continues with the release of localized versions in nine additional languages in the fourth quarter of this year through the second quarter of 2015.

"With every new release, we concentrate on giving customers the enhancements and features they want, and, more importantly, what they need to make their visions come to reality faster, easier and with more precision than ever before," said Dr. Biplab Sarkar, CTO, Nemetschek Vectorworks, Inc. "Vectorworks 2015 builds upon the functionality that is important to designers today, providing an experience that connects the dots between vision and realization in the most intuitive way possible."

The Vectorworks 2015 software contains more than 100 updates and new features in the areas of architecture, BIM, urban planning and entertainment design. In previous versions, the power of 64-bit was only available in the platform's photorealistic rendering engine, Renderworks, but has now been integrated throughout the entire Vectorworks 2015 product line, providing designers with the ability to handle larger projects, as well as better performance and stability. In addition, designers will observe a revolutionary graphical experience from advances made to the Vectorworks Graphics Module (VGM), which was introduced last year.

"We're are at a turning point where designers are discovering new ways to imagine and construct their projects," said Sean Flaherty, CEO, Nemetschek Vectorworks, Inc. "Every day, designers choose Vectorworks because of our multidisciplinary approach and because they want a solution that supports their creative process instead of replacing it. We allow great design to materialize from inspiration, exploration and discovery."

The English-language version of Vectorworks 2015 software is available to Vectorworks Service Select customers today by download. Shipping of the English-language version to all customers will begin September 23, 2014.
September 29, 2014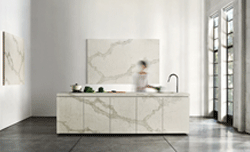 Caesarstone's NEW elegant color: Calacatta Nuvo 5131

We are excited to announce our new color Calacatta Nuvo, Caesarstone's interpretation of natural Calacatta marble. Calacatta Nuvo brings you wide, elegant, cascading, grey veins on a white opaque base.
September 29, 2014
49th edition scheduled at VeronaFiere 24-27 September

WORLD STONE INDUSTRY: TRADE IN 2013 IN XCESS OF 22 BILLION DOLLARS

QUARRIED AND PROCESSED MATERIAL VOLUMES CAME TO 265 MILLION TONNES - AN INCREASE OF 5%

China, India, Turkey and Italy are the top four exporters with a 61% share of total. Italy stands at the top of the technologies sector, with one-third of the world market. These are just some details published in the XXV World Stone Report by Carlo Montani, in collaboration with publisher Aldus and the patronage of the Tuscany Region, previewed today during the inauguration of Marmomacc 2014.

Verona, 25 September 2014 – Natural stone conquering the world: between 1990 and 2013, international natural stone production grew by 180%, from 46 to 130 million tonnes, equal to 1.4 billion equivalent square metres (based on the conventional slab thickness of 2 centimetres), while consumption levels boomed by 185%. A trend of steady increase over the years that becomes even more apparent when taking into account that the last half-century has seen more marble and granite used than in all previous eras.

This is just some of the content of the XXV World Stone Report by Carlo Montani, in collaboration with publisher Aldus and the patronage of the Tuscany Region, previewed yesterday at Veronafiere during the inauguration of Marmomacc 2014. For 25 years by now, this report has been an analytical and informative tool for all sector operators, with more than 200 thousand figures organised in tables and statistics.

2013 was another year of consolidation for the world stone industry: the volume of quarried and processed material (265 million tonnes) increased by about 5% compared to 2012. Marble is increasingly used as a constructive and decorative material, with per capita usage up in 2013 to 226 square metres every thousand units, against 215 the previous year and 135 of 2003.

This general expansion, however, is matched by progressive concentration of production in a handful of countries: "Since the 1960s, the balance of power has changed radically," explained Montani, "with the top four producers - China, India, Turkey and Brazil - expanding from 30% to
61% global production.." As regards trade, 2013 posted values of 22 billion dollars, 58.5% of which
in the hands of the top four exporting countries: China, Italy, Turkey and India. Made in Italy

confirms its leading role in the field of technology and quarrying, cutting and processing machinery, with about one-third of the world market and very strong positions in several leading nations such as Turkey and Brazil.

Yet what does the future of marble hold in store? The author of the XVV Report said: "Stone boasts an extremely long history and will have a equally long future by combining technology, aesthetics and professional values: in a word, quality. Translated into numbers, prospects through to 2020
indicate total output of at least 170 million tons, equal to 1.8 billion equivalent square metres."