News
November 24, 2015
Claims Infringement of Four US Patents

West Chazy, NY, November 17, 2015 – AS Hanging Display Systems (hereinafter "AS Hanging") has filed a complaint in the United States District Court for the Central District of California against HTM Lighting (dba MBS-standoffs and/or MBS-hanging-systems) for manufacturing, selling, and/or offering to sell hanging products which infringe multiple patents owned by AS Hanging. The specific products from AS Hanging which are being infringed upon are:

•Heavy Classic Hook
•J-End Cables
•J-End Cords
•Mini Hook

The infringing products fall under one or more claims in AS Hanging's patent portfolio, which includes U.S. Design Patent Nos.: D600,100, D629,291, D699,548 and, D602,345.

The aforesaid patents provide AS Hanging with the right to exclude others from making, using, selling, or offering to sell in the United States, importing into the United States, or exporting from the United States, the claimed inventions during the term of the respective patents.

"AS Hanging will protect its intellectual property and cannot risk damage to its reputation, and the enormous goodwill associated with the company's efforts as a leader in the hanging system market for decades. There are over 30,000 installations of the company's products in North America, and beyond. We cannot stand by while the goodwill of our company, the reputation of our brands and the perceived quality of our products are undermined by cheap and inferior products, offered by companies that do not invest in their own development efforts but instead attempt to copy our valuable efforts", said Dave Veilleux, VP, AS Hanging Display Systems. "We respect the designs and reputation of architects and designers who incorporate our products into their designs. We cannot allow confusion and poor user experiences caused by unsanctioned copies of our products. We will protect our good name and the project integrity of our clients."

About AS Hanging Display Systems

AS Hanging Display Systems has manufactured hanging and display solutions for over 20 years. The company is an industry leader because of its expansive product line, quality solutions, and professional service. AS Hanging has completed over 30,000 installations for a wide variety of institutions, including: K-12 schools, higher education, hospitality, libraries, civic spaces, commercial buildings, museums, health care, and residences.
November 23, 2015
Wausau, WI— Major Industries, Inc., manufacturer of skylights, canopies and translucent wall systems, is pleased to announce the promotion of Mark Mitchell to Marketing Director.

Mark's strong performance as Major's Marketing Manager over the last 9 years was demonstrated in his creative work and understanding of how the daylighting market is evolving. Beyond his technical skills, Mark's knowledge of Major's daylighting systems and company goals will allow him to transition into a new and challenging leadership role. As Marketing Director, he will continue to develop and execute Major Industries' marketing plan, including print and online advertising, website development, and lead generation, while also taking on a larger role in new product development and staff-related issues.

Under his new title, Mark will also continue to assist Major's sales department in providing independent architectural representatives, dealers and customers the most up-to-date information on Major's full line of daylighting solutions.
November 12, 2015
Bryan Schertz is named Health, Safety & Environment Director
for Keller North America, while Will Brown replaces
Schertz as Safety Director for Hayward Baker Inc.

Hanover, Md., November 11, 2015 – Keller North America (Keller NA), a division of the Keller Group Plc, has appointed Bryan Schertz to the position of Health, Safety, and Environment (HSE) Director.

Prior to his new appointment, Schertz had served as the Safety Director for Hayward Baker Inc., one of the seven Keller NA companies, since 2003. In turn, Hayward Baker now welcomes Will Brown into the role of Safety Director for Hayward Baker.

Schertz has been a leading force in Hayward Baker's and then Keller NA's safety initiatives. He has 25 years of experience in construction, consulting, industrial hygiene and safety management, and is a Certified Safety Professional (CSP). Schertz was instrumental in developing and implementing safety goals and principles as the Safety Director for Hayward Baker.

In his new role as the HSE Director for Keller NA, Schertz will oversee, manage and implement Keller's corporate Environmental, Health & Safety plan Think Safe to ensure the safe working practices of over 3,900 employees continent-wide.

On September 28, 2015, Will Brown stepped into the role of Safety Director for Hayward Baker Inc. Brown holds a Master of Science degree in safety and health from Marshall University, is a Certified Safety Professional (CSP), and has 20 years of safety management experience.

Brown's prior experience includes two years as a Senior Loss Control Consultant and 18 years in general construction, most recently as a safety manager in the Washington D.C. metro area.

Commenting on both appointments, John Rubright, managing director for Keller NA stated, "We are pleased to welcome Bryan and Will to these important posts. The employees of Keller North America are proud of our Think Safe program, and we have made great strides in recent years. Our goal remains to reduce our incidents to zero. We are confident that the appointments of Bryan and Will are important additional steps in this journey to zero incidents."

Bryan Schertz and Will Brown are both located at Keller NA and Hayward Baker's corporate headquarters at 7550 Teague Rd, Suite 300 in Hanover, Maryland.

Schertz can be reached at 410-551-8200 or by email at BKSchertz@KellerFoundations.com. Brown is available at 410-551-8200 or at WJBrown@HaywardBaker.com.
November 12, 2015
Hampshire, IL – W. R. MEADOWS has always thrived to do its part in educating the architectural community offering 10 courses via the AEC Daily website that not only help teach aspects of different elements including (but not limited to) building envelope, waterproofing, and concrete restoration, but also count towards AIA credit.

Detailing Air Barriers is the latest installment. This newly rolled out course is one (1) hour long and focuses on specific techniques for installing the different types of air barrier materials. The use of air barriers are an integral part of a high performance building enclosure, and while most architects understand the whys, they may not be clear on the installation details. This important layer of the building envelope requires careful detailing and installation. Some firms are even requiring meetings with installation contractors to be sure details are correctly executed. This course covers tricky details, including rough openings, roof-to-walls, and joints between different building materials. This program is registered with the AIA/CES for continuing professional education, and is HSW-approved. The course earns one learning unit (LU).

Air barriers are hot topics these days due to current codes and standards in place. Air barriers are a significant detail in all building envelope systems, including that of W. R. MEADOWS. We encourage you to sign up for the course and learn the intricate details of installing air barriers, and earn credit while doing so!

Many other courses are offered by W. R. MEADOWS via AEC Daily. We are also happy to offer lunch-and-learn presentations. Click "More" to schedule one at your firm.
October 26, 2015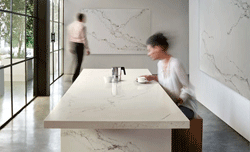 Jumbo slabs now available in select colors, making it easier than ever to fill larger spaces with fewer seams.

Our new 65" x 130" slabs can be selected in 3/4" or 1 1/4" thickness and have the same benefits of the original quartz that you love:

• Non-Porous
• Never Requires Sealing
• Heat, Stain & Scratch Resistent
• Mold & Mildew Resistent
• Low Maintenance
October 22, 2015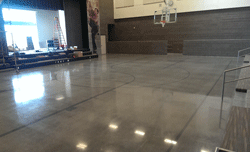 Hampshire, IL – INDUROSHINE, a polished concrete flooring system by W. R. MEADOWS, is an environmentally friendly and long-lasting choice for your polished concrete flooring needs.

The INDUROSHINE system, when combined with W. R. MEADOWS' LIQUI-HARD®, a concrete densifier and chemical hardener, creates an architectural and aesthetically pleasing floor that requires neither expensive coverings/coatings nor frequent maintenance.

At Odyssey Elementary School in Woodcross, UT, the INDUROSHINE system worked like a charm on a 3500-square-foot space, which was LEED certified gold.

"The INDUROSHINE process from W. R. MEADOWS is our 'go-to' for all our polished concrete projects. The ease of application is top notch and our clients are very happy and impressed with the look and feel of the final polished concrete surface," said Bryan Borchers of Intermountain Concrete Polishing. "We look forward to working with W. R. MEADOWS with all our polished concrete floor applications."
September 10, 2015
Hampshire, IL – W. R. MEADOWS is excited to announce that AIR-SHIELD LMP – a water-based, air/liquid barrier product – has been evaluated by the Air Barrier Association of America (ABAA) and listed on its website. The announcement comes on the heels of the company's AIR-SHIELD product having also been evaluated.
ABAA is the national voice of the air barrier industry in America, and is dedicated to the education of all parties involved in building construction. It also provides the industry with premier training to both designers and contractors, as well as providing a listing of materials and assemblies fully evaluated by the association. Having become increasingly looked upon as the credible leader, the ABAA ensures products' standards and requirements are up to code as guidelines continue to change.

"ABAA evaluates a number of different types of air barrier materials and systems providing the industry with assurance that the listed materials meet all of the material properties being published, as well as meeting the requirements that ABAA has established," said Russ Snow, W. R. MEADOWS Building Science Specialist. "Having both a sheet applied and fluid applied air barrier listed with ABAA provides a choice of materials for the consultant, as well as giving them that level of comfort that the different materials and assemblies meet the industry requirements."

AIR-SHIELD LMP is specifically formulated to act as a barrier to air and liquid moisture, allowing vapor to pass through it. It is suitable for both new construction and retrofit applications. It is available in five-gallon pails and 55-gallon drums.

For more information on AIR-SHIELD LMP, and to request promotional materials and samples, call (847) 214-2100, e-mail info@wrmeadows.com, or visit www.wrmeadows.com.

August 21, 2015
West Coast conference highlights best practices, innovations in sustainability for road owners and road builders alike

Lanham, Md. — A focus on the sustainability of asphalt pavements is changing green construction for road owners and creating a new competitive edge for pavement contractors. The 2015 Asphalt Sustainability Conference, Oct. 13–14 in Portland, Ore., features learning and networking opportunities designed to help road owners and builders enhance existing sustainability programs to meet tomorrow's demands, as well as to establish and leverage new sustainability efforts. The conference is organized by the National Asphalt Pavement Association (NAPA) in partnership with the Federal Highway Administration (FHWA).

Washington State Department of Transportation Secretary Lynn Peterson, creator of the groundbreaking Oregon Department of Transportation's Sustainability Plan, will keynote the conference with a discussion of the future of sustainable transportation. NAPA 2015 Chairman Michael Cote of The Lane Construction Corp. will open the conference with his perspective on sustainable transportation and what it means for sustainable development.

The conference's three half-day sessions are organized so that attendees can maximize opportunities to gain valuable information and insights that can be put to use in their own sustainability programs. Educational sessions are geared for contractors, department of transportation and public works personnel, construction managers, environmental managers, engineers, designers, specifiers, and decision-makers in the road construction sector.

Speakers at the conference include acknowledged leaders in sustainability: Gina Ahlstrom, FHWA; Dr. Jeralee Anderson, Greenroads; Dr. Joe Mahoney and Dr. Stephen Muench, University of Washington; Dr. Amlan Mukherjee, Michigan Technological University; and Dr. Richard Willis, National Center for Asphalt Technology.

Topics on the conference agenda include a discussion of FHWA's Sustainable Pavements Program and the opportunities it creates, how to build a green construction business, sustainability innovations at asphalt plants, lessons learned about reclaimed asphalt pavement mixtures from the recent industry tour of Japan, the use of porous asphalt at the Port of Portland, long-life asphalt pavements, understanding life-cycle assessment and environmental product declarations, and the use phase of sustainable pavements.

Asphalt Sustainability Conference attendees can earn up to 12 professional development hours (PDHs) during the meeting.
August 20, 2015
Winners Can Attend LDI 2015, ASLA Annual Meeting and Expo or Greenbuild International Conference and Expo

Columbia, MD (August 19, 2015)—Global design software developer Nemetschek Vectorworks, Inc. is committed to educating the next generation of emerging professionals because the future of creative design depends on their success. To help fulfill that mission, the company is awarding free conference passes and hotel stays to students who enter its Conference Pass Giveaway program. Winning students will gain industry knowledge and establish professional connections by attending one of three major industry conferences:

• Live Design International (LDI) 2015, October 19-25, 2015 in Las Vegas, NV, attracts over 10,000 design professionals working in theatre, concerts, clubs, theme parks and houses of worship. The winner will see the latest gear in action and replenish their creativity. More than 350 companies exhibit, providing live demos and the opportunity for face-to-face discussions.

• ASLA Annual Meeting and Expo, November 6-9, 2015 in Chicago, IL, is the largest tradeshow in the landscape architecture industry. With more than 500 exhibitors each year, it provides the opportunity for attendees to experience new products, services, technology applications and design solutions.

• Greenbuild International Conference and Expo, November 18-20, 2015 in Washington, DC, offers three days of inspiring speakers, industry showcases, LEED workshops and tours of Washington, DC's green buildings. The event is the largest green building conference and expo in the world and is the premier event where designers renew their commitment to sustainable building.

For a chance to win a free registration and hotel stay at one of these three events, interested students must "Like" Vectorworks on Facebook, as well as write a 300- to 500-word statement about why they want to attend a specific conference and how they believe it will benefit them professionally. The program is open to U.S. students only. Applicants do not have to currently use a Vectorworks software program in order to be eligible.

"LDI, ASLA and Greenbuild are the perfect platforms for students to deepen their knowledge of their chosen craft while networking with world-renowned experts," said Alice Lowy, U.S. marketing manager at Nemetschek Vectorworks. "We therefore provide a fun, easy way for students to attend these events for free and enable them to propel their skills forward while learning about exciting developments in the design industry."

Students may visit the link below to read the entry rules and submit applications, which are due September 7, 2015.
July 30, 2015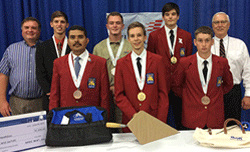 With workforce development a primary focus for the masonry industry, many of its key suppliers and organizations united on June 25th in Louisville, Kentucky to support the 2015 SkillsUSA National Masonry Contest. The event was held during the 51st annual SkillsUSA National Leadership and Skills Conference where well over 6,100 students representing over 100 different professions flocked to the Bluegrass state to claim the championship title in their respective field. To qualify for the Nationals, the students had been winners of their own state run contests in either the secondary or post-secondary education categories.

In Louisville the masonry trade was strongly represented by 43 young bricklayers from 32 states, however North Carolina delivered the only two gold medal winning masons. The National Champion of the secondary/high school division of the competition was Luke Dutton from West Rowan High School in Mount Ulla, North Carolina. The 18-year old Dutton was trained by Rodney Harrington who said months before Nationals, "I personally think we have a national champ on our hands. It takes a student that is willing to put in the work." Obviously, Harrington can call a winner when he sees one.
July 27, 2015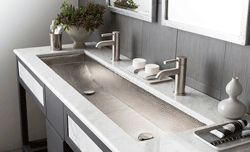 Native Trails introduces copper trough sinks for the bath, building on the momentum created by their recent NativeStone™ concrete trough sink introduction. Available in 30", 36" and 48" widths, these new products are now available.

The Copper Trough Collection is hand made by world-renowned coppersmiths residing in rural central Mexico. Hand hammered thousands of times over several days, the sinks retain the hallmarks of their artisan craftsmanship in a modern aesthetic. The 48" width double sink is particularly suitable to larger master baths or commercial spaces. All sizes are available in an Antique or Brushed Nickel finish and they are forged to be used as either a drop-in or undermount basin.

"Native Trails is known for our hand-hammered copper sinks that marry centuries-old artisan tradition with contemporary design. Customers have been asking for larger sizes that are practical and also deliver that 'wow' factor," said Naomi Neilson Howard, founder and CEO of Native Trails. "The combination of the hammered texture with the clean lines of a trough shape create a focal point for any bathroom and are on-trend to meet today's demand for understated elegance in the bathroom."

The artisans who create the sinks are known globally as leaders in artisanal coppersmithing. These families have passed their talents down from generation to generation, and Native Trails often works with multiple generations of artisans from the same family. All Copper Trough sinks are made from recycled copper, underscoring Native Trails' stance on sustainable living and manufacturing. A video on the coppersmithing process is available below.
May 01, 2015
Native Trails Founder and CEO, Naomi Neilson Howard, was featured in Arts & Crafts Homes and the Revival's "The Guild," which showcases the quality work of today's artisans who are continuing the Arts & Crafts revival.

The Arts & Crafts Homes article tells about Naomi's early travels and founding the company in 1995, its philosophy of sustainability, and its commitment to artisan heritage.

Arts & Crafts Homes and the Revival quarterly magazine covers contemporary practitioners as well as the historical antecedents of the continuing Arts & Crafts movement.


March 19, 2015
Webberville, MI - March 19, 2015 - Applegate Insulation, an established manufacturer of cellulose and cotton insulations, announced today that Eric Bugenhagen has been added as the Applegate Cellulose Insulation and Applegate Cotton Armor Insulation Regional Sales Manager for the North Territory consisting of North Dakota, South Dakota, Minnesota, Wisconsin, Iowa, Eastern Nebraska and the western half of Michigan's Upper Peninsula. Additionally, Eric will service Applegate Mulch customers in North Dakota, South Dakota, Minnesota and Wisconsin.

Eric joins Applegate with more than 20 years of experience in direct sales and sales management. "I'm very excited to be joining Applegate and be a part of their continued growth." Eric said, "When I met Richard Applegate and discussed the foundations on which the company was built, I knew immediately Applegate was the right fit for me."

"Eric is a top performer and natural leader." said Richard Applegate, National Sales Manager at Applegate Insulation. "Whether he's at the rink with his girls' varsity hockey team, or working with his customers on developing their business, Eric is passionate in his pursuit of success."
March 12, 2015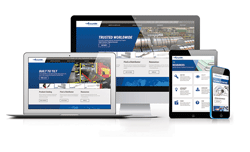 Along with a new look, Accuride focuses on inspiring creative uses for its slide products and streamlining the design process for applications in all industries.

Santa Fe Springs, CA—Accuride International is excited to announce the launch of its new website, which is viewable live at www.accuride.com.

This represents a major leap forward for Accuride's branding and marketing efforts in North America, and aims to reflect the company's core strategy in delivering unique value through high quality products and differentiated solutions. There are noticeable upgrades to the graphics, navigation and content, including expanded technical product information, "How To's", videos, and a new library of application solutions featuring unique ideas that are sure to inspire creativity and enhance projects.

"We're proud of the hard work our marketing team has put into this endeavor and we look forward to continuing the momentum," said Claudia Tuttle, Marketing Manager. "Accuride plans to update the site regularly with new product content, industry news, events, instructional videos, and more tools to help our clients succeed."

With its responsive design, the new site adapts to smart phones and tablets to provide easy access to information on the go. Accuride also increased the availability of its 3D and 2D CAD files for slides, so precise measurements are always just a few clicks away. Whether you're a distribution partner, an architect, machinist, cabinetmaker, or an end user of Accuride slides, the site has something specifically designed for your benefit.
March 12, 2015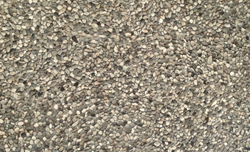 Surrey, BC - March 11, 2015 - Duradek, the original Walkable Roofing Membrane expands its response to market demands for naturally inspired textures and colours for outdoor living space in its latest addition to the LEGACY line with the all-new "Pebble Beach" designer aggregate pebble look in a 60 mil vinyl membrane.

Inspired by Nature...
Designed to Withstand It

Duradek, the most trusted brand of pedestrian traffic waterproof membranes has perfected the trend of a natural stone look on low maintenance vinyl outdoor walking surfaces by introducing Pebble Beach, the latest addition to the 'Legacy' line of PVC membranes.

Pebble Beach brings a remarkable aggregate pebble appearance to outdoor spaces in a simple, one-step application while maintaining the reliable, low maintenance waterproof protection you have come to rely on from Duradek.

Legacy Driftwood - the look of aged wood grains with the security of vinyl.

Your deck can have a look similar to that of aged wood without sacrificing safety, security or waterproofing peace-of-mind.

Up close, you can recognizes the characteristics of the vinyl membrane with its slip resistant, textured surface; but when laid out on a deck, the colour blends and pattern allow your eyes to pick up the traditional appearance of natural wood grains, but without any of the maintenance the wood requires.

Duradek Ultra - LEGACY BARNWOOD

In welcoming brown hues, this faux wood finish brings a warm, retro look to your contemporary deck, but without any of the maintenance real wood requires.

Duradek Ultra - LEGACY DRIFTWOOD

In cooler grey tones, this vinyl finish emulates the appearance of a natural driftwood, sun-bleached and weathered by the elements...but keeps your deck protected from them.
March 10, 2015
Continuing Education Webinar Series Offers Opportunities to Earn AIA LUs

Columbia, MD (March 5, 2015)—Great architecture is influenced not only by a designer's creative visions but also by the social, economic, political and technological advancements of their time period. That's why Nemetschek Vectorworks, Inc. is excited to announce the next episodes of its Art in Architecture webinar series, a Continuing Education program that explores great movements in the history of design through the lens of some of the world's most celebrated designers.

"This webinar series is more than just an art history course. It puts architecture into context by examining the world in which it was built," says series host Steve Alden, AIA, architect at Nemetschek Vectorworks. "And by learning how the past impacts design, everybody watching can perhaps find some inspiration for their next project."

Following each Art in Architecture webinar, viewers can choose to take an associated Continuing Education quiz to receive 1 Learning Unit (LU) from the American Institute of Architects (AIA).

Learn more about upcoming episodes below:

•March 12, 2:00 p.m. EDT: "Atomic Architecture in America: 1945-1965"

For two decades after the end of World War II, experimentation in architecture and design led to the creation of a stylistic lexicon where structures defied gravity, cars flew and buildings resembled lunar landers. Learn about architects and designers like William Pereira, Albert Frey and many others, as well as the influence of the atomic age on creativity. Register for this free webinar at http://www3.vectorworks.net/AtomicArchitecture.

•May 14, 2:00 p.m. EDT: "Four Japanese Architects You Should Know: Kenzō Tange, Shigeru Ban, Toyo Ito and Tadao Ando"

These four architects share a cultural heritage that views the built environment through a distinct lens, placing high value on emotion, experience, introspection and harmony. Discover how Japan's long history has shaped the philosophy and creative output of these architects and how their personal journeys unfold in unexpected ways.

•July 9, 2:00 p.m. EDT: "The Art Nouveau Movement and its Influence on Architecture: Victor Horta and Charles Rennie Mackintosh"

This webinar looks at the lives and legacies of two Art Nouveau masters. While distinctly different in their responses to the Arts and Crafts movement, both Horta and Mackintosh made important contributions to European architecture that are universally acknowledged.

For more information about the Art in Architecture webinar series and to stay updated about future topics, email usmarketing@vectorworks.net.
January 27, 2015
Webberville, MI - January 27, 2015 - Applegate Insulation, an established manufacturer of cellulose and cotton insulations, is pleased to announce the appointment of Danny Ford as Production Manager of Applegate's Non-Woven Division, which produces various OEM insulation and other cotton products under the Cotton Armor label, in Eastanollee, GA.

Ford has been with Applegate for more than 4 years. Prior to his promotion, he was the production supervisor of the non-woven MastaSorb sorbent line. In his new role, Ford will be responsible for the production of all non-woven cotton products.

This promotion completes a series of moves to better position the Cotton Armor division for growth. As part of this reorganization, Marvin Johnson was made Head of Product Development.

Prior to his arrival at Applegate, Ford spent 20 years as a Distribution Manager, Purchasing Manager, Import Specialist and Director of Logistics. He has been a featured speaker at the North American Warehousing and Distribution Expo and Convention (NAWDEC) and is a two-time recipient of the Ed Switzer Sales Excellence Award while at Gilbert and Bennett Manufacturing.
January 26, 2015
A new dampening mechanism for the 115RC Linear Track System slows and controls the motion of components at the end of travel.

Santa Fe Springs, CA⎯ Introducing a new option for the versatile 115RC Linear Motion Track System—the 115RC Easy-Close is an easy to install add-on device to help slow and control component movement at the end of travel. This option is designed for lighter loads and has been tested to
250,000 cycles.

In addition to dampening the action on either end of the track's travel distance, the device has a 3 lb. pull force, which provides enough resistance to hold components in place at either end point. The maximum load that can be dampened is 44 lbs., though installers are recommended to test applications for best results. For more information about this new optional soft-close mechanism, please visit: http://bit.ly/115RC-EC.

The 115RC Linear Motion Track System is comprised of corrosion resistant, lightweight aluminum tracks and re-circulating ball carriages. The tracks can be side, flat, or vertically mounted and ball bearing carriages are inserted into the tracks to provide movement, guidance, or positioning for items such as screens, panels, or lightweight shelving units in residential, commercial, and industrial applications.

The customizable system comes in two standard track lengths—47" and 94"—that may be cut down for smaller spans or butted together to produce greater lengths, virtually without limit. For more information about the 115RC Linear Track System, visit: http://bit.ly/115RCsystem.
January 26, 2015
Model AL4190 is a unique movement solution that tilts drawers downward when opened. This provides easy access to items stored at shoulder level and above.

Santa Fe Springs, CA⎯ Accuride introduces Model AL4190, a Tilt Track System that provides access to drawers or trays installed at shoulder level and above. The system uses wheels and rollers to extend the drawer and an aluminum channel guides the back of the drawer upward as it slides out of the case, tilting the drawer downward for easy viewing and access to contents. Model AL4190 carries drawers up to 40" wide and loads up to 140 pounds.

The system is comprised of lightweight and corrosion-resistant aluminum tracks, roller wheel assemblies, and track rollers. Tracks are available in lengths of 24" and 40". The system is easy to fit and fully adjustable with the drawer in place. The installer can alter the angle of the tilt, which varies based on the angle of the track, attachment location of the track roller, and positioning of bumper stops.

This product may be used with Accuride's CBHand-2 Locking handle kit, which is a double handle with a centrally located push-button mechanism that locks drawers in a closed position.
Model AL4190 is a good solution for drawers and trays used for supply and equipment storage in retail fixtures, commercial kitchens and restaurants, medical facilities, and garages. For more information, visit:
http://bit.ly/AL4190.
April 17, 2014
Intuitive 2D/3D Design Program Receives Popular Choice Award By Public Voting

Columbia, Md. (April 17, 2014) – Nemetschek Vectorworks, Inc. announces that its architectural design software, Vectorworks® Architect, received the Popular Choice Award in the 2014 Architizer A+ Awards' Products +Apps category. Earning such recognition through a popular vote validates the Vectorworks program as a preferred solution by the design community.

Now in its second year, The Architizer A+ Awards are the definitive global architectural award program with 60+ categories. More than 200 judges select category winners and nominate five finalists within each award category. Those nominees are presented online, where design enthusiasts around the globe vote for their favorites. Winners like Vectorworks Architect software are honored alongside projects chosen by the jury.

Vectorworks Architect software allows users to maintain creative freedom while making it easy for everyone involved in the project to efficiently work together. It contains robust BIM functionality, great documentation and intelligent tools, along with the flexibility to design in 2D or 3D without restrictions. The program's powerful Parasolid® 3D modeling engine tackles complex models. Plus, BIM capabilities help streamline costs, analyze materials and increase energy efficiency while staying true to your design concept. Visit http://www.vectorworks.net/architect/ to learn more about Vectorworks Architect software.

Visit http://awards.architizer.com/winners/list/?id=3 to see the full list of winners.
February 21, 2014
Atlanta, Ga. – Atlas Roofing Corp. continues to expand its sales and marketing efforts across all divisions of the company, including enhancements to manufacturing and production. To support this growth, Nisha George has been named Marketing and Communications Manager at the company's Corporate Headquarters in Atlanta.

Ms. George, who was previously Marketing Coordinator at Sto Corp.—a producer of versatile cladding and coating systems for building construction, maintenance and restoration—is in charge of creating and implementing marketing and communications plans for all four Atlas Residential and Commercial divisions.

Ms. George's expertise started in event marketing and over the years has included communications, media relations, brand management, and social media. She began her career in the agency world, working as a Marketing Associate for Leap Forward Group—a full-service marketing firm. She was also an International Business Consultant in Latin America for Media Plus, Ltd.—an international media company.

An alumna of Emory University, Ms. George is currently pursuing her MBA in Marketing Management at Goizueta Business School and resides in Atlanta.
February 14, 2014
Yorkville, New York— What started as a hobby for Meyer Cohen and his wife Ida Cohen (hence the name Meyda) 40 years ago, has evolved into a nationally recognized American lighting manufacturer. Meyda Lighting, a decorative lighting company, creates beautiful lighting for homes and businesses across the nation, and around the globe.

In the seventies and eighties, the company called Meyda Tiffany, captured the popular Tiffany market with authentic reproductions, interpretations and stained glass originals. Lamps, chandeliers, wall sconces and windows were offered including the famous Wisteria, Mini Tiffanies, and the original Meyer stained glass lanterns. Pond Lily, Quality Bent Glass and Precious Memories mottled glass fringed lamps were also featured in the line.

Meyda expanded its line into other styles including Mission, southwest, deco, nouveau, contemporary and modern. Among its latest innovations is the world's largest LED free standing chandelier featured in the Stanley Theatre (pictured) in Utica, New York, and the award-winning Chandel-Air, which combines custom lighting with fan technology. With many years of designing and manufacturing expertise, Meyda has developed innovations, technologies and value engineering that transcend architectural lighting for any budget or economy.

Today Robert Cohen and his wife Ellie continue to manage the company with their sons, Chet, Max and Ben by their side. Under their leadership, the company produces an industry-leading product development program that creates dozens of new lighting designs every week.

Meyda retains a diverse group of designers and engineers that create custom fixtures, lamps, windows and accessories to meet the exact specifications of any residential or commercial project A variety of lighting diffusers include stained glass Tiffanys, mica, fabric, fused glass, sand-carved glass, blown-glass and acrylic. Fabricators work with steel, iron, aluminum, bronze, brass and copper, while employing a variety of craftsmanship techniques including forging, welding, forming, plasma cutting and soldering. The company's extensive palette of finishes features many textures and colors achieved by employing gilding, hand painting, power coating and electroplating.

Conventional and energy efficient lamping solutions are available, including LEDs, compact fluorescents, incandescents and more.

Meyda Tiffany Lighting is headquartered at 55 Oriskany Boulevard in Yorkville, New York. For more information, Tel. 1.800.222.4009.
February 04, 2014
New Visual Identity to Accompany New Products into New Markets

Montreal, QC, Canada, January 30, 2014 – AS Hanging Systems, the North American leader of hanging and display fittings for all manner of interior spaces, reveals a new corporate identity. The new look has been under development for nearly 12 months and is intended to take the company into new markets and support the ever-changing marketplace, which the company addresses with a constantly growing product line. The new logo, which is supported with a fresh new color palette, is already present on the firm's web site at, www.ASHanging.com. The web site is a portal to all things related to "hanging and display fittings". The web site also acts as a portal to the company's "Hang with the Best®" blog, which addresses the same specialties with frequent posts about customer application stories, in depth answers to application questions and announcements.
January 30, 2014
Omaha, NE (January 30, 2014) – Fox Blocks ICF announced today that it will acquire select key assets from Arxx Building Products on February 3, 2014, integrating those assets into its own operations and augmenting the Fox Blocks Insulated Concrete Form (ICF) product line. The companies have started working together now to develop and implement a plan that ensures a seamless transition for customers and employees. The transaction was approved by the Canadian Court on January 29, 2014 and is before the US Court for approval on January 31, 2014.

Fox Blocks ICF, recognized as the fastest growing ICF Manufacturer in North America and a Best in Class Sustainable Green Building Solution, is a branded product of Airlite Plastics Co. The company has produced over 45 million square feet of ICF wall surface for the construction industry and pursued this acquisition opportunity as a way to expand customer access to innovative green building solutions.
January 10, 2014
Transaction Further Positions Glass Apps as a Market Leader in the Smart Glass Industry

Culver City, CA, Jan. 09, 2013 – Glass Apps, LLC, a leading provider of Switchable Glass and Film, which changes from clear and opaque states on demand, today announced that it has acquired the production assets of Citala, the original inventor of switchable film. A key component of the acquisition includes, Citala's switchable polymer dispersed liquid crystal (PDLC) film manufacturing line, one of two in North and South America.

Taliq founded in 1986, later know as Citala, invented, patented and commercialized, PDLC window film technology and products.

"Citala's products were developed using different coating methods and have unique attributes to other competing products" said Thomas Lee, Glass Apps CEO. "This acquisition will give Glass Apps and DMDisplay the capability to leverage the two leading PDLC technologies in the world and deliver the widest range of switchable film and glass products, while expanding DMDisplay's manufacturing capability to the United States."

"We are very pleased to exclusively partner with Glass Apps to deliver smart glass and film solutions throughout North and South America," said Jaewoon Lim, DMDisplay Chairman. "This combines leading edge PDLC smart film technology, developed in Korea, with local US manufacturing and production for best-of-breed smart glass and film solution delivery."

ABOUT GLASS APPS

Glass Apps is the leading provider of switchable glass and liquid crystal based films exclusive partner to DMDisplay. Our smart glass and film products provide privacy on demand in a switch of a button and energy savings through solar control. Glass Apps products are used in residential, commercial, retail, government and transportation exterior and interior glass worldwide. Glass Apps is headquartered in Culver City, CA. For more information visit http://www.glass-apps.com.

ABOUT DMDISPLAY

DMDisplay, a corporation founded in 1998 specializing in PDLC products. Today, DMDisplay produces the most advanced PDLC products in the world, in terms of both quality and technology. DMDisplay has the largest PDLC production capacity in the world and offers Magic Glass (switchable glass), Magic Film and Magic SF (self-adhesive film) to construction, interior, visual display and consumer electronic markets throughout the world.
November 21, 2013
Greenbuild International Conference & Expo
AEC Daily and Globus Cork announced the launch of the first modular learning course delivered via Twitter. The ten sections are conveyed to a learner's Twitter account on a daily basis. Each one is optimized for viewing on mobile browsers.

Technology, social media, and modular learning were hot topics at the 2013 AIA CES Provider Conference. In her keynote address, Rena M. Klein, Executive Editor of The Architect's Handbook of Professional Practice, pointed out that millennials have short attention spans, are adverse to hard-copy reading, and are dismissive of those not as tech-savvy. Discussions with AIA representatives and other providers at the conference were inspiring and led to the development of this new AEC Daily modular learning system.

"We recognize that in today's busy world, learning habits are changing," said Jeff Rice, president of AEC Daily. "By breaking courses into multiple, shorter modules and delivering them through social media and mobile devices, we are doing our best to provide education that fits into the professional's busy life."

The course was created to fit within the existing framework of the Green Building Certification Institute's (GBCI) Credential Maintenance Program (CMP) of 1 General CE hour and the American Institute of Architects' (AIA) Continuing Education System's (CES) 1.0 LU format. Through AEC Daily, the course is also approved or recognized by over 70 organizations.

"We want to deliver our message of sustainability to as many people as possible" said Jennifer Biscoe, vice President of Globus Cork. "This modular learning course is our way of reaching the designers who are too busy to take an entire course at one time. They can now get updates via Twitter and learn the many benefits of cork flooring on their mobile device."

This is AEC Daily's first step in developing new methods of delivering continuing education that recognize the changing internet habits of the population. In the future the course will also be delivered through other social media such as Facebook, Linkedin, SMS, etc.

This course on natural cork flooring seemed particularly well suited for both this technological innovation and for the Greenbuild International Conference and Expo. While the material has existed for a long time, it has now been rediscovered as a modern flooring solution for sustainability. Similarly, continuous professional learning is a well-established concept that has been reinvented by AEC Daily for our busy, networked world.

The course can be found at: http://aecdai.ly/twitter1
While registration is required, there is no cost for taking the course.

AEC Daily is the largest provider of FREE online continuing education to construction professionals. Courses are available online 24 hours a day, 7 days a week and credits are automatically tracked and reported. Architects, engineers, interior designers and other construction professionals rely on AEC Daily to maintain their accreditation with ease. www.AECdaily.com
Contact: Stephane Deschenes, 1-877-566-1199 x385, or sdeschenes@AECdaily.com

Globus Cork manufactures colored cork products for flooring, walls and ceilings. Specializing in vibrant colors and extensive tile sizes, Globus Cork makes all products to order in the US. Globus Cork products are made from post-industrial waste cork from wine stoppers and use only water-based materials for a very green building material. www.CorkFloor.com
Contact: Jennifer Biscoe, (718) 742-7264, or info@corkfloor.com
October 24, 2013
Sean Flaherty and Viktor Varkonyi Bring Global Perspective, Industry Experience
and Strong Leadership to the Team


Columbia, Md. (October 23, 2013) –Nemetschek AG has announced that Sean Flaherty, CEO of Nemetschek Vectorworks, Inc., and Viktor Varkonyi, CEO of Graphisoft SE, have been promoted to the Executive Board of Nemetschek AG. Both managers bring comprehensive knowledge of international markets, deep experience in the software industry and strong leadership to the new Executive Management Team.

The Nemetschek Group seeks a leading position in the AECO (Architectural, Engineering, Construction and Operation) and design industry and plans to benefit from growth opportunities resulting from the rapid changes in technology and digitalization of building processes. By this extension of the Executive Management, the Supervisory Board of Nemetschek AG sets a fundamental organizational step to achieve this objective.

As Senior Vice Presidents of Nemetschek AG, Flaherty and Varkonyi will be responsible for defining and executing the Nemetschek Group strategy, mission and vision in the global AECO and design markets.

Flaherty has held several different positions at Nemetschek Vectorworks for the past 27 years. Together with his team, he creates and markets professional CAD and Building Information Modelin (BIM) solutions for designers in the global AEC, entertainment and landscape design industries.

Varkonyi has served in many positions at Graphisoft over the past 20 years. Varkonyi and his colleagues have developed the company into a global market leader in the field of BIM solutions.

Both Senior Managers have demonstrated sharp business sense, strategic leadership, experience and a passion for technology, and are respected by employees, customers and partners worldwide. By adding experienced brand CEOs to the Executive Board, Nemetschek AG plans to build on the strength of its brands to extend its global market positions.

Flaherty will continue in his role as CEO of Nemetschek Vectorworks, Inc., and Varkonyi will continue to serve as CEO of Graphisoft SE. The search for a new Chief Financial and Operational Officer for Nemetschek AG is in progress, and an announcement will be made soon.
August 27, 2013
Atlanta, Ga. - Atlas Roofing® Corporation is taking its well known EnergyShield® polyiso wall insulation product line to the next level with new offerings. EnergyShield® PRO and EnergyShield® PRO2 are now available from Atlas Wall CI Board.

"With the continued attention given to long term thermal performance in commercial structures, continuous insulation (ci) for exterior walls is becoming the specified norm in most North American climate zones," stated Alec Minné, LEED Green Associate and Director of Sales and Marketing, Wall CI Board Division for Atlas Roofing Corporation. "Even before it becomes a requirement, Atlas plans to be out in front helping demonstrate the efficiency of polyiso in wall applications and the versatility of continuous insulation."

EnergyShield PRO is a Class A fire rated closed cell polyiso foam core laminated between Class A durable aluminum facers. EnergyShield PRO is ASTM C1289 Type I Class 1, combining rigid insulation board, high R-value, and water resistive barrier attributes with an acrylic coated front facer and reflective facer on back.

EnergyShield PRO2 is Class A fire rated ASTM C1289 Type I, Class 2 board, which adds a glass reinforced polyiso foam core to the features of EnergyShield PRO.

For more than 20 years Atlas has serviced the building envelope with polyiso wall solutions which complement the company's industry leading roof insulation products. Atlas Wall CI Board offerings, suitable for nearly every vertical wall application above grade such as wood frame, steel frame, concrete, CMU, or brick walls.
August 02, 2013
A new, long-awaited standard for moisture mitigation systems has been published by ASTM International. Standard Practice for Two-Component Resin Based Membrane-Forming Moisture Mitigation Systems for Use Under Resilient Floor Coverings, designated ASTM F3010 - 13, was approved by ASTM Committee F06 on Resilient Floor Coverings on June 1, 2013.

KOSTER American Corporation Technical Director, Howard Kanare, made significant contributions to the standard, which was under development since 2007 and is the work product of members of ASTM F06.40..12 Task Group on Moisture Mitigation Systems.
August 01, 2013
THE NEW WEBSITE DEDICATED TO CULTURE, DESIGN AND TRAINING NOW ON-LINE

July 2013 - High-level experimentation and cultural events are two constant factors of Marmomacc, the international event now at its 48th edition that continues to seek original opportunities for promoting growth in the natural stone market.

Timely information for all sector operators is now available through the new Marmomacc Architecture and Design website -http://architetturaedesign.marmomacc.com - a virtual showcase for education and culture in the stone world. With modern graphics and a highly intuitive layout, the site is divided into several sections dedicated to the many projects that the Observatory Marmomacc organises throughout the year thanks to a calendar of events culminating on the occasion of the event in September: architectural awards and competitions, natural stone exhibitions and forums, teaching and training, architecture and design initiatives.

The site (in Italian and English) naturally includes the constantly updated programme for the Marble Forum - the area inside Hall 7B exclusively for lectures, awards, presentations and conferences involving the public at large as well as professionals. All the more, the web pages are also regularly updated with all information detailing the design projects and cultural exhibitions organised not only in the Exhibition Centre itself but also in the streets of the city of Verona.

Interaction with leading social media - including Facebook, Twitter, Youtube and Pinterest - and the possibility of subscribing to the newsletter means that everyone can always be up to date and informed about all the news involving the event, in an ideal countdown accompanying operators towards the leading international appointment in the world of marble, technologies and design.
July 30, 2013
Atlanta, Ga. - Tom Boissy, CSI, CCPR, LEED AP has recently joined Atlas Roofing® Corporation as the Architect/Building Science Specialist for the CI Walls division. The newly created position will focus on strategic growth of Atlas Roofing Corporation's CI Wall products and expanding Atlas sustainability messages throughout their target industries.

Atlas Roofing Corporation® continues to expand their leading polyiso wall insulation product lines as well as their unique and highly successful facer products. The company leverages chemistry and technology to create innovative products, and improve traditional ones. Tom brings ten years experience in technical sales and marketing of interior and exterior building materials to architects, builders, general contractors and subcontractors.

Tom began his building materials career with Armstrong Ceilings as an architectural representative in the Chicago, Ill. market. Tom belongs to the Chicago Chapter of the Construction Specifications Institute and is a past membership chairperson. Prior to joining Atlas, he was a Construction Design Manager for National Gypsum Company promoting gypsum specialty products and educating the design communities in the Midwest and Central United States.

Boissy received his BSBA in Materials Management from Bowling Green State University. Tom currently resides in Downers Grove, a west suburb of Chicago, Ill. And is a member of the Wisconsin Air National Guard and a veteran of Iraqi Freedom II.
July 25, 2013
Presenting a new exhibition organized in the cultural area of Inside Marmomacc (Hall 7B) on the occasion of the 48th edition of the event in Verona 25 to 28 September 2013. The "Lithic Tree" prototype is the outcome of the Stereotomy, new and old practices stage scheduled in Troyes at the S.N.B.R. company. The stage will see the production of the trunk of the structural stone tree using integrated CAD/CAM/CNC systems and parametric infographic modelling, followed by assembly of the structure and related load testing. The "tree" structure, comprising the trunk/pillar and overhanging branches, will be created thanks to specific and innovative active and passive structural pre-stressing techniques.

Company and Contact:

Bertrand Laucournet (bertrand.jym@gmail.com)
S.N.B.R. (www.snbr-stone.com)

Project:

Prof. Arch. Giuseppe Fallacara (DICAR Department – Bari Polytechnic University)

Contributor:

Arch. Claudia Calabria
July 24, 2013
New Partnership with Steve Pedracine of Plaster Hawk Consulting LLC Expands Reach in Minnesota and Wisconsin

Anaheim, CA — July 23, 2013 - the parent company of leading building material brands; Parex, Teifs, LaHabra, El Rey and Merkrete, announces a new partnership with Steve Pedracine of Plaster Hawk Consulting LLC to expand our architectural and specification efforts in the Minnesota and Wisconsin markets.

Pedracine worked in the Parex Technical Department from 1990-1999, and now returns to partner with the Architectural Sales & National Accounts team to help grow Parex USA's brand awareness and business opportunities, as well as our national corporate accounts program. He currently serves as the Executive Director of the Minnesota Lath & Plaster Bureau, where he develops industry publications and support materials which are used by architects and building officials nationwide. He also gives presentations at various AIA and CES events, provides technical support for contractors in his region, contributes editorial and technical articles for Walls and Ceilings magazine and serves on their Editorial Advisory Board.

"Steve is well respected within our professional community and holds many strong relationships within the Minnesota and Wisconsin regions," says Susan Foster-Goodman, Architectural Sales & National Accounts Manager. "With his extensive technical knowledge of our industry, products and systems, he will be able to make a strong impact with the Parex USA product line."
July 17, 2013
Lightworks, the world's leading supplier of rendering solutions for developers of advanced 3D computer graphics software, is pleased to announce the release of Lightworks Author 9, the latest update to its market-leading technology.

The release of Author 9 brings further innovation and efficiency to Lightworks' advanced rendering technology, giving users more control and power at every stage of the rendering process.

Lightworks has made a considerable reduction in render time and enhanced the visual quality of its progressive rendering functionality. The new features in Author 9 offer users exceptional post-processing control, with layer export capabilities accelerating time-consuming post-production tasks. Improvements to Image-Based Lighting in Author 9 allow for faster realtime modelling, speeding up user workflows. The innovative, new Panorama function facilitates greater user interaction with designs, allowing the creation of 360 panoramic views of a scene. Further advances include support for Wrapped Normal Maps, providing a more accurate texture representation. User-controlled scaling of background and foreground images in Author 9 enhances the workflow, saving time in the post-production process.

Dave Forrester, Managing Director at Lightworks commented;"The release of Author 9 comes at an exciting time for Lightworks and reflects our desire to constantly improve rendering technology for our customers. The new features and enhanced functionality in Author 9 will benefit them greatly; faster photorealistic rendering, faster realtime rendering, and the enhanced post-processing capabilities will allow them to create the highest quality of renders."
June 27, 2013
The biggest change to improving quality in the building industry in a century

Building Professionals, a Winnipeg based family company that has been providing quality assurance, certification, training and consulting services for over 3 decades recently launched a complete upgrade and revamp of its quality assurance program. This program is currently offered through various industry partners across Canada and the United States. The new program entitled, historic QAP 2.O, builds on some of the work and standards developed in the mid 1980's that aimed to improve the quality and professionalism of contractors providing services to the residential energy efficiency industry.

This new program provides a very high level of consumer protection, while at the same time providing value and a return on investment for the contractors that will participate in the program. The program is industry based, bringing in manufacturers, contractors, architects, building officials, home/building owners. Some of the highlights for home/building owners include warranty programs that provide 10 year, $150,000 protection for those that are considering upgrading their house to make it more green and energy efficient.

The newly launched program will focus, at first, on the sprayed polyurethane foam industry (spray foam pro) in Canada and the U.S. This will be followed by other programs that building professionals have developed over the past 3 decades to improve and upgrade the overall quality.

Tackling existing buildings is the single largest impact in order to reduce energy use, meet the challenges of climate change, while at the same time providing economic benefits and consumer protection. Building Professionals will be launching this program in other countries over the course of 2013. Countries include Mexico, Spain, Chile, Japan, China, Sweden, United States, South Africa and others.

This program will provide immediate benefits to the Manitoba economy, as building professionals looks to add more staff over the course of the next 5 years. The company currently employs 20 individuals and will grow to 27 by the end of 2013.

It will be nice for Manitoba to leverage their knowledge of green building and building science and start to export this expertise globally.
June 27, 2013
Koster American Corporation announced plans to remodel and expand their existing facility at 2585 Aviator Drive. Located in Oceana South Industrial Park, Koster purchased the 14,000 square foot office/warehouse facility in 2004. The company plans to expand into an existing 8,000 square foot office/warehouse facility and construct a 14,000 square foot warehouse and two 11,000 square foot manufacturing and warehouse facilities adjacent to the existing building.

The company was founded in 1992 as a developer and manufacturer of waterproofing and other construction materials. Koster American is part of the international product manufacturing group Koster Bauchemie, headquartered in Aurich, Germany, and serves as the central location for distribution of superior products to North America. The company has been in Virginia Beach since 2004.

"This expansion will allow Koster American to significantly increase our presence in the North American market," said Basil Mewes, President. "We are pleased to continue growing in a City that is as friendly to manufacturers as Virginia Beach. Koster has worked on many notable projects, from the Olympic hall in Beijing to the MGM hotel in Las Vegas, and we are thankful that the City of Virginia Beach will serve as a strategic partner in our continued success."

The company plans to invest $3.1 million in building improvements and $1.5 million in land. As part of this expansion Koster will also hire six additional full-time personnel with average annual salaries of $70,000 (excluding benefits).

"Koster American Corporation is a valued company in Virginia Beach and we have been extremely pleased with their growth," said Warren Harris, director of Virginia Beach Economic

Development. "Koster's expansion represents a significant capital investment in the City and also provides our residents with the opportunity to secure high-paying, fulfilling jobs."

The Virginia Beach Development Authority has awarded the company an Economic Development Investment Program grant in the amount of $85,000 based on the company's capital investment.

The mission of the Virginia Beach Department of Economic Development is to attract and retain national and international business and industry that results in the creation of new capital investment and jobs that increase the per capita income in the community. The City of Virginia Beach is the most populous city in the Commonwealth of Virginia with a population of
437,000 and is the 39th largest city in the United States. The City of Virginia Beach is recognized as the best run city in America, by 24/7 Wall Street in 2012, and in 2011, Virginia Beach ranked number one for economic growth potential by Business Facilities. In 2012, the Department of Economic Development received re-accreditation through the International Economic Development Council, one of only 29 economic development organizations in the world to have this recognition. In 2011, the Department won an Award of Excellence for its marketing efforts from the International Economic Development Council.
June 26, 2013
Atlanta, Ga. - Atlas Roofing Corporation has grown its production capability by adding new state-of-the-art equipment to their manufacturing lines this spring. With these modern systems Atlas will be strategically positioned to answer the growing demand for shingles with HP Technology, the latest advanced shingle design from Atlas. This added production capacity, strategically located in Hampton, Ga; Meridian, Miss. and Daingerfield, Texas, will allow Atlas to quickly deliver its HP lines of shingles to more customers.

These new laminating lines are proof that Atlas Roofing Corp. is making a long term investment in HP Technology, the future of residential shingles.

HP technology was developed by Atlas after listening carefully to the needs of its contractors and features five key elements that are literally hard to miss: A larger size shingle which means less shingles to install and is more aesthetically pleasing on the home. The HP shingle has double sealant lines of FASTAC® adhesive. A true 1-1/4-inch "Sweet Spot" nailing area making HP laminates easier to install. The HP shingle has a 6-inch exposure to give it a real architectural look. The exception being the StormMaster Slate which adds an additional 2-1/2" for a full 8-1/2" of exposure creating the true look of slate. The HP shingle is also warranted to withstand 130 mph winds and wind driven rain with a standard 4-nail application.

The increased production capacity of the new lines ensures that Atlas distributors will be more able to quickly fill contractors' orders. By adding this new state-of-the-art equipment to its plants, Atlas has an incredible capability to deliver new and innovative product lines based on these and upcoming line improvements.
April 22, 2013
OAKVILLE, ONTARIO CANADA April 22, 2013 – Vicwest Building Products, a division of Vicwest Inc. (TSX: VIC, VIC.DB), ("Vicwest") and All Weather Insulated Panels ("All Weather"), two North American leaders in the manufacture of insulated metal panels (IMP), announced today the re-branding of their North American IMP Group and IMP product line under the "All Weather Insulated Panels" banner.

This re-branding follows recent business advancements between the two companies that include: the joint commercialization of a third manufacturing facility in 2012; technology and best practice synergies that have standardized their IMP operations and products across North America; and the solidification of Vicwest's investment in All Weather. Under the new brand strategy, all profiles produced in each of the manufacturing locations (Vacaville, California; Hamilton, Ontario Canada; and Little Rock, Arkansas) will carry the "All Weather Insulated Panels" brand and All Weather will become known as "All Weather Insulated Panels, A Vicwest Company". The founders of All Weather, Bill and Michael Lowery, will continue to hold key leadership positions within the re-branded IMP Group to ensure continued expansion of the business and product line.

The All Weather Insulated Panels brand will be rolled-out across all of the Group's operations over the coming months. The new identity will be applied to all marketing and communications collateral, including the re-launch of the awipanels.com website slated for early next month.
February 19, 2013
Atlanta - Atlas Roofing begins 2013 by deploying key personnel and assets to increase activity and excitement for residential building product sales and customer service in the Northeast US. In March 2012 the company opened a distribution facility in Philadelphia which grew steadily thanks to the efforts of Atlas Midwest Region Manager John Maloney and the outstanding northeast customers who work with Atlas on a regular basis. Beginning in March 2013, Stanley Bastek will continue momentum in the region as he assumes the position of Northeast Region Manager.

Stan brings six years of experience with Atlas and a comprehensive background which enables him to quickly facilitate opportunities among Atlas dealer channels, the contractor market, builders, specifiers and end users. Stan joined Atlas in 2007 as a temporary administrative assistant, and was quickly promoted to the marketing department, where he led several key projects tied in with Internet marketing, contractor programs, customer events and the national launch of Atlas Scotchgard™ products.

Stan currently transitions from a dual role of Marketing and Communications Manager for the Atlas Residential Division and District Sales Manager for Georgia. He will relocate in March, along with his wife and two children, to the Philadelphia area. Stan is a University of Michigan graduate, receiving an MBA from Shorter University in 2010. In the same year he also received the Atlas President's award.

"Our rapidly growing facility in the Northeast along with placing key Atlas people in the region is an opportunity to continue demonstrating our ability and commitment to be nimble and responsive to anyone who works with Atlas, anywhere in North America," stated Kirk Villar, Vice President, Residential Sales and Marketing. Other key moves early in the year for Atlas include Jay Linley, who replaces Stan as District Manager for Georgia. Jay holds a BA in marketing form Mississippi State and brings more than 20 years of residential roofing product sales to his new role. Clay Pruitt also becomes District Manager for Atlas in Mississippi and Louisiana. He completes five years with Atlas, 10 years in roofing, and received a "Top Gun" award from Atlas in 2012 for outstanding performance.
January 02, 2013
Expanding capability in Ultra High Performance Concrete

Kalamazoo, MI – Landscape Forms, the industry's premier global brand of outdoor furniture, LED lighting and accessories is pleased to announce the acquisition of Meld USA.

Meld USA, founded in 1998, is an industry leader in materials innovation and the design, development and manufacture of products made of Ultra High Performance Concrete (UHPC). Over the past 14 years the Raleigh, North Carolina company has earned a reputation among architects, landscape architects and interior designers for its production of high-end standard and custom UHPC architectural products.

With the new partnership, Meld USA founder, Peter Bustin, joins the Landscape Forms management team, reporting to Rick Utting, Director of Strategic Initiatives.

Meld USA brings another dimension to Landscape Forms' rapid expansion into concrete site furniture. In 2011, Landscape Forms announced the collaboration with Phoenix-based Kornegay Design to introduce artful collections of large-scale cast concrete planters. And in 2012, the company announced an agreement with Barcelona based Escofet for exclusive North American distribution of its award-winning cast stone outdoor furniture elements. Now Landscape Forms will leverage its expanded capability in concrete to design and manufacture new collections of UHPC site furniture.

Richard Heriford, President, Landscape Forms says of the acquisition: "We are delighted to welcome Meld USA and its capability in UHPC research and manufacturing to Landscape Forms. In the coming months we will add new concrete products to the Landscape Forms portfolio and expand the capacity of our Studio 431 customs group to offer our customers a new and exciting material."

Peter Bustin, Founder, Meld USA says: "Being part of Landscape Forms will enable Meld USA to grow our position as a leader and innovator in concrete products, expand our products for the outdoor furniture market and gain global reach. We are excited to be joining a team of likeminded professionals with proven leadership to take Meld USA to the next level."

Landscape Forms will operate Meld USA from its North Carolina production facility, serving the current customer base. Landscape Forms is planning additional investments in Meld USA research and development efforts and manufacturing facility. In the coming months new concrete site furniture will be launched under the Landscape Forms brand.

All Landscape Forms products designed by Larry Kornegay will continue to be produced at the Kornegay Design facility.